Although Simon Mignolet warranted the drop, replacing him with Brad Jones could prove a fatal transfer window statement by Brendan Rodgers, writes Jack Lusby.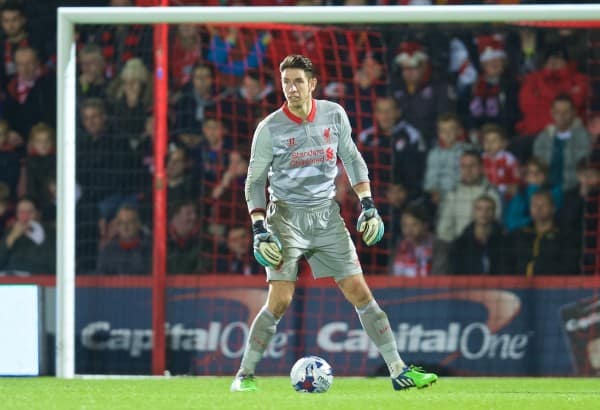 It was a move many had been asking for consistently throughout this season, and when Brendan Rodgers chose to drop goalkeeper Simon Mignolet for "an indefinite period," it seemed a delayed response to some terrible form.
But, as was widely noted as a caveat to this argument, Liverpool's back-up choice, Brad Jones, is hardly up to scratch.
It is clear that, in January, Liverpool must look to target a new No. 1, with the likes of John Ruddy, Guillermo Ochoa, Sergio Romero, Mattia Perin and Petr Cech already linked.
But Rodgers still has two weeks, and three crucial games, between now and the transfer window.
With Jones so far failing to impress, and looking an easy target in goal for the Reds, will Rodgers be fatally offering his rivals a chance to put some real distance between themselves and Liverpool in the Premier League table to merely prove a point?
Brad Jones Vs. Manchester United

It was a bold move by Rodgers to drop Mignolet in what is arguably the biggest game in any Liverpool Premier League season, but also served as a significantly stern approach to the goalkeeper's miserable form.
With Jones the man to benefit, it was a big challenge for the Socceroo.
United an attacking team hell bent on causing chaos for Liverpool's exposed and creaking back four. Brad Jones in for a busy afternoon.

— Lee Clayton (@LeeClayton_) December 14, 2014
Perhaps expectedly, Jones was overrun by the attacking prowess of United's Wayne Rooney, Robin van Persie and Juan Mata.
Twice Jones was thwarted by a simple feigning move at Old Trafford—Rooney shaping up to shoot left, but placing the ball right, for his goal, and Mata's disguised pass to Van Persie for the Dutchman's strike.
For United's third goal, did anyone in the world other than Brad Jones think Juan Mata was going to shoot?

— Ste Hoare (@stehoare) December 16, 2014
Brad Jones picks a direction *really* early, doesn't he?

— Iain Macintosh (@iainmacintosh) December 14, 2014
Clearly desperate to impress, Jones valiantly dived for the ball both times. Unfortunately both times this was in the wrong direction.
Overall, not the confidence boost Rodgers likely intended.

Arsenal have been blessed with a full eight days to prepare for their visit to Anfield on Sunday, as they were knocked out of the Capital One Cup by Southampton at the end of September.
During this time, and between fending off media speculation as to how long his tenure will last, manager Arsene Wenger will have been studying Liverpool's recent performances, and highlighting strengths and weaknesses.
A glaring one in the game against United was that of Jones.
Unfortunately for Rodgers, then, Arsenal are blessed with an abundance of attacking power.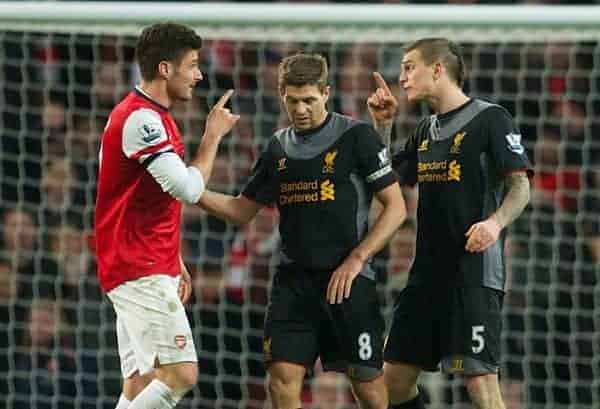 Their last game saw Olivier Giroud and Santi Cazorla both score two as Arsenal won 4-1 over Newcastle United at the Emirates Stadium.
Add to that the effervescent Alexis Sanchez, as well as Danny Welbeck, Alex Oxlade-Chamberlain and Lukas Podolski, and this begins to look like a truly formidable attacking force.
Wenger will have surely identified Jones' inability to intelligently read situations and react in terms of movement.
He will have likely noticed that Jones struggles to get a strong hand behind saves when troubled from distance.
'HE'S NOT A KEEPER THIS LAD. HAVE A DIG BOYS!' – What Sunday League players would shout if Brad Jones was playing against them.

— David Martinez (@DMARTINEZ_85) December 17, 2014
He will also have observed that Jones is not the best in terms of distribution, and a high-pressing game, aided by the feisty Sanchez, will put immense pressure on his abilities to find a player from range.
Returning to form with that win over Newcastle, and the previous mid-week's victory away to Galatasaray, Arsenal will look to continue this on Sunday and thrive on Jones' weakness.
The Race for Top-Four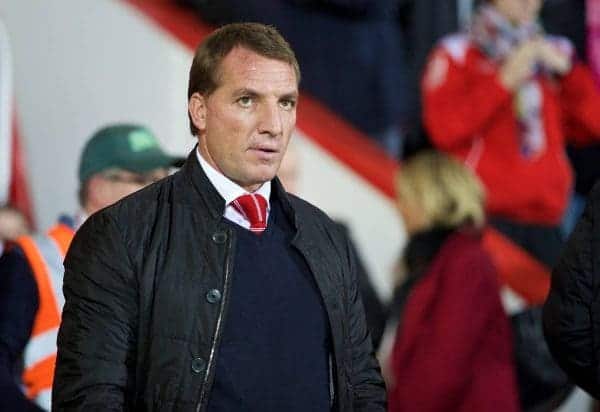 Losing to United, and sticking with Jones between the sticks against Arsenal, could prove costly in Liverpool's already damaged challenge for the Premier League's top four this season.
As Jones proved against United, he is a considerable target in the most vulnerable of areas.
This is only underlined further by his poor attempt at stopping Dan Gosling's shot in Liverpool's 3-1 Capital One Cup quarter-final victory over Bournemouth on Wednesday.
Would Mignolet have dealt with these situations more comfortably?

The No. 22's main deficiencies come in his lack of confidence and ability to communicate authoritatively with his defence; stemming from this comes a nervous disposition in possession.
But Jones has not so far proven his capabilities in these areas either, and his shot-stopping ability pales in comparison to that of Mignolet who, to his credit, made some fine saves in the likes of Liverpool's 1-0 loss away to Real Madrid in the Champions League.
It was a bold statement by Rodgers, in dropping Mignolet for an "indefinite period", and on his form and in the interest of maintaining managerial integrity, the manager had every right to exile his previous first choice.
It also, starkly, tells the Liverpool board: "Look, these are the options we've got, perhaps we need a replacement?"
However, this may have come at a hugely damaging time in the season.
[poll id="295″]
By opting for the inadequate Jones—inadequate as a competitive back-up for Mignolet, let alone as a No. 1—Rodgers risks isolating Liverpool from the race for the top four.
Perhaps this should be shelved along with many of Rodgers' good-on-paper ideas, as a loss at Arsenal would see the Gunners go eight points clear of Liverpool.
Rodgers continued on his goalkeeper situation that: "It can sometimes happen to a keeper where you come out of the firing line and it can help you and allow you time to reflect." Has Mignolet had enough time to reflect?
By all means sign a new goalkeeper in January, but Brendan Rodgers' backing of the so-far poor Brad Jones could prove fatal, and a return for a hopefully fresh Simon Mignolet on Sunday may be wise.
Should Brendan Rodgers stick with Brad Jones on Sunday, or reintroduce Simon Mignolet in goal? Let us know in the comments below.