Former Liverpool striker Fernando Torres has been tentatively linked with an Anfield return, but Jack Lusby believes this must not happen.

Serving as a culmination of Liverpool's frustrating season's form and the upcoming, post-festive silly season, Brendan Rodgers has been "linked" with a move for AC Milan loanee and Chelsea outcast Fernando Torres.
In typical Daily Star fashion, the publication initially claimed that "Milan are keen to cancel his contract after just one goal in ten appearances in Serie A."
Heaping the bad news on the former Liverpool striker, they continue that Chelsea manager Jose Mourinho "insisted Torres would not return to the Blues."
Naturally, as with any Xabi Alonso contract hitch or Rafa Benitez declaration of Merseyside love, Torres was again linked with a move, as apparently "Rodgers would be open to bringing him back to Anfield."
Clearly, this is tabloid fodder, but unfortunately large sections of the online Liverpool fanbase have seemingly latched onto the idea:
Rumours that Milan will cancel their loan with Torres & he'll be available in Jan. Would you have him back at #LFC? pic.twitter.com/HDueNubWTn

— Liverpool FC News (@LivEchoLFC) December 12, 2014
If it was down to me and I had the opportunity to bring Torres back on a free I would seriously find it hard to say no #LFC

— ? (@_Jernberg) December 11, 2014
#Torres mentions on here tonight, I'd take him, I'd take any1, we have no options at all up front at the mo and very little goals #LFC

— Lee Siemaszko (@leesiemaszko) December 11, 2014
Don't know if it's a great capacity for forgiveness or a sign of how dire LFC have become up front but there's lots saying bring Torres back

— Jim Boardman (@JimBoardman) December 11, 2014
This, however, whether an option or not, should by no means be an avenue Rodgers explores as he looks to bolster his attacking ranks in the January transfer window.
El Nino at Liverpool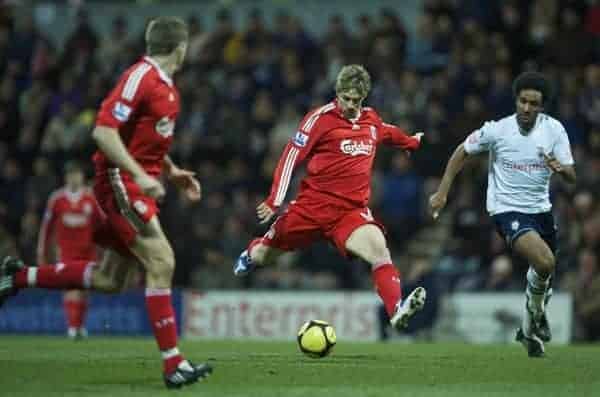 There's a reason Torres is held in such high regard on Merseyside—his performances were arguably as integral to Liverpool's near-success in the Premier League under Benitez as Luis Suarez' were under Rodgers last season.
Signed from Atletico Madrid in 2007, Torres instantly added searing pace and a seriously prolific goalscoring talent to an ambitious Liverpool side.
His debut season saw him score 36 goals in 53 games, finish joint-second with Arsenal's Emmanuel Adebayor in the Premier League Golden Boot race, and named in the PFA Team of the Year.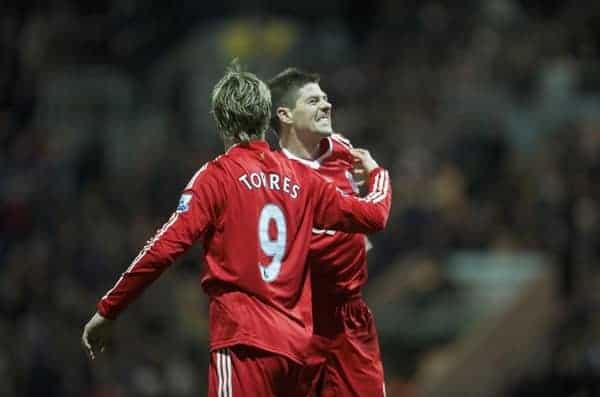 Liverpool's Steven Gerrard joined him in that prestigious XI, and it was Torres' partnership with the captain that proved so effective and enamouring at Anfield.
In 2008/09, the pair arguably reached their zenith, with Gerrard operating just behind Torres.
Gerrard scored 16 in 31 league games, and Torres 14 in 24, and Liverpool pushed eventual-winners Manchester United to the limit as they eventually finished second in the Premier League.
Their partnership was as telepathically devastating as Suarez's with Daniel Sturridge last season, and Torres clearly brought the best out of Gerrard.
The next season, Torres scored 18 goals in 22 Premier League games, but that proved to be his last prolific season; Torres' drop in form after that season is one of world football's most remarkable mysteries.
Post-Merseyside Struggles
Fernando Torres has today completed his loan to AC Milan. Good luck @Torres! http://t.co/hIHv0WNKZb #CFC pic.twitter.com/WOeJ59X0l8

— Chelsea FC (@ChelseaFC) August 31, 2014
Coinciding with the departure of Benitez and the appointment of dear Roy Hodgson, Torres' form in the 2010/11 season was poor. Also suffering from post-World Cup hangover, having arguably returned from injury too soon, Torres never recovered his pace.
Increasingly lethargic and abject on the pitch, Torres was no longer making the incisive runs and devastating finishes that so hallmarked his early years on Merseyside.
Unsurprisingly, Torres joined Hodgson in leaving, with Liverpool hoping to signal an end to their poor fortunes on the pitch, and cash in while they were at it.
Chelsea stumped up £50 million to sign the striker, but never saw a return on this investment.
Torres scored 20 goals in 110 Premier League appearances for the Blues, under various managers—including Benitez, ending the theory that the striker would excel when reunited with his compatriot—and this season joined Milan on loan.
In the Vine era, Fernando Torres can make you smile once every six seconds. http://t.co/eLjMURRUNF http://t.co/Z9bqoKCpPq

— B/R Football (@brfootball) October 27, 2014
With just one league goal in 10 Serie A games, and a series of risible efforts such as the one above, it is no surprise that Milan are reportedly willing to terminate Torres' temporary deal, and Mourinho unwilling to accept him back at Stamford Bridge.
It is then a continual misery that Liverpool are linked with the striker, who is such a shadow of his former self and arguably beyond restoration.
Never Go Back?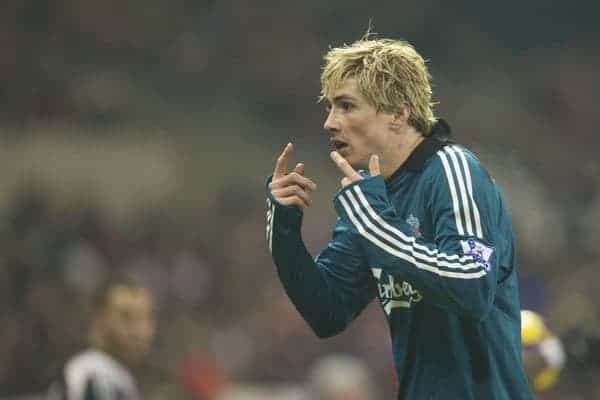 When Rodgers' managerial predecessor, Kenny Dalglish, was linked with a return to the club in 2011, the old adage that 'you should never go back' underlined an initial worry by the Liverpool faithful.
Dalglish was such an important, influential figure in the club's history, and remained that in his previous Academy role, that taking over from the disastrous reign of Roy Hodgson was a significant threat to his standing at the club.
While initially improving the side's form, and winning the League Cup, this short-term nostalgic spark swiftly gave way to troublesome tactical form—this could serve as a mirror to Torres' likely trajectory if he was to return to Liverpool.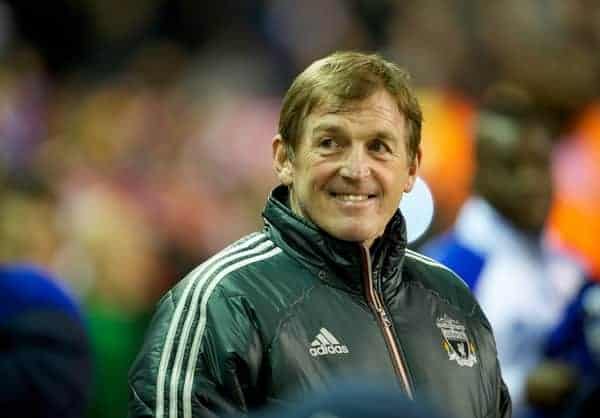 It was Dalglish who presided over the sale of Torres to Chelsea, and speaking before the striker's move that January, he was refreshingly stark when it came to his place in the team:
"Movement is part and parcel of football but the most important people at Liverpool Football Club are the ones who want to be here."
Torres, who had cut such a disillusioned figure at Anfield for the months previous, clearly did not want to be at the club, but now, when his stock is at its lowest, why should Liverpool welcome back their once-formidable striker?
The adage typically refers to the individual rather than the institution, and Dalglish risked his considerable reputation by taking charge of a mired side, but in this case it is the club that should draw a line under Torres' Liverpool career.
This should be based purely on footballing talent, and Torres is clearly lacking that now.
Genuinely don't get some LFC fans' fixation with Torres. Two years ago I'd have entertained the idea, but he's absolutely finished now.

— Si (@PhantomGoal) December 13, 2014
It is likely that the same factions calling for a Torres return would also embrace Benitez's supplanting of Rodgers in the Anfield hot-seat, and press for Gerrard to remain an ever-present.
Liverpool, while a club of enviable history, should not lean on this as they look to forge a renewed success in the Premier League and in Europe.
This means not going back, not dining out on sentiment, and not bringing back a 30-year-old, 30-league-goals-in-five-years Fernando Torres.
Should Liverpool re-sign Fernando Torres? Let us know in the comments below.