Despite a disappointing 0-0 draw in their FA Cup quarter-final clash with Blackburn Rovers, Jack Lusby believes Liverpool should not fear a replay.

Liverpool's encouraging recent run came to a halt with a 0-0 draw at home to FA Cup quarter-final opponents Blackburn Rovers on Sunday, but there is little cause for concern ahead of an Ewood Park replay.
It was a drab affair at Anfield, with Brendan Rodgers' side showing a lack of cutting edge amid a frustrating defensive showing from Blackburn.
However, Rodgers showed enough in-game ingenuity to suggest the Reds can come out on top next time around, and will benefit from a less congested fixture list from now on.
Cynical Blackburn Rovers

After the game, BT Sport presenter Jake Humphrey desperately clung to his likely pre-meditated summary that "the cup's done it again."
In truth, and similarly to Saturday's Bradford City-Reading stalemate, this was an awful game of football.
A giant killing is always welcomed, but there is a big difference between a great result for the neutral and a great display—at Anfield on Sunday, Blackburn set up for a frustrating tie, for which they are due credit.
Gary Bowyer has commendably steadied what has been a very troubled Blackburn side since his appointment as manager, and this has largely been due to their effective direct style.
At Anfield, Blackburn set up in a 4-2-3-1 formation, with Lee Williamson, Corry Evans and the slightly-more-advanced Tom Cairney prowling ahead of the Rovers back four.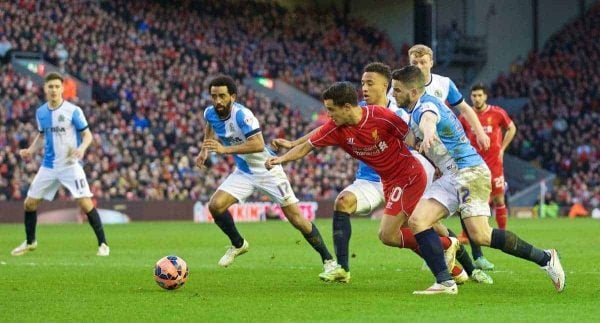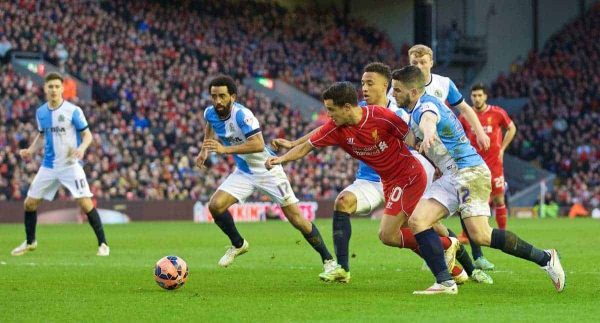 This suffocated Philippe Coutinho and Adam Lallana in the dual No. 10 roles, and as such Daniel Sturridge was starved of service—Liverpool had just four shots on target.
Bowyer's attacking plan largely consisted of lumping the ball up to lone frontman Rudy Gestede.
Gestede made his intentions clear in the opening five minutes, with a robust (but fair) aerial challenge leading to Martin Skrtel's withdrawal with a suspected concussion.
This approach perhaps suited what is looking an increasingly poor Anfield pitch, and Gestede's physicality troubled a decidedly shaky Reds defence.

However, aerial prowess aside Gestede played the target man role rather poorly—the striker posted a 54.1 percent passing accuracy, made no clear-cut chances for his teammates, and made five unsuccessful touches.
Blackburn did enough to stymie Liverpool on Sunday, who looked to be suffering from somewhat of a fixture-list hangover, but did little to suggest a replay will be a true challenge for Rodgers' side.
Liverpool's Tactical Switch

On his appointment as Liverpool manager, Rodgers declared that "if plan A doesn't work, plan B is to make a change to make plan A more effective."
In other words, and rather encouragingly, he would not look to compromise Liverpool's attacking ideals by opting for a typical 'plan B' (see: route one) approach, but instead look for ways to tweak his system.
With Liverpool's 3-4-2-1 clogged by Blackburn's efficient midfield, Rodgers shifted his action zones wisely.
Much of this stemmed from the introduction of Mario Balotelli, who took the place of Lazar Markovic on 58 minutes.

Balotelli's physical presence, and the switch to a forward two, forced a change to Blackburn's shape.
Coutinho and Lallana, who switched to a right wing-back role on Markovic's withdrawal, took up wider positions in the second half, more often than not looking to aim crosses into the box rather than engineer a way through Blackburn's resolute central area.
Between them, Coutinho and Lallana made a remarkable 20 crosses.
For means of comparison, their combined season's average in the Premier League amounts to just one per game.
From Balotelli's introduction, and this tactical switch, Liverpool dominated Blackburn, who rarely got to ball out of their half.
Naturally, the Reds still lacked a cutting edge, but Rodgers showed his tactical nous, and a possible solution to what will likely be a similarly defensive Blackburn setup at Ewood Park.
Time to Regroup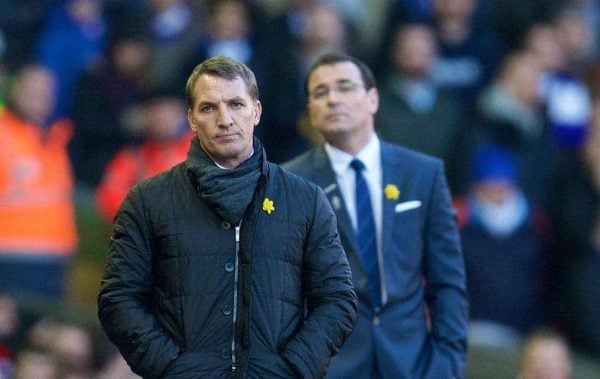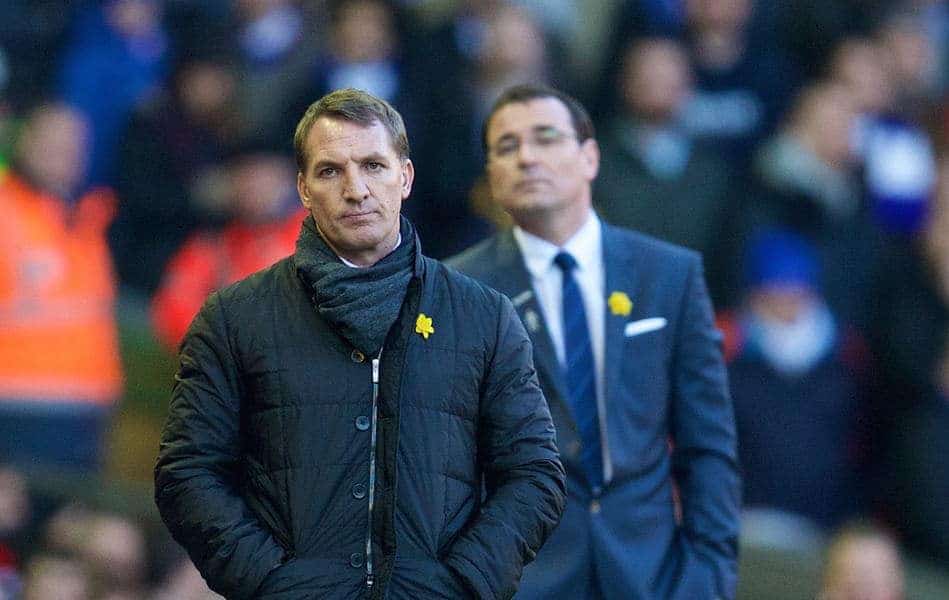 At present, the date of the prospective Ewood Park replay is under debate, with very few true gaps in either side's schedule, that of other TV scheduling and an international break, with anything from late March to mid-April speculated.
Either way, the prospect of a replay at least allows Rodgers and his side time to regroup and restore some impetus, and one more fixture is nothing compared to Liverpool's heavy last four months.
This game was Liverpool's third in a week, for a prime example.
The absence of Mamadou Sakho and Joe Allen in this fixture was significant—Sakho's physical and technical prowess was missed at the back, and Allen's energy and efficiency was sorely missed in a crowded midfield.

Furthermore, the early departure of Skrtel dealt Rodgers another blow, despite Kolo Toure's comfortable showing in his place.
At the very least this upcoming replay clash offers Liverpool a chance to pool their strongest resources, gather the experiences gained at Anfield on Sunday and mount a renewed charge on the FA Cup final.
The eight-day gap between this draw and Liverpool's next game is the longest for the side since mid-November, and there is perhaps reason to forgive an uninspired performance such as this after the last four months.
Happily, on top of that, Blackburn Rovers showed no reason for Liverpool to fear a trip to Ewood Park in the near future.
Statistics via WhoScored.
Can Liverpool take any positives from Sunday's 0-0 FA Cup draw against Blackburn Rovers? Let us know in the comments below.