The morning after Liverpool's limp 3-1 defeat to Crystal Palace, we take a look at the best morning newspaper reaction.

There can be no doubting that Saturday was a special day at Anfield, as Gerrard was given a memorable send-off in front of his adoring fans.
The 34-year-old will not play a competitive match there again, and for a generation of Reds supporters, it truly feels like the end of an era.
Opinion: Steven Gerrard let down on Anfield farewell, with much work to be done: http://t.co/i7Oo7sVVOP pic.twitter.com/suEegiB6t4

— This Is Anfield (@thisisanfield) May 17, 2015
The actual performance from Brendan Rodgers' side was shocking from start to finish, and Palace were more than worthy of their victory.
Too many players simply didn't show up, and with Gerrard departing for Los Angeles, you have to fear where the leadership and match-winning quality is going to come from next season.
Liverpool's iconic captain was the understandable main talking point in the morning papers, but the Reds' poor performance and Rodgers' future were also highlighted by some.
MAIL SPORT: Goodbye Stevie G #tomorrowspaperstoday #LFC pic.twitter.com/mCl2VXAYiP

— Neil Henderson (@hendopolis) May 16, 2015
Henry Winter (Daily Telegraph)-
Gerrard has been more than a player for Liverpool; he has been a home-grown emblem of the club's pursuit of excellence and a figure of defiance in difficult moments.

That is why the salute was so long and powerful. Gratitude and reverence filled the Anfield air. "I'm devastated I'm never going to play in front of these supporters again," Gerrard said.

Tributes came from all quarters. Palace presented him with an inscribed Jeroboam of Champagne. Respect for the former England captain flows through the game. Liverpool's DJ went early with the musical tributes, starting with "Simply The Best", followed by "It's The End Of The World As We Know It", "No More Heroes", "It Must Have Been Love", "LA Woman" and "Nothing Ever Lasts Forever". Everything bar "I Don't Want To Go To Chelsea".
Daniel Taylor (The Guardian)-
It certainly wasn't the end Gerrard must have craved when he came out into the sunlight with his daughters, Lilly-Ella, Lexie and Lourdes, and a man of his competitive instincts will be dismayed that he could not go out with a more fitting performance. The whole day, he said, had felt "very strange".

Ultimately, though, there is only one reason why Liverpool 1 Crystal Palace 3 on 16 May 2015 will be remembered in these parts and the clue is this: there were photographs of we-all-know-who on 34 separate pages of the programme. The front cover showed him in typical pose – fists clenched, roaring to the skies, celebrating one of his 185 goals for the club – and there is artwork at the Tate gallery on Albert Dock that has taken less time to put together than the tribute the supporters created for his send-off.

INDEPENDENT SPORT: Goodbye to a legend #tomorrowspaperstoday pic.twitter.com/UCop5i7gjn

— Neil Henderson (@hendopolis) May 16, 2015
James Pearce (Liverpool Echo)-
In the end, it was a fairytale script that just wasn't to be. Liverpool FC failed to give their skipper a winning send-off as his farewell Anfield appearance ended in a dismal 3-1 defeat to Crystal Palace.

Although Adam Lallana gave the home side the lead midway through the first half, the visitors were always dangerous in possession.

And after Jason Puncheon equalised with a fine free-kick before the break, goals after the interval from substitutes Wilfried Zaha and Glenn Murray mean Brendan Rodgers' side are still not assured of European qualification with one Premier League game remaining.

This, though, was an evening all about one man, Gerrard saying goodbye to the Anfield crowd for the final time before moving to LA Galaxy in the MLS this summer.
Arash Hekmat (The Mirror)-
For all the credit he received failing gloriously last year, Rodgers has copped plenty of flak this campaign – for everything from his dubious summer transfer policy to his decision not to offer Gerrard a contract extension back when the club captain would have been ready to stay.

With hindsight, that may come to be seen as not such a bad thing – given all the evidence we've seen this season that Gerrard isn't the force he once was.

In the long-term, Liverpool will probably benefit far more from giving their manager the time he needs to rebuild than they would from convincing Gerrard to stay another year and bringing in a new manager.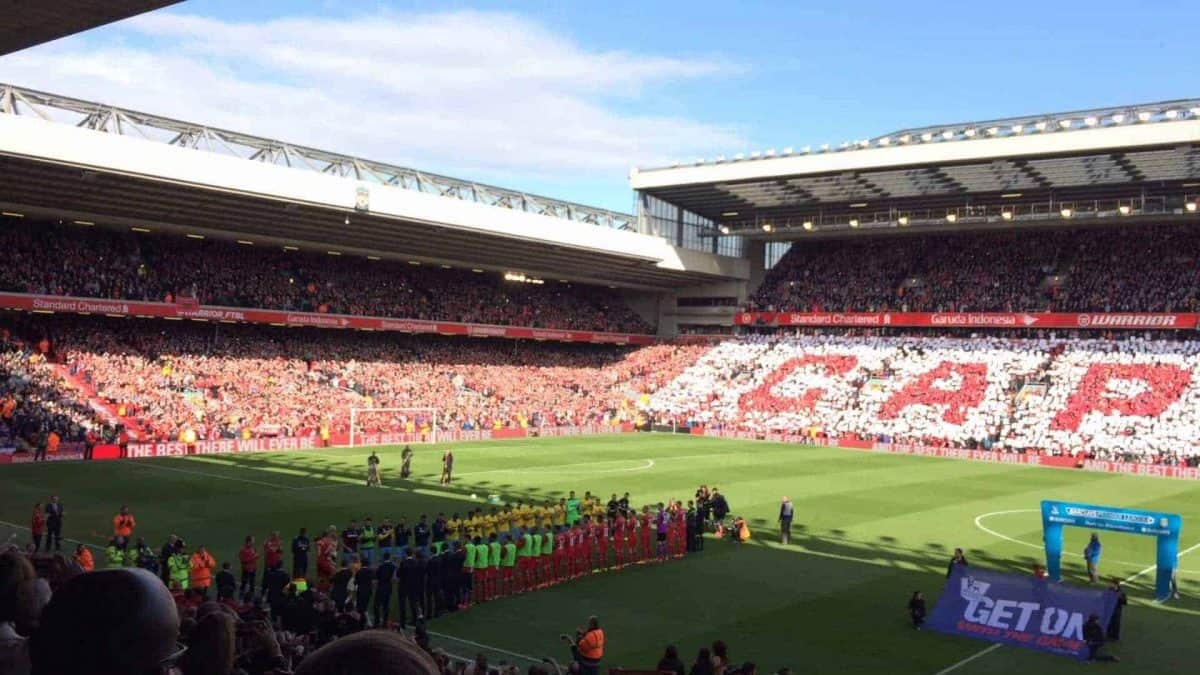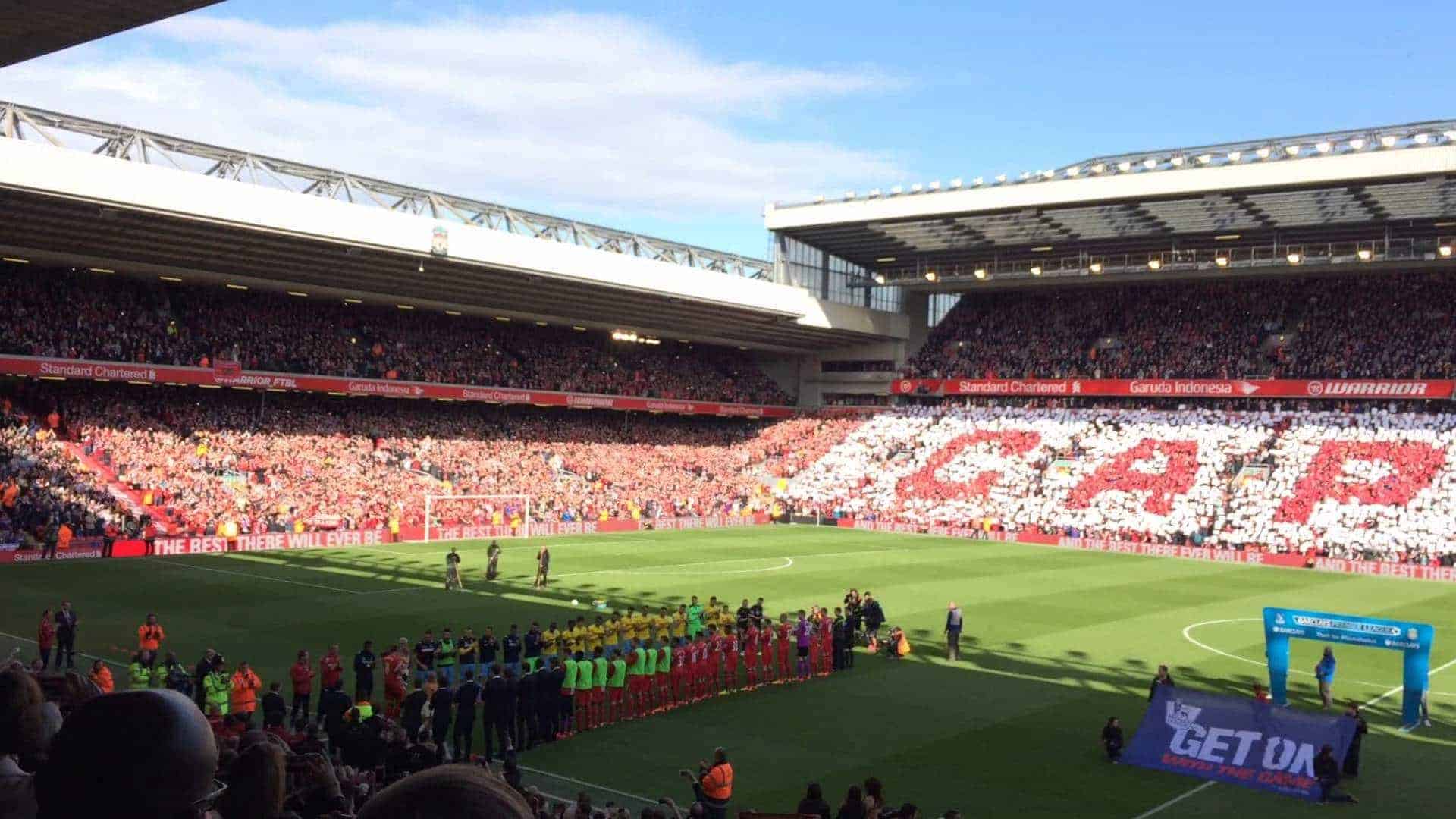 TELEGRAPH SPORT: Last action hero #tomorrowspaperstoday pic.twitter.com/cnvLno7mxD

— Neil Henderson (@hendopolis) May 16, 2015
Rob Draper (Mail on Sunday)-
A game which had the air of testimonial descended into one of those lacklustre Liverpool performances which leaves you worried for their future.

Gerrard, for all the love surrounding him, could offer little. His hopelessly skewed shot on 81 minutes even brought a friendly reproach from The Kop, inquiring precisely what he thought he was doing, only in slightly more colourful language.

Of course, he was rightly celebrated and lauded both at the beginning of the game, with a guard of honour and at the end, when his words and the overflow of emotion from the crowd would have stirred the flintiest soul.

And he walked around the ground, with his three daughters, Lilly-Ella, Lexie and Lourdes in tow, it was impossible not to be swept up in the appreciation of what he has represented for this club and for his country.
Tim Rich (The Independent)-
In contrast to everything that had gone before, Gerrard had been anonymous. It is worth remembering that the final Test innings of Jack Hobbs, Don Bradman, Geoff Boycott and Graham Gooch add up to 19. It is one of the beauties of sport that it cannot be choreographed.

There was a shot that almost beat Hennessy at the far post but as the game wore on, Gerrard faded more into the background, ready to become part of Liverpool's past, no longer their captain but a memory, a banner on the Kop.

Dave Usher (ESPN)-
The scoreline did not flatter them in any way and they appeared to want it more than the Reds, which given the occasion is somewhat surprising.

Liverpool were disjointed and got worse the longer the game wore on. It was too easy for Palace defensively, while the pace of the Londoners' attack gave Liverpool's backline all manner of problems.

It's been a poor season overall for the Reds and this defeat, combined with wins for Tottenham and Southampton, means Liverpool face the possibility of finishing as low as seventh if they lose at Stoke next weekend.
Liverpool finish their disappointing 2014/15 campaign away to Stoke next Sunday (15:00 kick-off GMT), before recharging their batteries and focussing on a vital summer of transfer business.