Michael Owen has told Liverpool fans not to lose sleep over Raheem Sterling's uncertain future, insisting the midfielder is replaceable if he leaves Anfield this summer.

Sterling, who has two years left on his contract, turned down a new deal worth £100,000 a week in January and relations have soured after Liverpool cancelled a meeting to restart negotiations.
Losing Sterling would represent another blow to the Reds, who sold Luis Suarez last summer and will be without talisman Steven Gerrard next season.
Liverpool finished eight points adrift of the top four and it is believed Sterling is eager to join a club in the Champions League, with Manchester City, Manchester United and Arsenal all linked with the 20-year-old.
"I think he is a very good player but, put it this way, a year ago they lost Suarez, he is irreplaceable, you cannot replace someone that good," said Owen, speaking at the launch of BT Sport's European football coverage.
"If Liverpool lose Sterling they can replace him. Certainly with the money that they would get I think you can replace Sterling.
"I think he's a very good player, got loads of potential, but you can replace him and you can't replace Suarez.
"If I was a Liverpool fan I would obviously want an answer, but I wouldn't be losing sleep if he did leave and you got a fair old chunk of money for him because I think he is replaceable."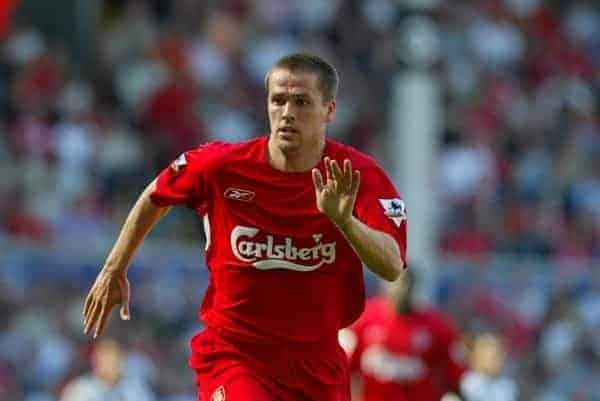 Sterling was jeered by some fans during England's goalless draw with the Republic of Ireland on Sunday, less then a month after he was booed by Liverpool fans as he collected the club's Young Player of the Year award.
"I expect him not to be a Liverpool player because if he was, and was pushing the boundaries for a better contract, you would probably think it's gone a bit too far now," Owen said.
"Public opinion has counted against him, so you would have thought he would be leaving. That would be my inclination."
Owen added: "If he signed tomorrow I'm sure it would all be fine, but I do think now that it's gone a bit too far.
"If he was in two minds then probably the reaction of the fans at the moment, and probably with a sour taste in his mouth about everything that has happened, then he would probably look into starting afresh again."
One player coming into Liverpool is striker Danny Ings, who will join the club on July 1 subject to a medical.

Ings, who scored 11 goals for bottom club Burnley last season, is considered one of the brightest young forwards in the country but Owen has warned the 22-year-old about the pressures of playing for a top club.
"It's a whole new ball game when you go to a club like Liverpool," said Owen, who scored 158 goals for the club in 297 appearances.
"Then the scrutiny is on. Any weaknesses that you have in your game will be exposed at a top club. "I know a lot of people think that if you are at a club like Liverpool or Man United then you should score 20 goals a season because you are getting all the chances.
"It's true if you are good enough, but if you are not good enough then you get exposed really quickly and it's not pleasant.
"Talking of Danny Ings, he's a goalscorer, he's put in some really good performances.
"He will have to make that step up into a team where things are expected of you, not just nicking a goal every so often and you make the headlines.
"This is, if you play poorly once, you get plenty of criticism, so it's a different challenge he has taken on."