Lazar Markovic has been touted as a 'committee signing' – a gamble of £20 million and loaned out too early, writes Danny Gallagher.

It's not easy being a Liverpool fan. At the best of times the club leaves us scratching our head and, more often than not, tearing out hair completely.
It's one thing to be confused by the club for the most apparent of things, but when it comes to confusion over dubious or seemingly nonsensical transfer dealings – you wouldn't be blamed for wanting to give up all together.
Last week brought the bemusing news that Reds winger Lazar Markovic was being shipped out to Turkish outfit Fenerbahce.
Just twelve months after being purchased for the tidy sum of £20 million, Markovic was wheeling his case through the Anfield exit door – leaving many Kopites perplexed and wondering who exactly strings together the childlike logic that is the Liverpool football club transfer strategy.
At what is considered an elite tier football club, it is commonplace for a player to be discarded after a year of indifferent performances.
Players who remain in a monochrome blur and fail to catch the eye usually part company with their employers without so much as a second glance from fans… but such players are not usually the owners of a 20 million pound price tag.
Markovic is a curious case. He arrived shrouded in blind expectation, with age on his side and a host of eastern European journalists singing his praises.
I'm willing to suggest the Youtube search 'Lazar Markovic skills' went into overdrive once the Serbian put pen to paper on his Liverpool deal.
Fans were excited, I myself was also sold – this lad can play, I instantly thought.
Summer 2014 ticked on, debut time arrived for the Serb – Olympiakos the opposition. A substitute cameo it may have been but Markovic played all the right notes, each one in tune.
Nice touches, agile movement, conservative yet dangerous in possession.
A fierce shot whistling just over the bar after cutting in from the left wing capped off his first Reds outing.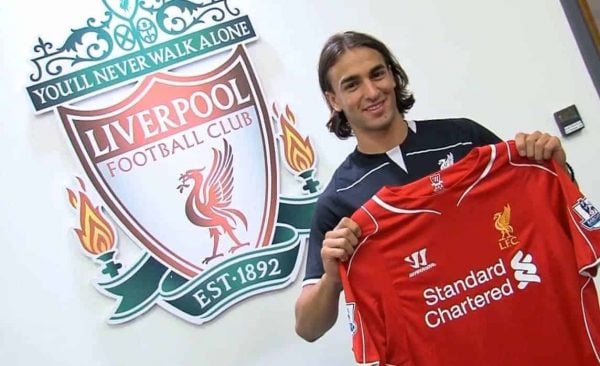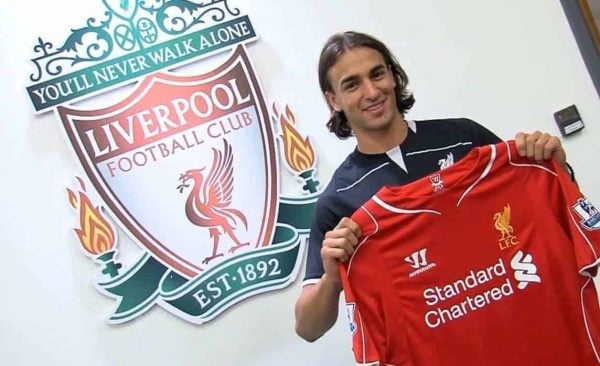 Injury struck and the season thereafter was mixed, for both the Serb and the club itself. In a season of chronic under achievement with little positives, it appeared the 2015/16 campaign would be a clean slate for all, another crack of the metaphorical whip.
But that seems simple – and football just refuses to be simple.
Markovic heads off on loan, Mario Balotelli not far behind him – while earlier in the window Javier Manquillo was sent home quicker than a chicken pox infected schoolboy. Elsewhere, Rickie Lambert had already bought a house in the Midlands.
Each were brought in during the previous window to help bolster the squad, offer niche qualities and generally lift Liverpool to the next level – which from the 2013/14 season could only be aggressive title contention and nothing less.
Yet no sooner had these players arrived on the conveyer belt into Melwood they were doing the rounds straight back out – no more desirable than unclaimed luggage, it seemed.
This raises the debate over players being a 'Rodgers signing' or a 'committee signing' – a 'boardroom signing' as it were before LFC introduced the much debated 'transfer committee'. Truth is it's a mythical term often the subject of ill-use when a manager or chairman doesn't want to take responsibility for a failed gamble.
A typical 'boardroom signing' can be easily identified in most teams, and differs in appearance depending upon the economic might of the club in question.
A typical 'boardroom signing' usually fulfils the same criteria: they must be cost-effective, they must be suitable to play in the position where the club is player-light and they must have a reasonable if not similarly priced resale value.
Essentially a game of minimal gamble, minimal risk. Did someone just mention Oussama Assaidi?…
A better example of this can be highlighted with Tottenham Hotspurs' under-the-radar purchase of Nacer Chadli.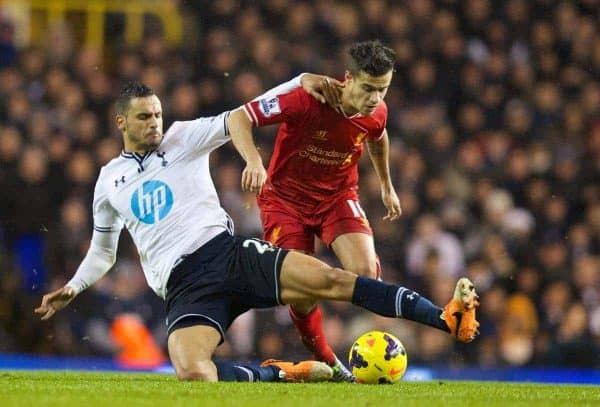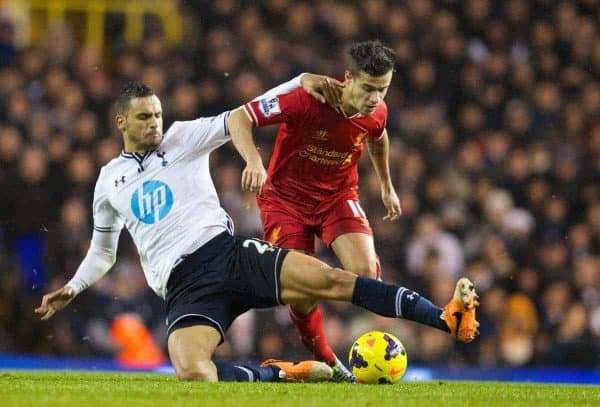 In the wake of Gareth Bale's headline dominating departure, Spurs began to flutter out the notes faster than Jordan Belfort on a Wall Street bender.
Yet Chadli's modest £7 million arrival got chins wagging in the football world all the same – who was this player and for what reason was he being added to the squad alongside the big buck signings of Christian Eriksen and Eric Lamela?
Chadli was very much a 'boardroom signing' by every degree of the term.
He was young, athletic, potential-laden, had strong resale value (pending any freak injury) and, most importantly, was cheap enough to represent great value.
Minimal risk, minimal gamble.
If Chadli proved to take to the Premier League like a duck to water and fill the exceptionally unique boots of Gareth Bale – fantastic.
If not, his bags would be packed and he would be stealthily escorted out of the back door before any fans could muse about 'that Belgian midfielder'.
As it happens, Chadli has fared reasonably well at Spurs, without setting the world on fire. His signing draws many parallels with that of Markovic – everything that is, except the price.
If indeed Markovic did turn out to be a Liverpool 'committee / boardroom signing' the figures simply don't compute.
This, for the moneyball-esque Fenway Sports Group, makes very little sense.
It's hard to determine what Liverpool's current thinking is with Markovic. Sending him off to an exciting yet inferior league in Turkey creates a conundrum all of its own.
Does one successful year in the Turkish Super Lig make one deserving of a Premier League starting position? I'm sure most people's answer to that one would be no, no it doesn't.
So then where does this leave us? Interpreting the club's logic is guess-work at best, but all fingers point to the Reds hierarchy hoping Markovic bosses a league which is comfortably beneath his level of ability.
A solid season in Turkey gets tongues wagging and cheque books opening.

It's disappointing that after a solo season the Reds are set to cash in on an asset who has shown flashes of strong potential – but that is seemingly the direction this tale is taking.
Liverpool and Spurs are often pitted against each other in a table of comparisons – a common theme being mistakes in the transfer market.
When it comes to 'boardroom signings', both clubs are guilty of their fair share.
On this occasion however, placing the individual examples of Markovic and Chadli under the spotlight – would anyone back the Reds on being the more strategic and forthright of the two?
Good luck recouping £20 million, Liverpool. Back to the drawing board.