The time has come for Brendan Rodgers to be sacked as Liverpool manager. Why FSG are delaying the inevitable makes no sense at all.

If there were still a few remaining loyal fans who felt Rodgers was the man to take the Reds forward, Wednesday's shambolic League Cup win over Carlisle was surely the final straw.
Liverpool had to settle for a penalty shootout triumph against their League Two opponents, and Anfield almost felt embarrassed to celebrate the victory at the end.
When home supporters boo their own team off at half-time, full-time and at the end of extra-time, you know it's been a pretty grim evening.
Liverpool can't even beat a struggling Carlisle side in league 2. No excuse, Rodgers needs to leave swiftly.

— Tom McMahon (@tomjpmac) September 23, 2015
Whether it be the endless long shots, lack of fight (the impressive Danny Ings aside) or worrying absence of an identity, it really was dire.
Rodgers has come as far as he can at Anfield following three-and-a-bit years of ups and downs on Merseyside, and he looks like a broken man. His team is certainly broken.
Changes needed immediately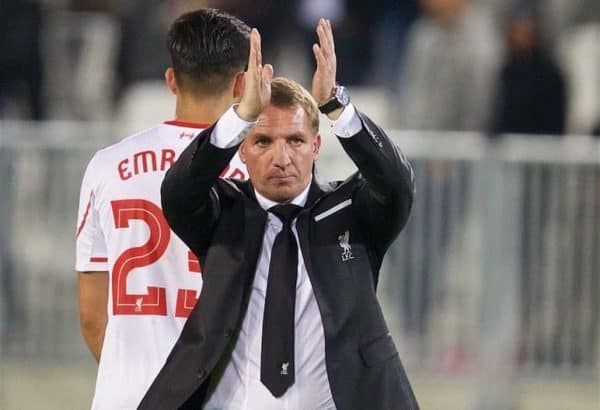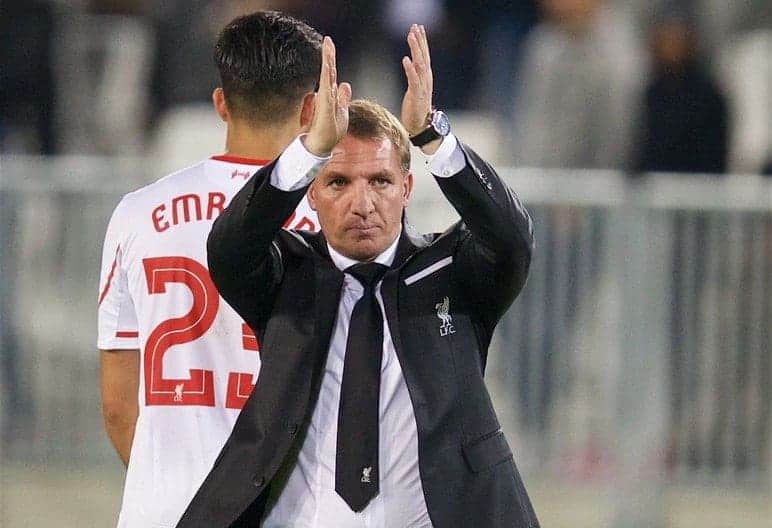 FSG surely know deep down that the 42-year-old's time is up too, so why are they delaying the inevitable? There are no positives whatsoever in keeping Rodgers now. Nothing can be gained by waiting until Christmas.
It just feels as though the Liverpool owners are waiting for one more inexcusable defeat before getting rid of the Ulsterman. What is the point?
Perhaps that will come against Aston Villa at Anfield on Saturday, or maybe in the Merseyside derby at Goodison Park a week on Sunday.
Either way, there is going to be a horrible loss eventually, and the vitriol that will be sent in Rodgers' direction will be helpful to nobody.
A broken man #LFC pic.twitter.com/ddCXetLc3r

— Spion Kop (@TheKopHQ) September 24, 2015
The danger of persisting with him is that Liverpool could be out of the top-four race soon if they are not careful, and the new manager coming in will immediately have an impossible job on his hands.
That and we'd be a less attractive proposition to a new manager if the task of reaching the top four is almost out of reach. Do it now and the new manager knows he has most of the season to turn things around.
Man United and Arsenal are already beginning to show signs of pulling away from the Reds as their form becomes more consistent, while Chelsea will turns things around as the season progresses.
Another season of rebuilding is simply not good enough, and Liverpool need to be in a position where they are still very much fighting on all fronts when the inevitable managerial change is made.
We find ourselves in exactly the same position we were in in late 2010, when the supporters were calling for Roy Hodgson's head. As explained previously, FSG kept sticking by Hodgson until Liverpool were in truly dire straits, before caving in months later than they should have done.
How has Rodgers lasted this long?

There have arguably been three separate occasions already this season when Rodgers could not have been surprised about losing his job.
The 3-0 home defeat to West Ham was a disgrace, and while some supported the manager and felt it was a one-off bad day at the office, the shambolic display at Old Trafford a fortnight later should have spelled the end.
Relatively insipid draws against Bordeaux and Norwich have followed, before the Carlisle debacle reached a whole new level of embarrassment for the club.
A new manager to these players would be like an adrenaline shot.

— Sam McGuire (@SamMcGuire90) September 23, 2015
Considering how ruthless football is these days, it really is remarkable that Rodgers is still the Liverpool manager.
The 6-1 humiliation against Stoke City saw plenty lose faith, especially after the home defeat to Crystal Palace and FA Cup semi-final loss to Aston Villa, but he clung on by the skin of his teeth.
While some felt it was fair that Rodgers survived the summer and proved himself in 2015/16, it is now abundantly clear that he has run his course.
Time Up

Supporters will always have differing opinions of Rodgers when he does eventually leave but it is important to stress that it has been far from all bad. He has been far superior to Hodgson overall.
The Northern Irishman got Liverpool playing some of their most exciting attacking football of the last 20 years at times, and that is NOT purely because of Luis Suarez.
His tactics have been innovative and attack-minded at times, and the way he has improved youngsters like Raheem Sterling, Jon Flanagan and Jordan Rossiter should be applauded.
His time is most certainly up, however, with a new man in the Anfield hot-seat very much called for. The spark has gone.
FSG cannot afford to make the same mistakes they did with Hodgson, and must relieve Rodgers of his duty before things get even worse than they currently are.
[interaction id="56031da5c70ac51c03852d7c"]
Subscribe to Henry's increasingly popular new podcast 'Koppage Time' (@KoppageTime) on iTunes or listen on Podomatic.