Liverpool's forgotten centre-back Tiago Ilori is determined to learn from the mistakes he has made but has already put his wasted loan spell at Aston Villa behind him.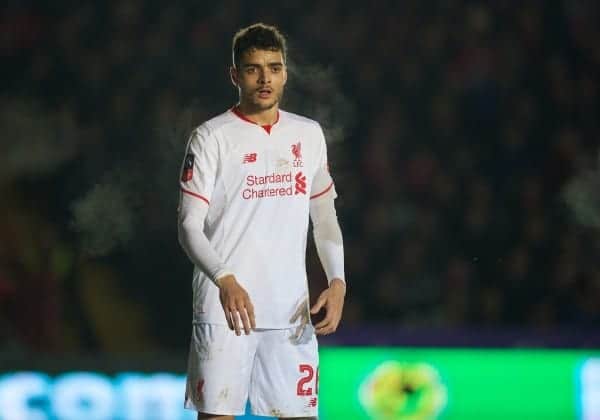 The Portugal Under-21 international made his Anfield debut – just his second appearance in almost two and a half years – in the comfortable 3-0 FA Cup third-round replay win over League Two Exeter.
Due to a series of loans his first game in a red shirt came just over a week ago in the original encounter after he was recalled from Villa – where he failed to get a first-team match in three months.
Chances may be limited at Liverpool from now until the end of the season, especially as they face Premier League opposition in West Ham in the next round and also because manager Jurgen Klopp has brought in Steven Caulker, a player with proven top flight experience, on loan.
However, it appears the German will reset the youth system in the summer and Ilori, 23 next month, still believes he has a chance to prove himself after being farmed out to Granada and Bordeaux in successive seasons.
"You always have to look at the positives but even the negatives you can learn from and that is something I try to work hard on every day and not make the same mistake twice; mistakes maybe like, at times, not working as hard as I needed to, just mistakes in general," he told Press Association Sport.
"It is not easy [adjusting to loans] but that is part of being a footballer. We have to adapt and do our best.
"I came here a couple of years ago (September 2013) and I wasn't here more than four months before going on loan.
"I never really got comfortable enough and that is definitely something I needed. Working with the same people every day is important.
"I am not trying to think too far ahead. I am just working hard every day, getting as many minutes as I can and be ready when I am needed to play as there are great players in my position."

Ilori signed on loan for Villa this season but got nowhere near the team and manager Tim Sherwood's sacking made things more bleak.
With a centre-back injury crisis biting in possibly the busiest month of the season Klopp called for reinforcements and came to a deal with Villa to allow Ilori to leave despite being contracted for the season.
"When I went there I wasn't injured. I didn't do pre-season but I'd had a tournament with the national team in the summer," he said.
"I was, in my opinion, fit. I trained, played a few friendlies to try to get match fit again and waited for my opportunity.
"It has not been an easy season for Vllla and things are complicated but I went there to play so it is not easy for me to be happy if I am not playing but at the end of the day the coach has to make a decision and he made the decision he thought was best so I can't really criticise. I just tried to work hard."
Ilori's Anfield debut came 869 days after he signed from Sporting Lisbon for £7million, a not inconsiderate sum for a then 20-year-old centre-back.
He was flagged as one for the future but it appeared he had none after being sent out on loan three times, the first four months after he had arrived in the country.
"I am confident in my own ability. All you can do is work hard and try to show your strengths. I would loved to have had a chance earlier but that is just the way it goes," he said.
"It is obviously mainly my fault because if I don't show myself in training I won't get that chance. I can't wait for injuries, I need to show I am ready.
"There are a lot of arguments but there is no book to say how it should be done. Different players develop in different ways and there is no guarantee in anything.
"I just need to work hard and whether [the future] is here or wherever I'm happy to be back and that's the most important thing."