Despite missing Saturday's 10,000-strong protest against Anfield ticket prices, Jurgen Klopp was in defiant mood in calling for a "solution."

Klopp returned to action on Monday after undergoing surgery to remove his appendix on Saturday afternoon—an operation that ensured he missed Liverpool's 2-2 draw with Sunderland.
Though hampered with familiar problems on the field, that Anfield clash was most notable due to a mass walkout of supporters on the 77th minute, in reaction to the club's newly proposed ticket prices—of up to £77 for a single ticket in the new Main Stand—from the 2016/17 season.
Speaking to reporters on Monday afternoon, Klopp agreed that the club must find a "solution" to this dispute.
"It's not too easy for me to say too much," he said, referencing his illness.
"It's my problem too of course, but everything I could say would make it more complicated.
"I have to collect more information because the club is speaking to find a solution.
"It's not what we want.
"We don't want people to leave the stadium before the game has finished."
Liverpool announced that they were overseeing "ongoing ticketing discussions" this week, cancelling a planned Q&A with CEO Ian Ayre on Monday evening as a result.
While this indicates that the club are, in fact, looking to find a solution that will appease supporters, it is unlikely that a complete overhaul will take place.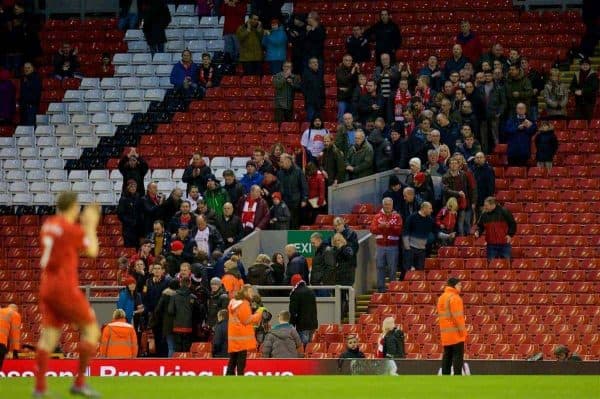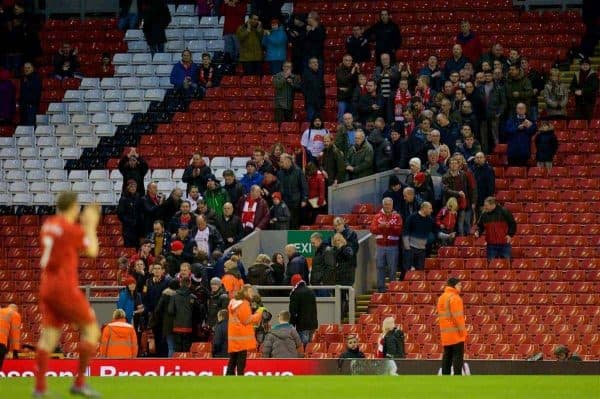 Klopp will no doubt sympathise with the supporters' cause, having expressed a similar standpoint when Borussia Dortmund fans boycotted their away clash with Hamburg in 2012.
"Who knows what these people endure to be here and support us in the stadium?" he argued at the time.
"If then 1,000 fans leave the stadium, I guess their concerns are quite big.
"We all have to be careful, that's clear, not to make things worse, there have to be talks.
"Either [the talks] were of no avail or have not taken place up to now. I can really understand the protest."
The magnitude of Saturday's Anfield protest was much more significant to that of Dortmund in 2012, with the swathes of supporters flooding out of Liverpool's home ground an unprecedented motion.
Fenway Sports Group have now been jolted into action, and supporters clearly have Klopp's backing.