Analyst Jed Davies provides a different take on Liverpool's incredible comeback against Dortmund last week, focussing on the Jurgen Klopp seizing "the moment".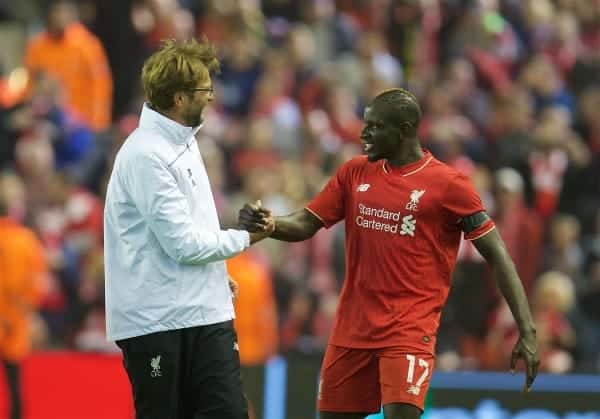 "With each offensive action for the opponent they grow in confidence and you become smaller, so it really is important because everything can have an influence." – Klopp
A lot has been said about Jurgen Klopp's half time team talk against Dortmund at Anfield on Thursday night. Still on the field post-match, filled with enthusiasm, Divock Origi revealed to a reporter that Klopp had told the players to go out and 'create a moment to tell our children and grandchildren'. Klopp also added that 'Liverpool were once down 3-0 in a Champions League final, so anything is possible'.
Before writing this article I had around 60 minutes of notes on a detailed tactical piece analysing the effectiveness of Dortmund on the counter attack in the first-half, but by full-time I was left with only one thought and memory.
When Klopp was appointed last year, I met up with Chris Davies (former Head of Analysis for Liverpool FC 2012-2015) to speak with him about his thoughts on Marcelo Bielsa for my next book, and conversation ended up in a more theoretical place looking at football beyond tactics.
To my surprise (mainly because before this meeting I had only known Chris as a tactical mastermind), Chris spoke passionately about footballers as people within a tactical context and stressed over and over that football is "made up of three components: your players, the opponent and the moment".
The next two hours of conversation led off of that one quote, we spoke about players as individuals and then as a collective, about various opponents and then filled the majority of our time discussing the third element of Chris' equation: the moment.
The moment is something difficult to quantify in football and refers to the moment of the season, the moment of the match, the moment in terms of what the player environment is like in the season after several losses or wins.
The moment is also often closely associated with the idea of 'flow', which psychologist Mihaly Csikszentmihalyi describes as "being completely involved in an activity for its own sake. Time flies. Every action, movement and thought follows inevitably from the previous one, like playing jazz. Your whole being is involved and you're using your skills to the utmost".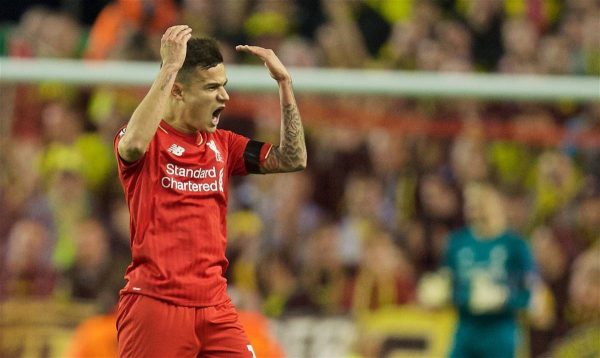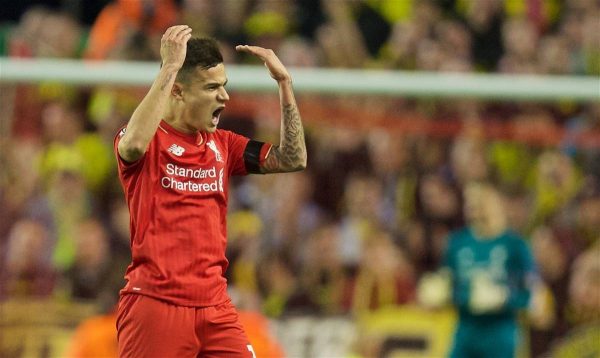 Flow is a state of thinking whereby performance increases through feelings of serenity, timelessness and complete focus. Csikszentmihalyi goes on to add that for flow to be a possible state of mind players must feel their goals are attainable and that they are in control of the situation and outcome.
Simply put 'flow' is the state of being 'in the zone' or 'in the moment' free from anxiety, stress or fear (even if the conditions are present for one of those emotions to thrive otherwise).
"Everyone in the stadium; you could hear it, you could feel it, you could smell it" – Jürgen Klopp
From Origi's goal onwards (albeit with a few moments of doubt creeping in until Daniel Sturridge and Joe Allen came onto the field) Liverpool fans and players were united with something that is very much a product of Klopp and his way of working, both on the training field and on the side of the field during games.
I've spent the last three years as a coach obsessed with the value of 'the environment' of a football team. At youth level that environment is made up of various axes: horizontally from player to player, from coach to coach, from parent to parent, and then vertically from player to parent (and vice versa), from coach to player ("") and coach to parent ("") and so on.
At a professional football club, the role of the fans replaces that of the parents, equally as difficult to manage for the most part. Klopp is a coach who recognises this situation and has done a great deal to bring about a conscious awareness of each axis and its importance in coming together to create 'the environment' on the football field, between players and their performance. Fans play a huge role in that equation.
"The atmosphere can be the biggest difference" – Klopp
I am of the belief that each cog in the make-up of what creates 'the environment' turns one another, rather than one at the top of a hierarchy turning others. Klopp and his staff, the fans and the players all come together to form 'the players' component of Davies' equation, but also in how we interpret 'the moment' too.
I grew up a Liverpool fan, despite not being from Liverpool. Liverpool called to me because above all other cities, it is the city of emotion (competing only with Newcastle perhaps?). It is one of the only real 'football cities' where everyone eats and breathes football, whether that be Red or Blue, they all contribute to that 'magic' that never seems to far around the corner.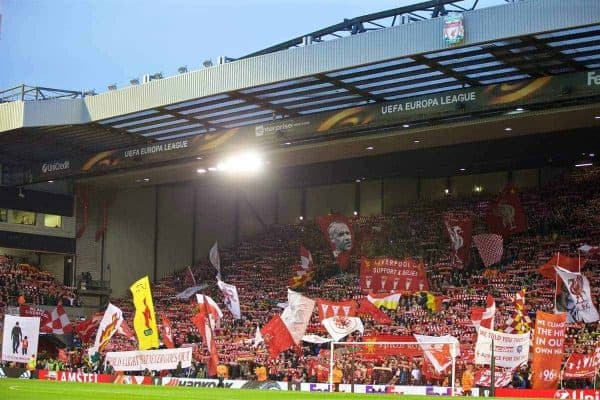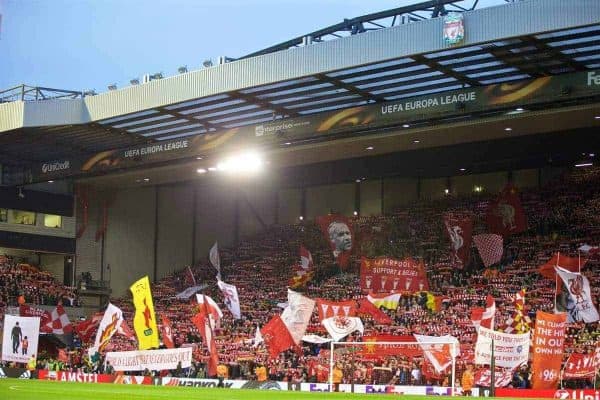 Gary Neville once wrote that Liverpool "is a very emotional city and, again, in many ways this is a strength, but for Liverpool Football Club, all of those qualities have become weaknesses".
Neville was right, at the time the emotional environment that filled the city was one with an underlying theme of 'doubt' and anxiety towards the end of Brendan Rodgers' regime.
If we return to the many axes that make up and impact the performance we see on the football field, many readers of TIA will recognise the fan to fan divide, or the fan to player or coach fall out: Allen, Lovren, Lucas, Rodgers and many others have risen and fallen dramatically along that curve.
We'll never really know what went on behind the dressing room doors but I am confident the loss of big characters like Jamie Carragher and Steven Gerrard only had a negative impact on the player to player environment, anything else said on that subject (beyond what has been well covered on Mario Balotelli) is largely speculative and it is not my place to do so.
When Klopp took over Liverpool I remember writing down a few commentaries on his approach to media (in communication to the fans). For one he simplified the game and refrained from using coaching terms (although I did clock he used the word 'gegenpressing' a few times), but on the whole the language used to communicate through the media to fans was far from the approach taken by Rodgers in his first season.
Klopp gave the fans back their game and simplified the lens we all use to support the team's performance through. Rodgers on the other hand detailed how a 'two and a one' midfield differentiated to a 'one and a two' midfield among other tactical objectives.
Rodgers had his own reasoning for doing this, which in hindsight turned out to be disastrous, but at the time the idea was to buy time and turn focus away from the results and towards technical parts of the performance.
Secondly I, like the world's media, wrote down the quote "we must turn from doubters to believers".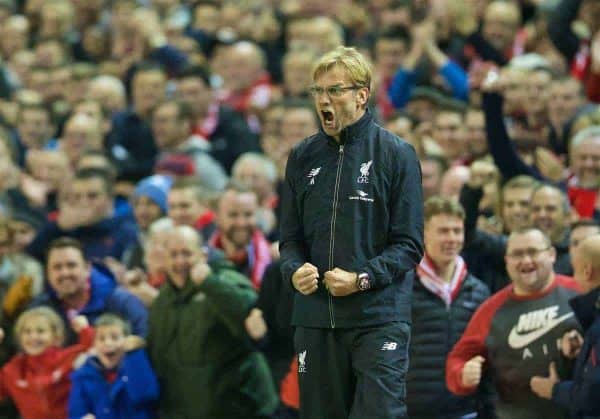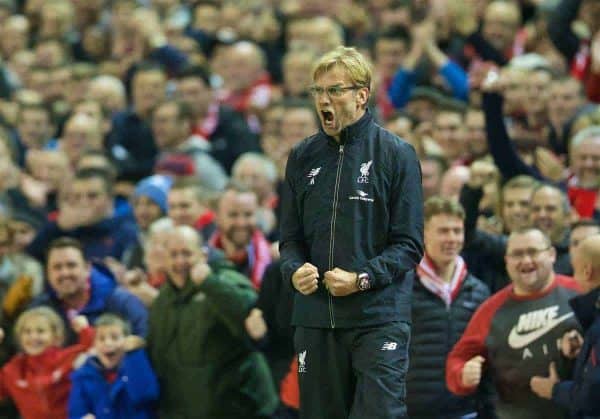 Right from the off Klopp knew he needed to tackle the issue of a defeated environment that left Rodgers parting way with the club. Klopp went on in October to emphasise a positive environment with a number of other statements made.
"If you are full of motivation as a player, if you are full of concentration… I am open arms" – Klopp
From day one, task one was to plan and rebuild the environment of the club (players, coaches, fans, the club's structure) and from there we can better interpret 'the moment' that Davies placed so much value last October.
On Thursday night against Dortmund, Klopp's old club, we can all agree we witnessed progress in the turning of that tide.
I know it's easy to get carried away but the last time I felt such an affinity to a football club and its fans was when Jerzy Dudek pulled off a fingertip save against the world's best striker, when Milan Baros led the front line with so much energy and when Gerrard waved his arms in the air at 3-1 down.
Those images have stuck with me as timeless images, I know as a fan I stopped analysing the game (as a coach/analyst) and just enjoyed the moment, in flow. For that, I can only stand back and appreciate the work Klopp has done and applaud after Thursday's contest with Dortmund.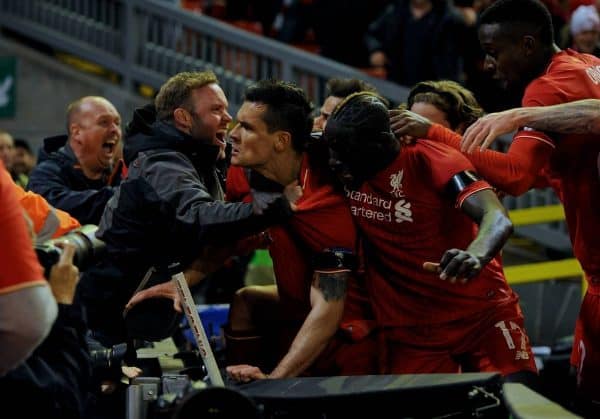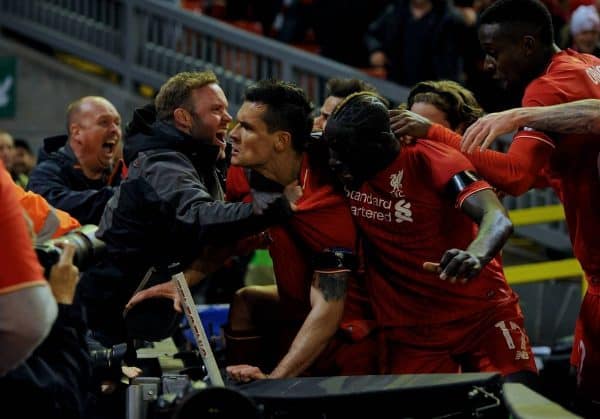 Raymond Verheijen, former Wales assistant manager (under Gary Speed) and the world's greatest coach educator in my own opinion, talks about 'communication' as the element of football at the top of the hierarchy of the four characteristics of football, above the conditioning of players, above the insight (game intelligence) of the individual players and above the technical ability of the players.
'Communication' includes the 'non-verbal' communication between players on the football field, which to most of those in football is what we refer to as 'football tactics' and what happens on the football field between players and the opponents.
Communication on a football field is also directly influenced by the player-to-player performance environment on the football field and therefore, by direct relation, influenced by all the many axis' that make up the environment of the football club.
Klopp was right when he took over Liverpool, he is the 'normal one' as he sits side by side everyone else in the many axes of the club environment, alongside the players as their partner in performance and alongside the fans as someone who recognises football as an emotional sport.
Someone who recognises that the greatest of moments on a football field are so often presented to us in moments of struggle where everyone pulls together as one.
I am someone who hasn't followed a football club as a supporter since Cardiff City changed shirt colour back in 2012 (among other political outrages before promotion to the Premier League), I was reminded on Thursday of what it meant to be a fan. Reminded of a personal memory lost somewhere in my childhood, on an old red Carlsberg sponsored football shirt with 'Berger' printed above the number '15'.
"Football is made up of three components: your players, the opponent, and the moment" – Chris Davies (now a first team coach at his old club as a youth player, Reading FC)
---
About the author – Jed Davies, @TPiMBW
Jed Davies is a football coach and international tactical consultant to Magnus Pehrsson (Estonia National Team Manager) who has written two books: 'Coaching the Tiki-Taka Style of Play' (2013) and 'The Philosophy of Football: In Shadows of Marcelo Bielsa' (to be published sometime this year).