Divock Origi and Daniel Sturridge were both on the scoresheet against Stoke, and both are looking sharp, it's an interesting selection conundrum for Jurgen Klopp in attack on Thursday.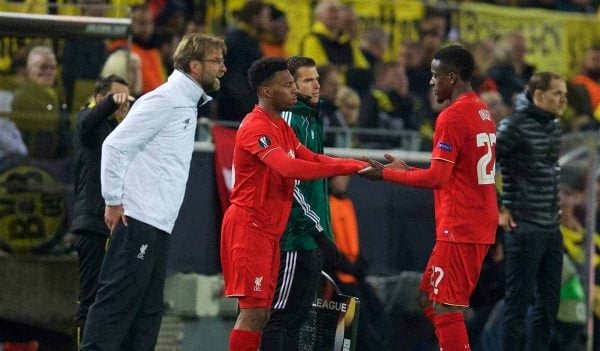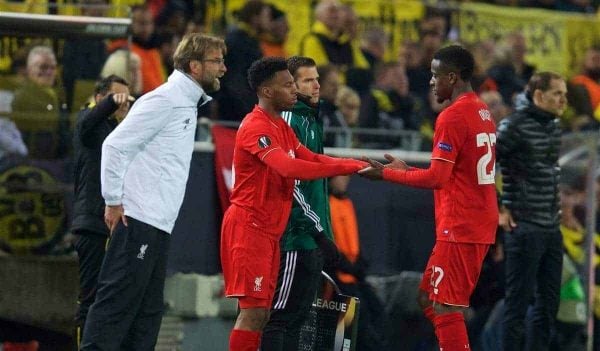 With Jordan Henderson sidelined, Klopp is almost certain to pair Joe Allen alongside Emre Can in midfield, with the manager explaining on Sunday that he'd only subbed the Welshman because "we need him" for the upcoming games.
James Milner, who put in good performances in the Reds' last two games, also seems certain to start, with his experience and work rate valuable on the night.
That leaves Sturridge, Origi, Roberto Firmino, Adam Lallana and Philippe Coutinho fighting for the final three attacking spots, with two among the subs.
It's a healthy conundrum for Klopp to have, and whichever way he decides, he'll know he has two strong options from the bench.
We asked the This Is Anfield regulars who they'd start with on Thursday, and why.
HENRY JACKSON: Coutinho, Lallana, Sturridge
This is a really tough call, but one that outlines what great options Klopp suddenly has at his disposal.
Coutinho (left) and Lallana (right) have to start, given their imperious form, but selecting the third player is extremely difficult.
I'm going to go with Sturridge. He is Liverpool's best player on his day and is the one player I would back to finish a chance at a key time. It may all come down to one big moment like that against Dortmund.
Yes, he doesn't have Origi's work-rate and power, but I think if you asked Mats Hummels who he would rather face, it would be Origi every day. Sturridge was majestic at times against Stoke and he is a big-game player. Origi can be a great impact substitute.
Firmino looked rusty at the weekend, so a second-half cameo from the bench makes sense. If he were fully fit and firing, there would have to be a place in the side for him somewhere.
BEN TWELVES: Coutinho, Lallana, Origi
Assuming Klopp sticks with the 4-3-3 set-up used in Dortmund, I would go with the same trio that started the first-leg – with Coutinho and Lallana occupying the wide roles in support of Origi.

Having rested Coutinho on Sunday with Lallana and Origi playing cameo roles, the freshness and energy the three will provide will be essential to keeping the Reds on the front foot and maintaining a threat in an intense game, and as we don't need to force the issue instantly I'd stick with how we were.
I'd prefer Firmino in a central role rather than being shoe-horned wide – which wouldn't happen in a three man attack deployed as in Germany last week – while I'd keep Sturridge as a lethal weapon to unleash, even alongside Origi if and when required, against a tiring back four.
KARL MATCHETT – Coutinho, Firmino, Sturridge
I would be very tempted to go with Coutinho at the tip of a diamond (Milner right, Allen left, Can base) and pair Sturridge and Origi together in attack, hopefully surprise Dortmund with it and battle as hard and fast and early as possible to overload them and get early chances/goals, leaving Firmino to come on for the second half/latter stages and keep up the high press and keep Aubameyang and co. well away from Simon Mignolet.
However, that would be based more on the Dortmund we saw a week ago rather than the possession-dominant, offensive masterclass BVB that have been in place for most of the season and there's still a large chance the second version rocks up to boss Anfield for long spells. To that end, a bit more balance is required: the 4-4-1-1, with Milner on the right, Coutinho left, Firmino behind… Sturridge.

It's tough to say Origi should be left out after two fantastic displays, but there two or three reasons for going with Sturridge.
Firstly, he is still the best forward at the club and by some distance. That doesn't necessarily translate to being the best on the day at this exact moment, but he was also extremely good against Stoke and it must be hoped that after a few lacklustre performances, being dropped vs BVB and then being praised by Klopp at the weekend has helped the penny drop: you can be important, but you'll damn well work for it.
If he's rewarded by a starting spot in the biggest game of the season at Anfield, he could react in frighteningly good fashion — and if not, Origi has more than once been a fantastic impact player off the bench.
Sturridge hasn't really had that game-changing impact in a while when coming on as sub, and I'd also worry about how he reacts after being much better at the weekend and then still being left out anyway.
Coutinho is non-negotiable, I'd rather Lallana than Milner on the right but perhaps he can replace the stand-in skipper during the game instead, unless Firmino can't go the distance again. It's important, but not imperative, to get in front in the tie first, but I'd be a lot more optimistic about Liverpool coming from behind if Lallana and Origi were the bench options than Milner and Sturridge.
SACHIN NAKRANI: Coutinho, Lallana, Origi
Origi – The Belgian has been hugely impressive ever since returning from injury in February. He is stronger, fitter and hungry as hell to prove himself at Liverpool, with his last two performances in a red shirt, away to Dortmund and home to Stoke, his best since arriving at the club. As remarkable as it may sound, Origi is Liverpool's best forward right now and, as such, must start on Thursday.
He showed that he can cause Dortmund's backline problems with his hold up play, energy and direct running and that will be the type of display Liverpool need from their main attacker in the second leg. The hosts need to start fast and look to put Dortmund on the back foot immediately. They cannot let a team of their quality dictate play and dominate possession as that will definitely lead to them scoring an away goal and well and truly turning the screw. Liverpool need to lead from the front and Origi is the man to do just that.
Coutinho – It's possibly gone under the radar, but little Phil has scored quite a few goals recently – five in his last 11 appearances for Liverpool to be precise, with three of those coming in big matches, the League Cup final, the Europa League away leg against Manchester United and the Premier League encounter with Tottenham. He is, then, matching all that craft and guile with a killer touch in standout occasions and, therefore, should be a banker for Thursday.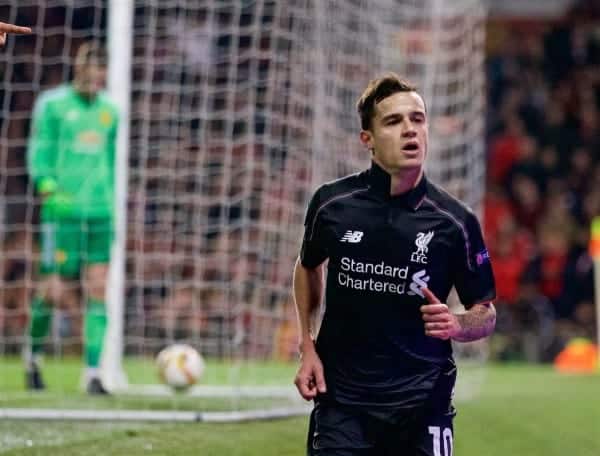 I'm not fully convinced by Coutinho playing on the left, but as long as that's only a starting position and he is allowed to come inside when the opportunity presents itself – which is the case under Klopp – than it's not a huge problem, especially as that then allows Firmino to play just off the main striker. Because of Firmino's recent injury problems, I wouldn't start him on Thursday however …
Lallana – As mentioned, Liverpool need to start fast against Dortmund and, with the help of what will undoubtedly be a raucous Anfield crowd, look to pin the Bundesliga team back. Step forward Lallana. He may not get many goals, or assists, but the 27-year-old knows how to press from the front and has increasingly and consistently become very good at it under Klopp, as seen most clearly in the draw with Tottenham. If selected he will put relentless pressure on Dortmund's back line and open up spaces for Origi and Coutinho to exploit.
For me it would be a case of Lallana running himself into the ground for 60/65 minutes and then being replaced by either Firmino or Sturridge. Seeing either of those two coming off the bench would give Liverpool a great boost in the final portion of what is likely to be a tight game and only cause concern within Dortmund's ranks.
On Sturridge – just because he's not in my starting three doesn't mean I think he's crap, so please calm down all members of the 'Studge Brigade'. He's scoring goals, and those who do the statistics will tell you that his pressing numbers are actually good. He's also making clever off-the-ball runs.
But despite all that, the 26-year-old still doesn't look quite right and so for a game of this magnitude, which requires those in red to be high on relentless energy, I'd start Sturridge on the bench.
Long-term I think there's a future in a Sturridge/Origi front-two with a diamond behind them. That could be sensational.
NEIL POOLE: Coutinho, Sturridge, Origi
We will definitely concede. Set-piece anyone? We need to out-score Dortmund, as it's not going to be 0-0. Therefore, I'm opting for Coutinho, Origi and Sturridge as they have the greatest goal potential.
Coutinho gets the nod because he's our best player, and as he showed against Man Utd in the last round, he can pull something out of the hat regardless of how well he is playing.
Origi is full of confidence having scored three in the last two games, not to mention he seems to have a bit of luck on his side. And with Origi there to do all the running, I'd like Sturridge on the pitch as he appears to have responded well to the competition and is by a country mile our best and most natural finisher.
A total of 10 goals across the team in the two games when Sturridge and Origi have both started also suggests it sort of works. It might be that simple.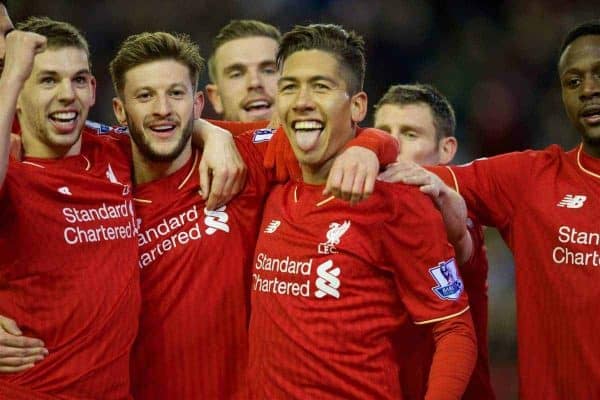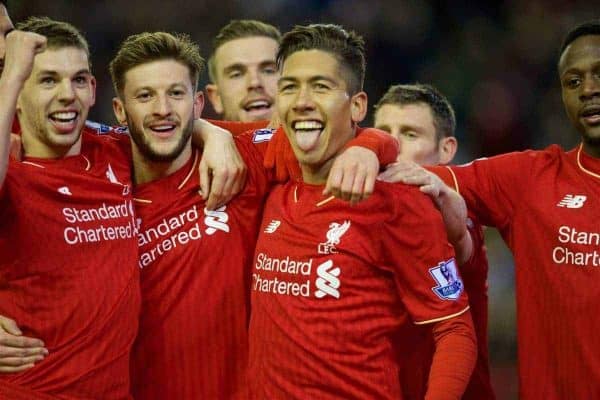 Firmino's stats and precedent make him a contender for scoring a crucial goal or providing an important assist. Similarly, when on form, Lallana can occasionally have a significant impact. However, both also seem to have their own cloaks of invisibility, they can don for long periods of time. And on Thursday, we can't afford to have any of the starting eleven drifting out of the game. Both, though, could make very useful subs and can still play their part in our triumphant march to…(looks it up)…Basel. I'm starting with the other three though.
ALEX MALONE: Coutinho, Sturridge, Origi
An interchanging front three to wreak havoc on the Dortmund back line. I have a feeling we are going to need to score at least twice in this game and each of these offer a genuine goal threat. I'd have Origi up top, flanked by Sturridge and Coutinho slightly behind. If they interchange well, the mix of speed, trickery and unpredictability in equal measure will unnerve the Germans back line.
Firmino looked a little rusty after injury, and although Lallana has been excellent of late, he offers the least goal threat. Both can offer a lot from the bench if needed.
Who would you start in attack? Let us know in the comments section below.