With Liverpool continually linked with Bundesliga signings this summer, we select the Reds' five best players to have arrived from Germany's top-flight.
With Jurgen Klopp in the Anfield hot-seat, it is no surprise to see the 48-year-old looking at potential signings from his homeland.
Gerard Houllier always had a preference for bringing in French players, and Rafa Benitez was no different when it came to Spaniards.
The likes of Mario Gotze, Jonas Hector and Mahmoud Dahoud are just a few names who have been linked with moves to Anfield, while Loris Karius and Joel Matip have already been acquired from Mainz and Schalke, respectively.
Liverpool have signed a number of players from the Bundesliga during the Premier League era, and there have been mixed results along the way.
Here is our countdown of the Reds' top five signings from Germany's top division, with Sean Dundee, Erik Meijer and Philipp Degen just missing the cut!
5. Karl-Heinz Riedle

Having enjoyed an excellent four years at Borussia Dortmund, including two goals in a Champions League final triumph over Juventus in 1997, Karl-Heinz Riedle made the switch to Liverpool a few months later, for £1.8million.
Although approaching his 32nd birthday by that point, the former Germany international was a shrewd signing by Roy Evans, bringing experience and quality to the squad.
Admittedly, Riedle's chances became limited due to the emergence of a young Michael Owen, and the enduring brilliance of Robbie Fowler, but he still managed seven goals in his debut season at Anfield.
He scored a trademark header at Southampton on the opening weekend of the 1998/99 campaign, but again he played second-fiddle to Liverpool's younger strikers.
The German scored 15 goals in 76 appearances for the Reds, before leaving to join Fulham in 1999, and although he didn't set the world alight, there were sporadic moments of class.
4. Roberto Firmino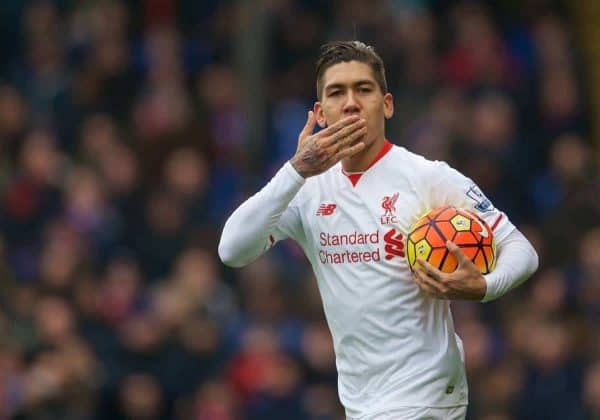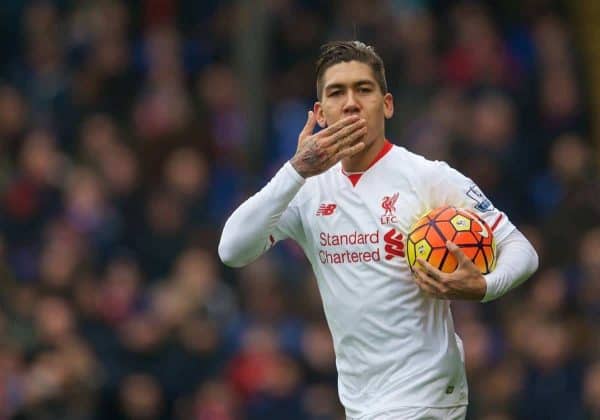 There was much talk of Roberto Firmino moving to Man United last summer, but in the end, Liverpool secured the signing of the silky Brazilian from Hoffenheim.
The 24-year-old cost the Reds a sizeable £29 million, but he fully justified such a significant amount of money, as the season progressed and hinted at a bright future.
Firmino got off to a slow start, as many foreign players do in the Premier League, but a reliable flow of goals and assists, not to mention an admirable work-rate, made him a contender for Liverpool's Player of the Year award in 2015/16.
The South American has dovetailed beautifully with the likes of Philippe Coutinho and Adam Lallana, and there is a feeling that he is only going to get better.
He is a wonderful player to watch, and although there are some matches that can appear to pass him by, everything he does is subtle in its excellence.
11 goals and 11 assists is a good return for a debut season at Liverpool, but 2016/17 could really see Firmino come alive.
3. Emre Can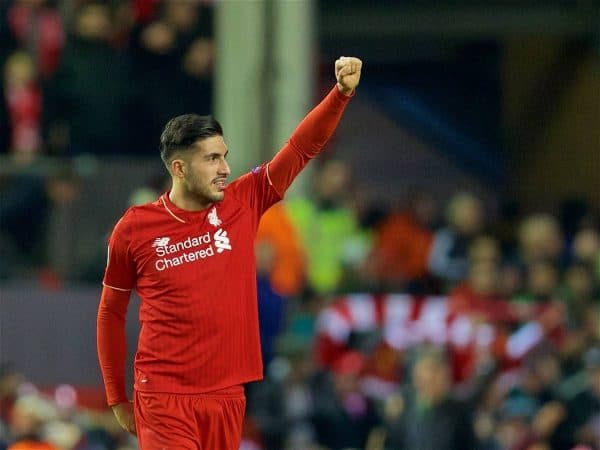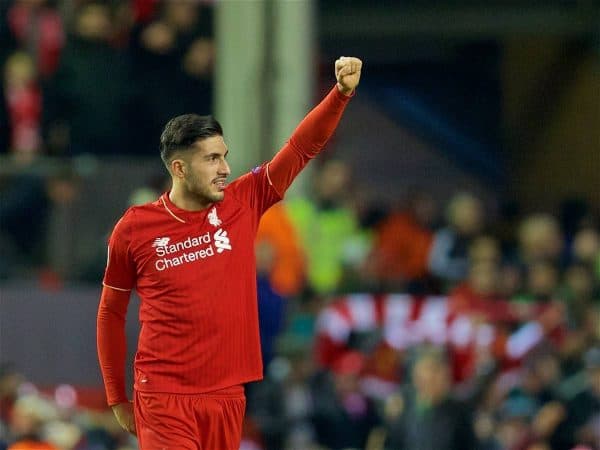 Not a huge amount was known about Emre Can when he joined for £9.75 million from Bayer Leverkusen in 2014, unless you follow the Bundesliga avidly.
In his two years on Merseyside, he has quickly matured from a young player who lacked consistency, to one of the first names on Klopp's team-sheet.
Much like Steven Gerrard, it is tough to find many faults in Can's game, with the Germany international combining pace, power, creativity and leadership to devastating effect. He just needs to add a few more goals.
He has shone ever since being used in his preferred central midfield role, and a phenomenal performance against Villarreal, in the Europa League semi-final second-leg at Anfield, showcased his class.
There is still the odd bad game now and again, as there is with any 22-year-old, but he is a footballer with unbelievable potential.
2. Patrik Berger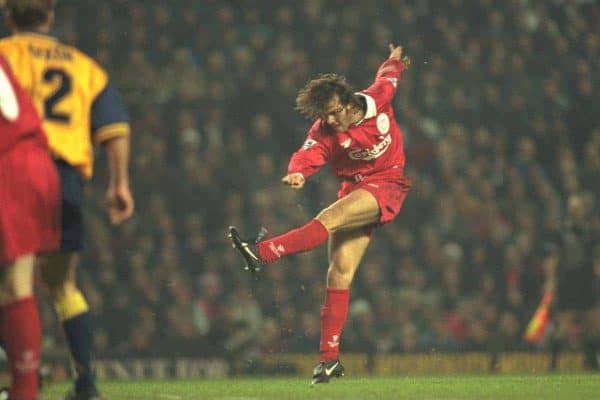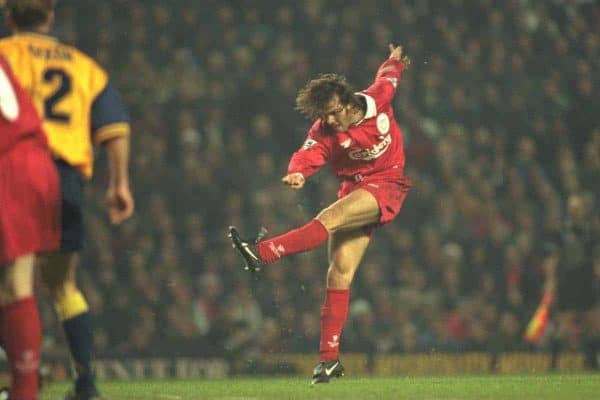 Euro 96 has been fondly remembered in recent years, with its 20-year anniversary imminent, and it was a tournament that saw Patrik Berger emerge as one of Europe's most exciting young players.
Liverpool snapped up the Czech Republic star from Borussia Dortmund for £3.25million, and his quick feet, dribbling ability and hammer of a left foot made him universally-loved at Anfield.
The attacking midfielder got off to a flying start, scoring five goals in just four games, and it looked as though he was the man to take Evans' Reds side to the next level.
Sadly, injuries curtailed Berger's progress hugely in the years that followed, and he never quite managed to reach his potential.
He still enjoyed some great moments, however, winning an unprecedented cup treble in 2000/01, and setting up Michael Owen's late winner in the FA Cup final triumph against Arsenal.
There was also a stunning free-kick against Man United at Old Trafford in March 2000, which is enough for any player to endear himself to Liverpool supporters forever.
1. Markus Babbel

This may be a contentious choice in the eyes of some, given the short time he spent at Liverpool, but Markus Babbel is the Reds' best ever Bundesliga signing.
The German gained a reputation as one of Europe's most consistent defenders during the late 1990s, and when Gerard Houllier signed him from Bayern Munich in 2000, it was seen as a major coup.
He had enjoyed six excellent years with one of the world's biggest clubs, and United had been close to signing him after Euro 96.
Babbel immediately showed what a superb player he was, performing magnificently throughout 2000/01, as Liverpool won three trophies and qualified for the Champions League.
No Reds player featured more that season, with the full-back appearing an incredible 60 times, and he scored in the dramatic 3-2 win over Everton at Goodison Park, and in the remarkable UEFA Cup final victory against Alaves.
Cruelly, Babbel was cut down in his prime – he was still only 28 in the summer of 2001 – having been diagnosed with Guillan-Barre syndrome at the start of the 2001/02 campaign.
He still managed the odd appearance as he attempted a comeback, but he was a shadow of his former self, and was eventually sold to Stuttgart in 2004.
At his peak, he was a fantastic player, and it is a travesty that he only made 73 appearance for the Reds.