Following confirmation of Sadio Mane's £30 million move to Liverpool, we take a look at Jurgen Klopp's array of attacking options and who the new arrival could replace in the starting XI.
Having struck a deal that sees Mane become the third most expensive signing in the club's history, it's safe to assume the Senegalese international is set for a starting place at Anfield.
While the hefty price tag doesn't necessarily mean the 24-year-old will be a guaranteed starter, that Klopp is such a big admirer of Mane and has finally landed his man, adds weight to the assumption he will be.
Mane boosts the Reds' attacking department in areas it is needed but is another addition to an already populated area of the squad.
This gives Klopp decisions to make over where he fits into the XI and who makes way for him in attacking midfield, with that seemingly where the ex-Saint will feature.
Options are aplenty, with Mane to battle against Adam Lallana, Philippe Coutinho and Roberto Firmino – not to forget James Milner and other fringe players – for a starting berth.
Mane's Anfield Role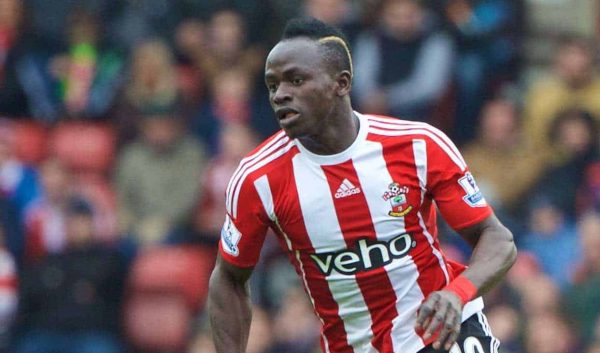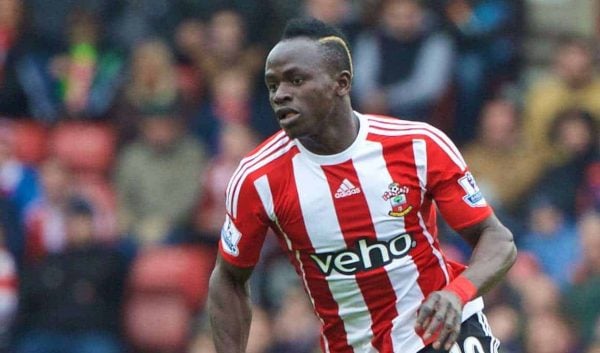 As always with a new signing, thoughts instantly focus on where Mane will fit into Klopp's team.
The Senegalese has played all across the front throughout his career, but his two years at St Mary's saw him operate primarily as a right winger or second striker – making 34 of his 40 appearances last season across the two positions.
With options in abundance for the central attacking midfield slot, Mane looks set to play right wing at Anfield, where he enjoyed a strong impact for Southampton last season, scoring nine of his 15 goals.
A genuine wide player, Mane will offer an extra dimension providing width, pace and goal-threat from the flanks – something Liverpool have lacked and Klopp revealed he wanted to address back in February:
"We have enough strikers but not too many wingers, just a few young ones with great potential."
Able to operate centrally as well as from either side, Mane also adds increased flexibility to the Reds' attacking sector.
But with Klopp's comments and his team's needs, it's safe to assume Mane will primarily feature on the right next season, tasked with supplying the directness and goals that the Reds have been missing.
Flexible Attack

It has been well documented that Liverpool are well stacked for attacking options, added to by returned loanees Luis Alberto and Lazar Markovic and not forgetting youngsters Jordon Ibe and Sheyi Ojo.
Mane's arrival surely completes a wide-ranging and flexible set of offensive options filled with pace, creativity, skill, flair and – hopefully – goals.
Each senior player can play in different positions across the front, with Coutinho able to operate from the left or centrally and Firmino deployable as a No.10 or even an excellent striking option as shown last season.
Meanwhile, Lallana can play from both flanks and as a central support figure, with Milner, Ibe, and Ojo also capable of filling wide berths on either side, which Markovic can also offer.
Such flexibility will be vital throughout the season as Liverpool look for a strong league campaign, allowing Klopp to select depending on the game and situation in front of him.
Should the Reds boss feel width is essential, he can deploy Mane where expected as the man to maintain a wide threat, alongside dragging opponents out to open space for the likes of Firmino and Coutinho to enjoy.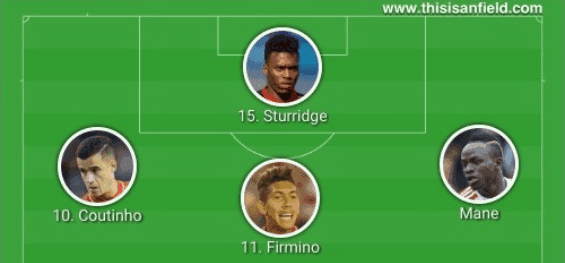 This combination, behind Daniel Sturridge, seems most likely to become Klopp's 'first choice' with the quality, productivity and balance afforded.
Mane's familiarity operating on the left could also see him play from the opposite flank.
Should Klopp choose to utilise his new man this way, Coutinho could move into a central role where he can dictate from the middle of the pitch, allowing Lallana to offer energy from the right side.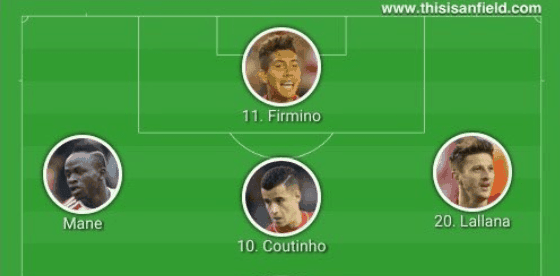 Operating in support of Sturridge, Divock Origi or even Firmino, if required, this is another exciting option at Klopp's disposal.
There is also the option of using Mane as a second striker, where his directness and pace playing in support of Sturridge or Origi would be an excellent asset to blitz through opponents at speed – something perhaps to consider away from home.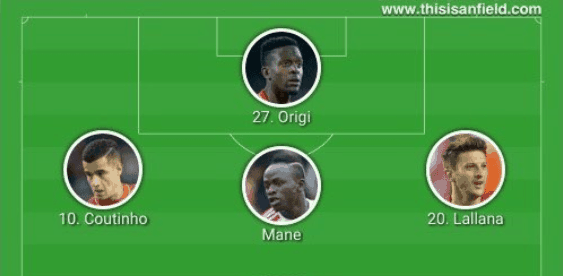 Options are plentiful for Klopp, but at the same time the Liverpool boss will want to assemble his first choice attacking unit, with the need for consistency and combinations to be established.
However, four, five, or however many players you want to consider as genuine options, doesn't go into three – assuming Klopp sticks with 4-2-3-1 – so who will feature as the first choice trio?
First Choice Trio

With each player bringing quality, Klopp faces a tough decision as to who forms his trusted main attacking three.
For productivity, as outlined in our look at how Mane compares to his new teammates, quality and what Liverpool need most, Lallana should be the man to make way for the latest Southampton arrival.
Lallana's output has been an issue since his move to Merseyside, and with just 12 goals and 13 assists over the last two years, it is still way behind that of the Brazilian duo, the level Mane showed at the Saints, and even Milner.
The 28-year-old plays an important role through his energy, setting the traps and tempo for Liverpool's pressing game, but his lack of threat and production is an on-going issue.
Liverpool's attacking midfield should therefore see Mane complement Firmino's skill and work-rate and Coutinho's brilliance, leaving Sturridge and Origi to fight for the striking berth – meaning Klopp's strongest line up could indeed look like this: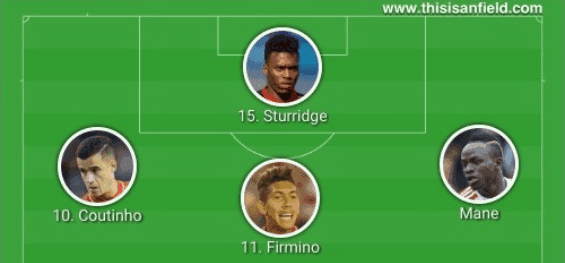 However, the England international certainly has a role to play with the various ways Klopp can line up his attack, allowing him to select on what's required to collect three points game-by-game.
Mane's inclusion looks set to be central to those plans as Liverpool look for a strong league campaign without European distractions.
Klopp certainly has the options and quality to make it happen.