Everything is beginning to fall into place for Liverpool Football Club, and it's time for Jurgen Klopp's side to rise again.
The success of Leicester City last season will have sent a very loud and clear message to the Boston based owners of Liverpool Football Club: there can be no hiding behind excuses from this point.
It is clear that whilst Fenway Sports Group have done a huge amount of good at the club, they have failed to live up to the promise of being the smartest men in the room—teams like Leicester and Southampton have been far smarter and likely taught FSG harsh but valuable lessons.
It is a shame that some bad recruitment decisions and poor judgement calls have often overshadowed the ambition and direction of the club under FSG. It is easy to cast a critical eye—and there have been too many avoidable incidents that have put commercial gain before culture and rightly caused great angst amongst the fan base.
Most of these issues have eventually been put right, such as the increase in ticket prices being reversed, but they have all created an unnecessary distraction as to the overall direction the club is taking.
But it does feel like the vision the owners have for Liverpool may finally be beginning to take shape, and that the foundation they have built can give the club the opportunity to be competitive in a sustainable way.
The Infrastructure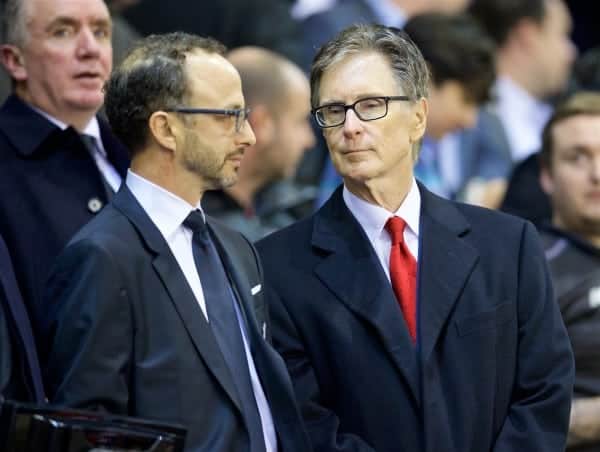 At the beginning of the 2016/17 season Anfield will be able to accommodate 55,000 supporters in a redeveloped Main Stand. After decades of searching for an affordable and sustainable stadium solution, the club has finally been able to translate a vision into a reality.
Whether or not redevelopment was the optimal solution is open to debate, but the bottom line is that the club has moved forward by redeveloping Anfield—after decades of standing still.
The majority of FSG's biggest achievements at Liverpool have been off the pitch. Although the team has had its moments since they arrived, the work they have done on modernising the infrastructure at every level has been in the main impressive.
In parallel with redevelopment the club has also been able to grow its revenue and turn around its finances, which all equates to a more competitive position on the pitch.
Although great work has been done on building a solid infrastructure at the club; one of the mistakes that FSG have made is not putting in place a world-class football operation structure. There have been too many poor decisions at a footballing strategy level—where sometimes it looks as though a lack of experience has led to naivety in decision-making.
With the imminent departure of Ian Ayre there is an opportunity for a strong leadership group to come in and fuse the footballing operation with a strong overall direction for the club. If that is Billy Hogan at CEO, a hardball footballing negotiator would round off a strong team.
Of course, Jurgen Klopp will be a critical part of this direction and will lead the footballing philosophy; but it is so important that there is a sense of one club, one direction at Liverpool if we are to succeed.
It doesn't feel like that has always been the case.
The Manager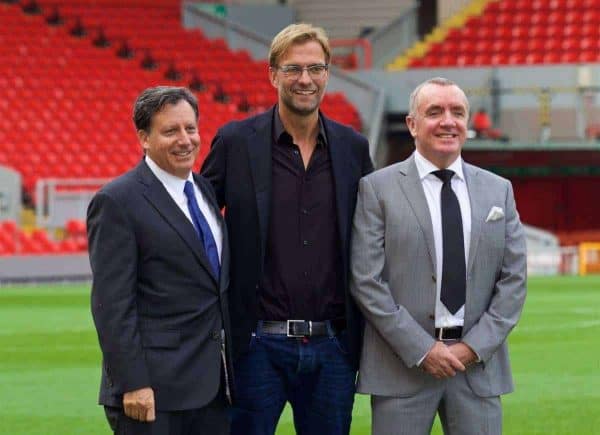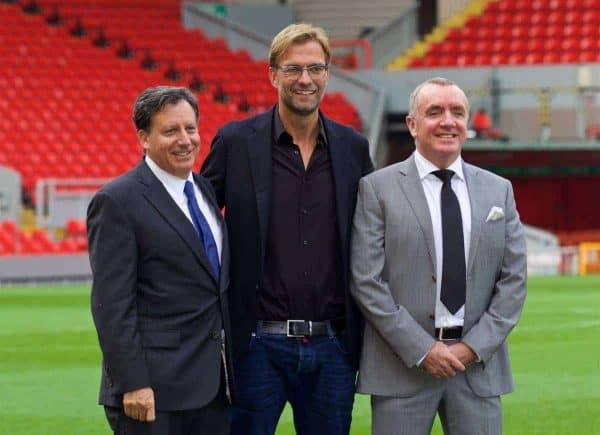 Although his inaugural season was a mix of highs and lows, there is no doubt over the credentials of Klopp as one of the most coveted managers in the game. It was a fantastic coup for Liverpool to land Klopp; his achievements at Dortmund are evidence of his ability to build and rebuild a team capable of winning.
The biggest difference for Klopp at Liverpool is the lack of a sporting director who had influence over transfer policy at Dortmund. In reality, the structure at Liverpool is likely very similar, with a committee reporting directly to Klopp and the pursuit of players being a collective agreement.
The structure at Liverpool does put more emphasis on the role of the manager in the recruitment process—and Klopp will need to reverse a trend of poor recruitment in recent times if he is to move the club forward in the short term.
One of Klopp's biggest assets is his enigmatic personality. He will become a factor in a player's decision to join Liverpool—as Liverpool have found out far too often in the past it can be the small details which influence a player signing, and playing under Klopp will be a factor which can only be good for the club.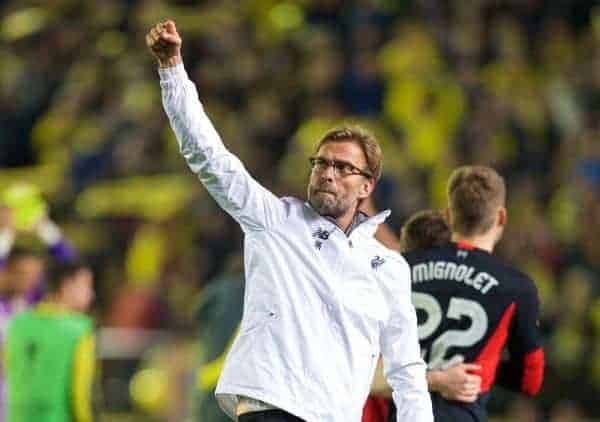 Much has been said about the style of Klopp's teams based on his time at Dortmund—but as a coach Klopp will be keen to keep moving forward. Klopp had a reputation for being innovative whilst at Dortmund, and although it is clear he wants his teams at peak fitness with a high press, perhaps we shouldn't expect a mirror of his Dortmund side as he rebuilds Liverpool.
Another of the great things about Klopp is that he is an architect of success at a football club; he likes to build. It is great news for Liverpool that he has committed to a long-term deal, and some of his comments about bringing Melwood and the academy at Kirkby together show his influence and how he is thinking strategically about the direction of the club.
Although Klopp has the credentials and the ideas that make him a great fit for Liverpool, he will be very aware that the supporters have been sold on a vision of the future for far too long—and it is the now where many will want to see signs of immediate progress.
The Team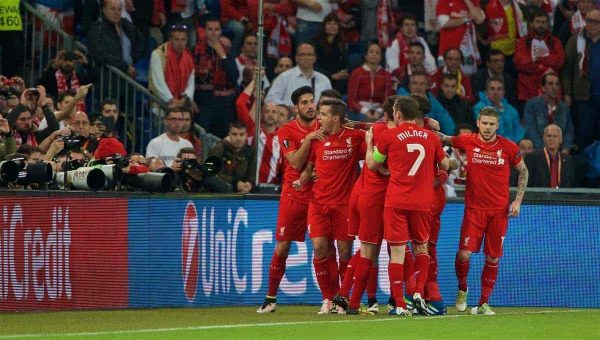 Although it will likely take more than one transfer window for Klopp to recruit all of the players he wants, this is his first real opportunity to stamp his authority and identity on his team.
It felt that last season Klopp was determined to give the existing squad every opportunity to be part of the future; frustratingly so at times. But the loyalty he showed towards the players already at the club is very much part of his style, he puts his faith in his players and requires total commitment in return. He will have learnt a lot last season.
At Dortmund, Klopp was not a manager that was seduced into signing a player based on his name or reputation—he was firmly interested in his mentality and fit into the team structure. His signings so far at Liverpool are following a similar pattern.
It is always difficult to judge transfers without the full picture (e.g. before the window closes)—but so far, signings have been solid if not spectacular.
With no European football in the coming season Klopp has a huge opportunity to make an impact in the league. As Leicester and Liverpool have proven in recent times, without the distraction of Europe you have more coaching time and one main focus.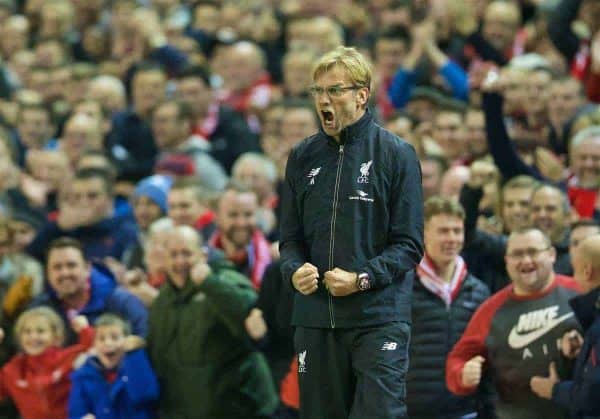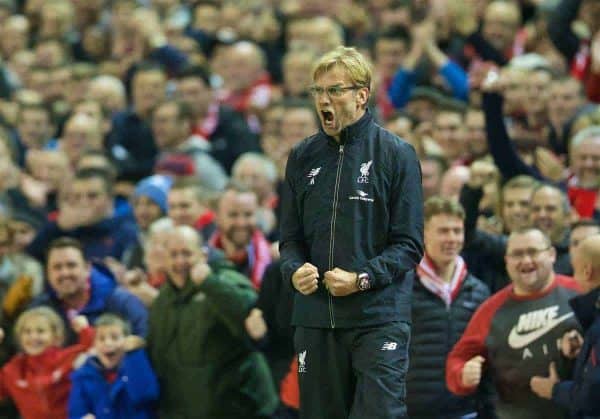 The schedule Klopp inherited last season left him very little time to actually coach—with a full pre-season and no Europe, we will find out much more about how much of a competitive advantage Klopp the coach can provide us.
I think that there is an emerging trend in football that Klopp actually contributed to at Dortmund—and that is very much about the balance of a team vs. individual stars. It can be frustrating watching your rivals spend heavily on big-name players, but that doesn't guarantee success.
It may increase your odds, but a strong team ethos and 11 players that are greater than the sum of their parts is proving to be very effective.
Until Liverpool line up and kick off in the new season, it will be very difficult to judge the kind of team we will be—whoever we sign this summer.
The Supporters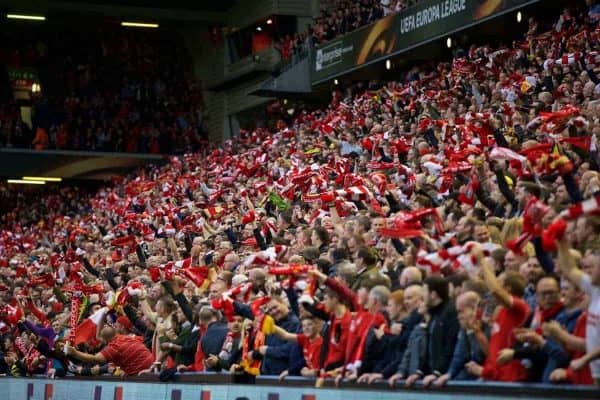 It feels to me like now is time for everybody at Liverpool to stop looking towards the distant future and start focussing on the right now. The club is in a great place in so many ways—despite recent disappointments.
We all remember the fantastic scenes at Anfield after the Dortmund game, and the incredible emotion and effort Klopp puts into every game—engaging the supporters.
It will be great if this is the season where club and supporters can work together as one and really start to re-energise that culture which has always made Liverpool such a special football club.
We have seen it at different points both inside and outside of Anfield in recent times—and it feels like the team feed off that energy.
We will start the new season with a redeveloped Anfield which will hold 55,000 fans, one of the best managers in the world, and hopefully a team capable of making a real impact in the league with no distractions.
If there was ever a time for the Reds to rise again—it is now.