As Liverpool continue to be linked with Borussia Monchengladbach's Mahmoud Dahoud, we assessed the midfielder's performance in their 4-0 Champions League defeat at Manchester City.
Even with the transfer window closed, there are still rumours circulating that the club will go back in for the Syrian-born Germany under-21 international when it reopens.
Just last week the Mirror were suggesting that the player will be offered to Liverpool in January, with rumours that a €10m release fee comes into play in the summer of 2017.
If this is the case then Gladbach could look to sell before their prized asset is available at a knock down price. Either that, or they'll try to offer him a new contract.
If, like many of the fans, the management believe that another central midfielder is needed to bolster the squad then the club could move for him at the next opportunity, if the price is right.
Warm Up
In a pre-match warm-up the nuances of a player's footballing ability can become apparent. It's a slightly more relaxed scenario where players aren't afraid to try the odd flick or trick.

If the shooting drill is anything to go by he has a powerful, if slightly inconsistent right-foot shot which isn't dissimilar in style to that of Philippe Coutinho. A couple of his training shots powered past the reserve goalkeeper Tobias Sippel.
The 20-year-old displayed some casual skills as he ambled between drills on the Etihad turf, relaxed and laid back like most players are during these exercises.
He came to life, however, during the short passing drill – rondo, or piggy in the middle – where he gave a glimpse of what was to come in the game…
System
Gladbach set up in a something resembling a 3-4-1-2, and Dahoud took up a place on the left in a central midfield two.
The shape changed depending on which side had the ball, and Dahoud's box-to-box role was often instrumental in determining the formation.
He worked alongside a more defensive player in the shape of German World Cup winner Christoph Kramer, and would race back to sit alongside him when the side lost the ball.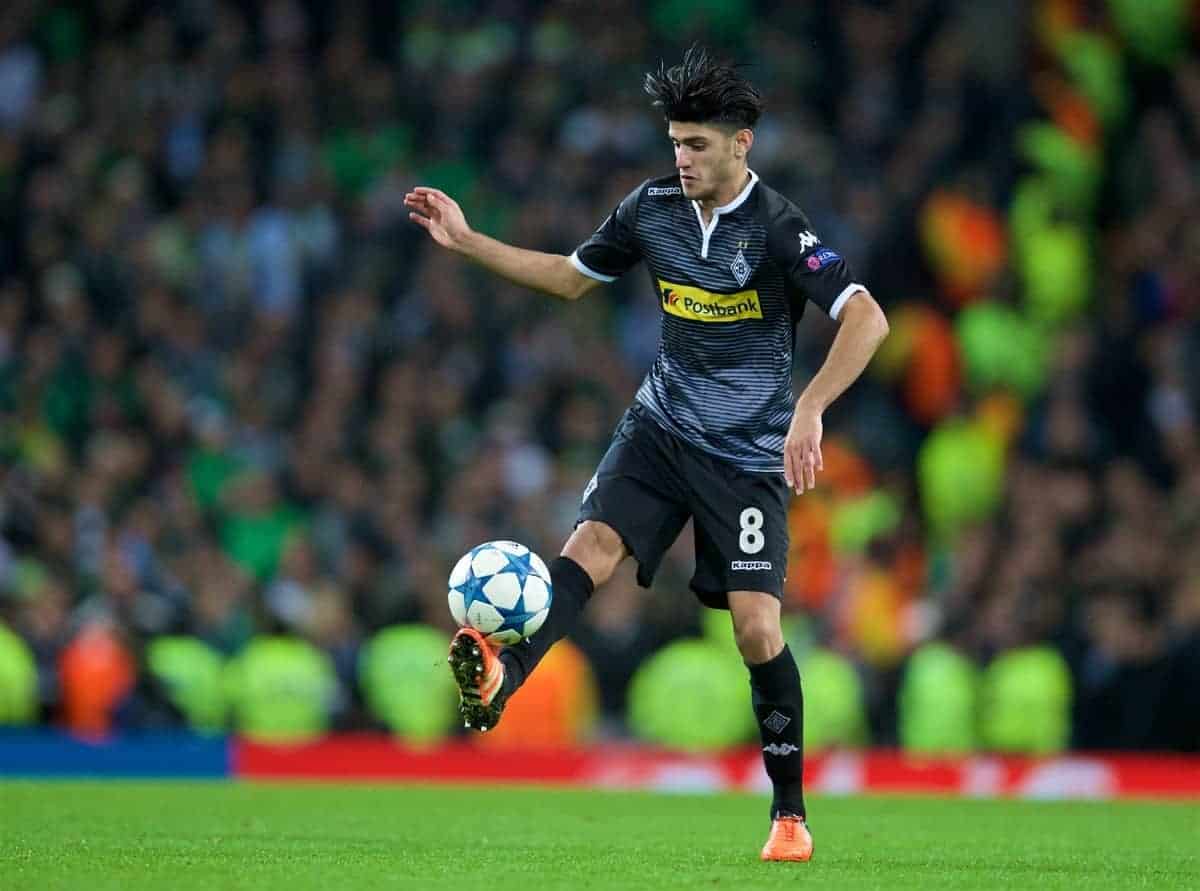 One second he'll be covering in the centre of defence, and in the next passage of play he'll be making a run upfield to support the strikers.
The Germans were up against a typical possession hogging Pep Guardiola side and struggled to gain a foothold on the game.
Their formation played into City's hands, just as West Ham's back three had earlier in the season. The home side's quick wide players, Raheem Sterling and Jesus Navas, ran at Gladbach's slower centre backs and regularly broke into the box.
They still managed the occasional attack. Dahoud's neat pass to left-wing back Oscar Wendt set up a chance in the first half, but the angle was too narrow for the Swede.
Towards the end of the first half they switched to a 4-4-2 as Andre Schubert realised the back three wasn't working.
Dahoud's role remained roughly the same alongside Tobias Strobl who stepped into the withdrawn Kramer's midfield position.
For Liverpool his role would likely be alongside a more defensive minded midfielder in a two, or as one of the more advanced midfielders in a three.
Style
Off the ball, Dahoud is a relentless runner and a keen presser, but on it he's an effortless passer and smooth operator.
He always has a picture of the pitch in his head, playing some eye-catching cross-field passes to the opposite flank.
It's this switch from intensity to intelligence which makes him so coveted, and his ability to press at the right time ticks a big box in Liverpool's recruitment checklist.
The 20-year-old is slight in frame but has a wiry stubbornness. When coupled with his great balance this can mean he's difficult to knock off the ball despite his smaller stature.
He won't be barging some of the more muscular midfielders of the ball, but he'll more than hold his own on occasions when you might not expect him to.
He'll take the ball past them as well, dropping the shoulder before scampering through a gap to release a pass further upfield.

While he's not the fastest, he's agile and canny enough to get into the right places on the pitch. He's positionally good for his age, and only once had to be instructed by his manager, Andre Schubert, to move nearer to the defence.
There's always a risk of being caught on the counter when pressing so intently, but this is obviously an instruction from his coach, as it's likely to be under Klopp if he were to join Liverpool.
Weaknesses?
In terms of flaws, there are some, but most stem from the fact he's still only 20 and relatively short of top flight experience, having only played one full season at this level.
His passing is sometimes too casual, as shown when he gave the ball away prior to City's third goal.
The occasional slow pass can also stunt a counter attack when the move calls for a ball to be drilled into or ahead of a team-mate.
However, this is more a concentration problem than it is a technical one, and it could merely be something which sets in with fatigue given the amount of running he does. It's the type of thing which will be eradicated from his game with experience.
He may have even learnt a few lessons from Wednesday's game.
Some defensive aspects of his game also need improvement, and as with all eager pressers he can be left behind in midfield if an opposition player manages to evade him.
There is the physical aspect too, and while this isn't too much of a problem as mentioned earlier, he mightn't win to many headers!
Summary
https://www.youtube.com/watch?v=qm82Jc2bvxE
It was a difficult game to judge Dahoud's attacking play as even when his side did have possession they struggled to do anything with it, managing only three shots in the game.
It was a good one to judge his work rate though, and this isn't in question – he covered from ground than any other player in the Champions League on Wednesday night (12.2km). Adam Lallana could be given a run for his money…
This wasn't the best night for Gladbach, but it's often said that more is learnt from a defeat than from a victory.
Indeed, we learnt a little more about Dahoud, and where he might fit at Liverpool should he arrive in January.
Oh, and he wears the number 8 shirt…