The media were disappointed by Liverpool's first-half performance but full of praise for their improved mentality and battling qualities as the Reds fought back from a goal down to beat Swansea at the Liberty Stadium.
The Reds produced a spirited fight-back to claim a big three points and earn a fourth straight Premier League win on Saturday afternoon.
Klopp's side fell behind after eight minutes when they came unstuck at a set-piece and Leroy Fer poked home from close-range, and the early set-back set the tone for a disappointing first 45 minutes.
But the Reds responded strongly to transform the game in a much-improved second period, with Roberto Firmino's well-placed header levelling the score before James Milner slotted home the winner from the spot six minutes from time to earn a vital victory.
Though not a perfect performance, huge credit must go to Klopp's men for a confident second half showing and standing up to the challenge and battling back for a hard-fought three points.
Here is how the media reacted to the win in Wales.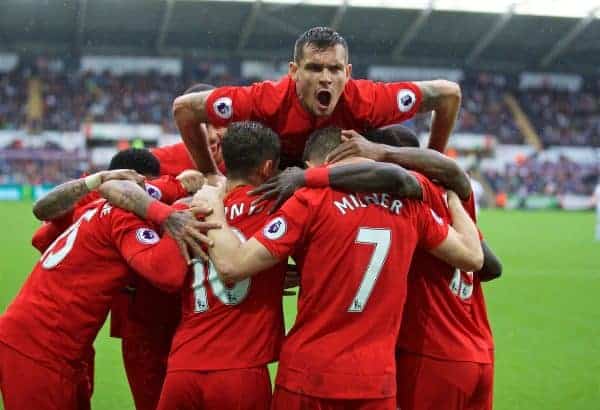 Reporters felt the comeback win proved Liverpool's changed mentality and improved fighting qualities, and that it shows Klopp's men are firmly in the hunt for success this season.
The Liverpool Echo's James Pearce felt the performance boasted the qualities instilled under Klopp's guidance:
The qualities Klopp has instilled in his squad were there in abundance – resilience, perseverance, a never-say-die spirit and an unswerving belief in their style of play.
The Telegraph's Graham Thomas praised Liverpool's refusal to lie down after the early set-back:
They will face tougher assignments than this, but their refusal to accept a bad day at the office with a shrug of the shoulders was an indicator of how things have changed at Anfield.

[…]

The inconsistencies of the past were not allowed to be critical and they duly built on thumping win over Hull City.
Steven Kelly for ESPN thought it was a positive that the Reds ground out victory despite not being at their best:
"Playing badly but still winning" might be a much-used motto for any team that wants to challenge for the title, but it fits snugly with this performance, one in which the visitors really showed up only for the second half.
The Mirror's David Maddock felt the win showed Liverpool now possess the character to win games they previously would have lost.
This, more than the win over Hull last week, was a sign that Liverpool now have the strength to guts it out. They were listless in the first half, but showed character to win a game that often in the past they would have thrown away.
ESPN's Iain Macintosh thought the display echoed similarities to Brendan Rodgers' title challenging team of 2014:
There is belief in this team, a compulsion to keep attacking that invokes memories of that near miss for the title under Brendan Rodgers in 2014. If you score one, we'll score two; if you score two, we'll score three. If nothing else, it's certainly entertaining.
And Andy Dunn of the Mirror was among those who felt the win proved Liverpool's credentials to battle for the main prize:
It [victory] won't send their supporters dizzy with title delirium. It won't make their rivals sit up any straighter and take greater notice.

But this WAS a check on the realism of Liverpool's title aspirations. And it turns out they are real.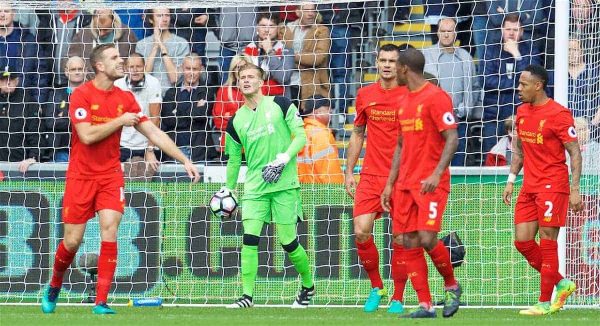 The watching media were bemused and extremely disappointed by Liverpool's first-half performance, and dissected where the Reds' problems stemmed from.
The Guardian's Stuart James felt Liverpool's play was too pedestrian in the first half against an energetic Swansea side:
Liverpool were so pedestrian in their build-up in the first 45 minutes and seemed to be taken by surprise when Swansea played them at their own game by pressing aggressively all over the pitch.
The Mail's Riath Al-Samarrai centred on Liverpool's on-going problems defending set-pieces and thinks it proves the Reds aren't yet ready to launch a title challenge:
It is the gift that keeps on giving for teams that play Liverpool; it is arguably the deciding factor between Liverpool being a contender and merely a gilded also-ran.

[…]

But look at the manner in which they fell behind in the first half to understand why, simply and obviously, they can only be considered a work in progress.
Kelly felt the Reds were handed a taste of what it's like to be on the receiving end of a relentless press:
There were very early signs of complacency with Liverpool being hounded by the home team's pressing game, as the Reds discovered what it's like to be on the receiving end of such tactics.
However, Pearce felt Liverpool's extensive pre-season schedule is paying off as they crucially out-worked their opponents to earn victory:
The Reds look fitter than their opponents on the back of that punishing pre-season schedule and the benefits of their European exile are clear for all to see.
Meanwhile, Echo colleague Neil Jones also felt moving Philippe Coutinho to a central role upon Adam Lallana's withdrawal, where he shone, was key:
He's had more spectacular performances in a Liverpool shirt, but his second-half display here was maturity personified. He pressed, he cut off angles, he tackled, headed and got his side playing forwards.

He looked strong, fit, motivated. He might have had a goal for himself, but he should be very pleased with his performance.
Thomas attributed Liverpool's transformed second-half display to the Brazilian duo however:
Firmino's pace and the probing of Philippe Coutinho swayed the second-half in Liverpool's favour after Swansea had taken a deserved lead after only eight minutes.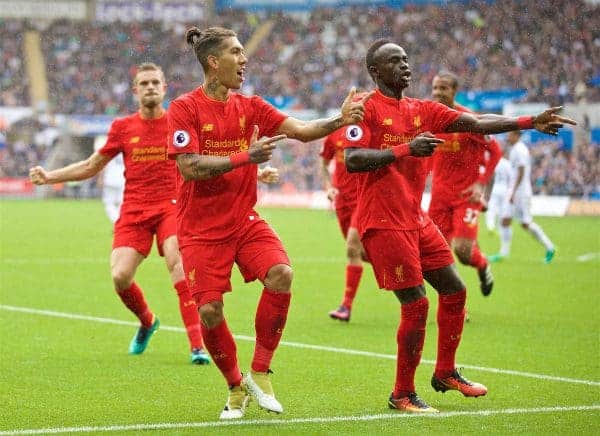 Reporters also gave their thoughts on who were the star performers for Klopp's men at the Liberty Stadium.
Jones heaped praise on Roberto Firmino, who he feels is becoming the Reds' most "decisive" player:
His work rate is immense, his intelligence in cutting off passing lanes and creating overloads superb. And when you boil this game down, he scored one goal and won the penalty that led to other. No wonder Daniel Sturridge and Divock Origi are facing a battle to get off the bench.

He's the Reds' most decisive player, and in a team with so many candidates that speaks volumes.
Macintosh credited Jordan Henderson's display:
But this season, he is developing into a more complete footballer, orchestrating affairs from the depths of midfield.

Other players will grab the headlines with their pass and movement, but it is Henderson who pulls the strings, driving his completed pass tally toward triple figures as the game progresses. He offers cover to the defence, support to the attack and doesn't ever seem to stop moving.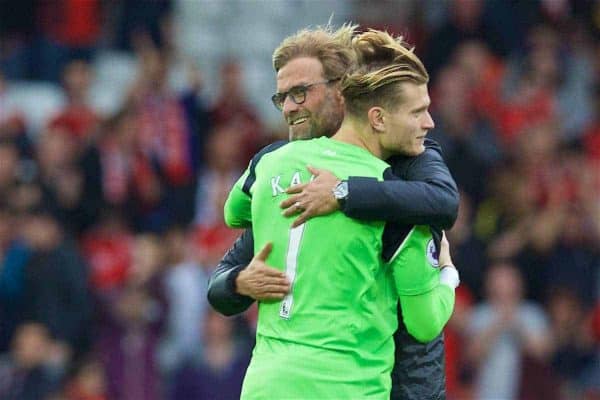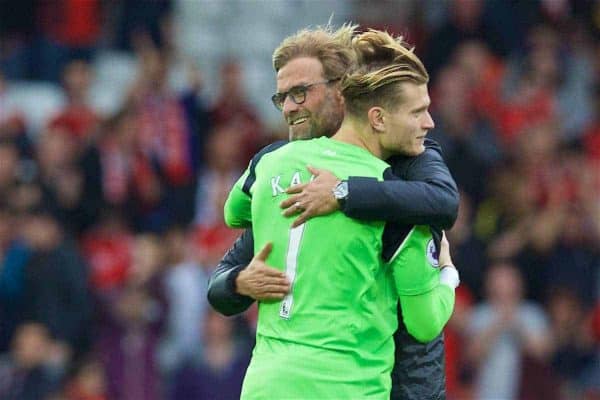 At the other end, Jones felt Loris Karius struggled, but deserves time to settle in:
The German looked nervy on his first Premier League away game, struggling with his kicking and flapping when he came for a second-half corner.

Teething problems? Klopp will certainly hope so. We saw with David De Gea that it can take a goalkeeper time to adjust to English football, its intensity and its physicality. Karius, at 23, deserves the chance to do that.
Tony Barrett for Joe.co.uk felt Karius' display showed a 'keeper struggling to adapt to English football:
Again, he was part of a winning Liverpool team but again the Germany international bore the hallmarks of a young goalkeeper struggling to come to terms with a new style of football in a new country.
And finally, Pearce believes Karius' display should see Simon Mignolet restored against Man United after the international break:
Klopp said he would re-assess the goalkeeping situation during the international break having given Karius three games in place of Simon Mignolet.

[…]

But if the decision is based solely on performances so far this season then Mignolet should be restored to the side for the visit of Manchester United in a fortnight.