The media bemoaned Liverpool's complacency, and were unimpressed by Loris Karius' performance, as the Reds were held to a 2-2 draw by West Ham.
Jurgen Klopp's men were denied the return to winning ways wanted as a dogged Hammers side earned a share of the spoils at Anfield.
It looked as though a perfect afternoon would arrive when Adam Lallana fired the Reds ahead after five minutes.
But goals from Dimitri Payet and Michail Antonio, helped by poor play from Karius, transformed the scoreline and the game, as Slaven Bilic's side took a half-time lead.
Divock Origi pounced on a spilled cross from Darren Randolph to poke the Reds level three minutes after the interval, but a winner couldn't be found despite Liverpool's efforts in a second period they dominated but struggled to create anything meaningful.
It was another frustrating afternoon for Liverpool, who have now won only one of their last four league games, and having precious little to utilise from the bench as injuries stack up certainly didn't help Klopp or the team.
Here is what the media thought of the stalemate.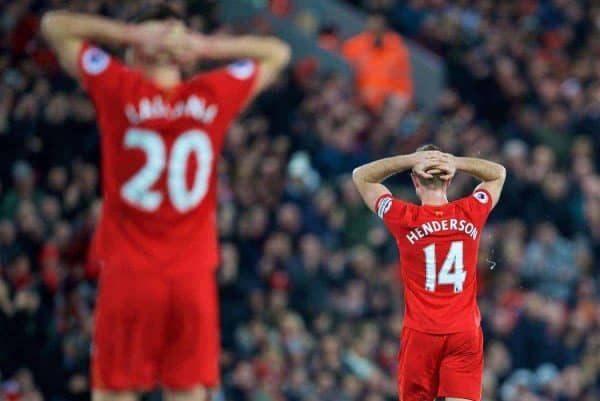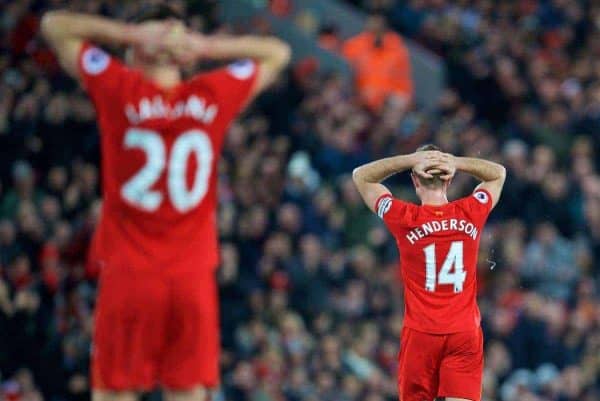 Reporters were disappointed with certain aspects of Liverpool's display, with plenty feeling that they paid the price for complacency and a lack of control in their performance.
The Mirror's David Anderson noted "worrying signs of complacency" in Klopp's side:
"There are worrying signs of complacency among Klopp's players.

"They took their foot off the gas to allow West Ham to take the lead before they looked more like themselves in the second half."
The Liverpool Echo's James Pearce felt Liverpool "lost control":
"Once again Liverpool lost control of a contest in which they were cruising."
The BBC's Jamie Strickland argued that the Reds didn't do enough to turn dominance into goals:
"Yet for all their possession—68 percent—they managed just three shots on target in the whole match, with two of those coming from West Ham errors."
The Telegraph's Chris Bascombe thought Liverpool started playing exhibition football too early:
"Instead, Liverpool fell back into familiar habits, dusting down the flicks and back heels to please the Kop far too prematurely.

[…]

"This is a side which currently needs at least three goals to win a game, and although they watched Barcelona in midweek there are far from capable of imitating them."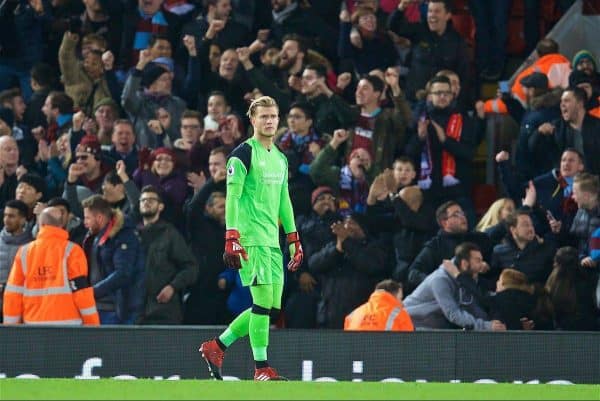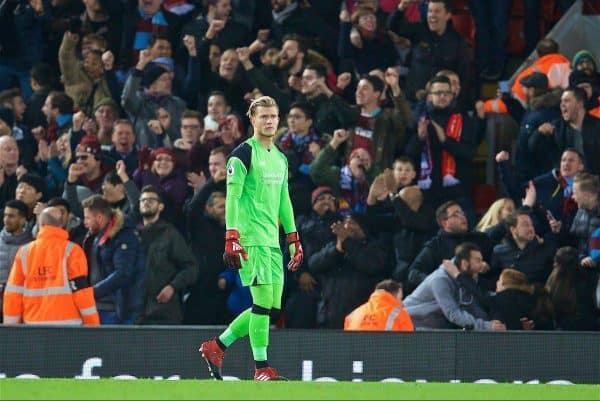 There was plenty of scrutiny on Loris Karius after another uninspiring performance, with reporters discussing whether the German is the answer to the Reds' goalkeeping woes.
For JOE.co.uk, Tony Barrett assessed how Karius has shown little to suggest he can establish himself as Liverpool's No. 1:
"Klopp may have a duty to protect his players, particularly when under attack from outside, but as things stand his only hope with Karius is that this is a settling-in period because if it is anything more significant than that it is hard to see who he can establish himself as Liverpool's No. 1."
ESPN's Glenn Price says Karius has failed to provide the attributes hoped he would bring:
"When Liverpool signed Karius, their supporters were told the German goalkeeper was everything Simon Mignolet was not: commanding, calm with possession and reassuring. But the 23-year-old has had a nightmare run of form in his first few months as No. 1."
Anderson believes Simon Mignolet has performed better than Karius this season:
"Karius was at fault for at least two goals in the debacle at Bournemouth and he didn't cover himself in glory for West Ham's goal at Anfield.

"Jurgen Klopp seems to have blind faith in Karius that he should be his first-choice keeper, even though Simon Mignolet has played better this season."
The Mirror's David Maddock thinks Klopp has a decision to make with Karius' performances undermining the title charge:
"Manager Jurgen Klopp now has a huge decision to make. He has professed complete faith in his summer signing, but Liverpool's title hopes are most definitely on the line over the Christmas period. Fall any further behind Chelsea, and they will not be challenging come the Spring."
Price thinks it was harsh on Mignolet that he was dropped for Karius:
"It was harsh to drop Mignolet in the first place. He had started the season well, deputising while Karius was out nursing a broken hand."
But the Liverpool Echo's Andy Kelly feels Karius shouldn't be dropped yet:
"To withdraw him at this stage would be premature and counter-productive but his improvement must be swift and significant."
Pearce feels Mignolet would start at Middlesbrough if Klopp selected on form:
"If the Liverpool team for Middlesbrough away was picked solely on performances this season then Mignolet would start."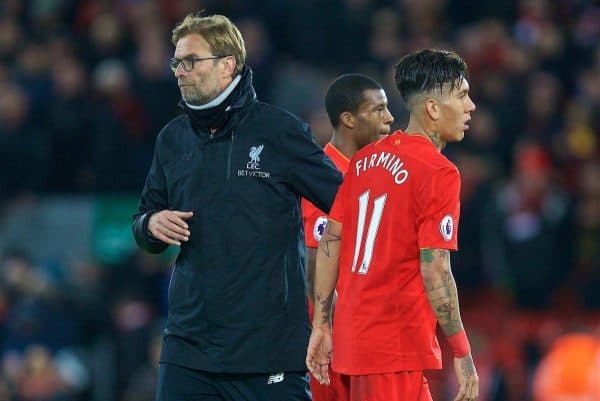 Certain reporters assessed that the Reds have lost their early season spark in recent weeks, which is proving costly to title aspirations.
The Mail's Dominic King thinks Liverpool haven't been themselves since the last international break:
"The spark that was evident before the last international break has been missing recently from Liverpool's play and even when they swept into a fifth minute lead there was no sense an avalanche would follow."
Goal's Melissa Reddy thinks the Reds are losing their fear factor:
"Liverpool are slowly losing grip, confidence, authority and the fear factor that left opposition managers positively dreading lining up against Klopp's side.

[…]

"To their credit, the Reds kept going until time was called, but they looked far from the juggernaut that left opponents jaded in the opening months of the season."
Pearce noted Liverpool's "blunted" attacking threat:
"Earlier in the campaign Liverpool's defensive woes rarely cost them because they had an array of firepower to make up for it. But over the past month their threat in the final third has been blunted somewhat.

"As a result the Reds' title challenge has stalled. They have lost their sparkle."
Barrett feels Liverpool are paying the price for a style that only masks the defensive deficiencies they have been unable to cover up recently:
"As Klopp knows, Liverpool's best chance of winning games isn't to play conservatively and look to keep things tight, it is to take the game to the opposition even if that runs the risk of their weaknesses being preyed upon.

"But the problem with that approach is it is difficult to sustain because there will be days, like this one, when your attack is unable to score more than two goals in a game and while that remains the case, Chelsea's deservedness to be regarded as title favourites will be difficult to argue against."
Bascombe felt the game proved Liverpool's defence isn't enough to win the title:
"Having started the afternoon looking like they were in the mood for a rampage, instead this was more grist to the mill for those suggesting Klopp's defence is too fragile to last in to the title race."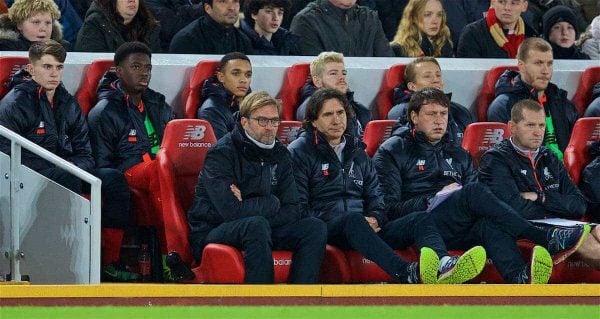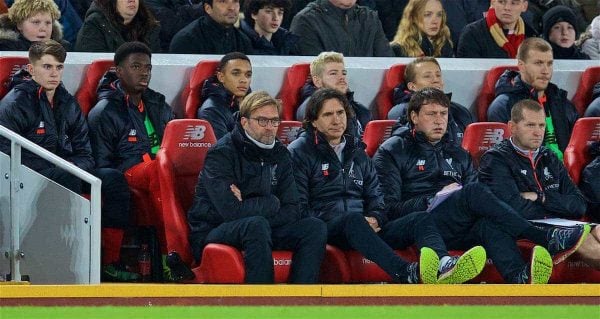 Meanwhile, some reporters sympathised with Klopp, who was left with little to turn to from the bench as his side chased a winner due to injuries ravaging his attacking options.
Pearce noted the lack of options Klopp had to turn to as his side chased a winner:
"A squad which looked like it had real strength in depth is now light on attacking options. When Liverpool were chasing a winner against West Ham, teenager Ben Woodburn was the only alternative on the bench."
Kelly was among those to centre on how Philippe Coutinho's influence was missed:
"Two games without Philippe Coutinho have delivered just one point. A small sample size yet but the Reds can't have the Brazilian back soon enough if they are to unpick determined defences like this."
Kelly also feels Roberto Firmino is struggling in his attempts at deputising for his compatriot:
"To be honest, it was another disappointing day from the Brazilian.

"Again on the left to accommodate Origi, he didn't quite have the touch, vision and control we associate with him when fully on song.

[…]

"To move Origi seems harsh but the move from the false nine has clearly impacted on Firmino's game."
Reddy feels Klopp could be forced into action when the January window opens:
"As injuries continue to pick at Liverpool's fine start to the season, their 'watching' of the market may need to translate into action."
Meanwhile, Pearce feels it is crucial Klopp signs a "top-class forward" in January:
"The need to buy in the January transfer window is crystal clear. With Sadio Mane away for a month on Africa Cup of Nations duty, Liverpool simply can't afford not to bring in a proven top-class forward as they compete on three fronts."