Jamie Carragher questioned whether Daniel Sturridge is still the right fit for Liverpool after their League Cup exit at the hands of Southampton.
Sturridge laboured through Wednesday night's 1-0 defeat at Anfield, struggling for clear opportunities in front of goal and, when handed one, volleyed over the bar from point-blank range.
This brought the striker's run of minutes without a goal to 377, having failed to find the back of the net since the 2-2 draw at home to Sunderland on January 2.
Speaking after the game as part of Sky Sports' coverage, Carragher suggested that it was partly due to a lack of service, but also a negative shift in Sturridge's style of play.
"Sturridge is a completely different player now to when he first came to Liverpool," he said.
"You could link him with Sadio Mane when he first came because the whole point of Liverpool buying Sturridge under Brendan Rodgers when I was at the club was that he gave us penetration in behind, he had pace.
"But there was one occasion in the game tonight where he fell over into the hoardings in front of The Kop and I thought he had to get that ball.
"I don't know if his pace has completely gone or whether he's that worried with injuries that he pulls out of something.
"Sturridge is not the player to run in behind, so you can forget about him replacing Mane. All he does is come to feet now.
"The only reason to have Sturridge in the team is for his finishing ability. You've basically got to put things on a plate for him. Liverpool did that against Southampton and he didn't finish.
"More often than not you cannot question his finishing but he doesn't do anything else in a game now, whereas he did when he first came. He's had a really poor night in front of goal."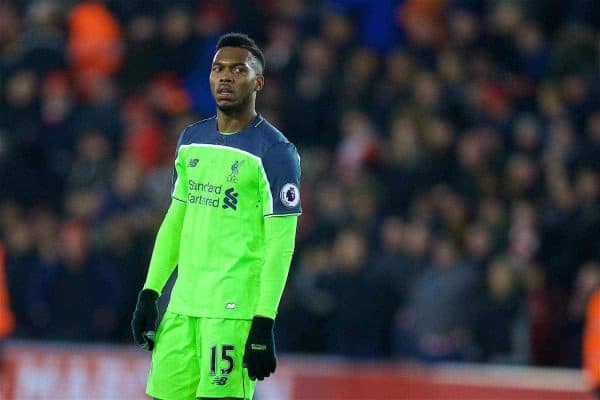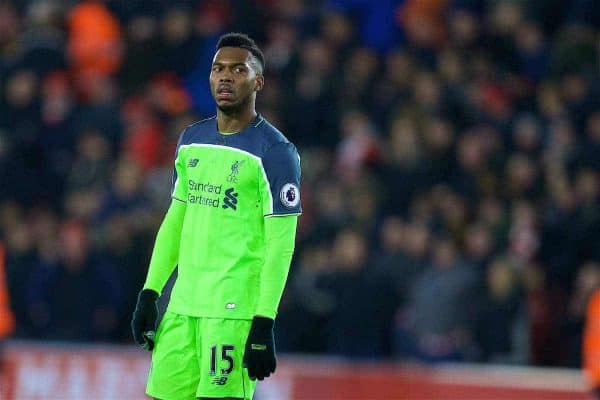 In his first season-and-a-half with the Reds, Sturridge scored 36 goals in 49 games, but he has netted just 24 in 62 since, and while he remains Liverpool's best finisher, this is a clear drop in productivity.
Carragher believes that is due to a change in the striker's all-round game, with his lack of overall contribution hampering his ability to beat the goalkeeper.
"That's the case with that type of striker now, if they're not a target man, or don't run in behind, everything has got to be put on a plate," he added.
"So when he doesn't score you're basically down to 10 men because they are not offering anything else whatsoever.
"You have to criticise Sturridge tonight because he missed chances, but when you look at his Liverpool record—his finishing and goal-to-game ratio—it's fantastic.
"But I'm talking about his pace and his overall game because when he doesn't score it's like playing with 10 men."
Sturridge has found himself in worryingly poor form since the turn of the year, and with Roberto Firmino clearly preferred as Jurgen Klopp's first-choice centre-forward, this should be a concern.
After another frustrating night against the Saints on Wednesday, Sturridge will be wondering when his next start will come.