Aaron Cutler believes taking Emre Can out of the spotlight will help team and player.
Emre Can is my favourite player. He looks the part; the jet black hair, brooding eyes, designer stubble and muscular build resembles Elvis in the movie Charro. This unlikely comparison goes further still.
Presley's looks proved both a blessing and a curse. They helped ignite the phenomenon, catapulting him to the forefront of popular music in the early 1950s. When it came to forging a respectable acting career however style was prioritised, to the detriment of any real substance.
The films were predictable, toe curling and of great personal embarrassment to the tragic Presley. His management were loathe to deviate from the script – quite literally – as it drew girls and money. The result was a career and perhaps life unfulfilled.
For there comes a time when looking the part is not enough, you need to back it up. Emre Can has reached that crossroads.
Much like the King of Rock N' Roll before him a great deal of excitement accompanied the emergence of the German international.
Make no mistake, his appearance bought him time. Can was gifted a settling in period, one never afforded Charlie Adam – the ugly bugger.
If anything a lack of action fuelled the hype. Before long an embattled Brendan Rodgers was being urged to pick the youngster, at the expense even of his captain.
Can's real breakthrough however came in defence, as part of a makeshift back three. Given license to come onto play he looked classy in possession and tactically astute. His contribution helped the reds embark on a 13 game unbeaten run, bringing them from the abyss to the brink of the top four.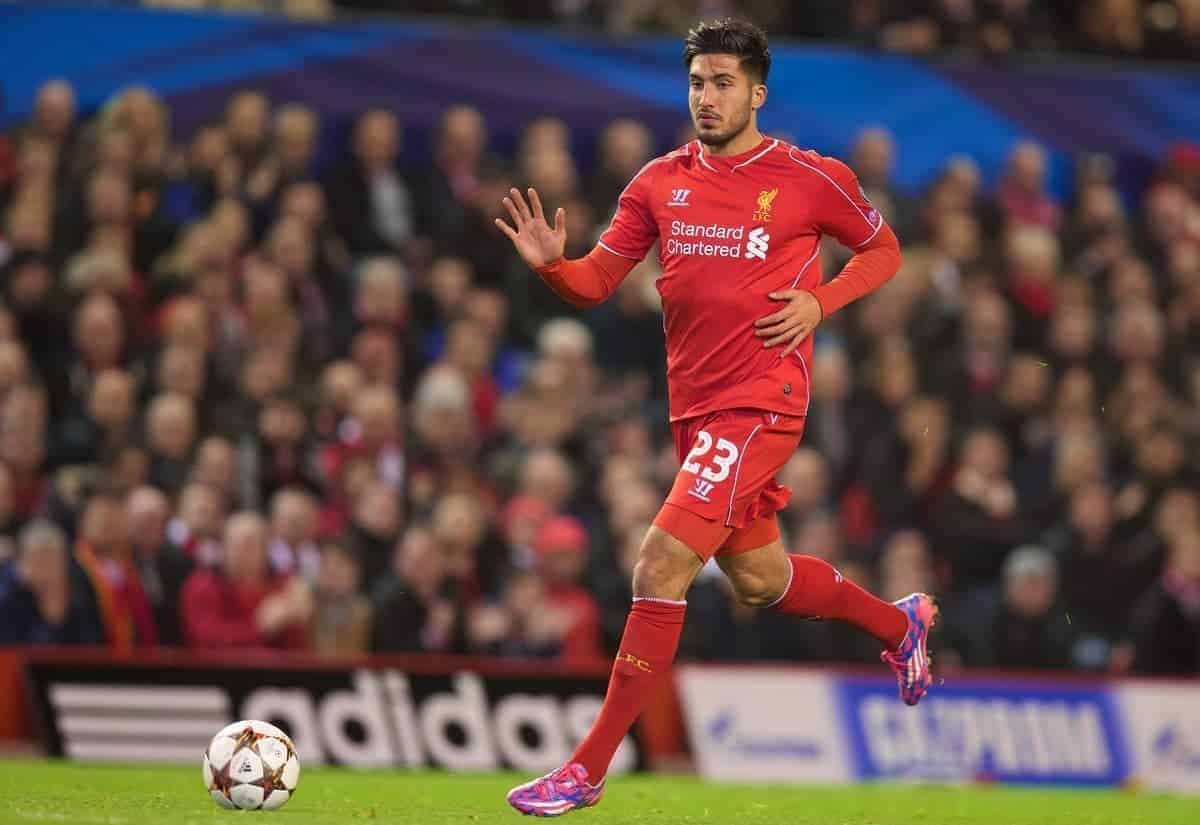 Indeed his inexperience told only after Liverpool's run came to a crashing halt at home to Manchester United. To all intents and purposes our season ended that day in March, and those final two months were torture, not least for Can; given one final chastening at the graveyard that is Stoke.
He re-emerged a better player for it and fared well enough in the dying embers of Rodgers' reign. Jurgen Klopp's appointment however brought with it accelerated progression. By the end of 2015/16 he was purring, bossing games in central midfield and being rushed back for European semi-finals no less.
Coming into this term he was deemed one of the first names on the team sheet, touted even as a future captain.
And now…
In no other industry can a poster boy turn scapegoat quite so rapidly. There have been mitigating circumstances of course. Germany's involvement in the European Championships delayed Can's start to pre-season. An ankle injury in early August set him back further still, all whilst Jordan Henderson began to re-invent himself in the deep lying midfield role – Can's role.
It was October before the former Bayern man started successive league games. The first of those was a dour draw at home to United, a match the reds were expected to win at a canter. A sluggish performance drew criticism and blame was unfairly apportioned.
Not only was Emre chasing fitness he was coming to terms with a new position – deployed as one of two midfielders expected to bomb on and supplement our attacking trio.
Anyone plying their trade in that area is expected to contribute goals. To his credit three have followed, including a beautiful backpost header at home to Watford, one owing to a late run.
But while the Reds continued to clock up points that initial fizz that so whet the appetite had dissipated. Can, the last on the scene, was identified as the root cause.
Is he? Not entirely. As referenced earlier in this article, however, appearances count and Can has the appearance of someone trying to manoeuvre a battle ship.
He is slow on the turn and ambles forward – taking three or four touches when one will suffice. This may result in us retaining possession but it kills the pace of our attack and allows sides hell-bent on sitting in time to re-organise and stifle.
This was evidenced away to Southampton in the League Cup and as the Reds chased an equaliser at home to Swansea at the weekend. When chasing a goal Can is a drain on our fluidity, for all his endeavour.
Emre also has a tendency to overplay. He is gifted but attempts flicks when a simple lay off will suffice. He would be better served saving his skill set when pressed by opposition defenders in the final third. Instead he will execute a Cruyff turn deep before making the pass you knew he would three seconds beforehand.
Inexplicable decisions meanwhile continue to dog his game. He will complete 9/10 passes yet the one that goes awry could very well lead to the concession of a goal. Such lapses in concentration infuriate.
With Henderson seizing what Klopp calls the Number 6 position Emre Can has become a project in himself. For what is now the third time in his fledgling Liverpool career he is learning on the job. The question is whether we have the time and surroundings to enable him to do so once again.
Rodgers had nothing to lose when introducing him as a defender, Klopp had a free pass when moving him into defensive midfield but this season, this year, has something riding on it. Until Saturday that was a title challenge, it remains a top four berth.
With no Europe to speak of there is nowhere for Can to hone his game and make those mistakes. The FA Cup may provide a platform of sorts but should Liverpool crash out of the EFL equivalent that will likely become our sole chance of silverware. Should we not prioritise it from that point?
Jurgen Klopp's reign is a long-term project but having muscled in on the conversation ahead of schedule we must at least attempt to shout loudest. That may mean withdrawing Can and using him purely as a back-up to Henderson for the remainder of the season.
He is a talented boy and at just 23 his time will come but he should not have been on the pitch at 2-0 down on Saturday. He should not be in contention for a start against Southampton either.
Where he can prove effective is when beefing up the midfield, as evidenced at Old Trafford last week. But more often than not Liverpool will have a stranglehold on possession and be scheming to breakdown a regimented backline. He becomes a hindrance in such moments.
Can looks like a movie star and this season may yet have a Hollywood ending. For now however he must adopt a supporting role and learn from masters of the art.
That's something Elvis was never allowed to do, thankfully Can's manager has his best interests at heart.