Finally able to reunite Adam Lallana, Philippe Coutinho, Sadio Mane and Roberto Firmino, Jurgen Klopp can hope they inspire Liverpool's revival.
Every great Reds side has been built around a formidable attacking unit, be that Kevin Keegan and John Toshack, Ian Rush and Kenny Dalglish, Steven Gerrard and Fernando Torres or 2013/14's SAS.
This season, Klopp has formed a four-pronged forward line that has provided Liverpool with a devastating unit moving into the final third, fuelling an excellent first five months.
But with Coutinho suffering a serious ankle injury and Mane spending four weeks at the Africa Cup of Nations, Klopp has seen his side struggle without the quartet in tandem.
Both have since returned to action and now Klopp can look to start all four in their most effective positions for the first time since November's 6-1 victory over Watford at Anfield.
Having won just once in nine games in January, this is imperative, and reuniting Liverpool's star frontline can inspire a return to form.
Record With the Quartet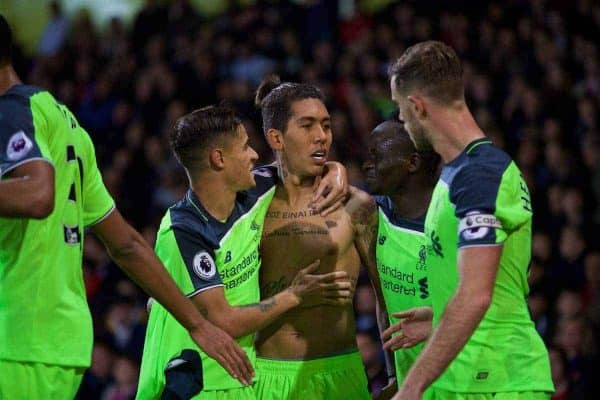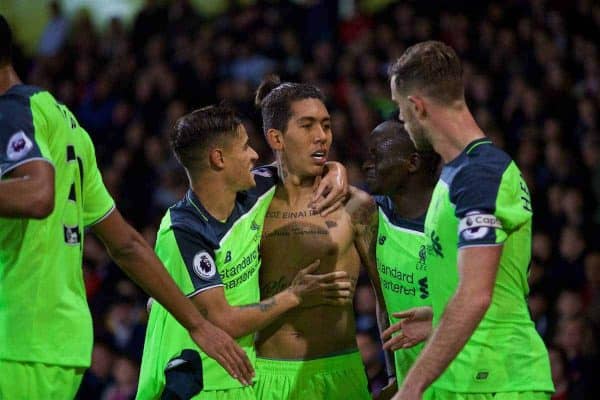 Klopp's decision to remould his system into a 4-3-3 raised eyebrows during pre-season, but it proved to be hugely effective as Liverpool made themselves unlikely title contenders in the first half of the campaign.
Pivotal within the success of this system was Mane's arrival as first-choice right winger, and Lallana's rebranding as a box-to-box midfielder, with Coutinho and Firmino's roles retained.
With Coutinho and Mane flanking Firmino, and Lallana leading the support from midfield, Liverpool strung together a series of dominant victories.
But despite their rise to synonymity as Klopp's impressive attack, they have only all featured at some point in 10 games in the Premier League so far.
Remarkably, however, the Reds were unbeaten in those 10 games, winning seven and drawing three, including high-scoring triumphs over Watford, Leicester City, Hull City.
And in those, Liverpool scored 28 goals, averaging 2.8 per game, with Lallana, Mane, Coutinho and Firmino scoring 19 of those, also weighing in with 16 assists, while the Reds created 145 chances overall, averaging 14.5 per game.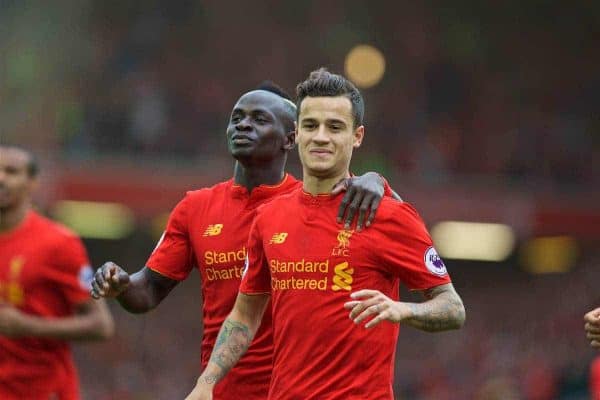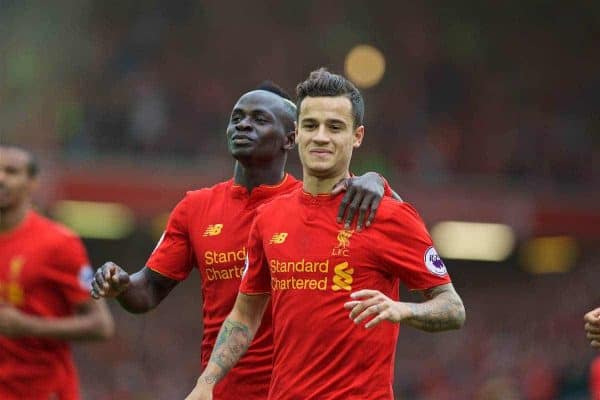 Over those nine games, Liverpool enjoyed over 60 percent of possession on average, seeing more of the ball than their opponent in nine outings, with only Arsenal posting higher in August's 4-3 win at the Emirates.
The Reds also averaged 17.8 shots on goal per game when all four have played, as well as six successful tackles in the opposition's half.
Naturally, there are other variables to consider behind Liverpool's success in those nine games, with Joel Matip's excellence in defence and Jordan Henderson's ever-presence in his No. 6 role key examples.
But there is no doubting Klopp's side were a more effective unit when each of Lallana, Coutinho, Mane and Firmino were able to play.
Record Without All Four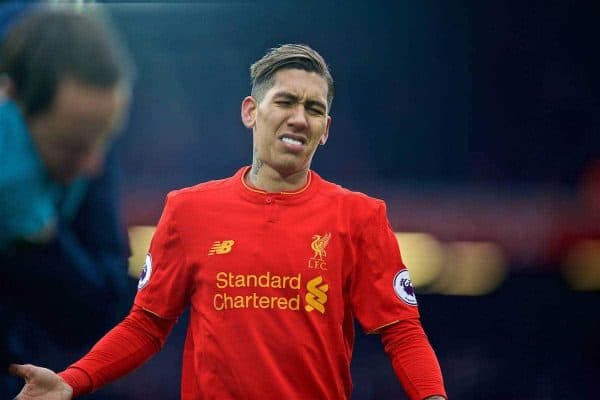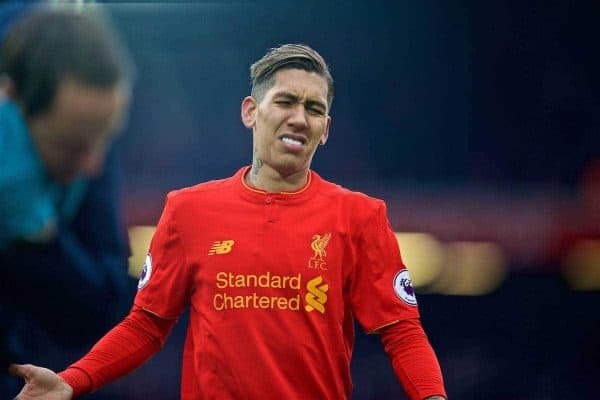 Since November's victory against Watford, Klopp has been deprived of the privilege of naming one of the Premier League's most productive quartets in his starting lineup.
And as a result, the Reds' results on the field have suffered considerably, as well as in the two games—Burnley in August and Chelsea in September—that one of Mane and Firmino were omitted due to injury.
In the 13 league games with one or more of Lallana, Coutinho, Mane and Firmino missing this season, Liverpool have won six, drawn four and lost three, with our average of points per game dropping from 2.4 to just 1.7.
The Reds' goalscoring prowess has been affected, too, scoring 24, at an average of 1.9 per game, with the four attacking stars contributing just 10 goals and six assists.
Without at least one of the forward foursome, Liverpool created 167 chances, averaging 12.9 per game, and while this is only 1.6 fewer than in those 10 games with them, the cutting edge was clearly impacted.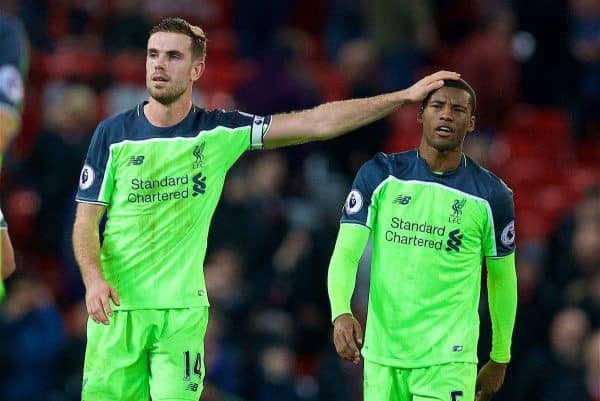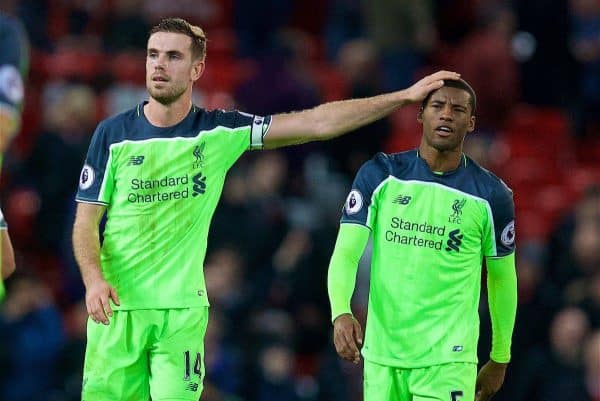 Furthermore, in those 13 games, Liverpool averaged marginally less possession, at 58.8 percent, as well as averaging 16.2 shots on goal and 5.8 successful tackles in the opposition's half.
All, perhaps unsurprisingly, less than when Lallana, Coutinho, Mane and Firmino have been fit.
Again, there are variables within this, such as Matip's lengthy absence through injury and his eligibility dispute, while Lallana's move into a more advanced role in the absence of Mane proved ineffective.
That Klopp has been left to prompt the likes of Georginio Wijnaldum and Emre Can to take up more progressive duties as his box-to-box midfielders underlines just what Liverpool have missed.
But this should change at the KC Stadium on Saturday afternoon, with Liverpool's forward quartet expected to be reunited in the starting lineup.
Unleashed at the KC

That Klopp is likely to start Lallana, Coutinho, Mane and Firmino together for the first time in 91 days on Saturday is a major boost to Liverpool's hopes of victory against an improving Hull City.
Having struggled throughout January, the Reds were able to produce an excellent performance in the 1-1 draw with Chelsea at the end of the month—notably, on Mane's return to the squad.
Facing just six games over the next two months, Klopp needs his side to capitalise and re-establish themselves in the race for the Premier League's top four, with the title likely out of reach.
Having resisted playing Coutinho for a full 90 minutes since his return from injury, and restricting Mane to just 15 minutes on the field against the Blues on Tuesday night, the German has managed their fitness leading up to February.
That they could be unleashed against a side who have conceded the second-most goals (47) of any side in the Premier League this season is hugely encouraging.
Although, it may still take time for Liverpool's No. 10, No. 11, No. 19 and No. 20 to recapture their fluency.
But given their excellent record together in the first half of the season, and the encouraging signs against Antonio Conte's Chelsea at Anfield, it is safe to say reuniting Lallana, Coutinho, Mane and Firmino will be key to the Reds' revival in 2017.