The media were left perplexed by Liverpool's inconsistency once again, but praised the Reds' aggression and direct play in the 3-1 win over Arsenal.
Jurgen Klopp's side revived the fight for a top-four spot in style, as an excellent team performance brushed the Gunners aside at Anfield.
An early strike from Roberto Firmino and brilliant finish from Sadio Mane give the Reds a thoroughly deserved half-time lead, with the goals capping off an electric opening 45 minutes from Klopp's men.
Danny Welbeck pulled one back after the restart to make for a nervy second-half, but Georginio Wijnaldum finished a sweeping counter-attack in front of the Kop to seal a huge three points in the top-four race.
The Reds deserved every bit of criticism received for the spineless display at Leicester, but Klopp's men merit just as much praise for producing the perfect response – one which will have absolutely delighted the boss.
Here's what the watching reporters made of an excellent evening at Anfield.
After witnessing yet another excellent big-game performance from the Reds, reporters discussed Liverpool's infuriating inability to replicate such performances against weaker sides.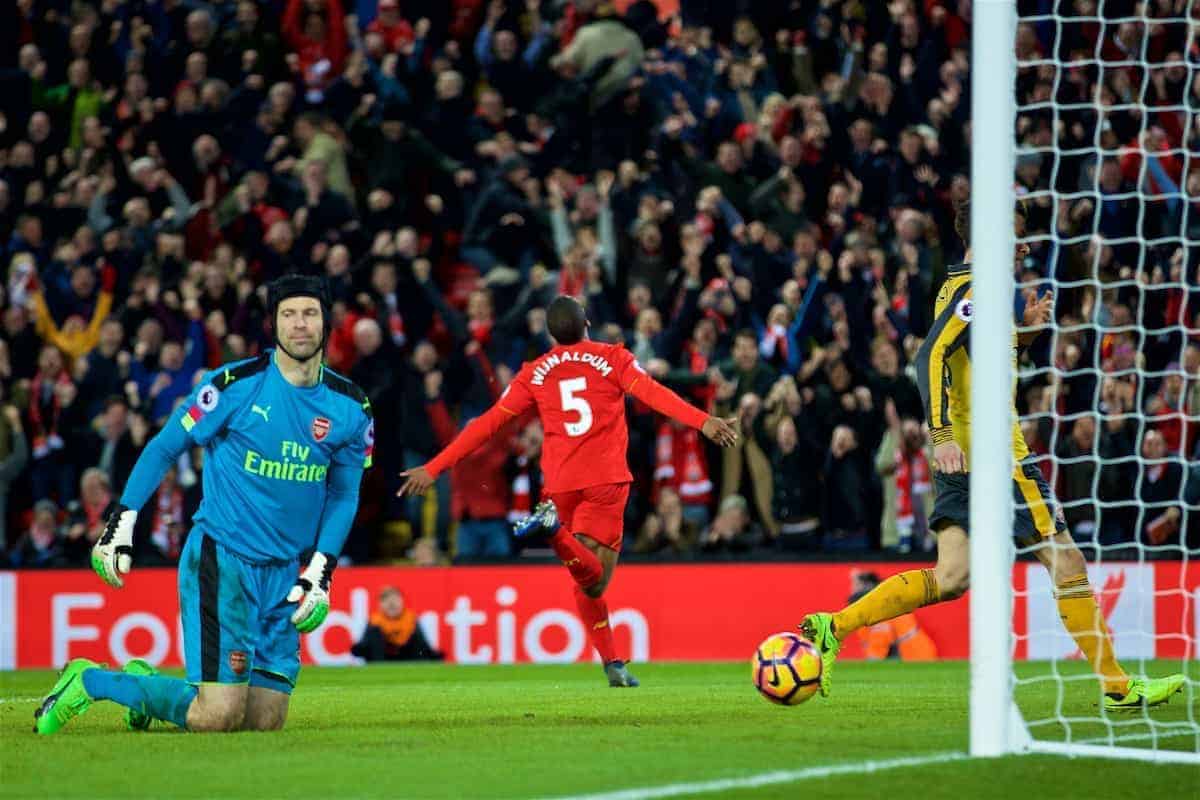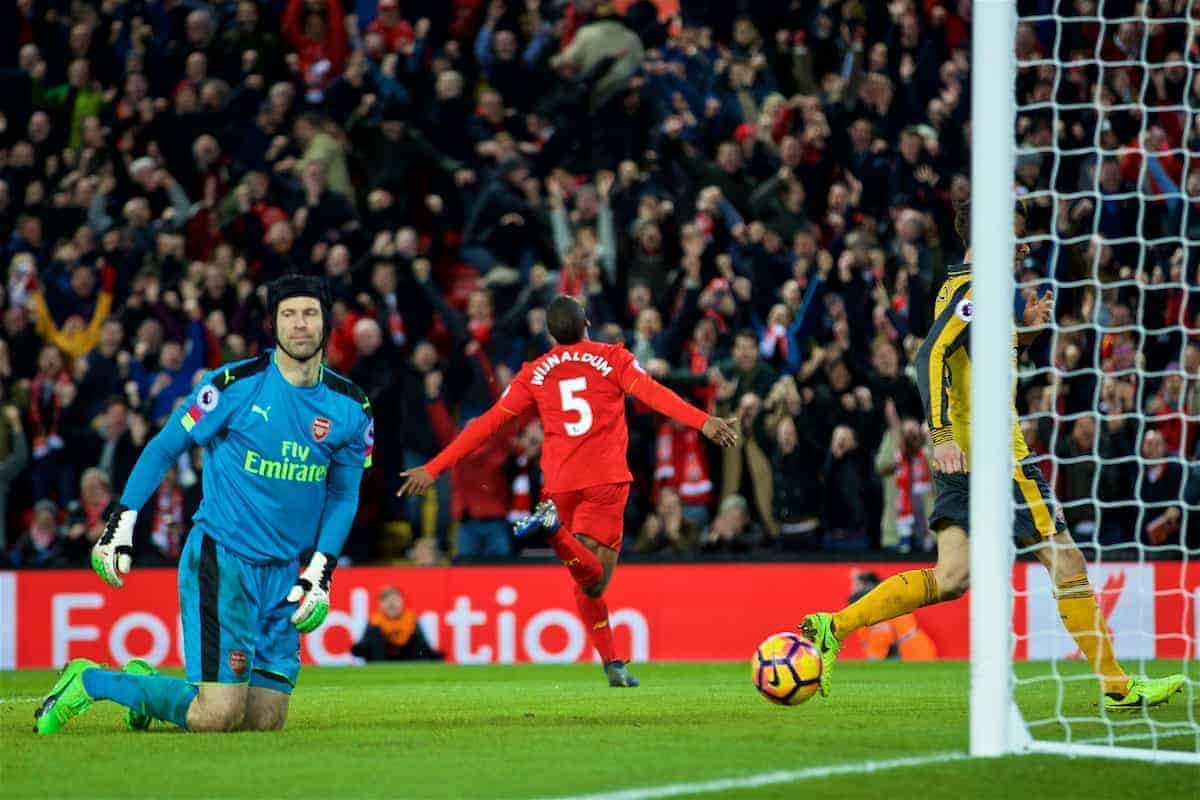 The Independent's Ian Herbert thinks Klopp's team would still be challenging for the title if such performances were produced in routine games:
If they only achieved this kind of display against those sides with no reputation, they might be challenging Chelsea for the title.
ESPN's Steven Kelly bemoaned the Reds' inability to show the same mentality when facing lesser sides:
Where was this performance and attitude against Leicester? Or Hull? Or Swansea? The Reds could have achieved so much more this season and that is a frustrating component despite the euphoria of tonight's victory.
The Mail's Rob Draper feels this inconsistency won't lead to long-term success for Liverpool, but could prove crucial to securing a top-four spot:
Liverpool, lambs at Leicester, were – yet again – lions against major opposition at Anfield. Long term that is no way to earn credentials as a proper team but, for the moment, Klopp will probably take this upgrade as a sign of hope.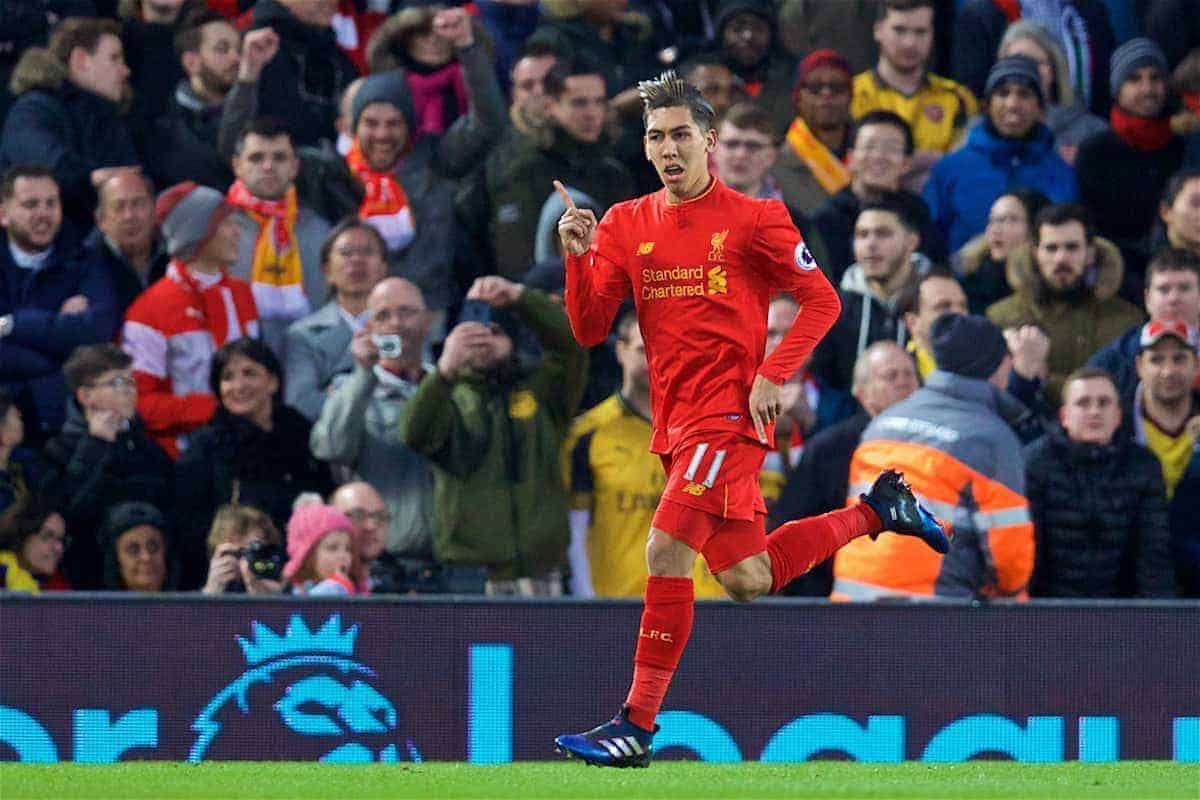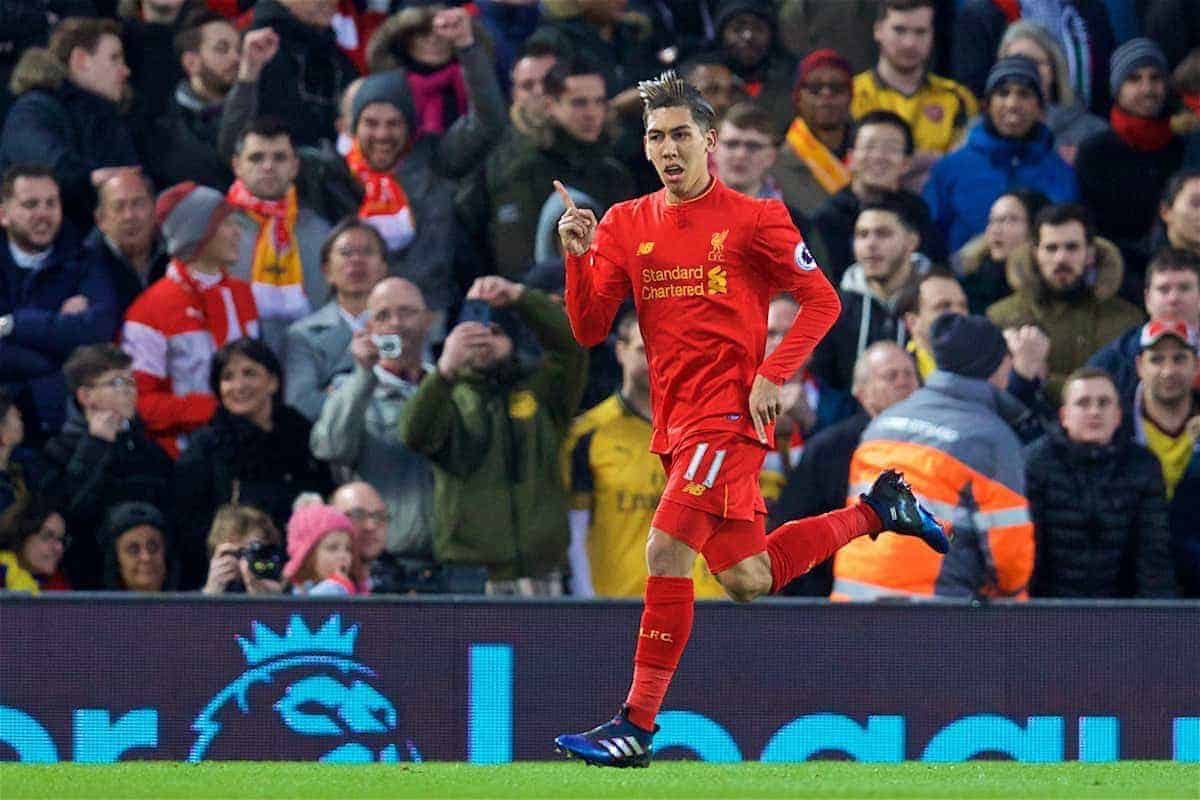 Oppositely, the Liverpool Echo's James Pearce believes the success of the season will hinge on whether Klopp can find a way of ensuring his side show the same form against weaker teams:
But too often seeing off lesser lights has proved beyond them. It comes down to attitude, application and having a game plan designed to combat 'bus parking' opponents.

Klopp's ability to change that and find some consistency during the run-in will ultimately define whether this season goes down as one of success or failure.
Echo colleague Andy Kelly feels it would be "criminal" if Liverpool wasted momentum from Saturday's success against Burnley:
The narrative for the game is written already. Can Liverpool finally manage to follow-up the defeat of a top team with an expected result against a so-called lesser outfit?

[…]

Liverpool have given themselves a chance. A good chance. It would be criminal to throw it all away once again.
Reporters offered assessments on where the battle was won and lost, with reporters assessing Liverpool's more direct approach and relentless work-rate as key to securing the points.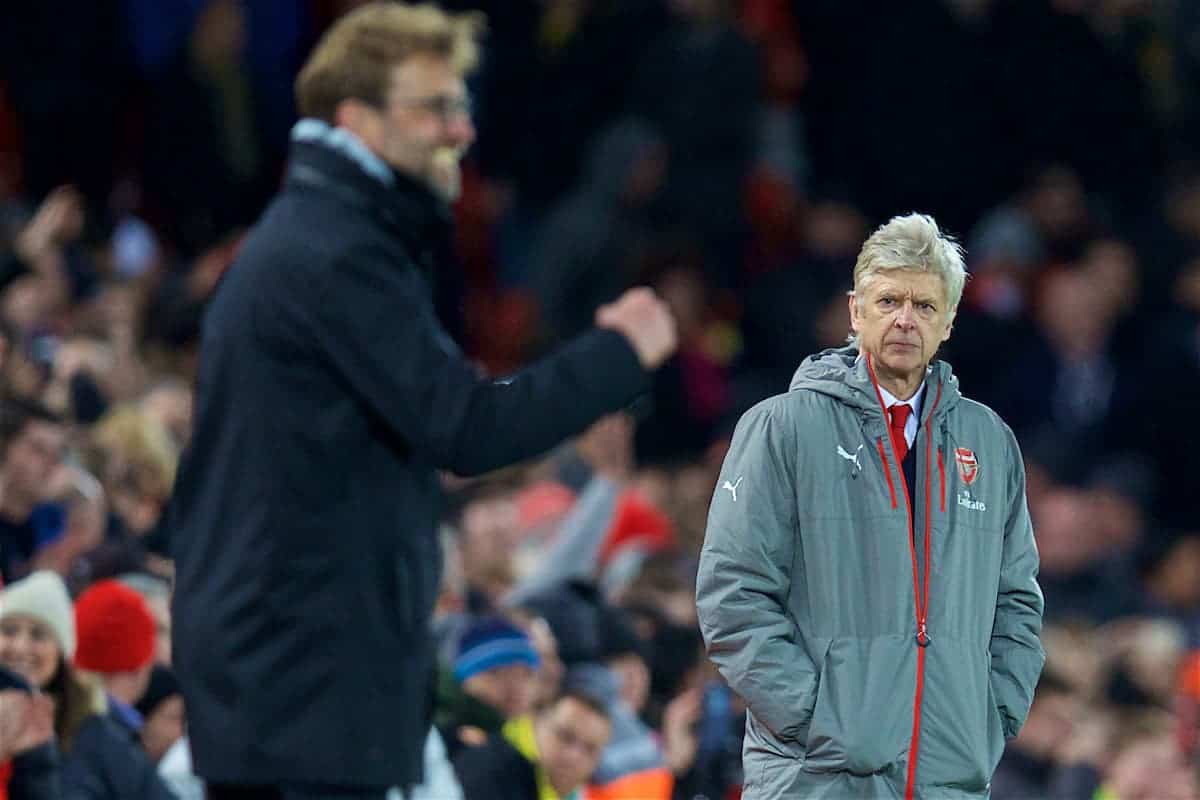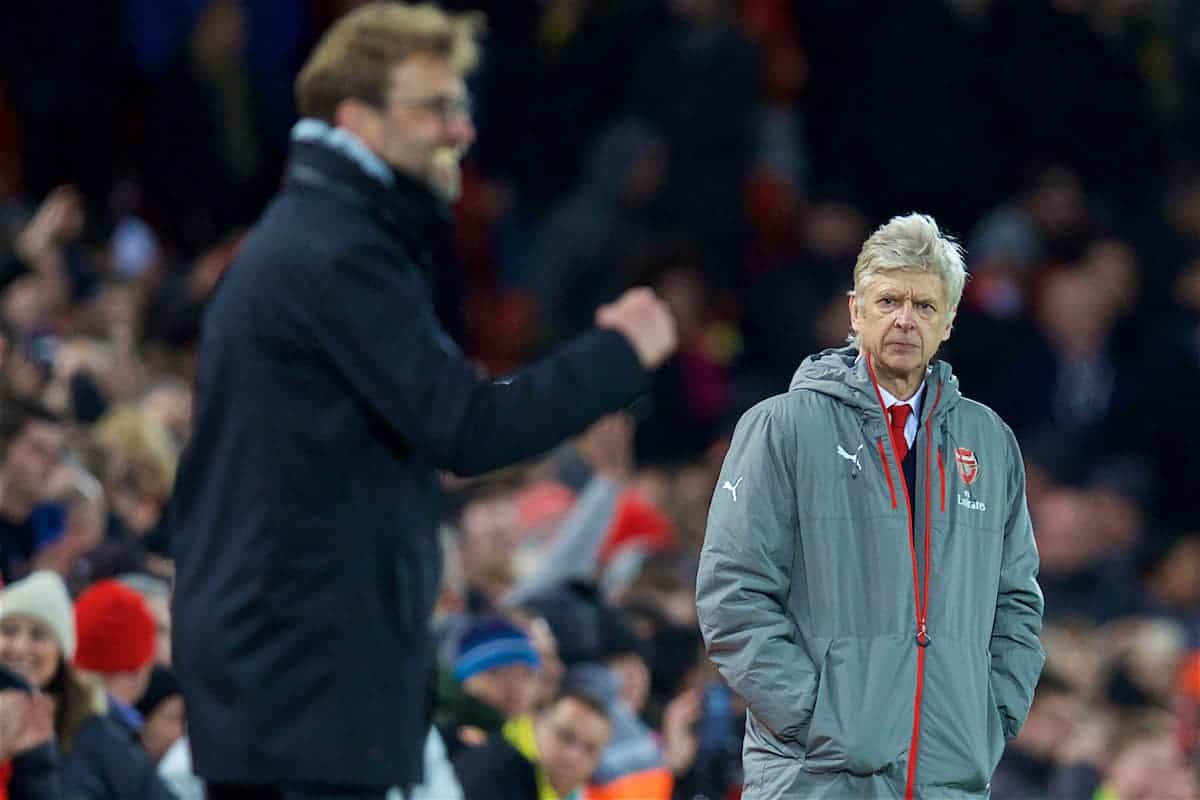 The Telegraph's Chris Bascombe was among those to note Liverpool's change in style:
Evidently Klopp felt it made sense to bypass Arsenal's midfield and test the resolve of their centre-backs, playing their best football in the final third.

The rewards were plain as the opening goal came from little more than a Simon Mignolet goal-kick, headed on by Firmino and suddenly leaving Arsenal's defence exposed.
Kelly centred on how Liverpool's aggression proved too much for Arsenal:
From the opening minutes, Liverpool's intention to fight for every ball and hustle Arsenal out of their stride was first class.
Meanwhile, Herbert, along with almost every other reporter, felt Klopp's men benefitted from Arsene Wenger starting Alexis Sanchez on the bench:
Without his threat, the home defence could afford a higher line from the outset, with Emre Can organised to drop into the back four to deal with Olivier Giroud when required.
Melissa Reddy, writing for Goal.com, thought Liverpool exploited Arsenal's discomfort with their own changed game-plan:
The idea was to exploit the Reds' weaknesses against direct, aerial play but it allowed the Merseysiders to start assertively and profit from a gameplan the visitors never looked comfortable with as they were nullified in midfield.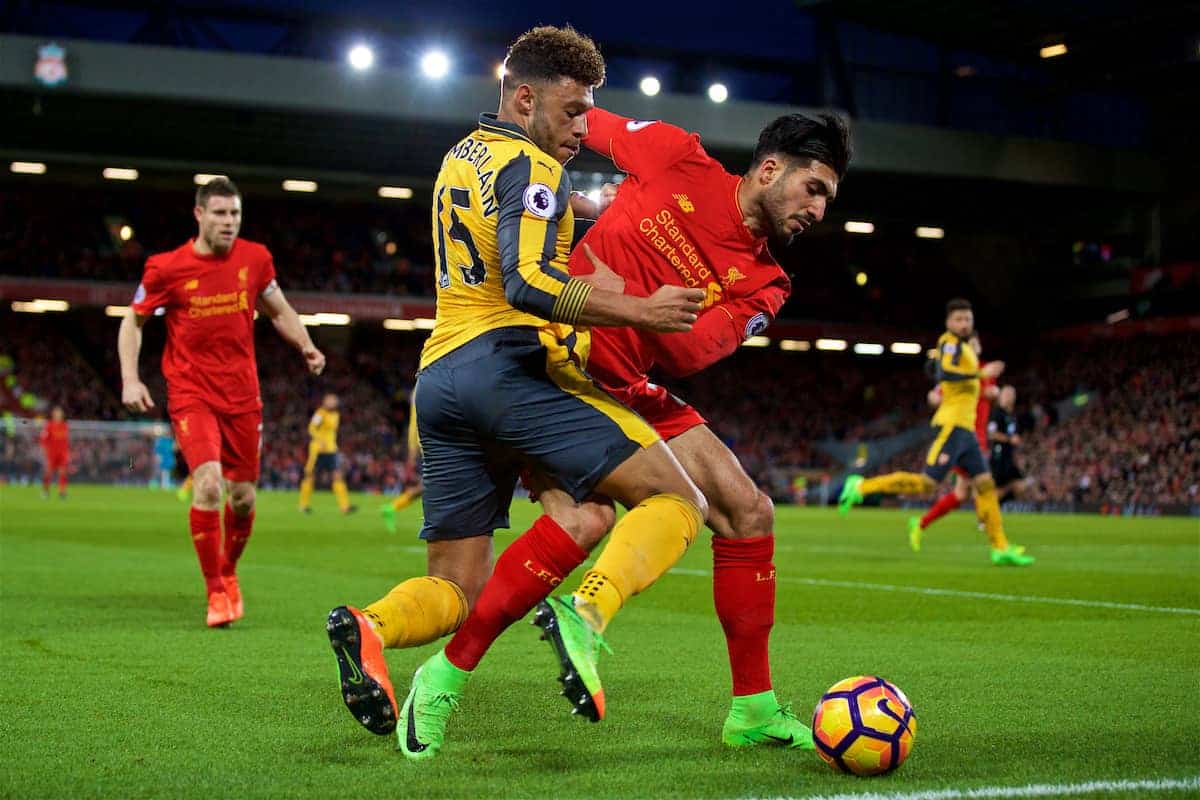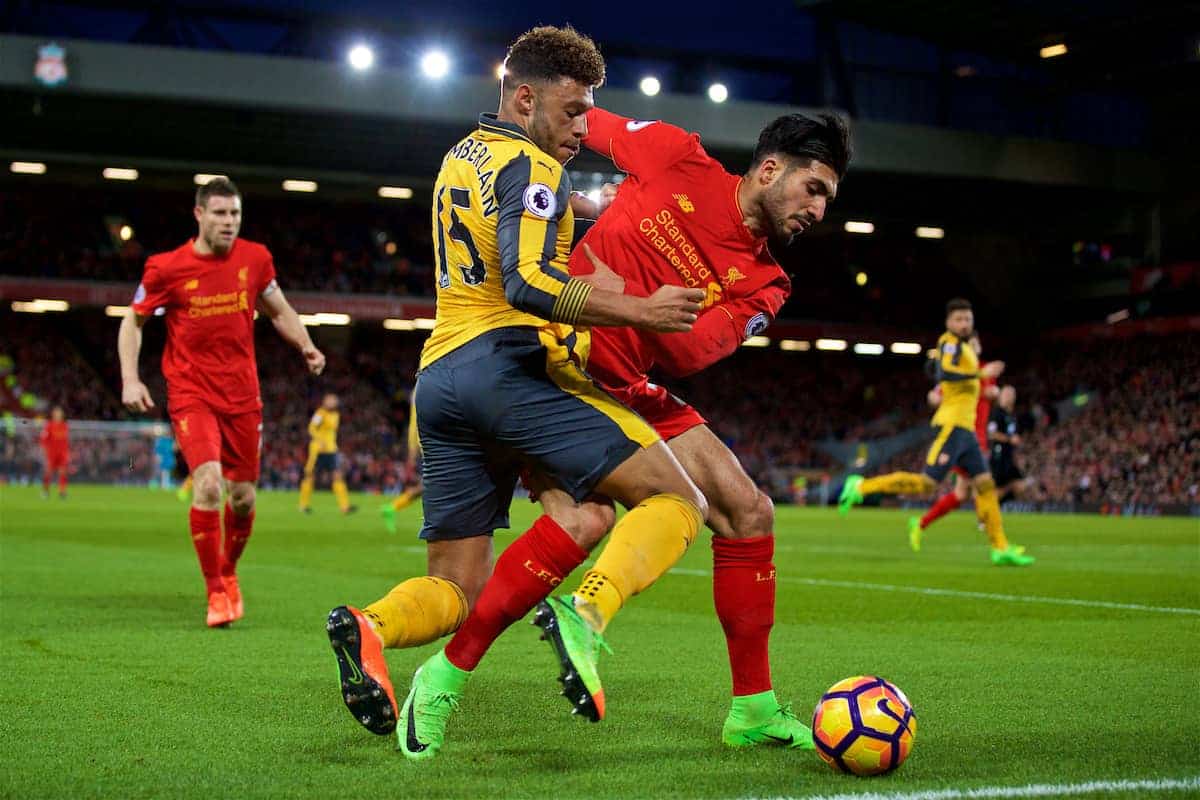 Interestingly, Tony Evans, writing for ESPN, was less convinced by Liverpool's performance, highlighting an imbalance in midfield:
Part of the problem for Liverpool is the gap that can appear between the back five and the front four. Klopp's system places a lot of pressure on Emre Can and Lallana in the midfield. The German is too often impelled to sit in front of the defence and the Englishman is too eager to join the attack.

Against Arsenal, this vacuum in midfield was not a problem — the London club did not make use of the space — but it was a massive one in the 3-1 defeat to Leicester City earlier in the week.
Evans felt this proved Liverpool need midfield reinforcement this summer:
Anfield needs a strong, physical and mobile box-to-box midfielder before Klopp's team can sweep aside all comers and not just the wide-open sides who come to play football against them.
Evans also thought the lack of defensive help from the Reds' front trio would have been punished against more ruthless opponents:
More defensive teams who soak up pressure and then spring attacks can get the room necessary to break behind Liverpool's forwards, who at times neglect their defensive duties. Arsenal's goal perfectly illustrated this problem, as Xhaka had the time and space to pick his ball and release Sanchez to attack the back four and run at the heart of Klopp's defence.
In a game littered with superb individual performances all across the pitch, reporters offered views on who shone at Anfield.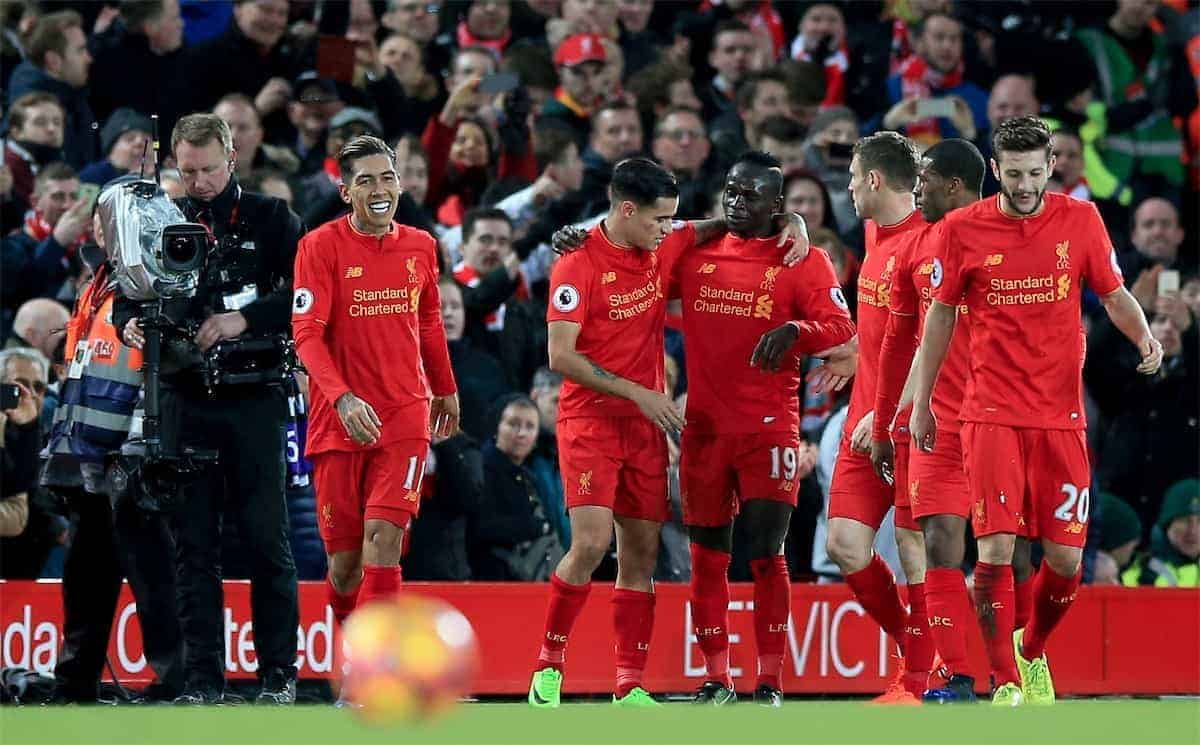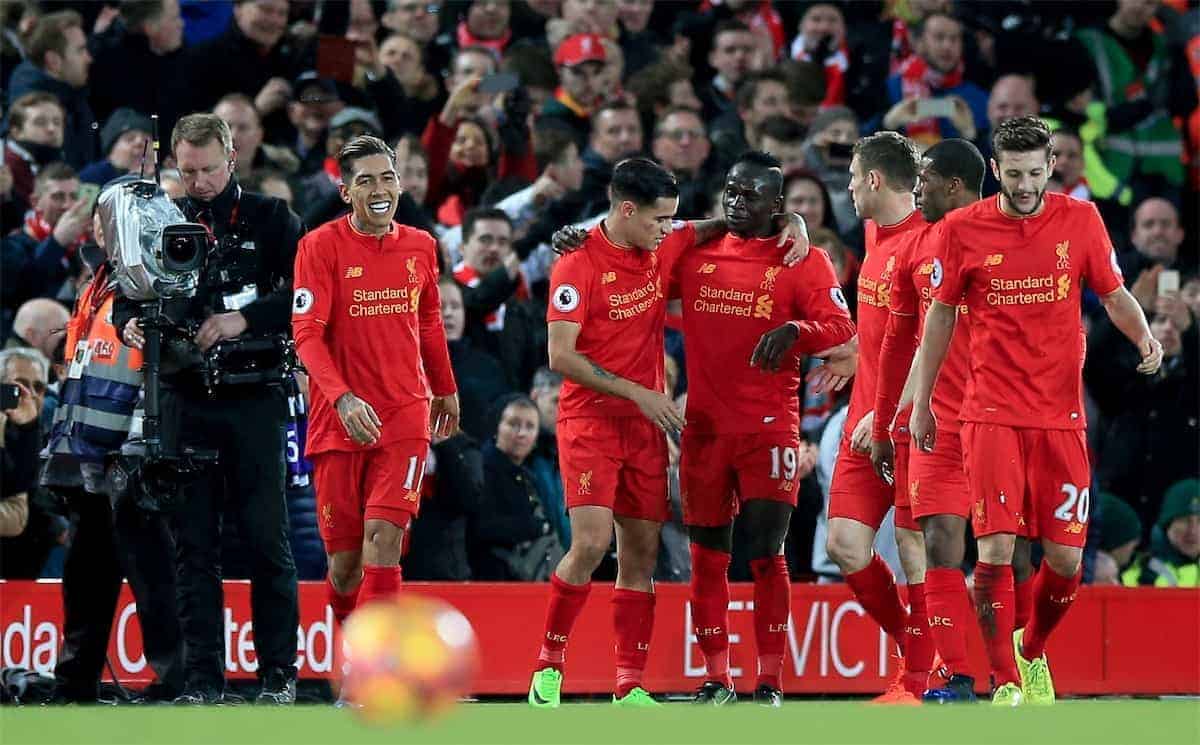 The BBC's Phil McNulty noted Gini Wijnaldum's importance and how he is becoming the man for the big occasion:
He operates in the shadow of more eye-catching players such as Coutinho, Adam Lallana and Firmino, but he is missed when he is not playing and contributes vital goals when he does.

Wijnaldum scored the winner against Manchester City, the equaliser against Chelsea and the vital third goal here. The man for the big occasion.
Reddy praised the collective effort of Liverpool's midfield trio:
Lallana and Wijnaldum ran the midfield, with Emre Can doing a sterling job positioned in front of the centre-backs.
The Mirror's David Maddock noted a welcome return to form for Philippe Coutinho:
Philippe Coutinho was at the heart of it. In truth, he's been pretty ordinary since his return from injury, failing to justify his reputation as one of the best midfielders in Europe and one who is on Barcelona's radar. Finally, we saw why here. When he can get on the ball and get his head up, he makes Liverpool tick at a pace few opponents can live with.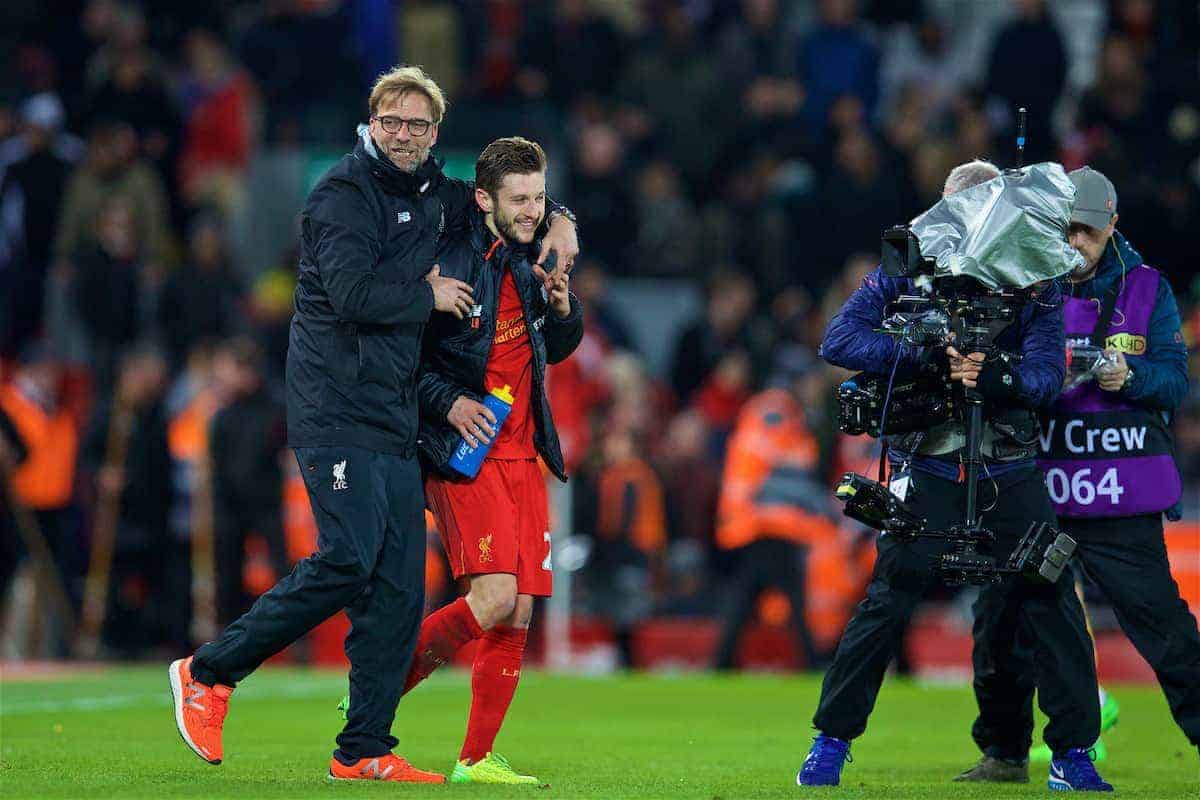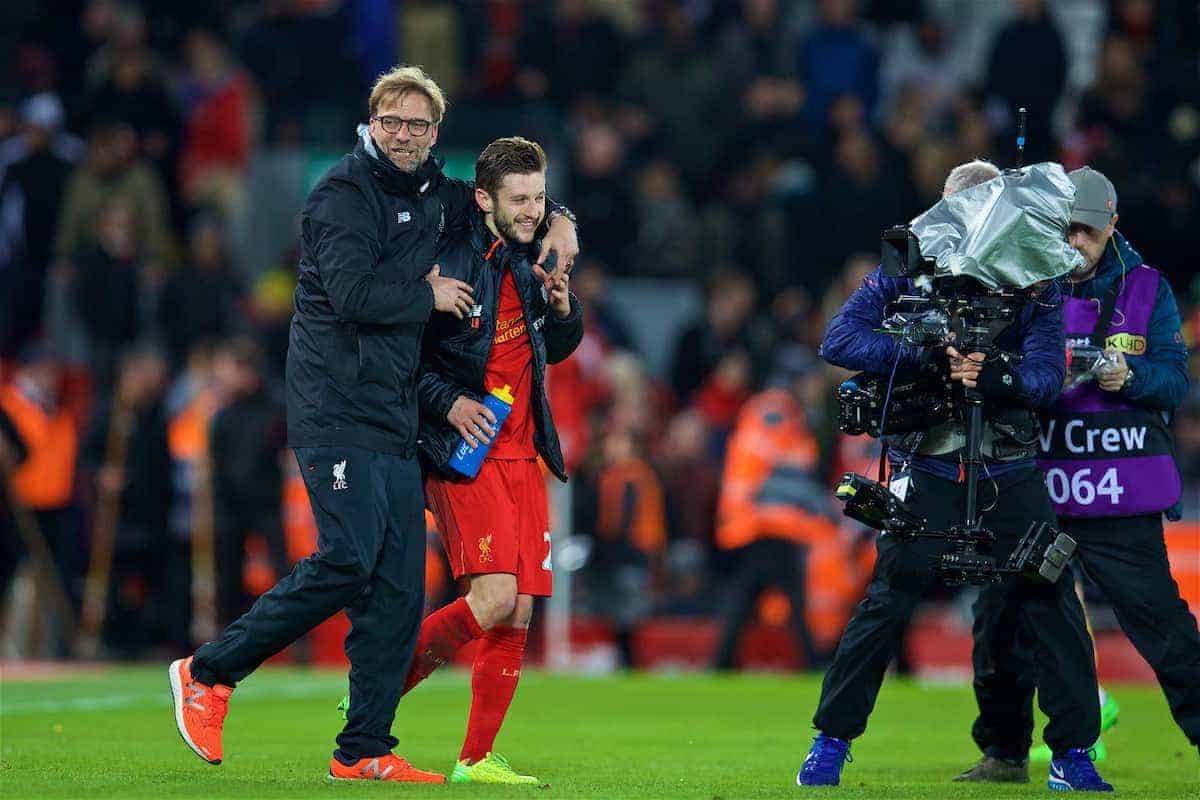 Kelly waxed lyrical about an "astonishing" performance from Adam Lallana:
An astonishing performance. Everyone worked hard but Lallana almost made them all look lazy in comparison. He quite clearly couldn't keep his first half workrate up for 90 minutes but instead produced more intelligent play. His perfect pass to Divock Origi gave the Belgian a great opportunity to set up the third, decisive goal.
Our man James Nalton was full of praise for Ragnar Klavan's performance:
Klavan began the game with an eye-catching left footed pass pinged across field to Clyne and Mane. This was a sign of things to come as he played several good lofted passes in behind the Arsenal defence.

[…]

He coped well with the Arsenal attack as they pushed for an equaliser late in the game, and the performance should see him retain his place even when Lovren returns to full fitness.
Finally, Bascombe praised the efforts of goal-scoring duo Wijnaldum and Firmino, but feels the pair need to add more consistency to their performances, especially away from Anfield:
The Brazilian looks a thoroughbred when leading the line on nights like this. It is both a reassuring and infuriating contrast to the striker who was anonymous against Leicester and Hull City recently.

Firmino was not alone. Georginio Wijnaldum is another who shines in front of his own supporters but must deliver much more often. Firmino and Wijnaldum led the harassment of Arsenal's midfield, ensuring Liverpool were first to every ball in the first half.