Lucas Leiva finalised his move to Lazio on Tuesday morning, with the Liverpool squad providing the Brazilian with a series of parting messages.
The Reds' long-serving No. 21 brought an end to a decade on Merseyside, as he agreed a £5 million switch to the Serie A side.
Lucas made 32 appearances for Liverpool last season, but his role under Jurgen Klopp was diminishing, and the midfielder believes he made the right decision to depart after 10 years.
His influence was arguably felt more off the pitch, with Jordan Henderson leading a farewell from the squad, as the club presented on Twitter.
The #LFC squad say their goodbyes to @LucasLeiva87 from Hong Kong.#ThanksLucas pic.twitter.com/9mQ20ip21t

— Liverpool FC (@LFC) July 18, 2017
Henderson, who played with Lucas for the longest of any of Klopp's squad, said:
"Lucas, on behalf of all the lads, we just want to say thank you for everything you've done for us as a team. We wish you all the best for the future and hope to see you soon."
---
Daniel Sturridge, who joined the Reds from Chelsea in 2013, with then-manager Brendan Rodgers warning him that "if he wants to stay at the top level, this is probably his last chance," added:
"I just want to say thank you for helping me to settle into the club, you made it easy for myself, and also for a lot of the foreign players who have joined the club.
"Especially the ones who couldn't speak English, you allowed them to settle in really well—I want to say a big thank you for that also.
"I wish you a nice life in Rome, and I'm sure you're going to enjoy yourself."
---
Next up, vice-captain James Milner testified to Lucas' role in meshing the squad on a social level:
"I'm going to miss you, mate. You've been a massive part of this dressing room, even in the couple of years I've been here. On and off the field, you've helped us settle in.
"You and your family as well, with kids parties and other social gatherings you've had for the boys, you're a massive part of that.
"You're a massive part of helping the team spirit, so we'll miss you. Good luck over there, I hope you enjoy it."
---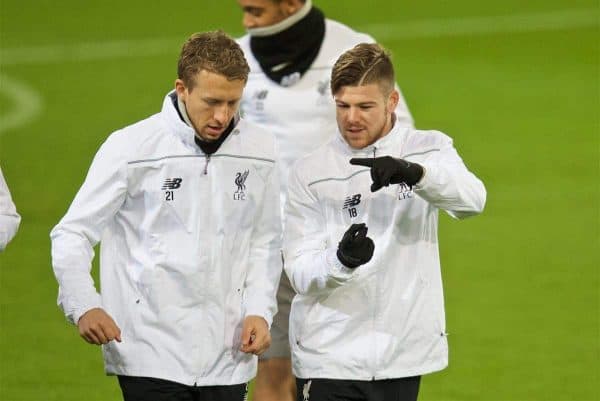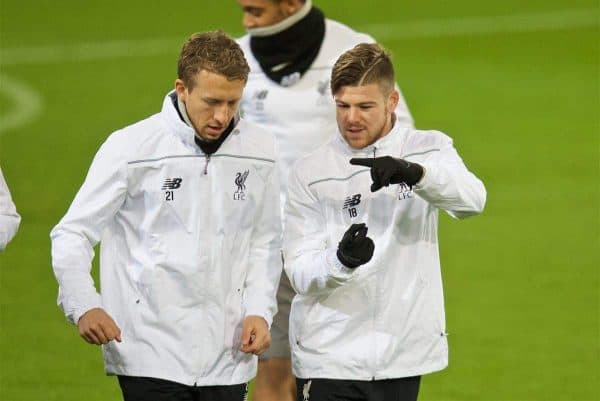 Alberto Moreno, who along with Philippe Coutinho and Roberto Firmino perhaps shared the closest relationship with Lucas among the current squad, said:
"I'd like to thank you for everything you did for us and taught us. As I told you, I know this change is a very good one for you.
"You and your family will enjoy Rome; we will miss you."
---
And finally, Simon Mignolet described the Brazilian as "a top professional," wishing him well in Rome:
"Lucas, we celebrated your testimonial last year with the squad, and a lot has been said about what you've given to the club, but I think this squad here knows exactly what you give to football every single day.
"You're a top professional, and therefore we wish you all the very best and we're sure you're going to give the same as you gave for Liverpool in Rome. All the best."