Alex Malone provides an early season review after the opening four games, with plenty of reasons to be positive.
Four games played, three wins, one draw; one defensive cock up in the 94th minute at Watford from the perfect start.
And that, of course, without the, ahem, 'injured' Philippe Coutinho, a properly injured Adam Lallana, and no new centre halves. So, while the media's version of the transfer window has focused solely on the negatives – no Naby Keita or Virgil van Dijk, Coutinho chucking his toys out… let's be very un-media-like, and look at the real story.
How about those new lads? Every one of the three additions to the squad have fitted like a glove so far.
Salah looks a snip in today's market. His speed of thought as well as feet, has added to an already impressive front line. As the combo of Firmino, Mane and Salah develop their understanding of each other's game, the more ruthless they will get. The signs were plain to see against Hoffenheim, just as they were in pre-season against Bayern Munich.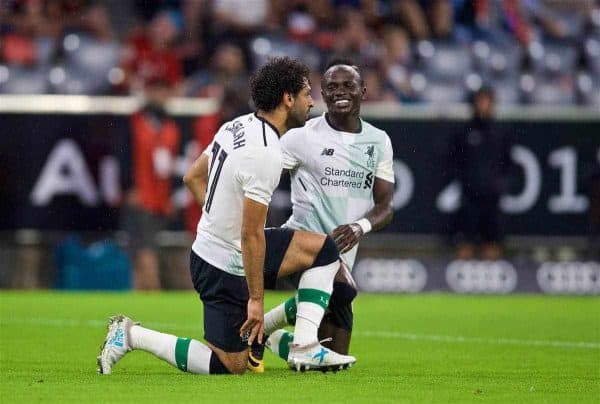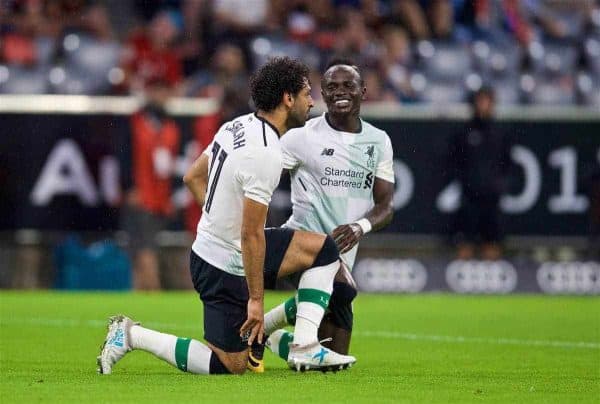 It's a mouth-watering proposition having these three lads terrorising opposition defences, and having Sturridge, Solanke, Lallana, Coutinho, Ings, Woodburn and Origi fighting for places in the final third of the pitch.
If Salah was a bargain, poaching Solanke from Chelsea for threepence and a lucky bag might turn out to be the steal of the decade. What you need from a 'target' man is the ability to hold up play, exhibit genuine close control, heading ability, an eye for goal, and creative running off the ball. Origi has some of these but lacks others. Solanke – so far – looks to have them all. Origi looks like he has his work cut out to avoid dropping one spot further down the pecking order.
And then there's Andrew Robertson. WHAT an Anfield debut that was against Palace. He was quite simply superb in all aspects of his game.
I honestly can't remember the last time a Liverpool left back whipped in such dangerous crosses so consistently. I think it was Alec Lindsay?
Once the aforementioned attackers begin to make runs anticipating the quality of delivery, goals will inevitably follow. When you look at the wicked deliveries being whipped in from the left, it makes you realise the kind of weapon a specialist attack-minded defender can be.
James Milner filled in gallantly last season, but that split second where he has to revert to his right foot allows defenders to regroup, and make it extremely difficult for the forwards to time their runs.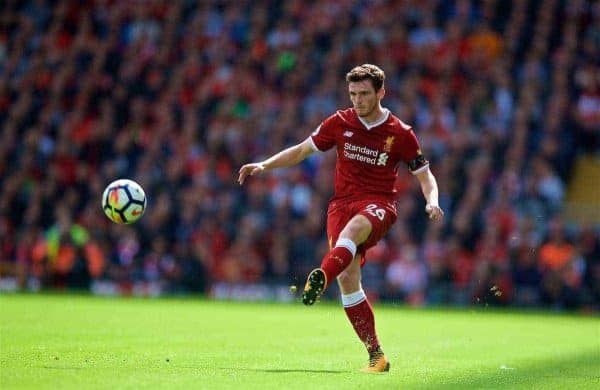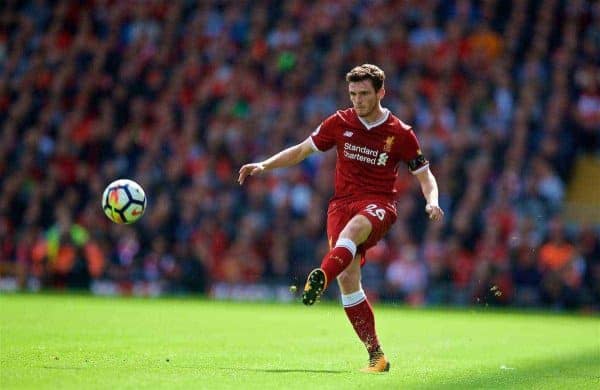 Let's not forget too, Robertson's defensive performance was calm, disciplined and effective. Finally, we have a left footed left back who understands when to attack, and when to defend. We now have options. Milner can fill in competently if required, and the ever-erratic Moreno – whose positional play last night only served to confirm he's not improving – is available, at a pinch, as back up. Already, Robertson surely has to be considered first choice.
On the right side, Nathaniel Clyne has a huge fight on his hands. Trent Alexander-Arnold looks like the heir apparent to the vacant Scouse throne.
It warms my heart to see a local West Derby lad perform like this so soon after finishing potty training. He's been superb, truly superb. And let's not forget, that includes a thoroughly mature display at Old Trafford last season.
As with Robertson, he can both attack and defend, he's quick and can pick out the right passes. In fact, while Clyne is a decent defender, he's limited going forward where his final ball or efforts on goal often disappoint. In 70 games, he has scored twice; TAA has 1 in 8.
Yes, the young lad is still learning, and was caught ball watching on one occasion last night, but once again, he gave a solid all-action display. He has all the tools to be a huge long-term success. And he's already scored more Champions League goals than Everton.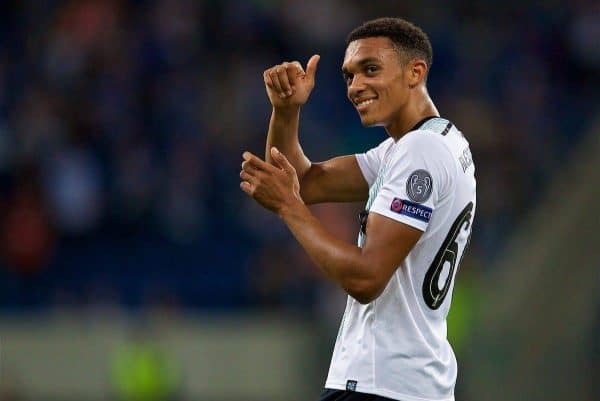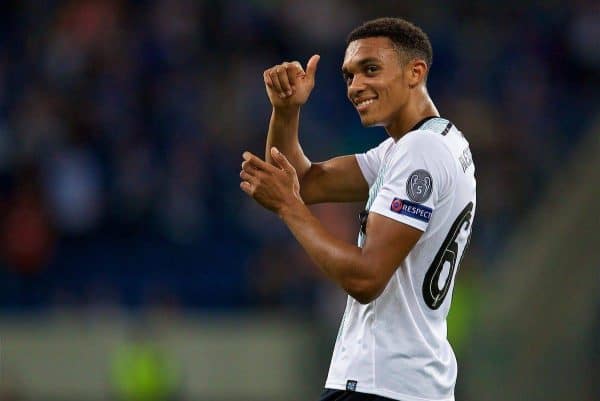 But it's not only TAA that Clyne needs to worry about. There's also the new, improved, uninjured version of Joe Gomez to contend with.
As with Robinson, Gomez really looked the part against Palace. He's still young, is also prone to the odd mistake, but the boy needs game time after his extended lay-offs to hone his craft. It's easy to forget, the kid's just 19 years old. I maintain high hopes for him.
In goal, the equally new and improved version of Simon Mignolet has continued his excellent form from the back end of last season. He's even added that old 1970s Ray Clemence, Pat Jennings thing to his game called 'catching' rather than punching. (Punching has its time and place, but NOT when catching is very achievable. When a keeper punches when he could clearly catch, it often results in the opposition picking up the loose ball and launching another attack. When he catches, the threat is eliminated.)
In general, he's vastly improved in the basics. I had lost hope in Mignolet, but I'm happy to say he's doing well of late. Perhaps the threat of Danny Ward, undoubtedly, and Loris Karius possibly, has done the trick.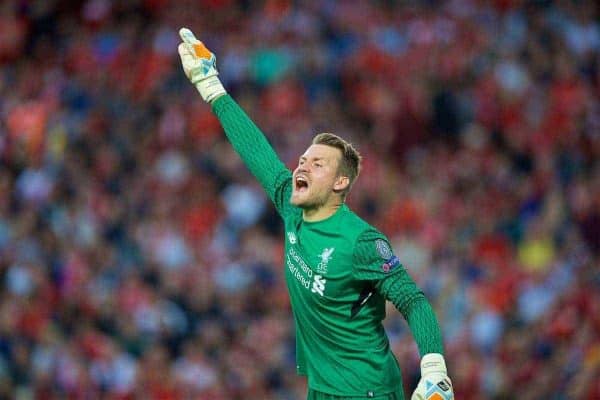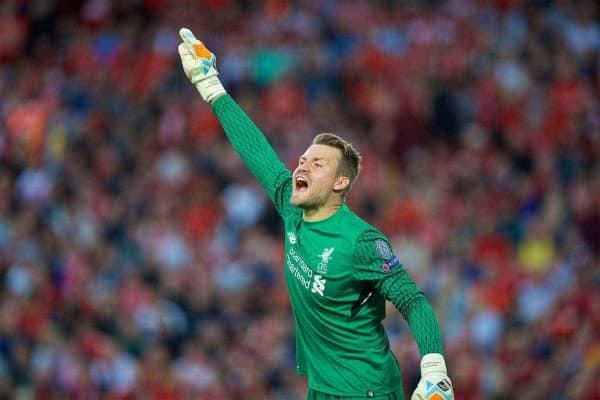 With Robertson, TAA and Gomez genuinely pushing for full ownership of the full back positions, we're in significantly better shape from an attacking full back perspective, than most of us could possibly have imagined just a couple of months ago.
But – let's be completely honest. We will continue to ship goals unless we bring in top class, consistent central defenders. We have one – Joel Matip. Lovren and Klavan are simply not top level performers.
Lovren's mistake against Athletic Bilbao in preseason was far too typical. His defensive performance last night, as with Moreno's, posed the same questions being asked since both joined the club. For every solid sliding tackle, there's a basic error just around the corner.
Once again, a fairly routine ball in to the box saw Lovren far too easily beaten in the air for Hoffenheim's second. Then there's Klaven. The ease at which he was outfought and outmaneuvered by Loftus-Cheek at the weekend happens too frequently.
It's those moments that are the difference between wins, draws and defeats. If Benteke's finishing was more Benayoun than Benny Hill, we may be looking at 1 point from 6, rather than 4. And that's not being overly dramatic.
We saw defensive frailty cost us dearly throughout last season; and the season before, and the season before that. If we do not get Van Dijk, we simply must reinforce with significantly better central defensive options than we have today.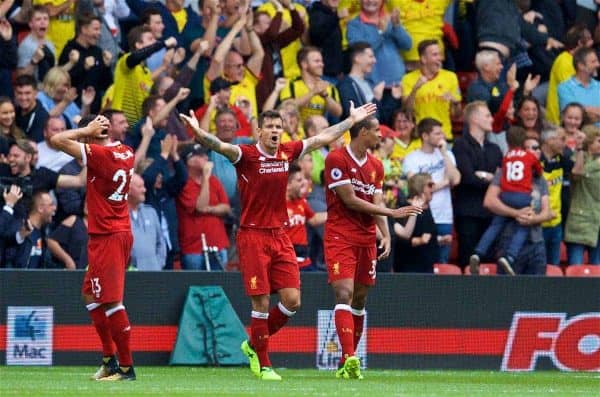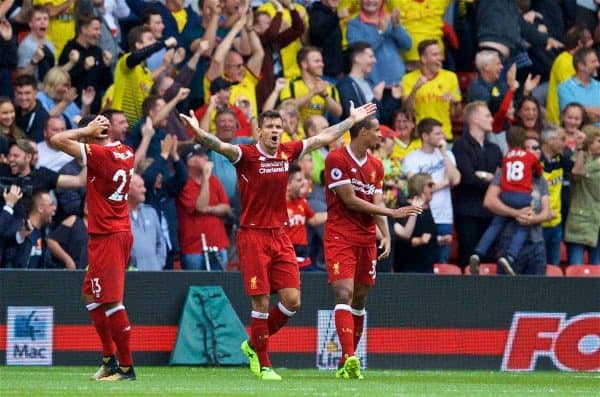 In summary, a back five including Mignolet, Matip, Robertson and TAA with the one (or two) quality additions to partner Matip starts to look like the kind of solid defence we've not seen for far too long.
Midfield remains a bit of a concern for me. Does Henderson influence games enough? He did against Hoffnheim, but he doesn't always.
Are Can and Wijnaldum consistent enough and capable of moving their respective games to the next level? Can seems to be evolving, and he's adding goals to his game, but is Wijnaldum? He's good, but is he of the quality needed to drive us to the next level?
And then of course, there's the big, big question. Will we keep our major creative force in Coutinho? It's looking like it, for now at least, but will we ever see a fully committed magician casting his spells again?
Will Lallana come back at the same level of excellence after yet another injury? We've lost Lucas and have potential in Kent and Grujic, but we lack depth of experience.
Milner looks like he's to be recast as a midfielder, but the big question is, do we have sufficient quality, consistency and strength in depth to cover for injuries, and for when the big questions are being asked later on in the season?
It's been a decent start to the season. With 10 goals scored and 6 conceded, we're Kings of the Kop going forward, and Keystone Cops at the back.
With a defensively vulnerable Arsenal up next, we have the opportunity to turn a very good start into an excellent one, while also having an early opportunity to put clear daylight between ourselves and one of our main rivals.
So, things are going rather well at the moment. An excellent pre-season has continued in the two priority competitions. Klopp has once again taken the squad forward with some astute signings combined with his commitment to youth development. He knows there are at least a couple of pieces of the jigsaw still required to truly make us a force to be reckoned with across all competitions.
But how exciting is it to think we're now only a couple of players away from having a squad finally capable of challenging for the very top honours.