A defensive error gifted Burnley a goal and a point at Anfield, as an otherwise dominant Liverpool performance couldn't secure a win.
Liverpool 1-1 Burnley
Premier League, Anfield
September 16, 2017
Goals: Salah 30′; Arfield 27′
---
Breaking Down Burnley – A Bit of a Long Shot
Liverpool had a total of seventeen shots taken from outside the area as they struggled to work their way through Sean Dyche's side's two defensive banks of four.
The buildup play was good around the edges of the area, but when it came to playing that incisive ball into the danger area the side lacked a cutting edge.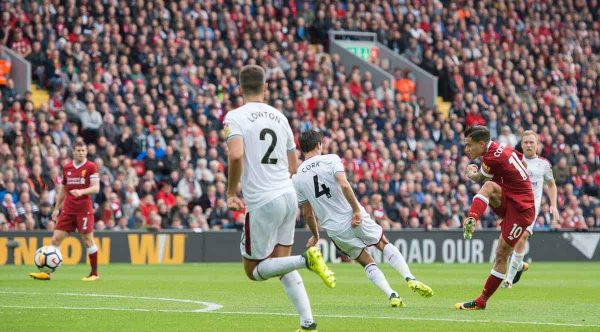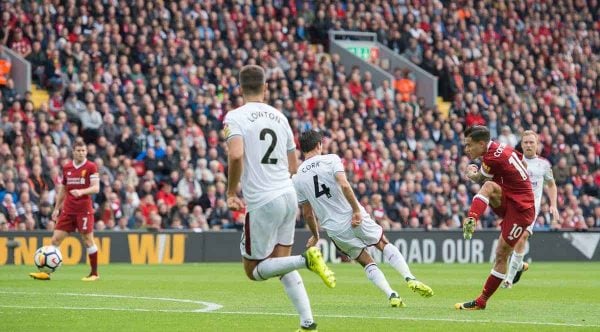 Coutinho was back to his old ways, performing excellently in midfield but regularly shooting into the stands.
Emre Can had a couple of efforts towards the end of the game but his shots were either blocked or saved by Pope in the Burnley goal.
Jurgen Klopp's men enjoyed 71% of the possession and had a total of 35 shots but couldn't turn it into a win.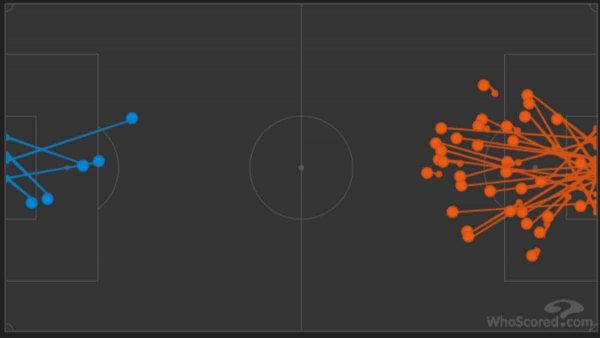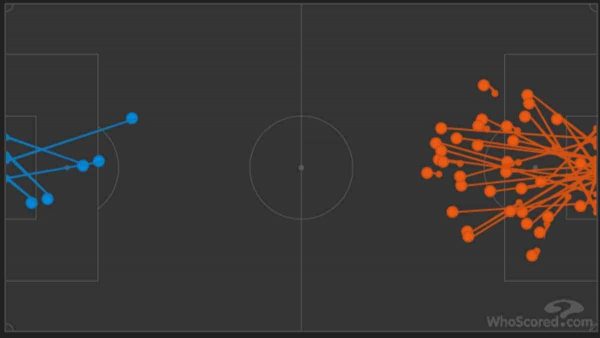 After a summer when the aim was to use the transfer market to solve this issue, maybe Salah alone wasn't enough.
Salah the Striker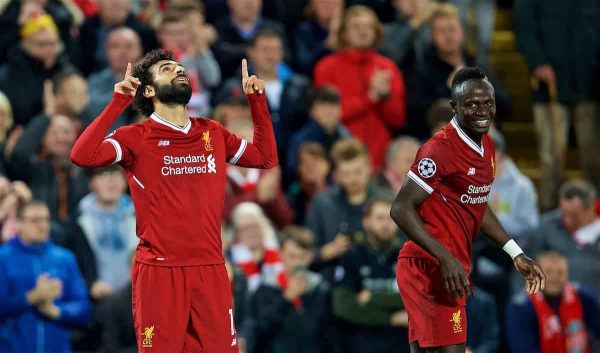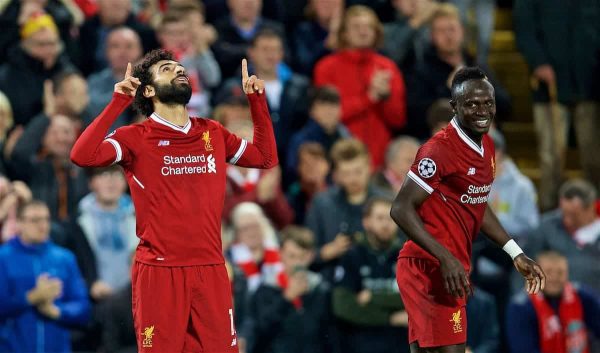 When playing from the Liverpool's new signing likes to cut inside off the right wing onto his left to shoot, even from the tightest of angles, after beating a man.
He did that on a couple of occasions in this game, and also sent a header over at the far post, but his goal came from a run made into a central position, and a shot from the left.
When shooting from the right the Egyptian seems able to generate more power and direction on his shots, where as from the right he looks to bend them with placement rather than power. This has seen a lot of his shots appear as if they're passed to the keeper, as was the case with the big chance he had versus Man City.
He was troubling Burnley in central areas as Liverpool chased the winner, but again his shots from the left were tame.
Recurring Nightmare in Central Defence
Ragnar Klavan came into the side in place of Dejan Lovren to partner Joel Matip and, on the whole, the pair didn't play too badly.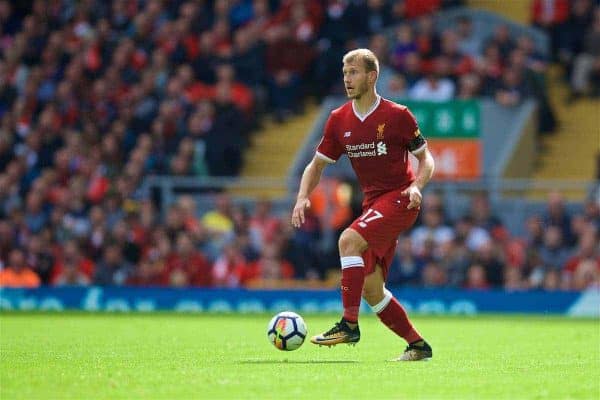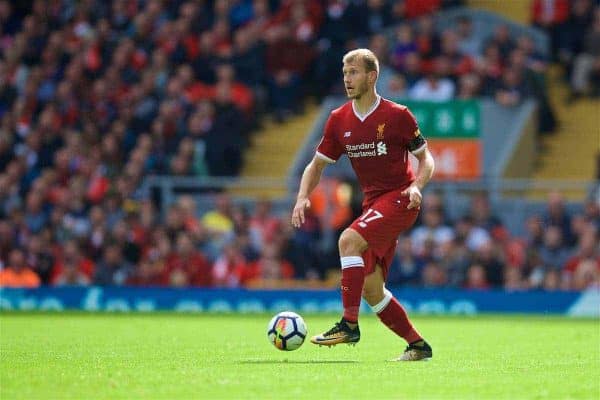 But there were rarely tested by Burnley, and when they were they conspired to make a mess of things as seems to be the norm for a Liverpool defence.
Robbie Brady beat Alexander-Arnold in the air, and when the ball came in to Chris Wood, Matip failed to win the header and Klavan kicked at thin air. This left Scott Arfield with a one-on-one against Simon Mignolet, which he gratefully dispatched.
Liverpool goalkeepers must be getting fed up of being put in this situation by their defenders, as the same has now happened to both Mignolet and Loris Karius within a week.
Mixed Deliveries
Within the first minute a dangerous ball was coming in from Andrew Robertson on the left, which bypassed its intended target Salah, but found Daniel Sturridge in a good position to get an early shot away.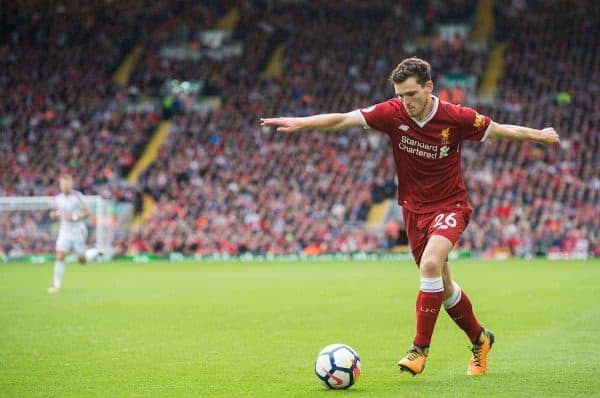 A few more balls came in from the Scottish left back, before Trent Alexander-Arnold got in on the act on the other side with an excellent cross to the near post. If Sturridge or an attacking midfielder had gambled with a near post run, then they would have had a tap in.
A similar ball came in from Milner just before half time but evaded both the Burnley defenders and, unfortunately, Sturridge too.
These may go down as incomplete crosses, but they were still chances from which at least one goal should have been scored.
In the second half the crossing was less measured and more desperate, but a Milner cross from the left found Trent on the far side, but his impressive left-footed volley was help by Nick Pope.
Changes and Rotation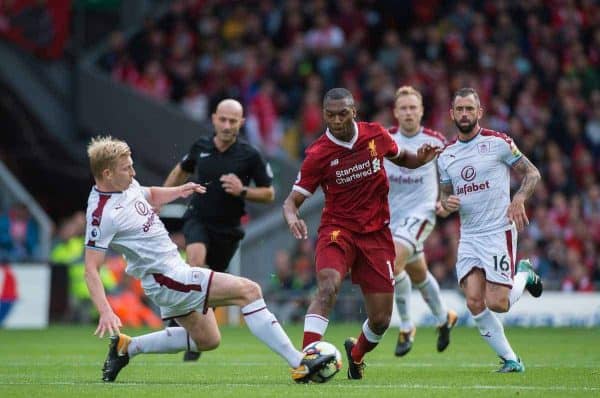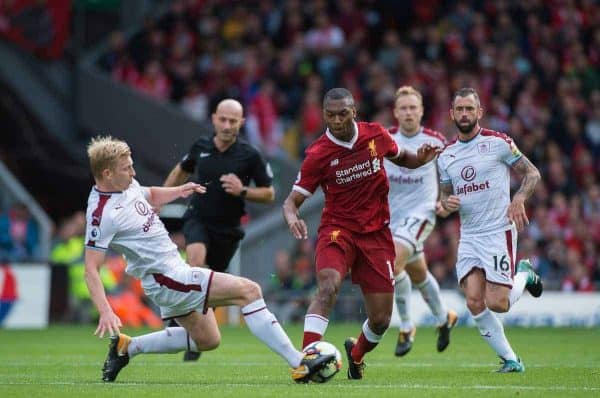 Klopp's rotation was in full effect, with seven changes to the side which started against Sevilla in midweek.
The changes didn't weaken the side, and if anything the introduction of Coutinho in midfield, allowing Can to drop back, made the side stronger – and more creative in the middle.
Liverpool have three away games in the next 10 days, which means further team changes will be needed from game to game.
Alex Oxlade-Chamberlain will be looking to start a game sooner rather than later, as will Dominic Solanke, but as was the case here, the mere fact the players are fresh isn't always enough.
Sadio Mane will miss both games against Leicester in the League Cup on Tuesday and in the league the following weekend, and would have been available for the next Champions League game against Spartak Moscow anyway.
It's a balancing act for Klopp who, above all, needs to try to find some good form among all the changes to his starting eleven.