Liverpool produced an error-strewn performance and were duly punished by Tottenham, who ran out 4-1 winners in the Premier League clash.
Tottenham 4-1 Liverpool
Premier League, Wembley
October 22, 2017
Goals: Kane 4′ & 56′, Son 12′, Alli 45+3′; Salah 24′
---
Jurgen Klopp opted for a straightforward lineup, with James Milner replacing the injured Gini Wijnaldum and the other changes—Joe Gomez and Simon Mignolet returning—exactly as expected.
All told, it couldn't have been a worse start for Liverpool as Dejan Lovren came up with two early errors, with Harry Kane and Heung-min Son benefiting in turn to give the home side a two-goal advantage.
Mohamed Salah halved the deficit with a finish in off the post after a trademark run beyond the defence, but Dele Alli made it 3-1 just before the break and Kane notched his second, Spurs' fourth, just after the restart.
Here are five talking points from Sunday afternoon's game at Wembley Stadium.
Embarrassment, Pure and Simple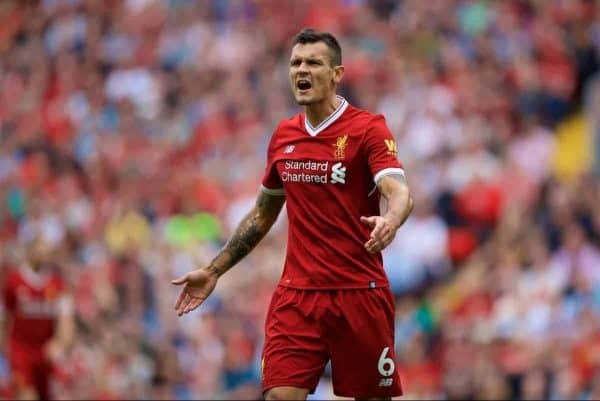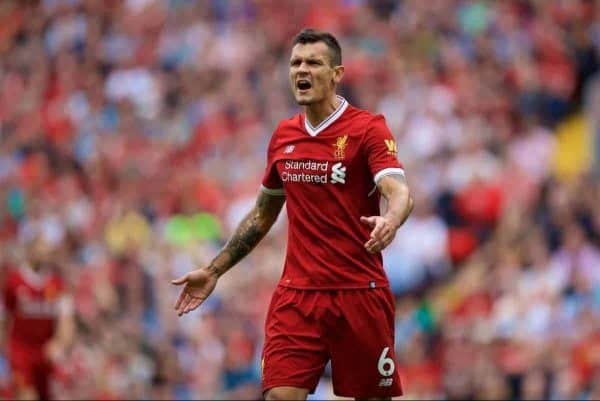 Rule No. 1 of a big game against a divisional rival, especially away from home: keep it tight early on. Do the basics. Quieten down the crowd, give the home side as little as possible to be optimistic about.
It's not so much that someone forgot to explain the rule to Dejan Lovren; more that he spent the opening 15 minutes at Wembley forgetting what it meant to be a defender. Possibly even a footballer of any kind.
Two shambolic non-attempts to negate the most basic Spurs attacks possible—a looped ball over his head toward the box and a long kick downfield—somehow resulted in straightforward finishes for the front two.
The lack of reaction, of awareness, for the first goal was simply staggering.
Kane is not exactly a surprise impact player, yet he floated in behind Lovren, unmarked and unseen, without even really having to try to find space.
The second goal, misjudging the flight of a hoof, was beyond even scandalous, beyond even hungover-at-a-Sunday-League-match level.
There was another error which didn't result in a goal, and one moment of tracking back where Lovren did, finally, perform a defensive action and make an important last-man tackle.
If it's his last one in a Red shirt for some time, he cannot have too many complaints.
Extremely Early Sub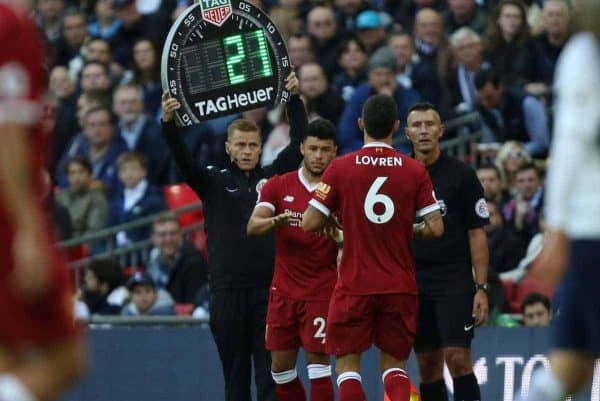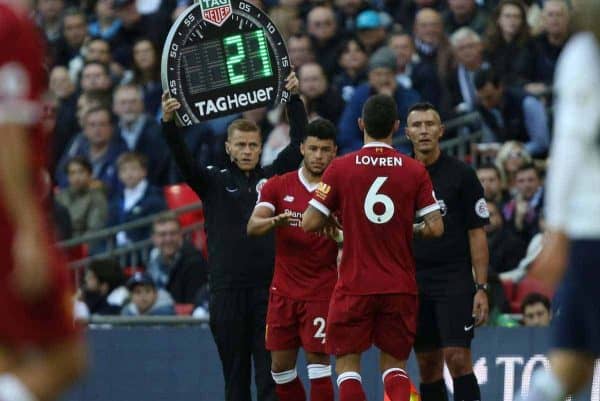 Klopp isn't exactly renowned for making game-altering substitutions early on, instead trusting to his starting XI to do the business and, if not, impact subs to turn the tide in the final 20 minutes or so.
A 30th-minute change, then, was a complete departure from the norm, especially given it was barely even tactical—simply replacing the worst player on the pitch in a bid to stop the rot.
However, there was also an element of proactivity in the change, too, for which Klopp should be at least acknowledged for, if not outright praised.
It would have been simple to change Lovren for Ragnar Klavan, but to what avail? The Reds were already two down by the time he readied his alteration, then 2-1 before the sub was made.
Bringing on Alex Oxlade-Chamberlain at least forced a reshuffle, added more pace and tried to get Philippe Coutinho involved centrally.
For a short period it appeared to see the Reds playing more offensively, more aggressively, but the third Spurs goal right on half-time was a killer.
Just a shame the next change didn't happen until well after 70 minutes…
Errors Throughout & Lack of Accountability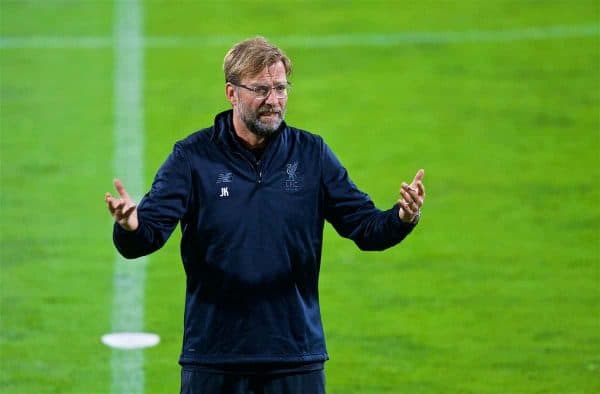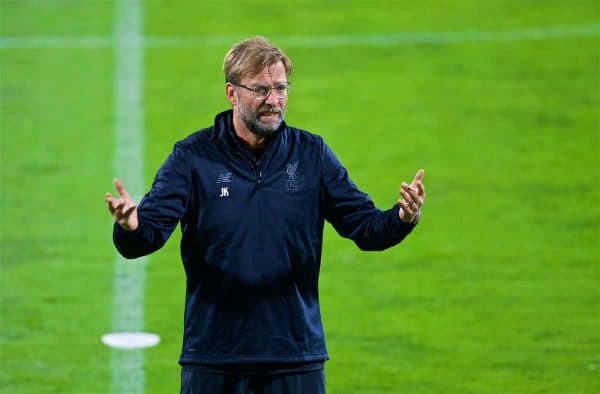 Here's what the fans hate most: a quite obvious succession of the same mistakes, game after game, month after month, and no acknowledgement of them.
Sure, coaches and players are talking behind closed doors about them and trying to make improvements.
But avoiding the obvious or simply negating the truth of them—such as the infamous "name five centre-backs" comment—do no favours to anybody, and simply rile fans up more next time the same errors occur.
Lovren wasn't the only guilty party at Wembley, simply the most horrendous, and the first to flounder.
Simon Mignolet's flap for the fourth was terrible. For the third Emre Can gave away possession, chased back and committed a foul, then didn't mark on the set-piece himself, failing to close down Alli as a result.
And others besides.
It was a litany of horrible individual moments, an "Own Goals and Gaffes" video all of the Reds' own making in a 90-minute spell.
Even if they aren't all fixed, all stopped immediately, the right way to deal with them isn't to blindly protect and pretend to fans that all is well, that these instances are one-offs.
Gomez's Big Opportunity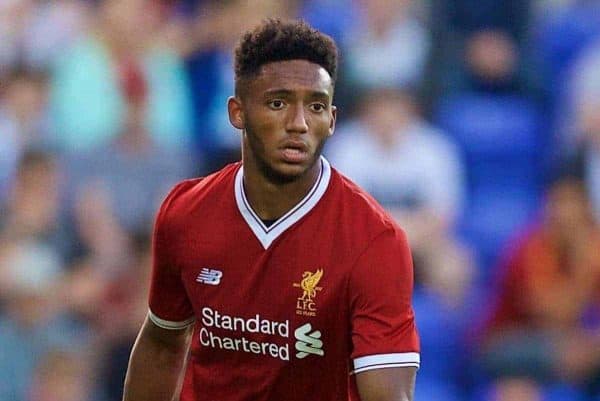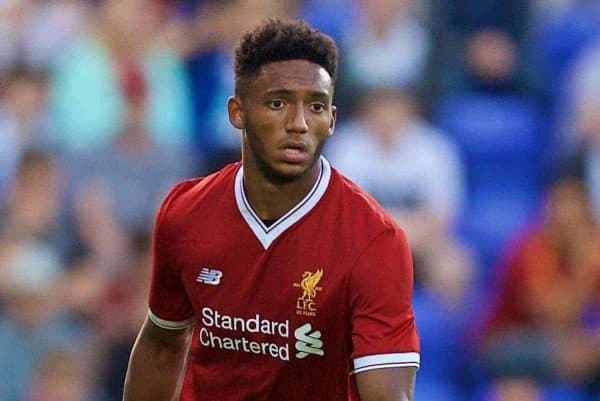 It's asking a lot of a relatively inexperienced defender to shift in from the right side to the centre, midway through a game, and deal with the best No. 9 in the Premier League.
That was the task facing Gomez though as Lovren went off, and despite an immediate blip where he misjudged a bouncing ball—quite similar to Lovren a few minutes earlier in fact—he thereafter performed immensely well.
Is the time now to give the 20-year-old his chance at centre-back, his natural role when coming through at Charlton?
He didn't do his case any harm at Wembley.
Twice he made tremendous recoveries with good pace, and one big block to deny Kane a hat-trick in the second half was brave, committed and on the front foot—everything the back line was so disappointingly lacking in for too long.
If it happens, if he gets his chance, fans have to do two things: not judge him according to Lovren, and not judge him accordingly to Jamie Carragher or Sami Hyypia.
He's none of those. He's a talented player, strong and quick, but he has had positional worries in the centre, has been slow to react and turn previously when the ball is played in behind.
Gomez will make his own mistakes, but the difference between this and the above is that he's not a senior, he's learning.
Reacting well and improving on those mistakes is what all young players, particularly defenders, have to do to become the top players of tomorrow.
Looking Forward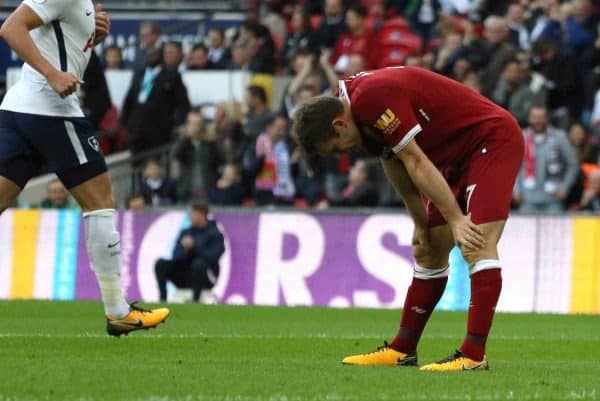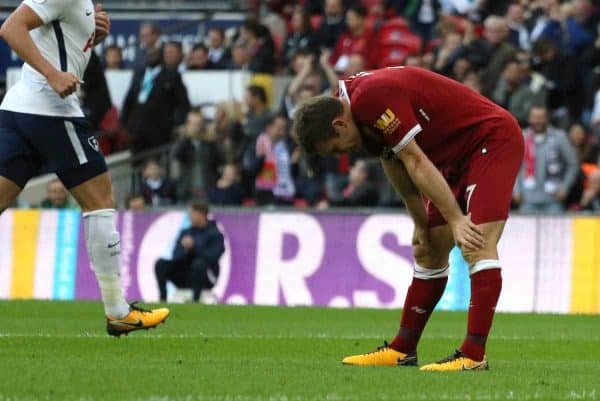 Next match, Huddersfield at home, will be a huge game in terms of Klopp's team selection.
He cannot, surely, reward Lovren with a place in the XI.
Lacking competition in the position is one thing, but actively showing there's no penalty for constant underperformance makes a mockery of the entire point of having a squad.
The Croatian isn't the only one, and blame cannot be solely pinned here with regard to mistakes and poor performance; Milner outshone Jordan Henderson again, and even Coutinho was barely able to influence matters for long spells.
Klopp has to be brave, has to find the balance between maintaining his stance of backing his starter but also showing them that they must perform, or else not play.
There's a full week to get this performance out the system and work on every aspect in training. Klopp has to make that time count.