After Mohamed Salah's exceptional start at Liverpool, Jurgen Klopp has challenged the Egyptian to maintain form in his bid for Player of the Year.
Salah has scored 17 goals in just 21 games for the Reds since his £36.9 million move from Roma in June, ensuring his consideration as bargain of the summer.
The 25-year-old notched two in a cameo appearance in Wednesday night's 3-0 win away to Stoke City, but is expected to return to the starting lineup on Saturday at Brighton.
And discussing Salah's form since joining the Reds, Klopp insisted the winger cannot be considered for any Player of the Season awards unless he continues his run for Liverpool.
"The very important word is 'season', we're not even in the [halfway stage] of the season," he told reporters at Melwood.
"If he can continue like this he's obviously in the mix. Hopefully it will be like this but there's a few yards to go still!
"For me it's a little bit different. I'm very positive but we always talk about the last game, or the last games. I'm only interested in the next game.
"He's in a good moment, hopefully he'll stay in a good moment."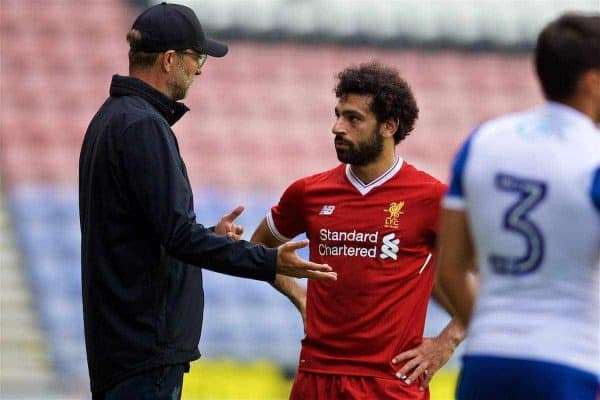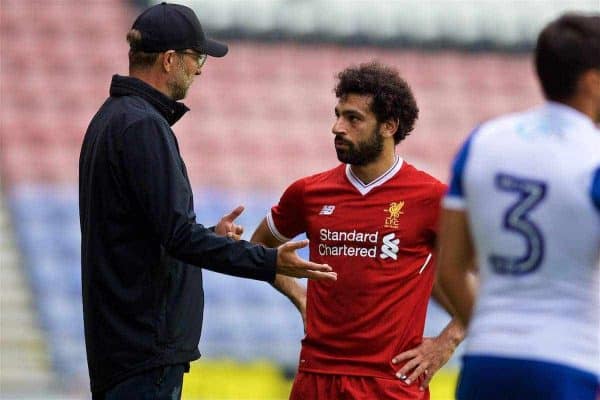 After shining over the past two campaigns in Rome, Salah scored in his first pre-season game for the Reds and has not looked back since.
Klopp stressed that he is not surprised by the No. 11's form, but reiterated that, along with Salah himself, those around him need to keep up the intensity to ensure this continues.
"How can I still be surprised about his impact? From the first day he was involved in everything," he continued.
"[He is] very open for all the things: new things we did in training, [the] different intensity of the league.
"But he's played already on the highest level the last two or three years, only in another country.
"That's what we were hoping for when we signing him, that we got it makes it even better.
"But as with all players in the world you need the other players to be in the situation you are.
"It was a fantastic move, dribbling [and the] cross from Sadio for the first goal [at Stoke], then it looked quite cool and relaxed when [Salah] finished it.
"But Mo knows for himself that you need to be in a good moment for it to look like this. You can have the situation 10 times in your career and it can look different."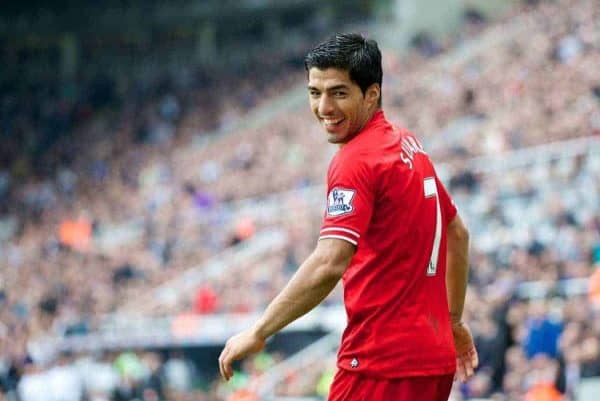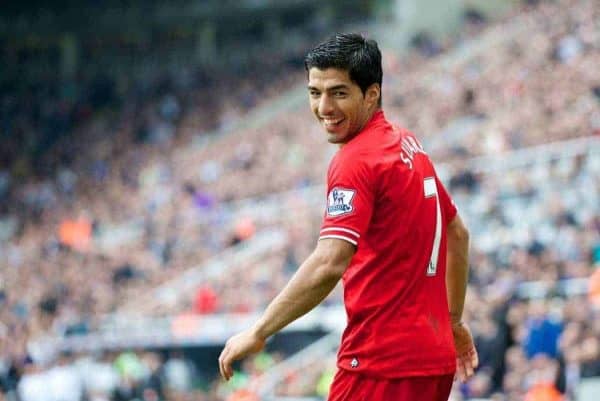 Salah's fine start to life on Merseyside has brought comparisons with Luis Suarez's impact for the Reds, with the winger on course to surpass the former No. 7's 31-goal haul in 2013/14.
But Klopp was quick to avoid similarities being drawn between the two, saying "I'm not interested."
"I respect Luis Suarez a lot. Liverpool legend, still a fantastic player, I like his style of play. But he's not a Liverpool player anymore," he explained.
"We have a lot of players who make a big impact on performances. That's a story for a newspaper, or social media, not for me."