A recurring critique aimed Liverpool's way this and last season has been a lack of a "true" striker in Jurgen Klopp's side – but Roberto Firmino keeps proving they don't need one.
It's not a new idea, but it has previously held logic.
After all, the Reds' top scorer last season netted only 14 across all competitions. Firmino was third on the list, and had only once ever netted more than a dozen league goals in a season.
Before 16/17, only 13 goals had been enough to secure the honour of being Liverpool's top scorer, for two seasons running.
But 17/18 has been different in that regard. The team is better as a whole in attack, and the individuals are a level up too.
Kung-fu kicks, a sprinkling of magic and a tonne of goalscoring—that's what Firmino has brought to Liverpool this term.
??? Roberto Firmino has a goal or assist every 90.9 minutes across all competitions this season

— Karl Matchett (@karlmatchett) January 30, 2018
Relentless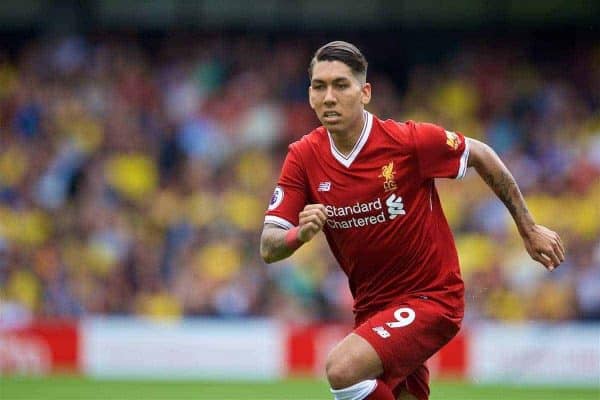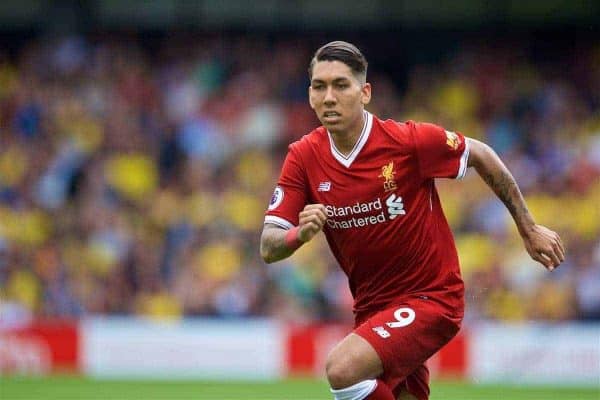 With Coutinho gone, make no mistake: Firmino is the Reds' most important player for the rest of the season.
Sure, Virgil van Dijk might help shore up the back line. Yes, Mohamed Salah might score more goals and end up top scorer—already on 26 as he is now.
But Firmino makes it work for the Reds in attack, and it's the attack which is the most important element of the side overall. If if functions, games can be won. If not… well, the debate at the other end is still very much open.
Tactically he fits the profile Jurgen Klopp wants—mobile, full of working, tenacious, aggressive—but technically he's also the best talent left at the club.
Salah and Sadio Mane are lightning, have great movement and so on, all the traits which make them dangerous.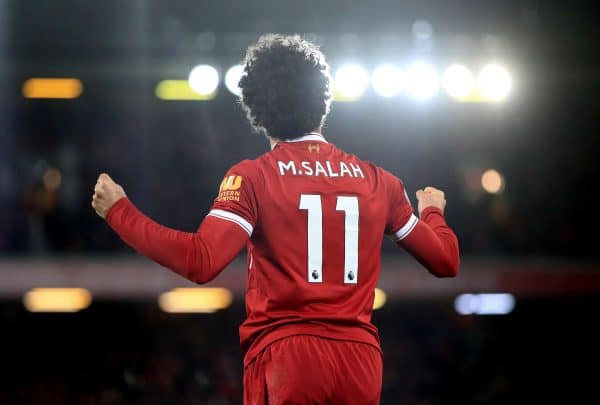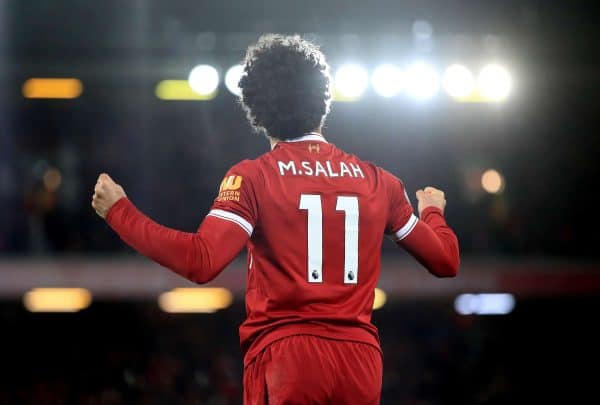 But their touch, control, ability to caress the ball the way they want to—it's not on the same level as Firmino.
He's the architect, part poacher and part industrial wrecking ball.
Firmino's work rate is—there's no other suitable word—relentless.
Lose possession? He's back after it. A team-mate caught upfield? Firmino fills the gap, even if play is on the opposite side of the pitch.
He isn't scared to tackle, has become far more physical and will always back himself to win the ball and immediately set the team playing forward again.
Yet game intelligence is also a key factor to his game, taking up positions to aid the same transitions he instigates, never selfish enough to not let others take up positions beyond him in attack, and still in place to follow up the second ball if needed.
For further evidence, see his opening goal against West Brom.
Ball-winner, creator… goalscorer.
"Proper No. 9"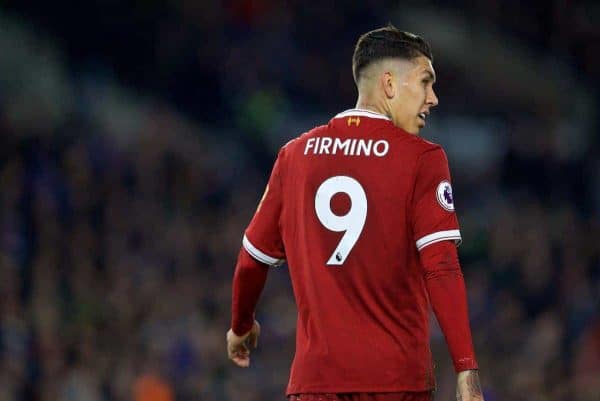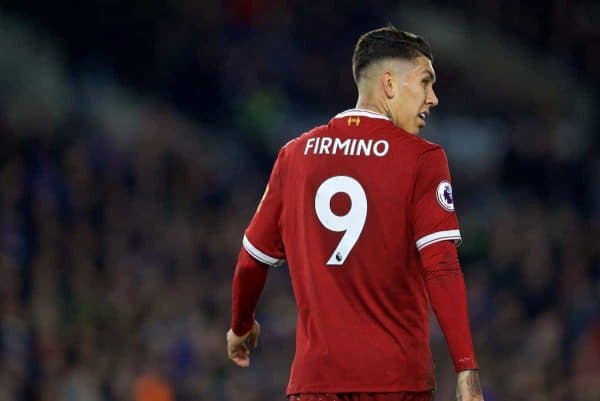 But he's not an out-and-out striker, some still cry. Only this week we've had former player and now BT commentator Steve McManamanan saying how he'd "like to see a top-class centre-forward who you know will get 20 or 30 goals a season, like a Harry Kane or someone like that."
Let's consider: what is being asked for, here? An Alan Shearer type, all muscle and backing in, holding off defenders and attacking the box for crosses?
Pretty sure Firmino ticks that box actually.
A fleet-footed forward who will stretch defences, sit on the shoulder of the last man and provide an over-the-top option, a la Michael Owen or similar?
Perhaps it would be best to re-visit his goal against Man City.
Maybe it's a poacher they're looking for, someone to simply be a predatory presence in the box for those knock-downs and rebounds?
Sevilla. Maribor. Huddersfield. And others.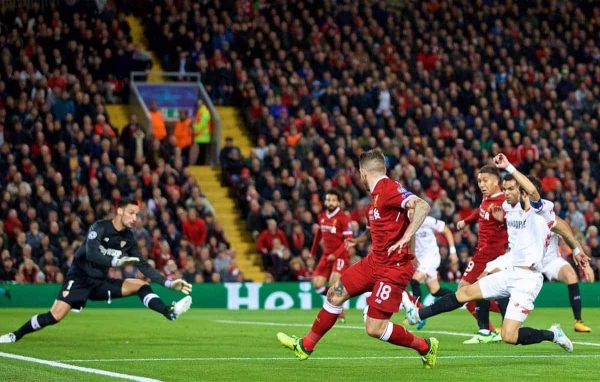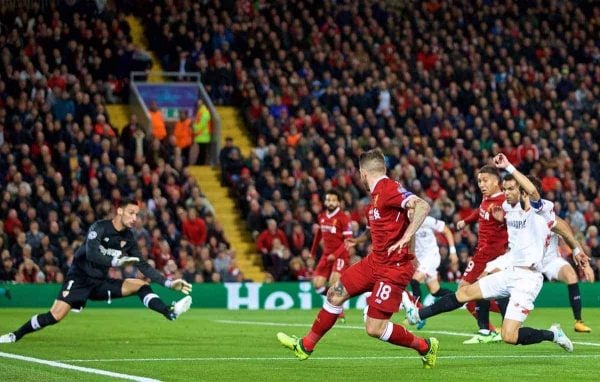 You see, Firmino does it all. He isn't limited to a particular type of service, nor a particular type of defence to play against.
Movement is the single most important attribute a forward can possess, and the Brazilian has it in abundance.
Quite aside from what Firmino can do, it's time to recognise that many of the game's top forwards now have evolved from not-strikers into their own versions of No. 9s.
Antoine Griezmann was a left winger. Eden Hazard an inside forward. Harry Kane spent a lot of time as a No. 10 in his breakthrough years. Alexis Sanchez, Luis Suarez, Edinson Cavani, Kylian Mbappe, Dries Mertens…the list goes on.
It's another evolution in the game, and Firmino is a perfect example.
And a perfect centre-forward for this Liverpool team.
Backup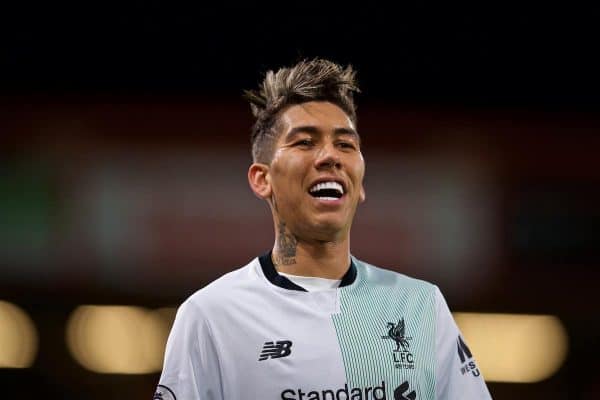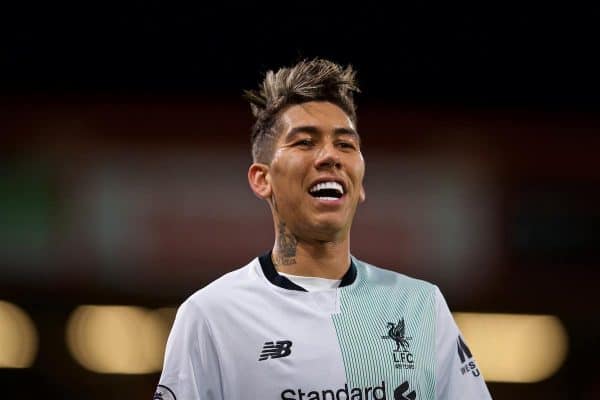 Firmino might be in the elite class, but when he's out the team—subbed, rested, rotated or heaven forbids injured—the same cannot be said of a replacement.
Short of leaving Salah up top alone and letting a runner from deep, perhaps Alex Oxlade-Chamberlain, to support him, the Reds are woefully short.
It's the reason this writer identified a forward, not a playmaking midfielder, as the key next signing to make, preferably before the January window shuts.
The likelihood of finding another Firmino is incredibly small, thus it needs to be a player with some similar characteristics, but upgrades on the Brazilian in other areas—particularly an ability to play from the side of the attack.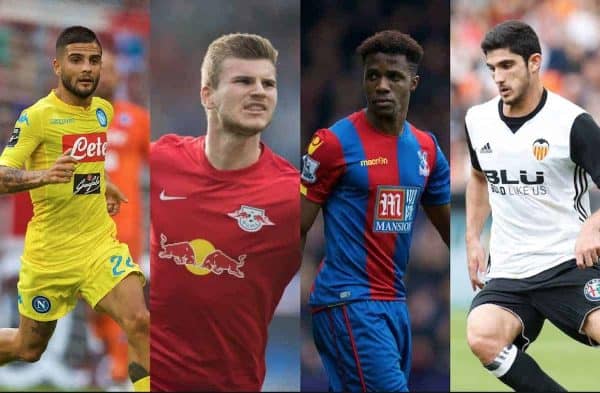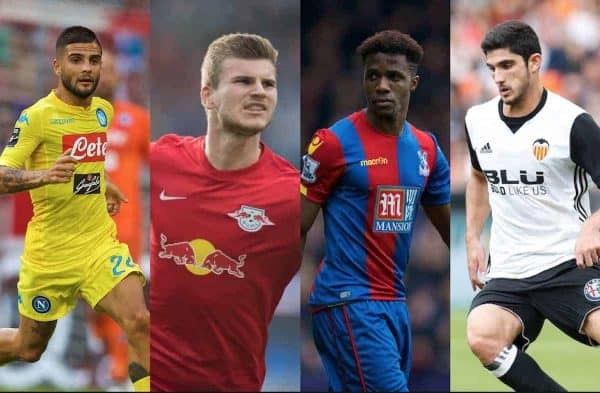 Ideally, the Reds find an alternative for Firmino, but who is good enough to be a first-team regular if needed.
Being capable of playing from the left or through the middle means they can feature to the side of Firmino, instead of him or with him as a two-man attack.
A true No. 9—let's say an Aubameyang or a Dzeko, purely for the fact they've been rumoured to be on the move for the past month—simply wouldn't play every week at Liverpool.
Daniel Sturridge didn't, Danny Ings won't. They can't, because Klopp's attacking part of the team is too fluid, and Firmino is the must-have.
A Firmino backup is an absolute must, but ideally they'd also be another rotation option to feature more frequently.
But forget about an "out-and-out" striker; Liverpool already have a far better, far more complete forward than that.