Continuing his series of Liverpool's Scouse captains, Jeff Goulding recalls the life of Ronnie Moran and his unparalleled Boot Room legacy.
Today Ronnie Moran is best known by Reds as a key member of the legendary Anfield Boot Room, and for his stints as Liverpool caretaker manager.
However, before all of that the Crosby-born left-back would captain the side in the 1959/60 season, play in a European Cup semi-final and be part of a championship-winning side under the legendary Bill Shankly.
Moran was born on February 28, 1934. At the age of 15 he was awarded a scholarship at the technical college in Bootle, where he studied as an apprentice electrician.
In his spare time he played for Crosby Boys' team. This is where the universe would intervene, and begin a chain of events that would ultimately lead to Ronnie playing a key role in the Reds' decades-long domination of European football.
Watching him play amateur football was the postman who delivered mail to the Liverpool chairman, Samuel Williams. A recommendation was made and soon Williams, accompanied by Reds manager Don Welsh, was literally knocking on the door of Ronnie's family home.
How remarkable it is that the actions of that Royal Mail carrier, so seemingly insignificant at the time, could set in motion a career that lasted almost 50 years.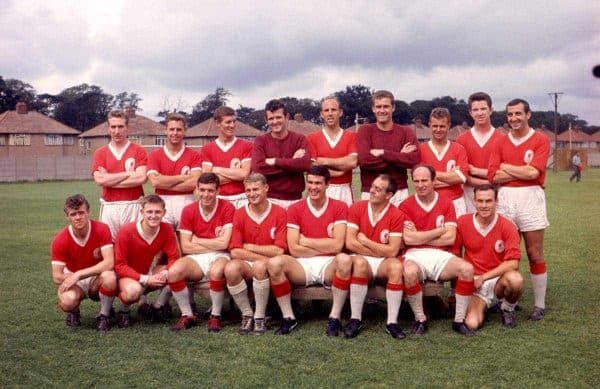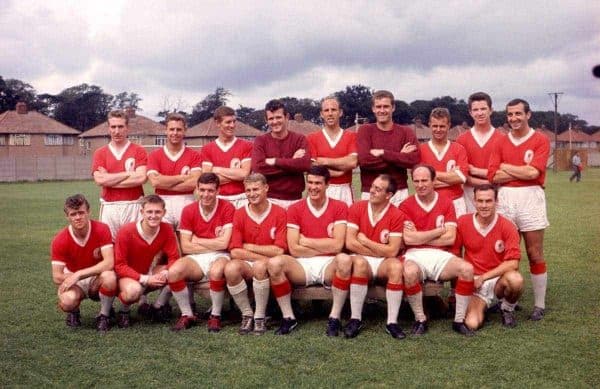 In that time, Moran would carry out almost every role at the club, from player, to physio, coach and manager, and oversee the club becoming the most successful team on the planet.
Ronnie would play as an amateur in Liverpool's 'C' team, before signing professional papers in 1952. Shortly afterwards Everton began to show an interest in him, but they were too late—he'd become a Red.
The early days of his playing career were tough, and Moran would taste defeat on his debut and see his team relegated in the 1953/54 season. Eventually, the man who Ronnie credits most with his career, Don Welsh, would leave the hot seat and Phil Taylor took over.
Ronnie would become an almost ever-present at left-back under Taylor, missing just six games in five years as Liverpool pushed to get out of the Second Division.
His service and consistency earned him the captaincy in the 1959/60 season, which meant he would be taking the armband from his older and more experienced cousin, Johnny Wheeler.
Taylor would eventually be replaced by Shankly, but tragedy soon struck for Moran. He picked up a serious injury in the October of Shanks' first full season and was out for over a year.
However, he fought his way back and would play enough fixtures in the 1961/62 promotion season and was a key member of the 1964 First Division championship team.
His playing career seems to be one filled with both agony and ecstasy in equal measure.
For example, Moran had earned himself a reputation for his prowess from the penalty spot as early as 1960. With an 80 percent success rate from the spot, Ronnie then went on to miss four in a row.
The last penalty he took was in an FA Cup quarter-final against Swansea City at Anfield, in 1964. Liverpool were losing 2-1 in what was described as the most one-sided tie ever witnessed. The Reds had held the Welsh defence under almost constant siege, but could not break through.
Jack Rowe, football writer, wrote:
"I have never seen a team attack so much and for so long, for so little."
Shankly would comment that Liverpool should have had 14 goals, such was their dominance, while the Swansea view was understandably that the Reds only had themselves to blame. Nevertheless, Liverpool eventually forced the Welshmen's defence into an error and won a penalty late in the game.
There were just 10 minutes left and the ball was on the spot. Another heroic Reds comeback was on the cards. Despite having missed his last three Moran was the designated penalty taker, but he looked anything but confident.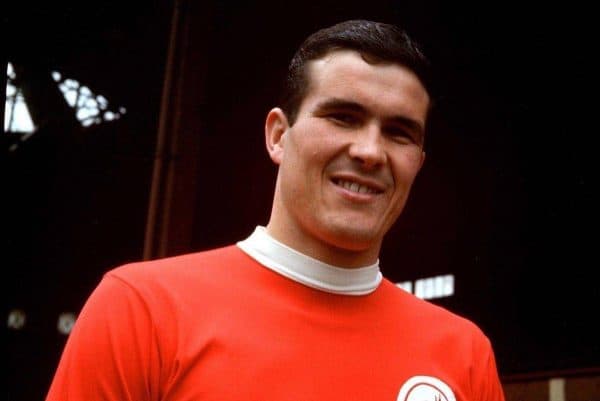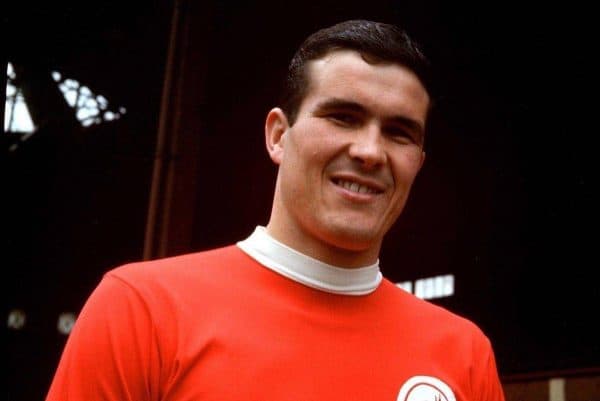 Ron Yeats approached him and asked him to take it. Then suddenly the Kop began to chant "Moran, Moran, Moran." Their vote of confidence in him stiffened his resolve and he walked up to take it, but he clearly didn't fancy it.
As the ball ballooned way over the crossbar, Ian St John clasped his hands behind his head and fell to his knees.
The Kop fell silent and Ronnie found himself to be the loneliest man on planet earth, praying for an earthquake to swallow him whole.
The game ended with the Reds out of the cup and a desperate Moran brushed aside the reporters, saying "I missed the pen, what else is there to say."
Yeats could simply bark: "With luck like what we've had today, we'll be lucky to avoid relegation, never mind win the championship."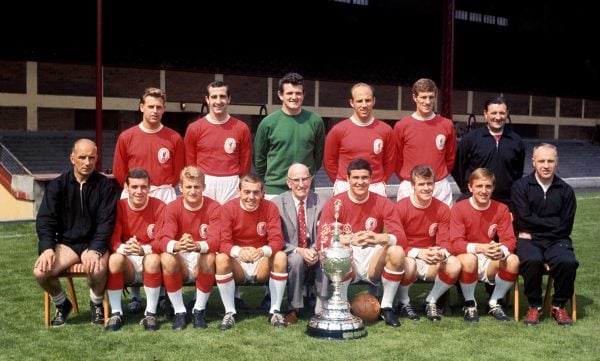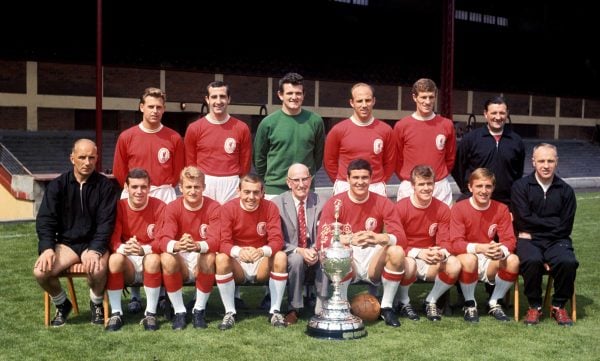 Such bitter disappointment would prove to be a mere footnote in what was to be a glorious future.
The Reds did indeed win the championship, and they'd add the elusive FA Cup the following season. Sadly Ronnie would miss that, losing his place in the team to Chris Lawler.
His playing career was coming to an end. He'd put in 379 appearances for the Reds and scored 17 times. He'd won the Second and First Division championships and steered the club as captain.
Ronnie was there during Liverpool's formative years in European competition, playing in the very first continental encounters at home and away, but even all of that would pale by comparison with what was to follow.
As the team was warming up for the 1966/67 season, Shankly called Ronnie into his office.
Having been out of the side for a while, and knowing that other teams were showing an interest in him, Moran thought that his time at Anfield was finally over. Shanks, he thought, was about to tell him that he had been sold.
Instead, he was offered a seat at the very top table and membership of the most exclusive and elite club in European football: the Boot Room. Amazingly, Ronnie asked Shanks if he could think about it first.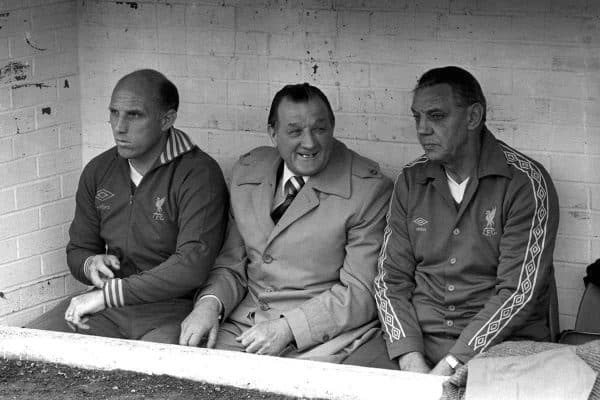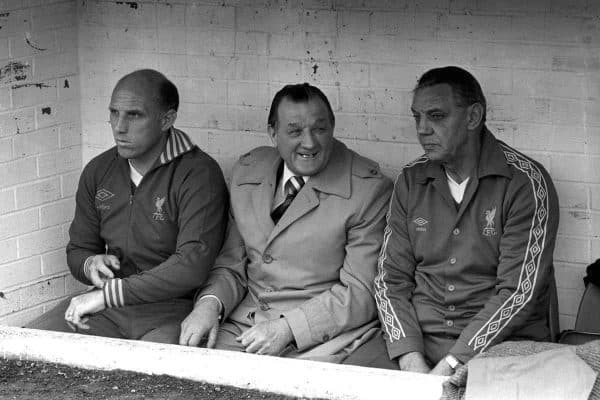 Neither he nor his wife had any desire to leave the city in which they were born, but he had to consult with her before accepting such a momentous offer. She agreed and the next day Ronnie walked into Shankly's office and accepted.
He would go on to be the 'sergeant major' of Melwood. No player, no matter how big their reputation, was allowed to rest on their laurels.
Every season would start with the same ritual. Players would line up to collect their medals from a cardboard box, Moran's words ringing in their ears.
"Take one, if you think you've earned it."
Last year was dead and gone to Ronnie, consigned to history, and if anyone dared to dwell on past glories Ronnie would say "you've won nothing yet this year lad."
Many ex-Reds say that this mentality was responsible for Liverpool becoming the relentless, unstoppable force they were in the '70s and '80s. You were never allowed to pat yourself on the back while there was more silverware to be plundered.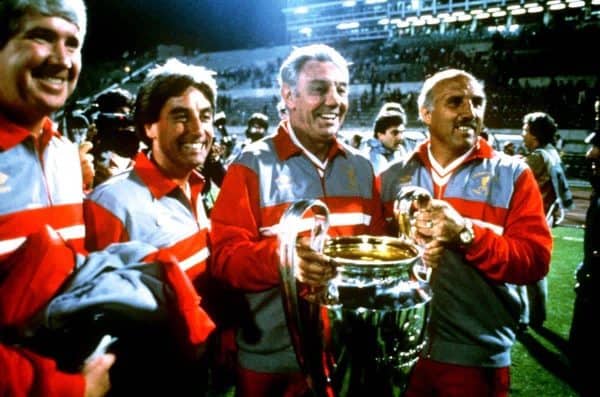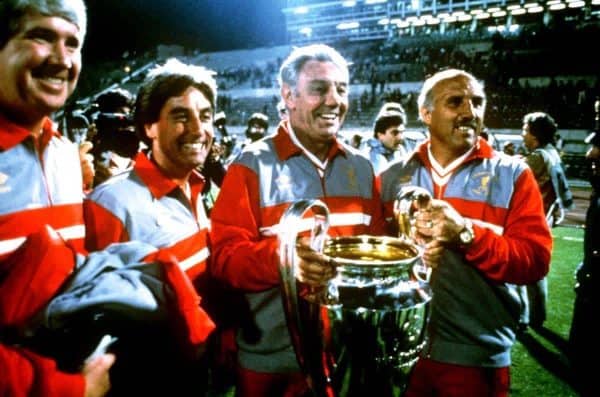 There was great humour also, as Jan Molby would attest.
After joining the club from Ajax the Great Dane was preparing for a game against Norwich City at Carrow Road. The rest of his team-mates decided to play a trick on him, and encouraged him to ask Ronnie for a massage before the game, which he foolishly did.
The result was predictable but nonetheless hilarious, Ronnie roared: "Fuck off! You earn the fucking right to have a massage. Go out and play some games and then I might consider it."
The rest of the dressing room struggled to contain their laughter, and Jan had been introduced to one of the greats, in fine style.
Ronnie was a footballing maestro. He understood the game and knew what made a Liverpool player. There was nothing he couldn't do on the training pitch, or in the dressing room.
However, his unease with the media and the player recruitment side would see him pass up the chance to become permanent Liverpool manager, and his brief caretaker role would come to an end with the appointment of Graeme Souness in 1992.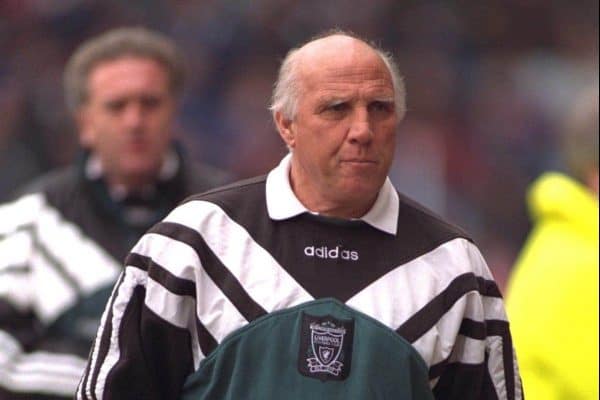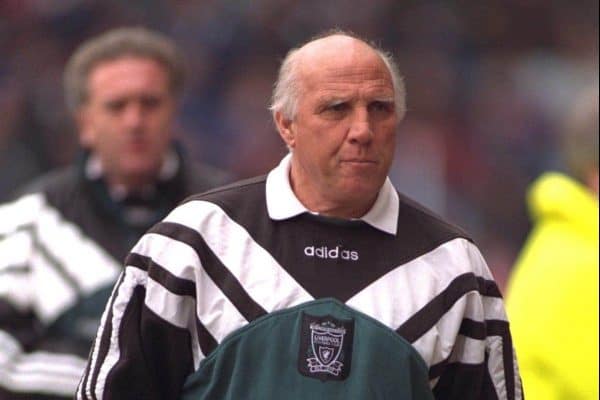 Ronnie sadly passed away in 2017, at the age of 83. He was still a regular at Melwood and regularly patrolled the perimeter walls, overseeing training until his passing.
He left behind a treasure trove of sporting memories, accumulated by the great Anfield dynasty of which he was such an integral part.
Football may have changed, but the lessons dished out by Ronnie Moran over decades at Anfield are as valid today as they ever were.
Yesterday's success counts for nothing in today's battles, you have to earn your way in football every day and tomorrow's glory is built on the back of humility, hard work and togetherness.
---
Jeff Goulding is the author of the forthcoming book, Red Odyssey: Liverpool FC 1892-2017 – available to pre-order now.