The start of the 2018 World Cup is just a few days away, and some standout moments have involved Liverpool players in past tournaments.
Fortunately, we don't have to go the entire summer without football, with the World Cup taking us nicely through to pre-season.
It promises to be a feast of international action over the next month, with eight Liverpool favourites strutting their stuff in Russia, from Mohamed Salah to Trent Alexander-Arnold.
Reds players from the past have experienced some famous, and infamous, World Cup moments down the years; here are 10 that stand out.
(Note: They didn't have to be representing Liverpool at the time.)
Owen Becomes a Superstar
Few teenagers have made a greater impression at a World Cup than Michael Owen at France '98.
While most 18-year-olds are studying for exams, starting work and drinking legally for the first time, Owen was busy tearing Argentina to shreds.
The striker's stunning solo effort remains one of England's best-ever goals at a major tournament, and it turned him into a global star overnight.
Owen gets plenty of stick these days, some of which is justified, but it shouldn't be forgotten what an extraordinary young talent he was.
Suarez 'Saves' Uruguay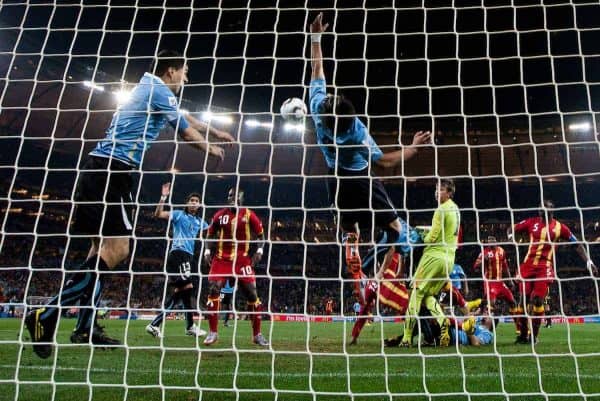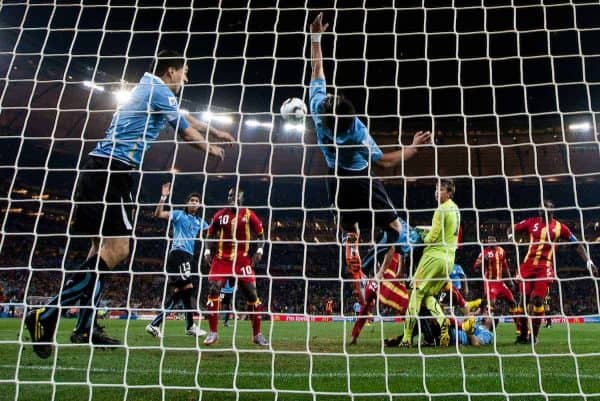 Back in the summer of 2010, six months or so before joining Liverpool, Luis Suarez was angering an entire continent.
El Pistolero's deliberate handball in the last few seconds of extra-time denied Ghana a place in the semi-finals in South Africa, with Asamoah Gyan missing the resulting penalty.
Uruguay went on to win in a shootout.
Suarez's celebrations from the sidelines did not go down well after Gyan's miss, mainly because of who he is, and the fact so many were willing Ghana to win.
We'd have done exactly the same, though, and the criticism aimed his direction has always felt irrational.
El Pistolero Downs England & Bites Chiellini
Four years on from becoming the villain in South Africa, Suarez was again playing a prominent role at a World Cup, this time in Brazil.
His double against England in the group stage all but sent the Three Lions' crashing out — fitting, in his eyes, after the treatment he had received from the English media.
In the next match, the legendary former Liverpool man then inexplicably bit Italy's Giorgio Chiellini, ending the Uruguayan's World Cup after the final whistle.
Suarez received a nine-match international ban, but having completed it back in 2016, he heads to Russia as a key man once again.
Let's see what he has in store this time!
Aldo Loses The Plot
The 1994 World Cup in America will never go down as a classic event, but John Aldridge's touchline meltdown was a highlight.
Liverpool's former marksman was doing his best to be introduced as a substitute against Mexico, with the Republic of Ireland trailing 2-0 and down to 10 men, after Tommy Coyne had already left the pitch.
His introduction was delayed, however, leading Aldridge to launch into a sensational outburst towards a FIFA official, with expletive after expletive coming out of his mouth.
Ireland got through their group in the end, so all was fine, but Aldridge's moment of anger will live long in the memory.
Why Didn't Hunt Head It In?
Roger Hunt is one of Liverpool's greatest-ever goalscorers, but he didn't show his predatory instincts in the 1966 World Cup final.
Geoff Hurst's controversial extra-time goal has been replayed endless times down the years, but Hunt could have made the entire incident inconsequential.
When Hurst's shot cannoned off the crossbar, Hunt turned away in celebration, when a simple header would have made it 3-2 anyway.
Fortunately, the goal was given, and he has a winners' medal to his name, along with Ian Callaghan.
Crouch & Gerrard Save England's Blushes
England have a history of making life hard for themselves at major tournaments, regardless of the opposition.
That applied against a weak Trinidad & Tobago side in 2006, with the group stage clash drifting towards an embarrassing 0-0 draw.
Fortunately for Sven-Goran Eriksson's side, two Liverpool favourites saved the day.
Peter Crouch powered a header into the net with just seven minutes remaining, before a Steven Gerrard special made it 2-0.
Penalty Agony for Reds Legends
If Gerrard was a hero against Trinidad & Tobago, he took on the role of villain in the quarter-final meeting with Portugal, along with fellow Liverpool great Jamie Carragher.
England battled their way to a goalless draw after extra-time, having played a chunk of the game without red-carded Wayne Rooney, and penalties would decide the victor.
Frank Lampard missed his team's first attempt, and Gerrard was then similarly thwarted, failing to replicate the ruthless spot-kick he took in the FA Cup final against West Ham a month earlier.
Carragher scored his first effort but was cruelly ordered to retake it, and there was a horrible inevitability about his subsequent miss.
Cristiano Ronaldo did the rest, and the Liverpool pair were left crestfallen.
Maxi Scores a Screamer
Maxi Rodriguez was something of a cult hero at Liverpool, and three and half years before he moved to Anfield, he was starring for Argentina in Germany.
The South Americans were the best team back in 2006, despite their quarter-final exit, and Maxi's stunner in extra-time against Mexico was arguably the goal of the summer.
Bringing the ball down on his chest before firing an unstoppable left-footed volley into the top corner, it was a moment that outlined the technical ability at Maxi's disposal.
It sent Argentina into the last eight, ensuring a 2-1 win.
World Cup Joy (and Pain) for Trio
The 2010 World Cup final was a dreadful game between Spain and the Netherlands, with the latter kicking lumps out of their more technically-gifted opponents.
Ex-Liverpool favourite Xabi Alonso was the recipient of an appalling Nigel de Jong tackle, with the Dutchman somehow staying on the pitch after a studs-first assault on the Spaniard's torso.
https://www.youtube.com/watch?v=AcIicsfW660
It was to end in glory for Alonso, though, as well as Pepe Reina and Fernando Torres, who were both still at Liverpool at the time.
Andres Iniesta's dramatic extra-time strike separated the two sides, and Reina was typically the opposite of shy and retiring in the post-match celebrations.
Houghton Strike Defeats Italy
Ray Houghton was an unsung figure throughout a distinguished playing career, often doing the dirty work while others made the headlines.
He was Republic of Ireland's hero back in 1994, however, in his last major tournament.
The midfielder's looping strike against a much-fancied Italy side earned the Irish a famous 1-0 victory in New Jersey, and his forward-roll celebration remains iconic to this day.
Houghton may have moved on from Liverpool by then, but we were still made up for him.