Liverpool couldn't recover from a poor start at PSG and suffered a 2-1 defeat in the Champions League group stage on Wednesday.
PSG 2-1 Liverpool
Champions League Group Stage (5), Parc des Princes
November 28, 2018
Goals: Bernat 13′, Neymar 37′; Milner pen 45+1′
---
Midfield Falls Short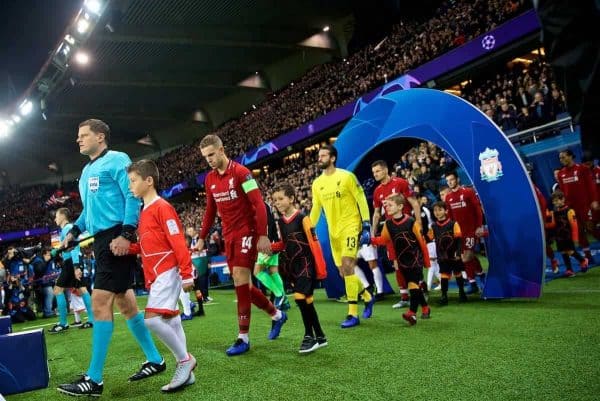 Having been sent off at the weekend, Jordan Henderson will miss the Merseyside derby against Everton.
Despite that, or perhaps because of it, the captain went straight back into the side in the all-important holding midfield role—and had an absolutely torrid first 45 minutes.
Neymar constantly ran at him, dribbling direct or quickly exchanging passing in the No. 14's vicinity.
At no point was the skipper able to cope; he was nutmegged, beaten for pace, lost his man running off the ball and ultimately got himself in terrible positions as he tried to recover.
For PSG's second goal, indeed, Henderson was bypassed in-play by Neymar's run, then lost him completely and ended up closing down the same space as a team-mate defender…and running off the pitch, helping nobody.
PSG barely tested him defensively in the second half as the Reds gained more control of the game, but this was an extremely testing night for Henderson and he certainly didn't pass with flying colours.
Gini Wijnaldum was booked early on as PSG's attack ran rings around Liverpool's midfield. The Dutchman was the first man subbed, closely followed by James Milner.
This midfield may know their roles and work hard, but they struggle to create or impose in such games as these.
Klopp's Choices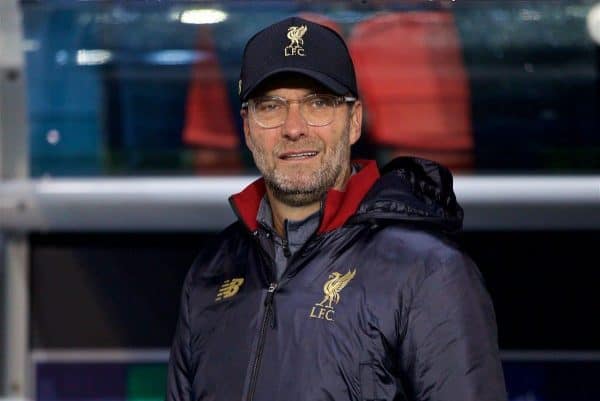 Predictably, yet disappointingly, Liverpool's famed flat three started in the centre of the park. Not all the first-half disappointment falls at the feet of Henderson, either.
Why no Fabinho? This was a game tailor-made for the Brazilian: a team he knows well, a role the Reds needed filling and the most natural protector for the back line.
Why this midfield triumvirate, which frequently hasn't helped or worked in the big games? There isn't enough speed, certainly no creativity and none of them are a goal threat.
On this occasion, there can be no complaints at Klopp's subs.
Naby Keita for energy and thrust (which didn't happen), Daniel Sturridge to provide a killer touch in the box should a chance fall his way (which didn't happen) and Xherdan Shaqiri to provide some magic (which didn't happen).
It was the start which cost Liverpool, and Klopp's starting XI didn't have enough to compete at this very highest level.
Champions League Needs VAR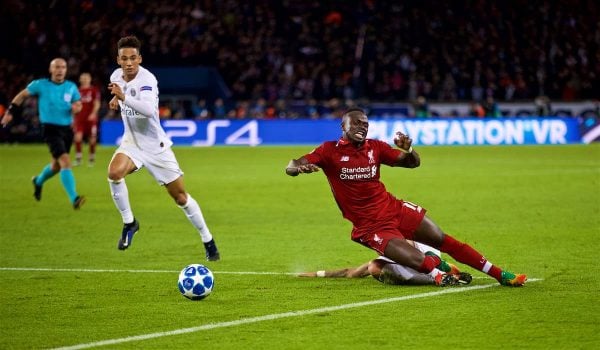 First of all, the Champions League needs better referees, it seems. Quite how Szymon Marciniak came to some of the decisions he did absolutely baffles the mind.
But, once a decision is taken, we now have the possibility to ensure it's the right one—yet the Champions League still does not utilise video technology.
Marco Verratti should have seen red in the first half. It's not even up for debate. It was a shocking challenge and Joe Gomez was lucky to escape injury.
After, the referee opted to award a corner after a blatant foul on Sadio Mane, with only the intervention from the assistant resulting in the correct call of a penalty.
Time and time again, we see—not just in Liverpool games, of course—incompetence or simple mistakes cost teams.
There's simply no need for it any longer. Bring on the new year and bring in VAR.
Second-Half Revival… Of Sorts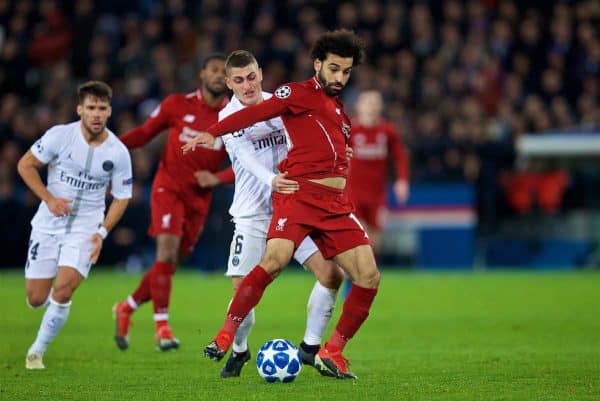 There's no question that Liverpool improved after Milner's penalty, right at the end of the first half.
They dominated possession and territory for much of the second half, keeping PSG penned back in their own half for long spells—though it must be acknowledged, the Ligue 1 side were completely happy to do exactly that.
It was largely due to a failing of Liverpool's to really offer a continuous threat on goal, whether by getting the front three combining at speed or by offering them regular service in the penalty box.
The left channel offered good buildup play and plenty of crossing opportunities, but the Reds never really had a clear sight of goal, a big chance to speak of or a moment which they could point to as being a defining moment to snatch a draw.
In truth it was a disappointing third outing in an away European fixture for the season: three games, three defeats, just one scored from the penalty spot.
Not good enough from Mohamed Salah on the ball, not good enough from Roberto Firmino on the ball, nothing at all from the midfielders in the final third.
All or Nothing Against Napoli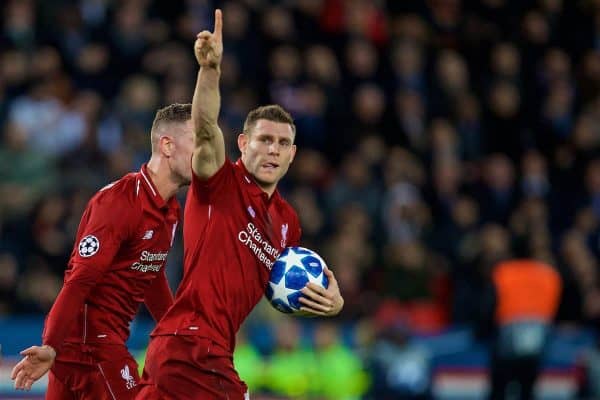 So to the final matchday and it's all or nothing for the Reds.
Nine points is really considered more of a bare minimum—win all the home games—than a target to progress with, but away-day woes mean it'll have to do this time.
Napoli have already shown they are a massive force to be reckoned with: drawing in Paris, beating the Reds and sitting second in Serie A.
For Liverpool and Klopp, a big step up is required to turn this opportunity into celebration, rather than a frustrating night of what-ifs.
There are other permutations to consider—PSG could also finish on nine points—but essentially Liverpool know they'll go through to the last 16 if they beat Napoli by two clear goals.
It's almost like facing Olympiakos all over again.