Liverpool returned to the top of the Premier League table with a low-key 2-0 victory over Fulham at Anfield on Sunday afternoon.
Liverpool 2-0 Fulham
Premier League, Anfield
November 11, 2018
Goals: Salah 41′, Shaqiri 53′
---
Salah's Opportunism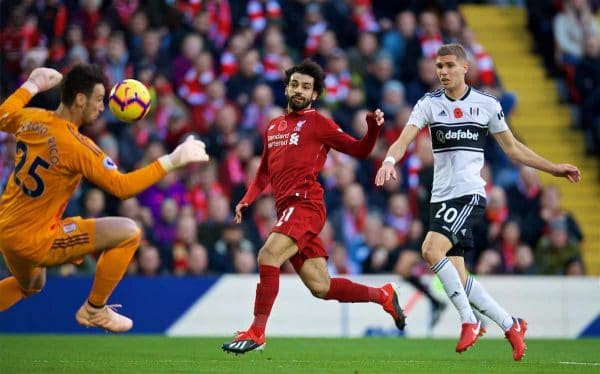 The general consensus is that Mo Salah still has another gear to go up; another level which he can reach to show his devastating best form.
But it's three goals in his last four Premier League appearances now, and five in his last five across all competitions.
He only really had a couple of chances fall his way against Fulham and the directness and pace he showed when a space finally opened up for him was a big sign of his quality.
Salah might miss a few chances, but he creates many of them himself, and by and large he can be considered a reliable source of goals.
The Reds were struggling somewhat before the opener, could even have been behind 30 seconds earlier, and Salah's goal essentially gave Liverpool the win there and then.
He's now the Reds' top scorer this season, on eight.
Shaqiri Continues to Press His Case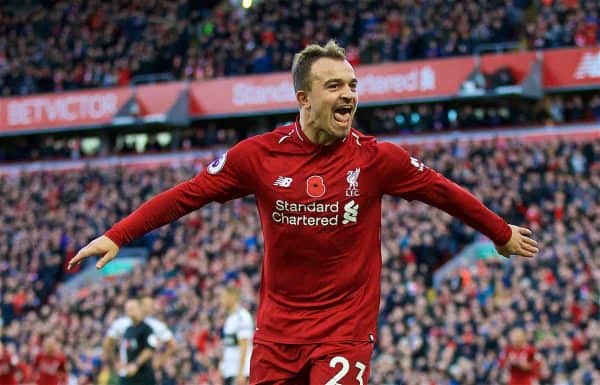 The match-ending goal came from the left boot of Xherdan Shaqiri, a beautiful, controlled volley, passed across the face of goal into the far corner.
It was well-executed, difficult in nature, and it was a rare glimpse of top-level quality in what was largely a turgid and stodgy 90 minutes, thanks to Fulham's approach of putting 10 behind the ball.
Even aside from his goal, Shaqiri was arguably the sharpest and brightest member of the Liverpool attack, often finding spaces between the lines to try and pull apart the massed ranks of white shirts.
He continues to show that he deserves his place in the team and has a lot to offer in the final third this season.
Strongest Team?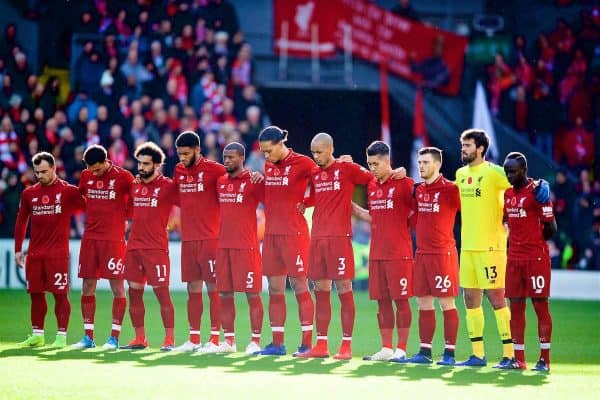 The starting lineup was quite possibly what many fans would consider Liverpool's strongest XI to be at this point.
To that end, is it a positive that they were picked and got the job done? Or more of a concern that it was still another laboured performance?
From the bench, Jordan Henderson finally made his return in the second half, but it was a surprise to see Jurgen Klopp not give Naby Keita significant game time once the points were all-but assured.
Quite what James Milner gets out of playing the final 10 minutes or so instead is anyone's guess.
This, arguably, should have been the lineup in Serbia. Even if Shaqiri couldn't feature, a single switch and the better-functioning midfield might have been the wiser course.
Now, will we see this side more often going forward?
Question Marks Remain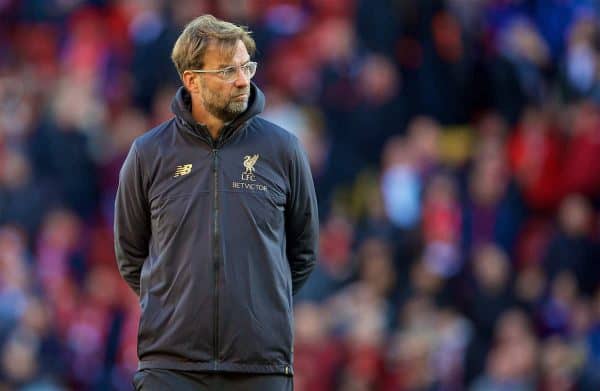 Take your pick, but there were a big handful of causes for complaint in the first 45 minutes.
BT Sport's coverage spent plenty of time picking the bones out of Klopp's reasonably poor record against clubs in the relegation zone; if they'd looked into his record in early kickoffs, they might have been even more tempted to build the match up as a banana skin.
For a time, it could have been a fixture to add to the frustration.
Zero atmosphere, slow tempo in the buildup, very little movement in the final third, conceding as many chances as were created, despite dominating possession: it wasn't a good 40 minutes.
Liverpool didn't really force the issue in looking to kill the game off, understandable perhaps given they absolutely didn't need to and never came under major pressure from Fulham.
But it is another game where a win has been recorded with a 'Liverpool not at their best' footnote.
Top, International Break, Back on the Up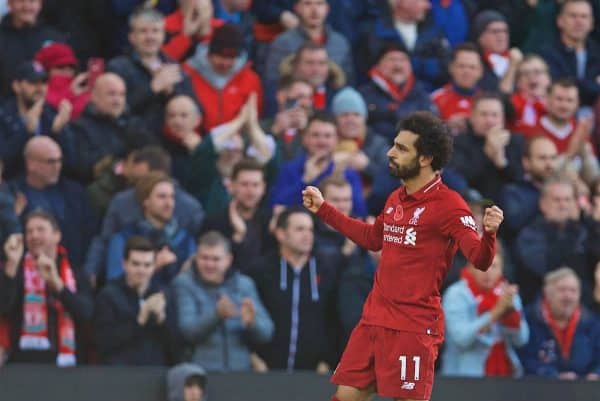 It might not last long, with Chelsea and Man City in action later on Sunday, but Liverpool are once more top of the Premier League, unbeaten in a dozen from the start of the season.
This wasn't a perfect performance, nor did it eradicate all the frustrations from the midweek Champions League defeat.
But it was job done, without any real scares or stresses, and that's a step forward.
Now comes the final international break of the year, another chance to re-assess and look at the next group of games.
Liverpool can still very much look forward with optimism to the challenges and opportunities ahead and, regardless of where this display reached in the search for perfectionism, it's another game down and another three points clocked up.