Liverpool briefly returned to the top of the Premier League table with a win over Fulham at Anfield, but not everybody was left satisfied by the 2-0 victory.
The Reds were rarely troubled, dominated and kept a clean sheet, as well as picking up the three points on Sunday—but that only tells part of the story.
Mohamed Salah scored seconds after Fulham had a goal disallowed for offside, then Xherdan Shaqiri wrapped up a low-key victory eight minutes after the restart.
After a midweek defeat, nothing less than three points would have been acceptable for Liverpool, but Jurgen Klopp's team also needed to produce a good performance after the loss in Serbia.
This Is Anfield's Karl Matchett (@karlmatchett) spoke to Harry Shaw (@harryshaw__) and Nishant Lahoti (@nishlahoti) to get their take on the key issues from the game and on how the perception of the Reds' season might have changed.
The good…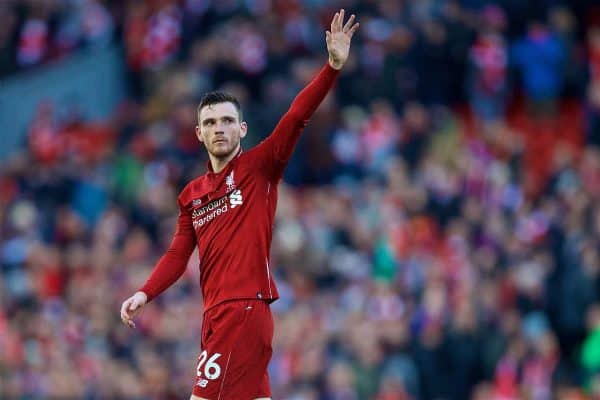 HARRY: Another win at home, 30 points now from 36 this season.
I thought Gomez and Van Dijk were again great and kept everything looking very comfortable at the back.
The full-backs were very good going forward and causing overload and another goal for Salah was good to see; the goal itself was reminiscent of last season's against West Ham in terms of speed from back to front.
I also thought we played it about at the back very comfortably to invite Fulham forward, then once we had brought four or five of their players into our half we were fit to bounce it forward quickly and leave a one-on-one for our attackers.
NISHANT: There are plenty of positives to take from that game, primarily the result and Shaqiri's performance.
The most important thing to take from this game was always going to be the result.
Going into the international break on the back of three points and a clean sheet is always a positive and, hopefully, with no injuries to key players over the next two weeks, we can keep this unbeaten league run going and keep the pressure on City.
Shaqiri showed today what we were missing in midweek, that creativity from deep coupled with dribbling forward and attacking intent, which was the hallmark of Liverpool's best midfield performances last season.
There's little to suggest that he can't keep this form up if given a run in the side, especially looking at our upcoming fixtures.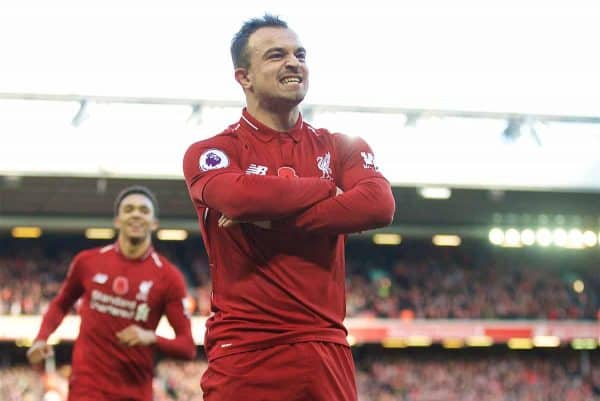 KARL: As noted by Nish and Harry, Salah and Shaqiri probably emerged with most credit from the attackers, but Robertson was also a good performer.
The controlled edge, though it made for a largely lifeless end to the game, can also be seen as a positive.
There are times when we've been critical of the Reds for not being able to 'see out' a game by anything other than continuing to attack, sometimes even costing ourselves a goal by doing so.
The bad…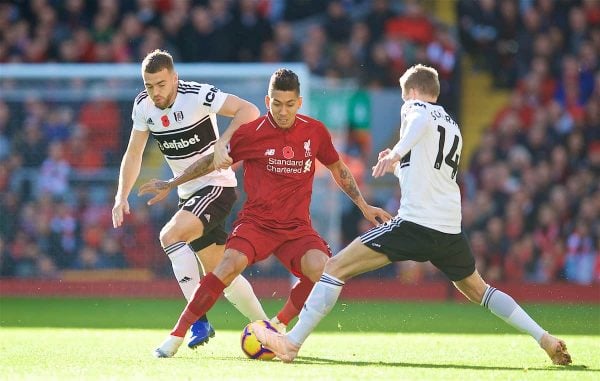 HARRY: I am concerned about Firmino. He seemed not present on Sunday and recently he's not been as effective as we are used to seeing.
We managed the game well and won 2-0 but I thought we could have gone on and hammered Fulham for five or six if we came out of second gear.
I think Henderson being back in helps us keep the tempo up in games though so no great concerns.
NISHANT: Again the performance wasn't the most convincing at times, with Sessegnon's wayward finishing partly to thank for a comfortable afternoon.
Going into the match, I thought Fulham would be there for the taking, considering their recent form, but again it was slow going in the first half, with the midfield two not offering a huge amount creatively.
Admittedly, our pace in moving the ball was upped in the second half, but I felt we could have made more of a statement with performance and scoreline to really announce to the rest of the league that we can challenge City.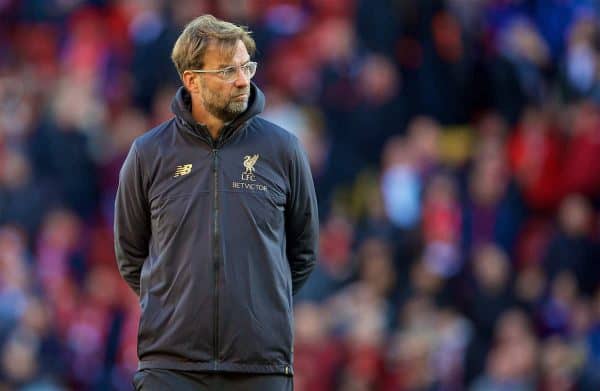 KARL: Perhaps more critical on my part than the boys above: I was very disappointed at the tempo of our game first half.
The movement wasn't there, nobody other than Shaqiri and, a few times, Mane were really offering themselves in clever or advantageous spaces.
It's difficult enough to break down 10 behind the ball, but when we allow teams to stroll easily from side to side because our passing isn't crisp enough, adventurous enough, it's a hard old watch.
Fulham were perfectly happy with a two-goal defeat, but we could and should have done more to force the issue in the first hour of the game.
I also question Klopp's subs. Why no Keita earlier? Why Milner for 10 minutes? It's an ongoing theme.
A word too on the atmosphere, or lack thereof at Anfield today: that was the worst of the season without question. Early kickoffs, recent results or simply that's how it is at Anfield these days?
…and is keeping up the pace enough or are there still concerns?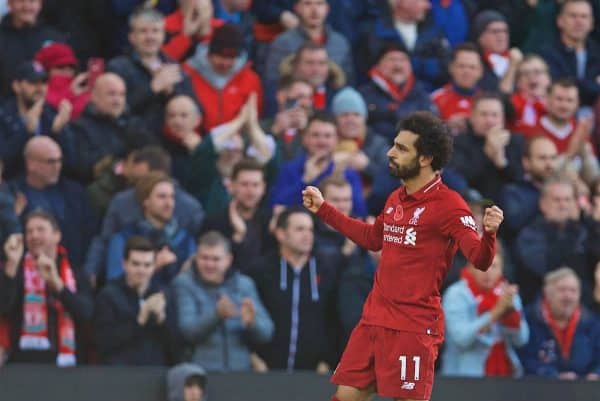 HARRY: Am I concerned? Absolutely not. A dozen games in we are two points behind City, Keita is fit again and Henderson is also back, so we should start to press on.
Shaqiri is now affecting games more and seems settled, as does Fabinho.
We've played Arsenal, Chelsea and Tottenham away and they all have to come to Anfield, where I expect us to win every game.
I'm more than confident we'll hit a purple patch soon and be untouchable; it's just about getting results and staying up there until then.
NISHANT: That's a difficult one. For the moment, it's good enough as we still have time to improve, but I still partly hold concerns, primarily because of the standards both City and the rest of the top six have set.
The bar to win this league is higher than ever and draws against teams like Arsenal are now seemingly not enough to keep the pace.
Our current performances, whilst admirable results-wise, don't fill me with confidence that we can win against the rest of the top six and compete in the latter stages of the Champions League.
That has to be our goal if we're serious about winning silverware this season.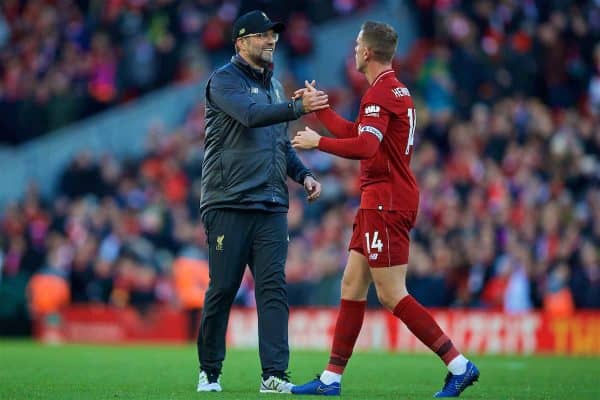 KARL: I have concerns over the lack of speed to our play and the strange use of the squad.
The bottom line has to be getting the victory any way possible—can anyone say they don't want to win the title grinding out 1-0 or 2-0 most weeks?—but, similarly, we'll have to be better than we have been in a lot of games this season to actually lift the trophy.
We have still struggled for fluidity and movement in the final third, and it's not something which players can flick a switch on and be at full capacity.
We're three months in now and haven't seen last season's version of the team—with every passing week, the way we play now is becoming what this Liverpool team are, not how they played for several months last year.