Steven Scragg has attended well over a fifth of the 232 Merseyside derbies to have been played. None have had a plot twist quite like the latest one, however.
Bedlam. Beautiful, beautiful bedlam.
As Alisson Becker ran up to take that 96th-minute free-kick, my dad questioned the thought processes behind it.
"What's the point in that?" he said, as our wonderful keeper belted 30 yards or so to tap the ball to Trent Alexander-Arnold, allowing the England right-back to bring the ball forward a few crucial extra yards, before he launched it towards the Kop goal-mouth.
12 seconds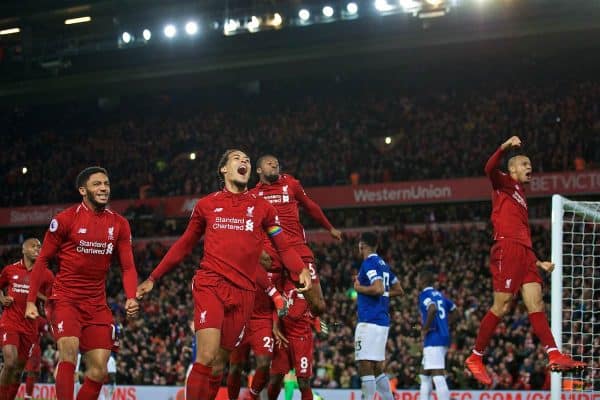 Around 12 seconds later we were bouncing around the Main Stand upper tier in the midst of a scene of bedlam that was quite delirious.
As soon as the ball left Virgil van Dijk's boot I 'knew.'
You have to love the reaction of van Dijk when he spoons his effort from the edge of the penalty area.
The groans and sighs from those of a red persuasion were clearly audible.
The 'waaaays' and jeers of a mocking relief from those of a blue hue, residing over the right shoulder of Alisson as van Dijk's shot spun high into an evening Anfield sky, were just as voluminous.
Hang on, though. Where is this going? What is Pickford doing? Who's that getting on the end of it?!
The referee is pointing to the centre spot and the 'liner' is running back to the halfway line.
Is it? It can't be. It is you know…
Gooooooooooooooooooooooooal!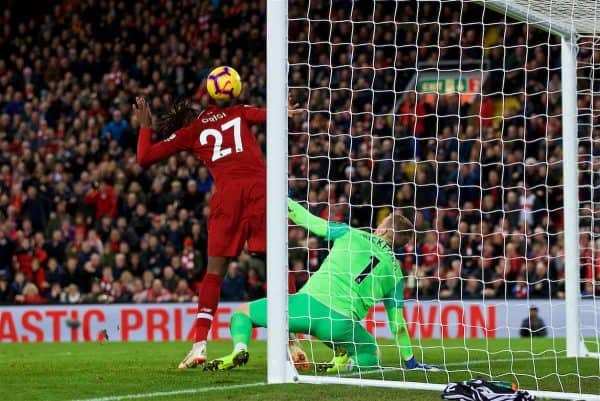 We were too busy bouncing around like lunatics to notice Jurgen Klopp had entered the field of play and was bouncing around himself, locked in a delirious embrace with his goalkeeper of immense purpose.
Faux indignation of Klopp's celebration has abounded ever since. Much wringing of hands and rubbing of pearls from those who hate to see Liverpool prosper.
Won't somebody please think of the children?
A Manchester United-supporting writer colleague of mine brought a semblance of common sense to Twitter on the subject matter.
Scroll through my time line and you will not see one nice word about LFC.

But to the people taking the piss out of the celebrations: what is wrong with you?

It's called passion. They've just won a derby in the 90th minute. https://t.co/tFg2ijJ8Iy

— Dan Williamson (@winkveron) December 2, 2018
Ninety-sixth-minute winners in the derby are there to be celebrated. There are few bigger highs in football.
There were a few in the Main Stand upper who had paid a significant amount of money to miss that moment, when they started drifting out from around the 86th minute.
Imagine that?
In the away section, a smattering of blues had made for the exits too, before the fateful moment: the moment that Divock Origi wrote his name in Merseyside derby folklore.
The pressure of hanging on to what would have been a well-deserved point was all too much for some Everton fans.
Emotion, passion, perfect moments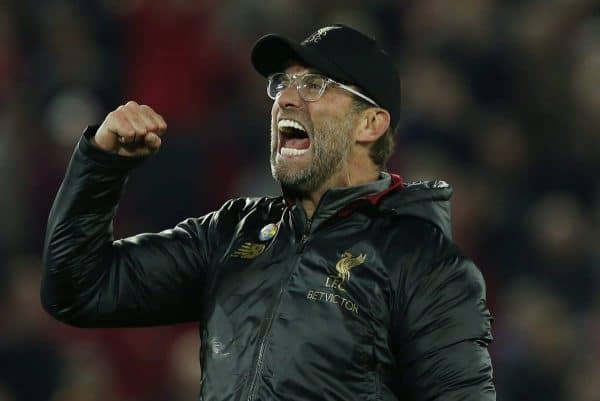 I'm often at odds with contemporary football. The excesses of the modern game turn me off. The common touch has been lost. You rarely see a 'tackle' take place.
Football used to feel like an event. So many of the simple joys of football have either been stripped away, diluted or enveloped in bubble wrap.
All of that is blown away within the perfect bubble which comes into being when something like this winning goal happens. That primal instinct kicks in as time stands still.
It isn't about how well, or not, your team have played. It isn't about the wider context of the game and what two extra points might mean to the remainder of the season.
It's about that spike in emotion; it's about that spiralling joy unleashed.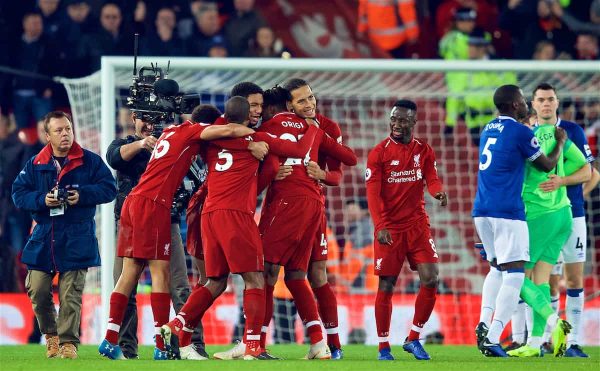 My dad is 80, but we bounced around like he was half his age. I'm 44. I'm older than half his age.
At the beginning of October, my dad lost his wife. I lost my mum. It was almost as if she'd had something to do with this 96th-minute turn of events.
I mean, name me another occasion when the ball bounces on top of the crossbar, twice, before it presents itself to the unconsidered threat?
Nice one, mum.
Everton can play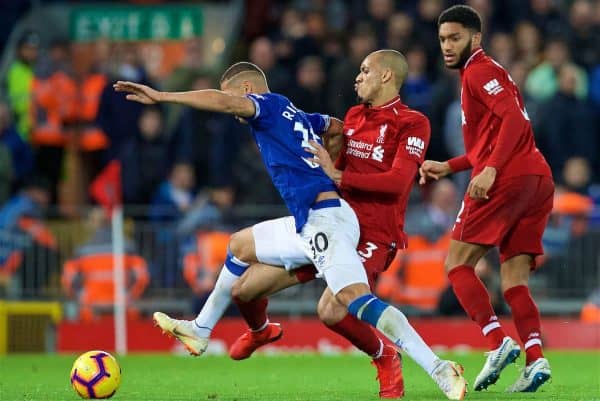 This wasn't the Everton of Sam Allardyce. They went rabbit in the headlights at times, but they passed the ball around and their movement was good.
The opportunities fell to both teams. The game felt tense at times.
Yerry Mina's header went wide of the post, Sadio Mane blasted one over the bar, then missed three decent second-half chances.
Alisson made a point-blank save and Joe Gomez's goal-line clearance was majestic. The miss by Xherdan Shaqiri, blocked by Pickford, was particularly frustrating; Mohamed Salah had a pop from distance and other promising positions were squandered by both teams.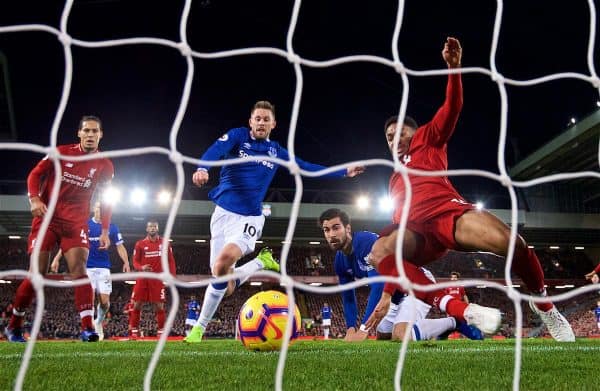 Origi though. He hit the bar from close range and there was a shout for a penalty within the aftermath. The chance for an unlikely hero to emerge appeared to have been missed.
Roberto Firmino and Salah went, and when they did it felt like we had declared at 0-0.
That 96th minute, though. Anfield went berserk according to Gary Neville.
Some Everton fans went home without their mobile phones and a blue flare seemed to be lobbed from the away section into the Liverpool-populated part of the Anfield Road end.
It might be pantomime season, but not all Everton fans are that volatile. There are some good ones out there. I'm even related to some.
December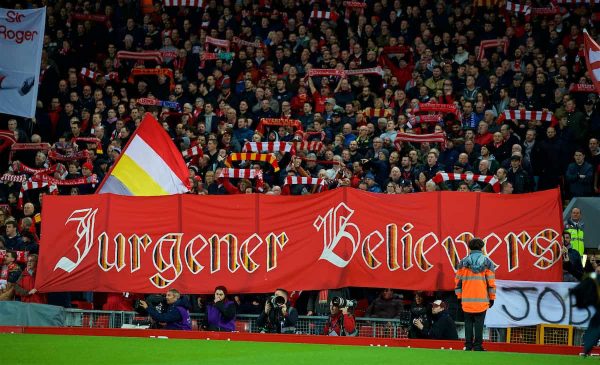 Had we dropped points in this one, it would have set a potentially insurmountable gap to the one and only team currently sat above us.
We must harvest the feelgood factor of this win and start to throw out more stylish shapes.
Dominate games and have them won within the first 30 minutes. At the moment we have a propensity to create, yet miss, a raft of early chances in games. Let's be clinical in front of goal.
As far as December goes, it is one game down and seven to go.
Burnley and Bournemouth away to come this week.
Be ruthless, be professional and throw in a bit of style if possible. These two games are more important than the Napoli game beyond them.