Liverpool's position atop the Premier League over Christmas, with two crucial big-game clashes to come, is closely reminiscent of this time five years ago.
Six points clear at the top of the league. Fifty-one points from 19 games. Fourteen wins from 14 games against the non 'top six' sides. Unbeaten halfway into the season. Only seven goals conceded.
I'm not saying a number of supporters are getting carried away, but if Liverpool beat Arsenal on Saturday I fully expect some Kopites to leave Anfield shoulder high on a sedan chair while being fed grapes and served wine as they are paraded down Walton Breck Road.
And why not? It's probably cheaper than a black cab and if you can't get carried away by Liverpool's best start to a season in the club's entire 126-year history then why even bother supporting the Reds? Buzzing off your team doing well is the whole point of being a supporter.
We're in unprecedented territory here, starting so well, and when you're completely emotionally invested in a team and your dreams of success start to feel like they may come true then you never quite know how you're going to react.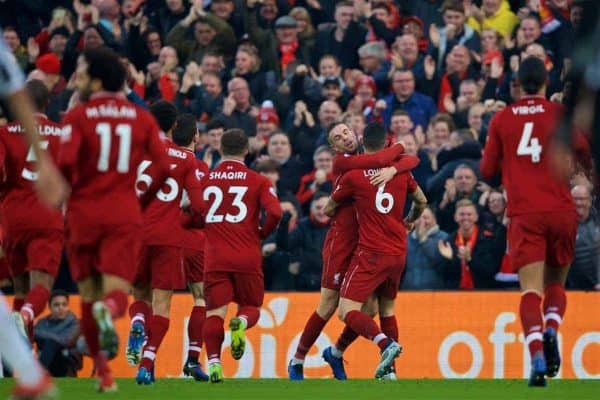 Which explains the celebrations at Anfield during the 4-0 dismissal of Newcastle when news filtered through that Man City were losing at Leicester, followed by raucous cries of "and now yer gonna believe us, we're gonna win the league." When was the last time you heard that sung at Anfield in December?
Premature celebrations? Yes. And Jurgen Klopp wasn't overly pleased with it but it reminded me of the cockiness, borderline arrogance, that the old Spion Kop was renowned for in bygone eras when Liverpool backed up the bullish chants off the pitch by winning silverware on it.
Confidence is once again rife, the question now is whether Klopp's class of 2018/19 can do the same when, like in the days of having David James in goal, danger lurks at every corner. Starting with Arsenal.
Of all the things the Gunners have achieved over the years (13 league titles, 13 FA Cups, two league cups, no European Cups and a Guinness Book of Records entry for the most people not singing in a football stadium at the same time) the record they are most proud of is being the only English club to go through an entire top-flight campaign unbeaten, despite having Pascal Cygan as a backup centre-half in 2003/04.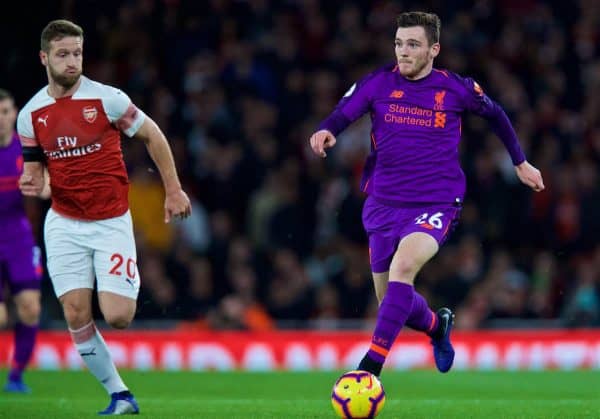 Never mind the race for the top four, trying to stop Liverpool from emulating that record (which saw them finish on 90 points, 10 fewer than Man City got last season) will provide Unai Emery's side with extra motivation on Saturday.
And then we're all off to Manchester for a traditional Thursday night in January clash with City which would've been trumpeted as Sky Sports' title showdown until Spurs joined the party by sticking six goals past Everton at Goodison Park and five past Bournemouth at Wembley.
Spurs, incidentally, have played 11 of their 19 league games away from home so potentially have the big advantage of playing more home games than anyone else in 2019, assuming Bob the Builder ever gets around to finishing the new White Hart Lane.
For Liverpool, the City game is bigger than Joe Royle's head. With antlers on. It's moosive.
We're currently seven points ahead of Pep Guardiola's lot but, depending on how results go this weekend (City go to Southampton on Sunday—Danny, Danny Ings, Danny, Danny Ings), that gap could be as big as 13 points with a win in Mancunia.
But then the gap could also be as small as one point—with Spurs joint-top on goal difference—if Liverpool's unbeaten run comes to a juddering halt with two defeats.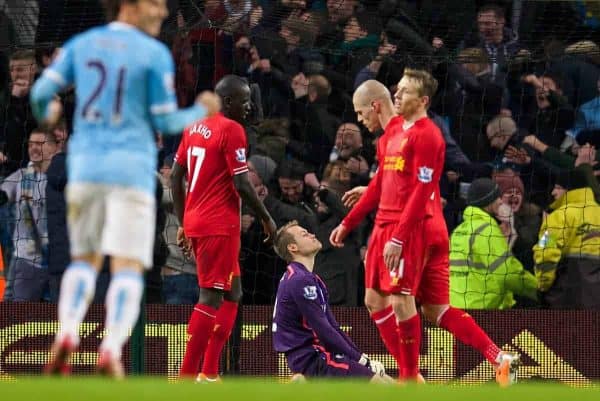 Remember Christmas 2013? When Brendan Rodgers Liverpool were top of the league on Christmas Day but then lost their next two games, 2-1 at Man City and Chelsea? The final league table is a reminder of how pivotal such games can be.
Liverpool led 1-0 at the Etihad but lost 2-1. Had they drawn at City they'd have won the league by one point.
Even with Simon Mignolet's error at Stamford Bridge, Kolo Toure's horrific blunder at West Brom, Stevie G's slip against Chelsea and Crystanbul. Still painful, right?
So while I'm all for getting carried away—regular readers may well argue I should be—and I'm backing this brilliant Liverpool team to get results against Arsenal and City, it has to be remembered that title races can change dramatically simply because of one or two results.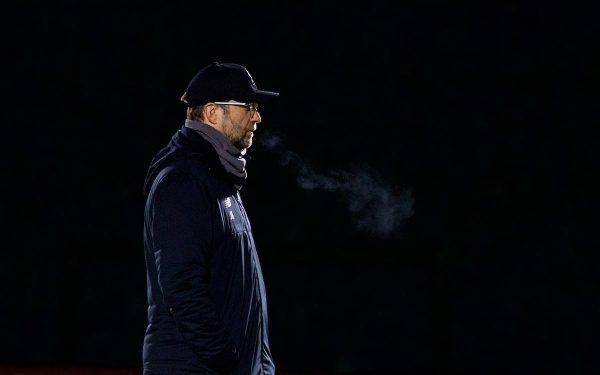 When you're perched at the top you're there to be shot at and that's precisely what Arsenal and City will be doing over the course of the next week, but if Liverpool get through both games unscathed then it'll be impossible for even the most pessimistic of Kopites not to get carried away because at some point it will be our year and 2019 is as good as any…
---
Chris McLoughlin writes for This Is Anfield each Friday; he's also senior writer for the Official LFC Matchday Programme and LFC Magazine. You can buy the Liverpool vs. Arsenal programme here.