Liverpool manager Jurgen Klopp has accepted his Football Association misconduct charge for running on the pitch after conceding it was a mistake.
The German raced into the centre circle to celebrate with goalkeeper Alisson Becker when Divock Origi scored a winner in the sixth minute of added time against Everton at Anfield on Sunday.
He immediately apologised to Toffees boss Marco Silva afterwards but an FA charge was inevitable and Klopp, whom it is understood has been fined £8,000, has no issue with that.
"Absolutely OK, to be honest. I couldn't avoid it obviously, but that's what the rules are for, and if you break rules you have to be fined for it," he said.
"That's what happened, no problem with that, it's completely normal.
"The last time I did it was around 14 years ago. I'm not that quick any more. It will be fine."
Asked whether he would do it again, considering the circumstances and emotion of a Merseyside derby, he added: "Not in the next 14 years!
"I didn't want to do it and I can say it won't happen again. It was not on my radar that it was still possible.
"We make mistakes, but usually I learn from it. At least over a long period.
"It's not a massive mistake. If there was no rule against it we, as managers, would constantly celebrate on the pitch and you would say 'that's nice' (and) the whole bench would run there.
"I don't think anybody thought it's massively wrong or whatever, not even the ref, they were probably surprised themselves.
"There's nothing to say actually. It's a fine, I pay it. Let's carry on."
Klopp is keen to move on quickly from the incident, and the result, as his side are back in action again at Burnley on Wednesday.
The Clarets have made life difficult for Liverpool recently, with three of their previous six matches settled by one goal and their last meeting – on January 1 – won by Ragnar Klavan's added-time strike.
"It was brilliant in the dressing room after the game (on Sunday) but can you carry it for two or three days? The whole season is still there, we feel in a good moment," added Klopp.
"We have to be ready, there's nothing negative in winning late against Everton. I should not be concerned that we struggle to realise that Burnley starts again at 0-0 and we have to fight another 95 minutes.
"I think that's disrespectful to my players if I tell them that. We have to be ready, 38 times in the league and as much as we can in the other competitions."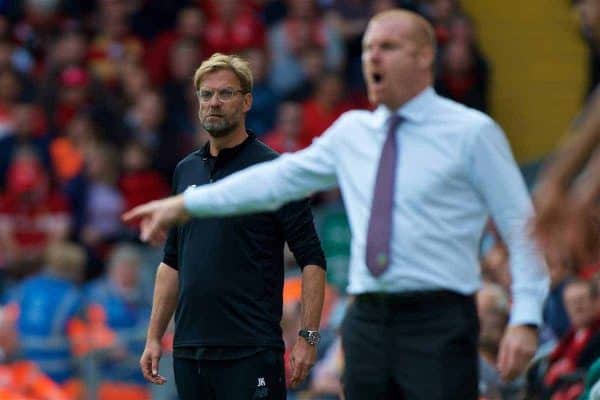 The trip to Turf Moor will be the second game in a run of 10 matches in five weeks and Klopp is expected to make changes to his side.
A couple may be enforced as forward Sadio Mane sustained a cut foot in the Merseyside derby while left-back Andrew Robertson has a minor problem.
"Sadio and Robbo we need to have another look today. Sadio had an awful cut on his foot, it needed to be stitched. It's OK, he's walking around now in flip-flops but we don't play in flip-flops," said the Reds boss.
"Today he is not ready but we will see later. With Robbo it is not that serious, but we will need to have a look."