Mohamed Salah invited Liverpool fan Mike Kearney to Melwood to thank him for his support after a video of the fan celebrating went viral.
In yet another showing of Salah's humility and generosity, the forward brought Kearney and cousin Stephen Garcia to the Reds' training ground to present signed shirts to the duo.
Kearney, who is partially sighted, was filmed celebrating Salah's match-winning goal against Napoli in the Champions League recently at Anfield.
Garcia described how he always helps Kearney follow the on-pitch action from in the stands, telling his fellow supporters who has the ball and how attacks are progressing. The roar of the Kop, of course, gives away the ending after a shot!
"He's just told me [Salah] has gone round two people and slotted it – in less-broadcastable terms!" Kearney told the cameras.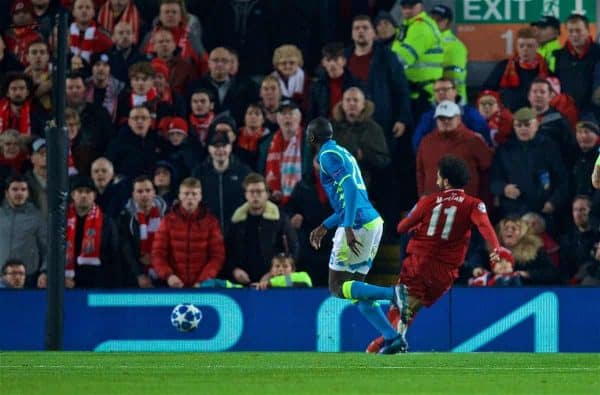 Manager Jurgen Klopp also makes an appearance, greeting the duo and telling them he saw their celebrations—and dealing out a famous "Jurgy hug" on the way past.
Salah then enquires as to how long they have been supporting the Reds and hands over his jersey, before they get to watch the squad in a training session ahead of the Wolves fixture.
Other squad members including Alisson and Divock Origi make an appearance—"best moment of the season," Kearney tells the striker—as the rest of the Liverpool players join in signing a shirt for each of the supporters.
It's another great showing of the approachable side of the team and doubtless gave the two supporters a major highlight to end the year with.