Gini Wijnaldum says the Liverpool team can be triumphant this season, but acknowledges there are huge challenges to win anything at all.
The Dutchman has been one of the Reds' star performers all season long and is perhaps underrated outside of Anfield.
A dynamic midfield enforcer, a shuttling box-to-box player or a skillful attacking outlet: Wijnaldum performs each role effortlessly and selflessly as needed by the boss.
Against Bayern Munich he'll likely need every single one of those facets to his game, such is the level of quality Liverpool will face.
But the Reds will have to overcome that type of top-class team both in the Premier League and Champions League, over and over again for the next three months, if they want to end the season with a trophy.
The No. 5 told Goal.com he believes the team is good enough to go on and win both—but only with consistency, fortune and self-belief will that be achieved.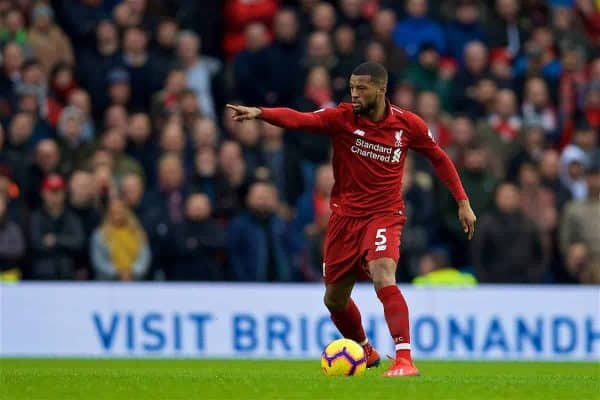 Instead, he adheres to the mantra which the majority of the squad have echoed in recent weeks—one game at a time—while also dismissing the thought that the squad are constantly looking at what Man City are doing.
"Probably the Premier League [is hardest to win] because there are more games, and there are no easy games. The truth is we can both win, but both are very difficult. We have to believe it.

"Jurgen Klopp preaches to look only at it game to game.

"It's difficult because [the end of the season] is not far anymore and everyone is talking about it.

"We also do not want to ignore that, it's normal for the environment. But as a team, we do not always deal with it. Once I asked my team-mates who Manchester City is playing against. They didn't know."
Against Bayern, Wijnaldum will be up against a team full of high-class players, but one will be missing through injury who the Dutchman knows all too well.
Indeed, asked who he'd like to have at Liverpool if he could take one player, he went for compatriot Arjen Robben.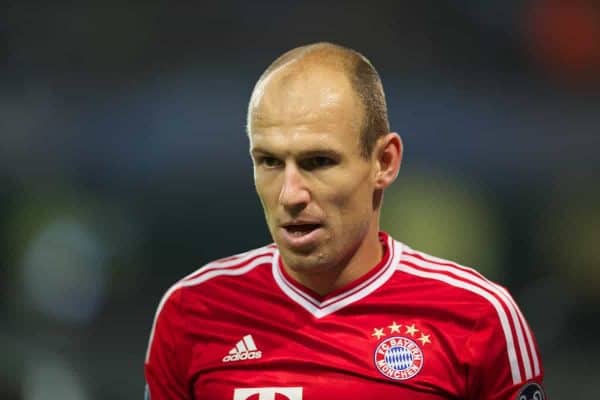 "What a legend! You want to play against the best and beat the best. Arjen is definitely one of the best, he deserves to be on the big stage.
"I love him as a player and admire him.
"But in this game I want to win against him. I hope I can say after the final whistle: 'Sorry and good luck for the rest of the season!'"
Instead it'll likely be Serge Gnabry and Kingsley Coman who occupy the wide areas, while Wijnaldum himself has to go toe-to-toe with Thiago Alcantara and Leon Goretzka.
He has shown this term that his form and level is equal to that of any player in the Premier League; now Liverpool need him to do the same in Europe.