Liverpool have failed to score in the past two games, but Jurgen Klopp prefers to look at not conceding in three as a measure of the Reds' performances.
Back-to-back goalless draws against Bayern Munich and Manchester United have left some concerned by a lack of cutting edge in attack for the Reds.
But that doesn't quite tell the full story, given the deep defences and high-quality players that the Reds were up against on each occasion.
Klopp has fully admitted that his team were below the required level at Old Trafford and should have gone on to win the game, but told reporters in his pre-Watford press conference that it's always about striking a balance.
Clean sheets in those two fixtures, plus in the 3-0 win over Bournemouth, point to positives at the other end of the pitch and it's something Liverpool want to continue with.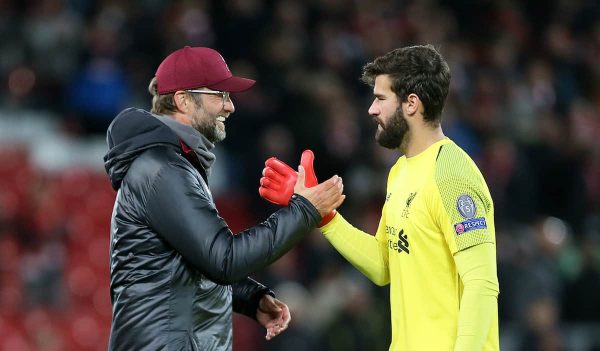 "Hopefully [the clean sheets] stay like this, we need to defend and attack.
"Two games [at 0-0] were difficult; playing against Bayern and they treat you like you are a mixture of Barcelona and Real [Madrid] or something, defending like they did…it's not an easy job.
"We could have done better but we did well, a lot of good things, that's absolutely good news.
"United, this game was strange. I liked the start so much, then the game was completely different.
"The injuries broke the rhythm, United did everything different to weeks before when they were the strongest side [in Premier League form].
"[They had] a lot of counter-attacks, they had the biggest chance, Ali [Alisson Becker] made a world-class save [from Jesse Lingard].
"It was not exactly the [best] game but a lot of parts which you need, gave nothing away."
As ever, there's a balance to be struck.
While defending might have earned a draw at one end, the Reds need to alter the attacking impetus without giving up spaces—something which will be especially important against Watford.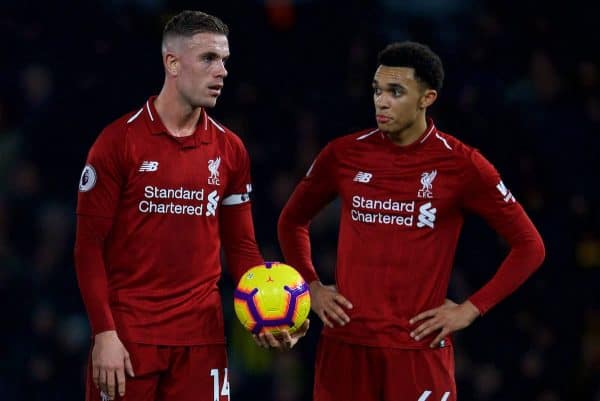 The Hornets would claim a point at Anfield as a great result, and only by keeping firm defensive resilience on show can the Reds carve out another clean sheet.
"[The press] talk about offensive things, then if the defence is good how is the offence?" Klopp continued.
"You make one part weaker to make the other stronger. You must always be stable.
"Especially in a game like Watford with [Gerard] Deulofeu, [Troy] Deeney, other quick guys on the counter-attack. You have to be smart.
"We could have done better but it's all good, a very positive situation and now make sure everybody lives that."
A return to scoring ways and winning performances would leave the Reds top by at least one point, heading into the last 10 matches of the season.