A resounding midweek win takes Liverpool into the Merseyside derby high in confidence and top of the table—and the squad is in great shape at a key time.
I was quite puzzled with the level of negativity after the Old Trafford draw; yes, we didn't play well and yes, it was disappointing failing to win a game against a team forced into three substitutions before half time.
But…it was a draw…at Old Trafford.
United have lost only once there in the league all season—to Spurs—and they are currently on their best run of results in several seasons, including recent victories against Spurs, Arsenal and Chelsea.
Not only that, but we restricted them, at home, to just two efforts on target.
Oh, and there's the small matter of it putting us back on top of the pile.
Nevertheless, Watford coming to town, who we've hammered 6-1 and 5-0 in the last two seasons, was exactly the kind of game where the doubters could be silenced and the title charge put back on track.
The problem is, Watford are no mugs this season. They are riding high and on course for one of their best ever league positions. Outside the top six, they were top of the rest as they rolled into Anfield.
Not only had they just beaten Cardiff 5-1 away from home, they had in fact lost only one of their last 10 away games in all competitions.
So, given the unease over our recent form, what a time it was to record our biggest win of the season with quite possibly the best display of the season.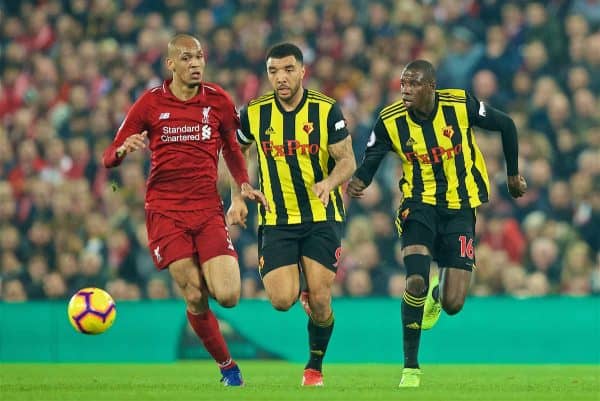 And what a time it is for our new midfield general to be playing the best football of his fledgeling Liverpool career.
Fabinho was fantastic, different class.
It was a footballing masterclass all over the pitch, with and without the ball. It's very rare for every player on a team to be at least an 8/10 but that was the case here.
So, with only 10 Premier League games to go, our fate remains entirely in our own hands. Easier said than done. To take the ultimate prize, it's essential that we fire on all cylinders all over the pitch.
With that in mind, let's take a look at the relative health of the squad as we approach the critical business end of the season.
Goalkeeper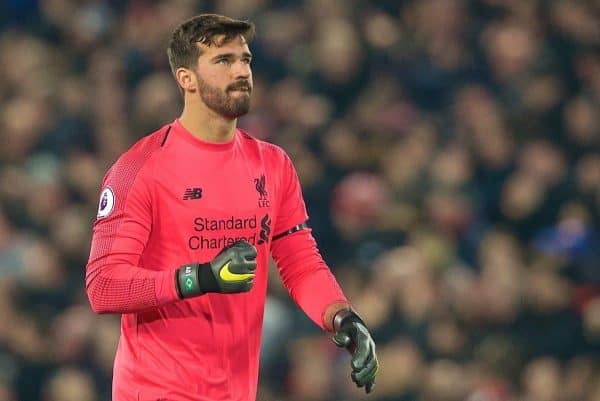 In goal, we undoubtedly got what we paid for and once again Alisson was in supreme form.
Against an admittedly unadventurous Watford, two saves—one very good, one outstanding—earned him his 16th clean sheet of the season. Ederson is next with 13.
He still needs to cut out the occasional dawdling with the ball at his feet, (it could have been far costlier than it was against Bayern) but in every other capacity he is a rock.
Finally, we have a title-worthy goalkeeper; one who breeds confidence in those in front of him. The only worry is that we simply cannot afford for him to sustain an injury, such is his importance to our title tilt.
Four more clean sheets in the final 10 games and he equals Pepe Reina's Golden Glove-winning 20 clean sheets in the 2005/6 season.
Full-backs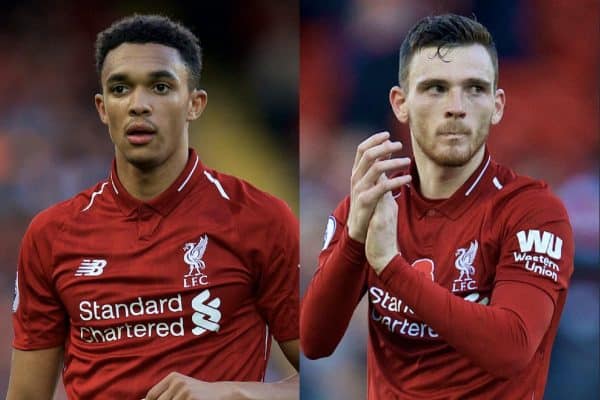 I have been watching Liverpool since the 1970s and never have I seen a Liverpool team with two full-backs of the quality of Trent Alexander-Arnold and Andy Robertson.
Of course, there are defenders in our trophy-laden history who are their equal or possibly even better individually, but I can't remember us having two more rounded defenders of this quality lining up in the same Liverpool team.
Both have boundless energy, both are defensively sound, and both can deliver a killer pass. Their contribution to the overall balance, shape and effectiveness of this team cannot be overstated.
While both excelled against Watford, Trent's display may well be one of the best displays of attacking football by a defender ever seen at this level.
And, no, that is not an over-reaction.
A hat-trick of assists makes him the youngest player ever in the Premier League to achieve this feat. It could easily have been four or five.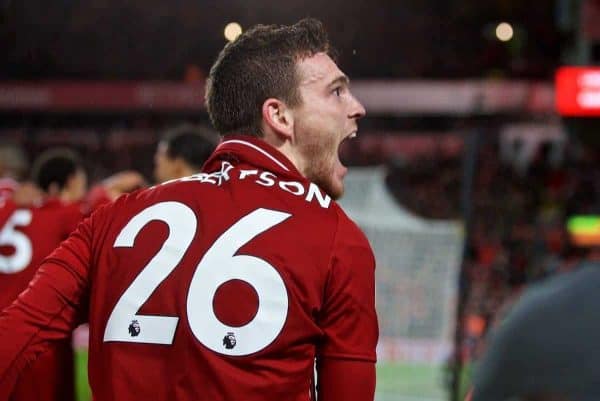 To put it into perspective, only three other Liverpool players have achieved it in the Premier League: Stan Collymore, Vladimir Smicer and Alberto Aguilani. None were defenders.
He simply tore Watford to shreds throughout the game. His delivery of pass, whether whipped at pace into the box or driven into the striker's feet, was sublime. It was as close to the perfect attacking display by a full-back as you are likely to see.
But I have to balance the books by giving a shout out to Robertson.
Trent may now be third on the list of Premier League assists for Liverpool this season with six, one behind Mo Salah, but he remains two behind the team-leading Robertson's eight.
Yes, our two full-backs have combined for an incredible 14 assists so far this season.
Central defence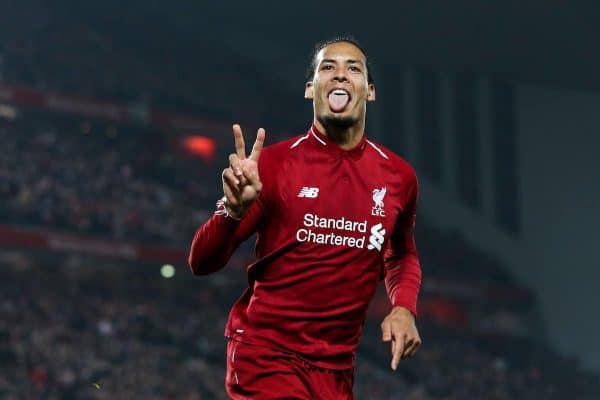 Centrally, Virgil Van Dijk is the best we have had since Alan Hansen and Mark Lawrenson.
No question, he just is. He makes every partner he plays with, better. As a defender, he has no weakness.
Positional sense, pace, passing ability, reading of the game, aerial ability, organisation—he simply has it all.
The latest incumbent of the role alongside him is Joel Matip, who is looking more the part with each passing game. Joe Gomez, back soon it is hoped, was a revelation there pre-injury.
Having Gomez back as an additional option at both centre-back or full-back over these final games might just be crucial. In the interim, Matip is having his best spell for the club at exactly the right time.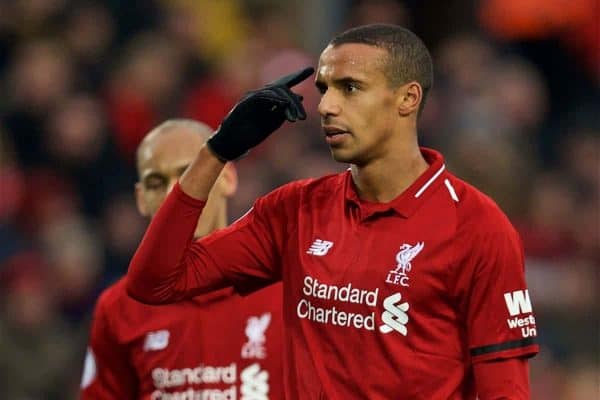 Dejan Lovren—surely now 4th or 5th choice at best given the rise of Gomez and recent performances of both Matip and Fabinho—may well have to look elsewhere for first-team football once the season draws to a close.
While he, too, has improved playing next to Van Dijk, he has not done so enough to merit a spot ahead of the aforementioned.
My only (very) minor concern with Van Dijk is that, for a player so supremely dominant in the air defensively, he too-rarely threatens in the oppositions box.
Let's hope the excellent Watford brace has put that issue to bed and there's more to come from him in that regard.
Another one at the weekend wouldn't go amiss.
While on the subject of goalscoring defenders, it got me wondering…has any defensive trio ever contributed five assists and two goals in a single game as Trent, Robertson and Van Dijk did against Watford?
After some unusually suspect defensive displays when Gomez and Trent were both initially ruled out, normal service has been resumed with four clean sheets in a row and it's still only 15 goals conceded in 28 games.
Midfield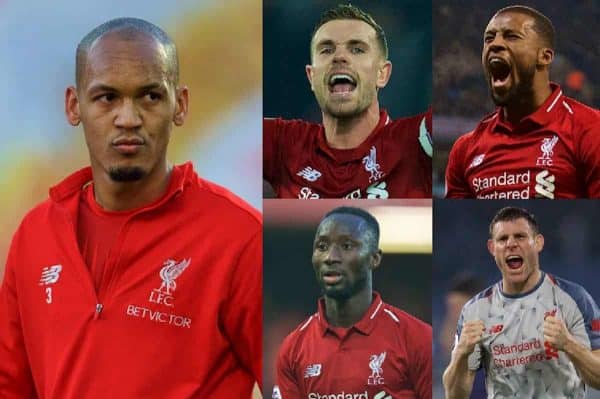 Back in August 2010, Javier Mascherano left for Barcelona. He was arguably the best defensive midfielder we had ever had. Over eight years later we were yet to replace him with a player of equal quality…until now.
Fabinho, it's fair to say, had a tentative start to his Liverpool career. He was off the pace in terms of team dynamics, and in individual moments he was slow and ponderous.
It was early days, but I'll admit to quiet concern over his suitability to both our style of play and the demands of this league.
Not now.
His recent performances have been nothing short of brilliant, with the Watford game a masterclass in the art of defensive steel combined with forward creativity.
His tackle on Gerard Deulofeu was the highlight of an imperious performance. It's long been a problem position and yet another where Klopp has filled an obvious need with an absolute gem of a player.
As with the aforementioned players in the Premier League's best defence, he's also a spring chicken at a mere 25 years old. He can, and will, get even better.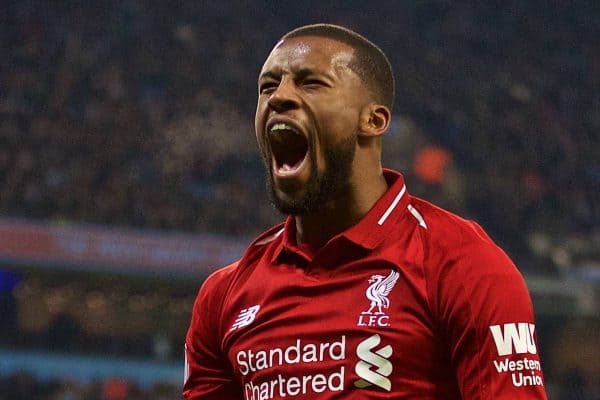 If Fabinho is now a virtually guaranteed starter in what for too long been a revolving midfield door, Georginio Wijnaldum is proving to be another.
His 25 Premier League games and Champions League ever-present this season proves just how much Klopp believes in him. Unspectacular, yet crucial in maintaining possession and disrupting the opposition, he's becoming a specialist in a role unfamiliar to him upon his arrival from Newcastle.
There can be no doubt that this season has been his breakout one in a Liverpool shirt. I, for a long time, criticised his frequent disappearing acts away from home. He needed to address it. He has.
The third midfield position remains one yet to be fully addressed, or at least nailed down by any one specific player.
James Milner, unfairly criticised for a subpar performance in what was an unfamiliar role against United, continues to defy his age when utilized in midfield.
It was he who set the tone for the Watford performance, chasing down no less than three Watford players, including their goalkeeper, with just two minutes on the clock.
But as good as he has been this season, the harsh reality is that now in his 34th year, old father time will soon come calling.
If this does end up being the last season James Milner features heavily in the starting line-up, how appropriate and deserved would it be for him to end it as a champion?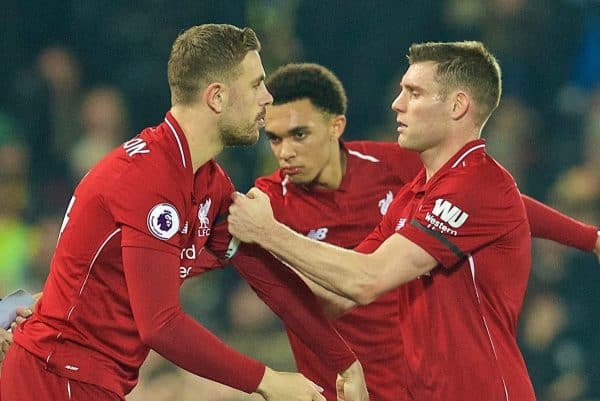 Meanwhile, I'm not sure anyone has ever divided fan opinion as much as Jordan Henderson. Once a mainstay of Klopp's midfield, he's recently found himself rotated much more frequently.
Graeme Souness, a far greater authority than most on the art of midfield prowess, continues to talk about a lack of creativity and goal threat in the Liverpool midfield.
His words after the United game were telling. "Liverpool's midfield has scored six goals this season, six. For a team trying to win the league, it's not enough."
Now, whether you're a fan of Henderson's work in a defensive sense, it is what he offers going forward that is much debated. In the last four seasons and 120 appearances in all competitions for Liverpool, Henderson has chipped in with just four goals.
The last three seasons, that total is a mere two.
You may claim that it's 'not his job,' but from 2012-2015 he scored 18 times in 138 games. Not exactly prolific, but even so, it's quite the drop-off from then to now.
Furthermore, in 23 league appearances this season, he has recorded only seven shots. None have been on target.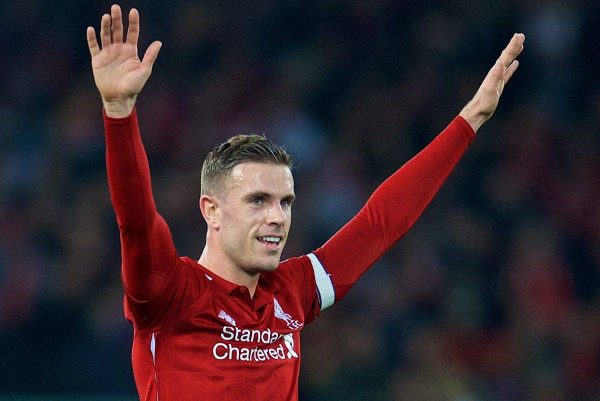 Last season, he had one assist in 24 games. So far this season he has zero assists. Of the 17 shots he had last season, four were on target. He scored once.
Fabinho, who plays a similar role, has featured in 19 league games this season. He has one goal, two assists and 14 shots, with four on target.
While these stats have likely done nothing to sway your opinion whichever side of the Henderson debate you are on, I think his lack of threat and cautious approach to the role might be a reason he is no longer an automatic choice for one of the three midfield spots.
Naby Keita isn't either. His time so far has been littered with inconsistency compounded by injury. I think it's fair to say he's taken a lot longer to settle than anticipated.
It's equally fair to acknowledge that his recent performances have been far more encouraging.
Not enough though, yet, to have won over the manager's confidence. I'm confident that given time, he will.
There is, of course, one other option, and that is Adam Lallana. A player I once had the highest hopes for has drifted, sadly, towards anonymity and is now nothing more than a squad player.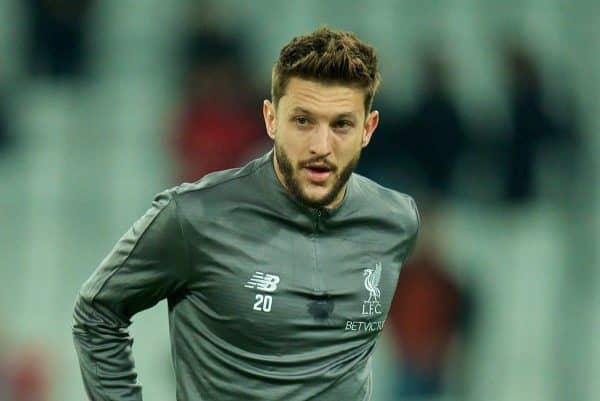 As with Dejan Lovren, his injury record has negatively impacted any consistency of performance and subsequently curtailed his Liverpool career; and like Lovren, he's fallen so far down the pecking order I fear it may be terminal once this season draws to a close.
But enough of that…overall, it's positive.
With Fabinho and Wijnaldum both in such superb form, Alex Oxlade-Chamberlain nearing a welcome return and with Naby Keita belatedly showing positive signs of life in recent weeks, talk of Liverpool's lack of midfield creativity may soon be as obsolete as the 'leaky defence' conversations long since consigned to history.
Attack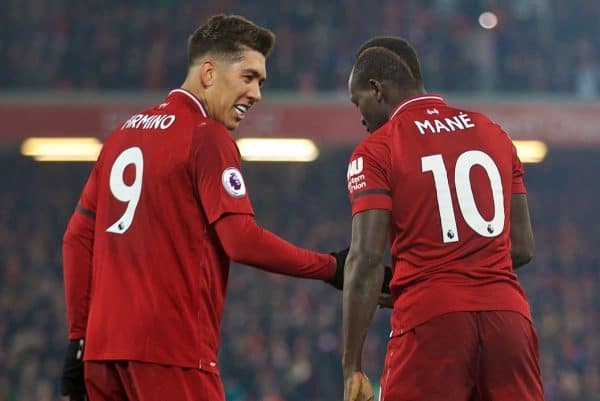 It's fair to say our fabled front three haven't been quite as devastating as last season. It's also wholly unfair to say they're having a poor season.
Of our 64 league goals so far this season, Mohamed Salah, Sadio Mane and Roberto Firmino have combined for 40 of them.
Salah and Mane are also currently second and fifth in the race for the Golden Boot with 17 and 14 goals respectively. Firmino is just one goal shy of double figures.
Firmino's untimely injury was seen by many, me included, as a potentially damaging one with the final stretch looming.
Daniel Sturridge's no-shows in recent games against Wolves and United have sadly confirmed the suspicion that his best days are over. Divock Origi's brief cameos had thus far been a lot of huff and puff with little inspiration.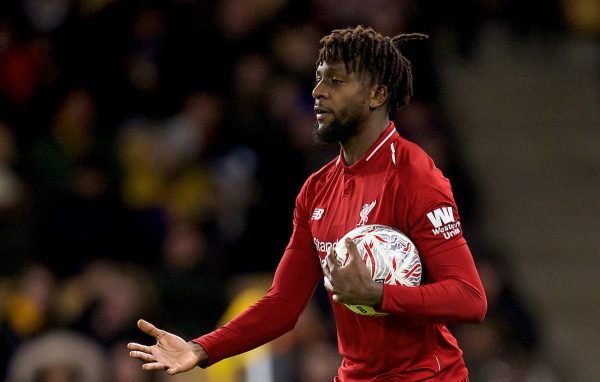 As such, there seemed to be only one option: replace Firmino with an out of sorts Xherdan Shaqiri. It ended up being nothing of the sort.
Klopp surprised everyone and went with Origi. Even then, when the surprise line-up was announced, it looked a pretty safe bet that Origi was to be the man up top; if not him, then surely Mo Salah?
Not for the first time, Klopp confounded us all by deploying Origi on the left with Mane spearheading the attack. It was an inspired move, with Origi looking far more threatening out left and Mane at his goalscoring best.
Salah, too, put his disappointing United display behind him and gave not only his best performance of late, but looked every bit the Mo Salah we know is capable of terrorising any defence, anywhere.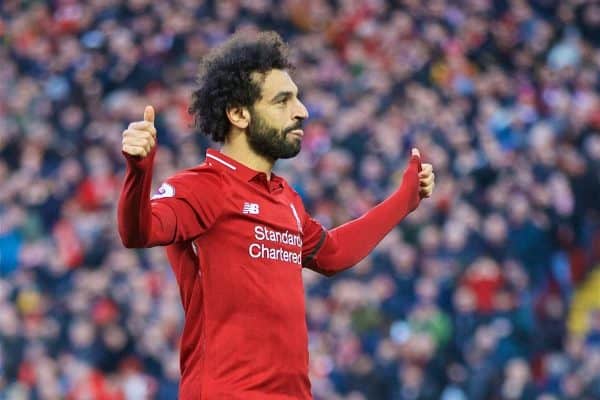 Just one game, running at the Watford defence and cutting in from the left, and there is new-found confidence that Origi just may be a viable alternative—his display simultaneously confounding his critics and delighting the fans.
Against the ageing back line across Stanley Park this weekend, his pace may just prove decisive.
Mane, deployed in the central striking role, became only the eighth Liverpool player ever to score in five successive top-flight games at Anfield.
Lambasted after an uncharacteristically anonymous performance at Old Trafford, he made the centre-forward role look like a walk in the park against Watford.
The Bottom Line…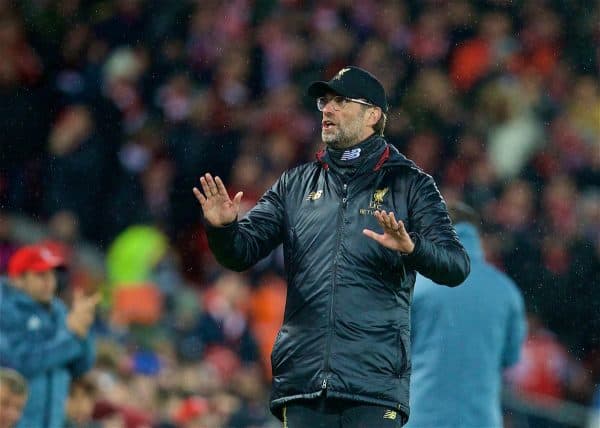 In just over three years, Jurgen Klopp has put together this massively talented squad of players.
The entire first choice back five and first choice front three would each walk into virtually any team in England, quite possibly Europe. With Fabinho and Wijnaldum's recent form, the same may soon be said about the midfield.
It has been a long time since we could make such a proud boast. If you're in any way sceptical about such a claim, how else would you explain that in all of our glorious past, never before has a Liverpool team achieved this many points after 28 games?
Will it prove to be enough after 10 more league games are played? Maybe, maybe not.
But I, for one, believe we have the talent the desire and the self-belief to go all the way.
Let's hope so.