Jurgen Klopp has refuted the suggestion that Jordan Henderson was left out of Liverpool's lineup against Watford after not shaking his hand at Old Trafford.
Henderson's frustration at being brought off in the 0-0 draw with Man United led to him avoiding a customary handshake with Klopp on the touchline.
The manager subsequently brought his captain back, who explained that he was simply applauding supporters, but such is modern football that it was blown out of proportion by the press.
One paper even compared it to the situation between Maurizio Sarri and Kepa Arrizabalaga in an effort to drum up interest, despite there being no story.
Klopp reiterated this on Friday, when he explained that his decision to name Henderson on his bench in the 5-0 win over Watford was purely tactical, and that he took the extraordinary measure of telling the No. 14 beforehand.
"They accept it. I don't think they are happy. In this case, I know that," he said, when asked about his players' reaction to being omitted.
"Hendo played a lot of games this season, then for a while it was a little injury here, problems there, like they all had.
"Milly had them sometimes, Gini, Naby, they all had their problems.
"But the most important thing is how it will fit for the next opponent. That's the first thing I think about.
"Then if more things than one could fit, then you start thinking who maybe needs the rest, or whatever, who is a little bit better in this or this.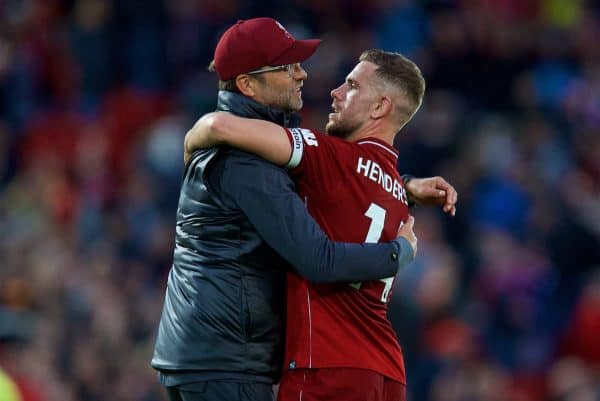 "That's what you think about, but Hendo plays a really, really good season.
"I told him and he looked not happy, but completely OK. Because I think in this situation it was especially important.
"I don't always tell players before the game that they will not play, they realise it.
"I don't walk through the dressing room saying 'you don't play', 'you don't play', 'you don't play', or whatever.
"You see that on the training ground actually, and as a player of Liverpool you know that you don't play all the games pretty much, and that's the normal situation.
"But because of the stories that were made after the United game, because of my reaction, I thought it made sense that I tell him it has nothing to do with that.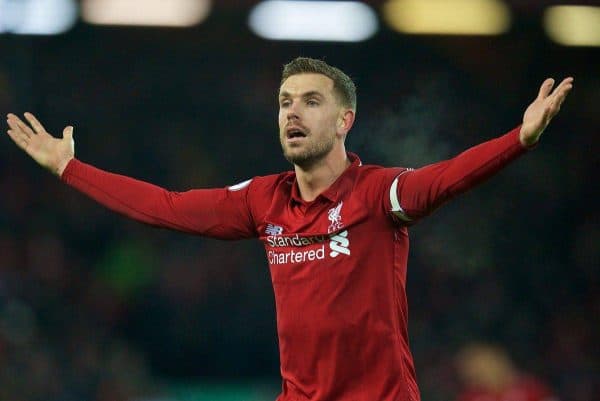 "Because there was nothing, so that's it.
"I don't always tell the players before training if they will play or not. In training they see it, then that's it."
Row over, then. Not that there was one to focus on in the first place.