Liverpool fought back from a goal behind to secure a 4-2 win over Burnley on Sunday, but another controversial decision VAR emerged as a major talking point.
After a draw last time out in the Merseyside derby, a win was non-negotiable for the Reds on Sunday as they looked to keep within striking distance of Manchester City.
An early goal for Burnley, which shouldn't have stood, put Liverpool temporarily on the back foot.
But there was no panic from the home side and two goals for both Roberto Firmino and Sadio Mane either side of half time swung the game in Liverpool's favour and ensured all three points remained at Anfield.
The victory means Jurgen Klopp's side remain one point behind City with eight games remaining.
On hand to breakdown the positives and negatives from Liverpool's win and discuss everything VAR were This Is Anfield's Joanna Durkan (@JoannaDurkan_), Joel Rabinowitz (@joel_archie) and Jeff Goulding (@ShanklysBoys1).
The good…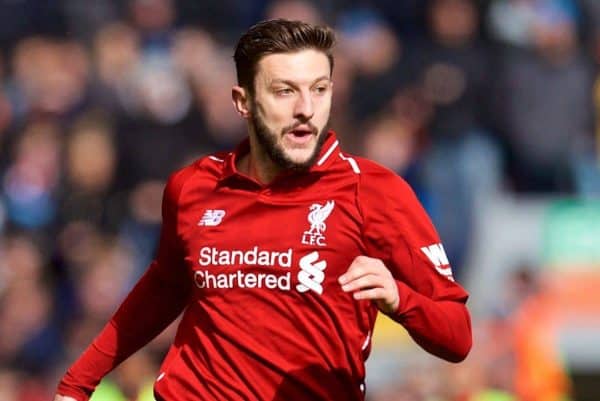 Joel: The way Liverpool responded to the set back of Burnley's early goal and the unfair circumstances of it was really pleasing.
Given the constant extreme pressure of the title race and all the media narrative about Liverpool struggling to cope with it, this was a great show of mental resilience to hit back with two goals before the half hour mark.
Adam Lallana deserves credit for his performance, especially in the first half, where his pressing created the opening for Mane's first goal- he repaid Klopp's faith in selecting him.
Mane, I thought, was the standout performer once again and took both his goals brilliantly. He's been Liverpool's most influential attacker for some weeks now.
Jeff: The important thing for me is the win. We went into that game under immense pressure and I was nervous, but Liverpool dealt with that.
The key thing is that the Reds didn't wilt. Going in ahead at half time 2-1 up was crucial.
Overall it was a great response yet again though and Mane is in contention for golden boot now. He's been immense recently.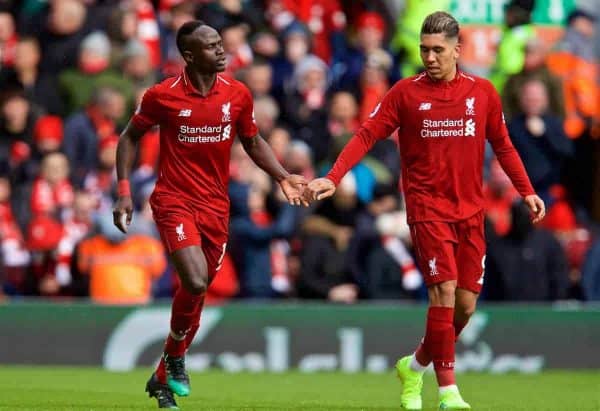 Joanna: For me the most pleasing aspect of the game was Liverpool's ability to pick through a Burnley side intent on frustrating us by any means possible, especially after going behind in controversial circumstances so early on, like Joel mentioned.
We rarely looked troubled and the fluidity which was absent against Everton had returned, meaning there were a number of standout performances across the park.
Virgil van Dijk was as glorious as ever, Mane cannot be stopped at the moment and Mohamed Salah was crucial to victory despite failing to notch an assist or goal having comfortably got the measure of Ben Mee all afternoon.
Roberto Firmino had one of his best games in recent times and it felt like he had covered every blade of grass, very deserving of his two goals and the adulation from the Anfield faithful – the pick of the bunch for me.
But I must also give Lallana credit for his performance, mostly in the first half – he certainly made me eat my words and I'm sure I'm not alone in saying that!
The bad…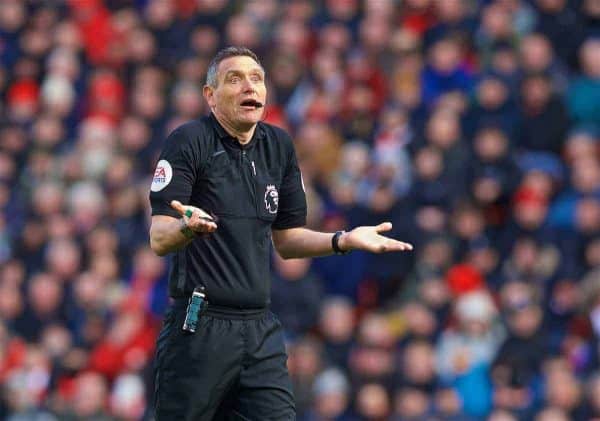 Joel: There's not a huge amount to criticise about Liverpool's performance, although Joel Matip certainly didn't need to head the ball out of play for the corner which Burnley then scored from.
That said, the fact Andre Marriner somehow failed to spot and punish James Tarkowski's clear foul on Alisson was ridiculous.
The goal should never have stood, and while we've seen some dreadful decisions at Anfield in particular this season, this was right up there with the worst.
Jeff: From where I sat, the referee got a few things wrong.
The first goal was a travesty and why is Alisson getting booked for protesting?
If he's an outfield player that doesn't happen. The ref went for his card too early there.
On the atmosphere, I thought it was decent but it definitely got nervy when Burnley got their second goal.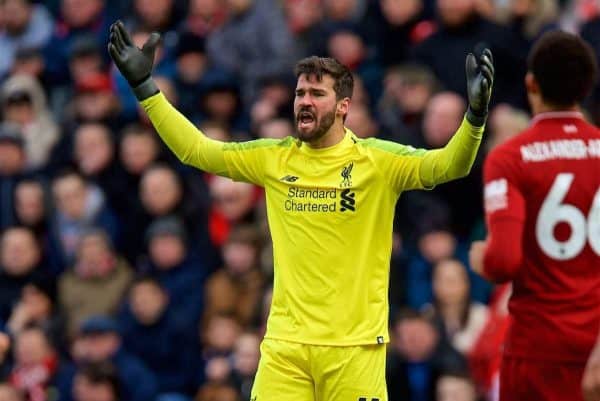 Joanna: The negatives mostly have nothing to do with Liverpool's performance itself but rather the referee, Burnley's time wasting antics and the indecisive weather which was sunny one minute and then cold and windy the next – spring can't come soon enough.
It's safe to say the referee did not have a good game and rightly received sarcastic applause from the crowd when he finally ruled in Liverpool's favour.
For the Reds specifically, however, I thought Matip was the weak link in an otherwise assured performance from Klopp's men.
He was slightly off the pace and got pushed under the ball too often for my liking, and his poor decision led him to needlessly heading the ball out for a corner under no pressure for Burnley's opener.
As Jeff said, the atmosphere was alright throughout but after Burnley got their second goal an instant wave of tension swept over the crowd.
And considering the controversial nature of Burnley's opener, are you for or against the introduction of VAR…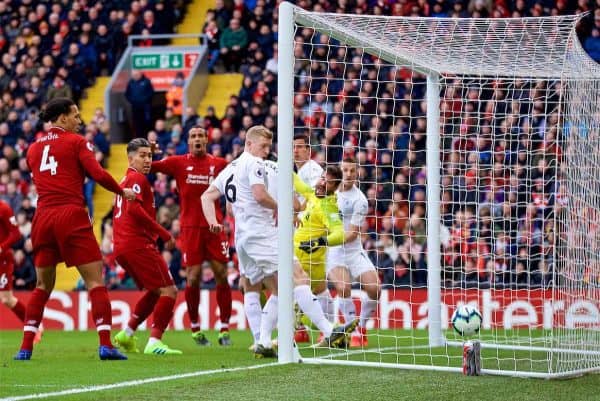 Joel: I've always been pretty vocal in my support for VAR, and the Burnley goal demonstrated exactly why I think it needs to be brought in to the Premier League.
It only takes a matter of seconds for the referee to review the incident and be able to spot the blatant infringement on the goalkeeper and disallow the goal.
Liverpool did well to make sure it didn't influence the result in the end, but moments like that can often define matches.
Yes, it isn't perfect and there are situations (e.g. Man United's penalty vs PSG) where the decision is still ambiguous even after consulting VAR.
Ultimately, though, it allows referees to make better-informed decisions and I think as it becomes more mainstream it'll become much quicker and significantly reduce the number of refereeing errors.
Jeff: In terms of the first goal, I'm still opposed to VAR.
Those things happen in football. I just don't think it adds anything and instead disrupts game too much in my view.
The referee should be able to get that right nine times out of 10 in my view.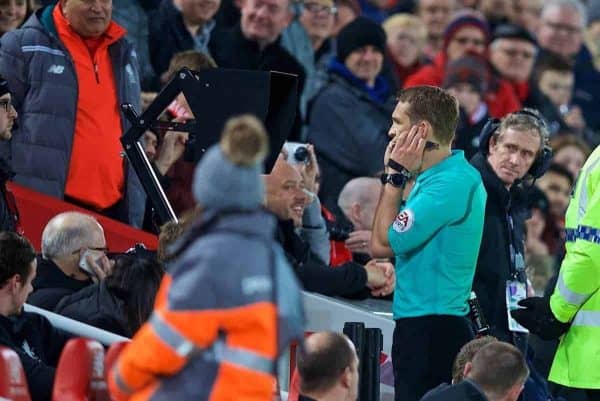 Joanna: I can understand all sides of the debate surrounding VAR and while I have previously had some reservations over it, like the untimely disruption Jeff mentioned, but if it eliminates clear and obvious errors its introduction can only be a good thing.
Thankfully for Liverpool the Burnley goal did not affect the final result but it was again another instance of poor refereeing which had an opportunity to alter the course of the game.
It definitely needs fine tuning such is the subjective nature of football, beyond offside calls, but if the amount of errors can be reduced than the game will be better for it – especially in a sport where the stakes are so high for each and every team.