Liverpool left it late against Spurs — but proved their fortitude and intent by claiming a second successive stoppage-time 2-1 Premier League win.
Liverpool 2-1 Tottenham
Premier League, Anfield
31 March, 2019
Goals: Firmino (assist – Robertson) 16′, Moura 70′, Alderweireld og (assist – Salah) 90′.
Pay another £75m for him, now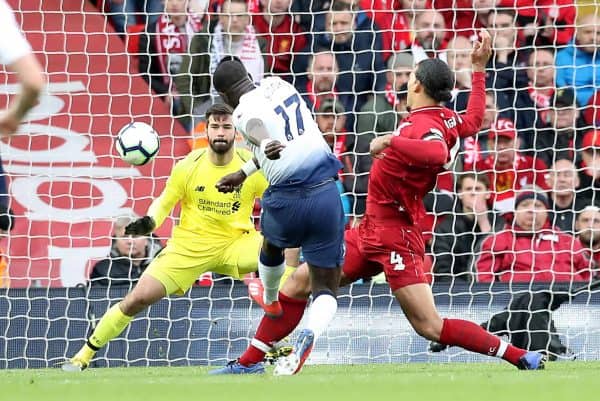 Unless you were a regular in the stands at the San Siro in the 80s and 90s, watching Franco Baresi et al, there's a chance this match showed the finest moment of defending ever seen.
Virgil van Dijk, alone and back-pedalling, was faced with two Spurs attackers. It was 1-1 and the match was winding down—concede, and the title was likely gone.
The Dutchman's reading and decision-making across that ten-second period was the perfect demonstration of how to defend when two-versus-one.
He held Moussa Sissoko at bay, kept the marauding midfielder only able to drive toward goal on his unfavoured left foot, while simultaneously closing off the passing lane to Son Heung-min and keeping close enough so that when the moment came and Sissoko realised he had to try and shoot, he could rush in and hurry the shot.
It was split-second perfect from Van Dijk; even without actually touching the ball, he single-handedly prevented the goal and kept the Reds in the title race.
The rest of his 95 minutes wasn't half bad, either.
Wing-back wonders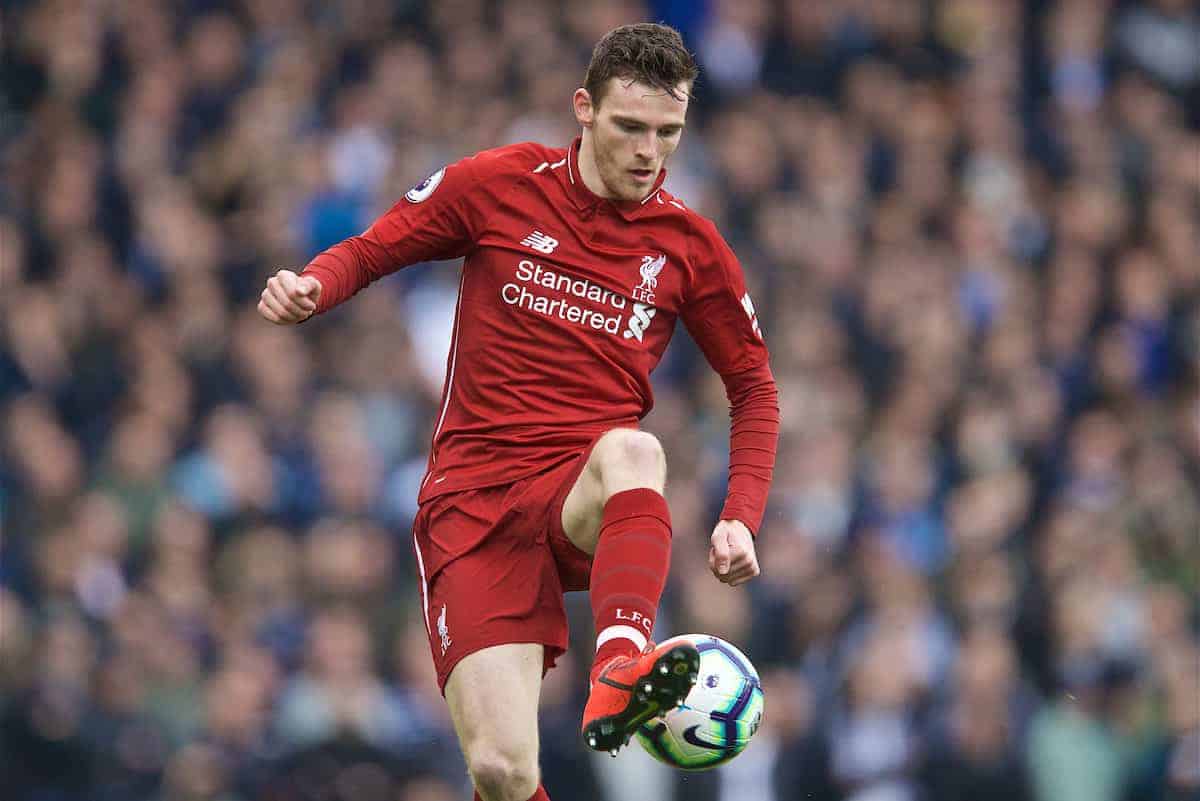 Van Dijk dominated the defence, but yet another massive applause for the attacking intent must go to the Reds' wider options in the backline.
It was Spurs who started with a back three and thus, by name at least, wing-backs—but it was Liverpool's full-back duo who were the more advanced, more scheming, more important and more effective.
For half an hour in the first half, Trent Alexander-Arnold and Andy Robertson had the freedom of Anfield to rove into, deliver dangerous balls and keep the Tottenham lines shifting.
Another fantastic Robbo delivery yielded the opening goal, while it was Trent's corners which troubled Hugo Lloris all game long.
The No. 66 also provided the eventual cross which saw the winning goal bundled in, from Mo Salah's head to Lloris' gloves and, finally, Toby Alderweireld's tired legs.
So much of Liverpool's best build-up play involved the two wide defenders and their use of space, as much as technique on the ball, continues to be vital to the team.
Midfield minefield & no excuse to exclude Fab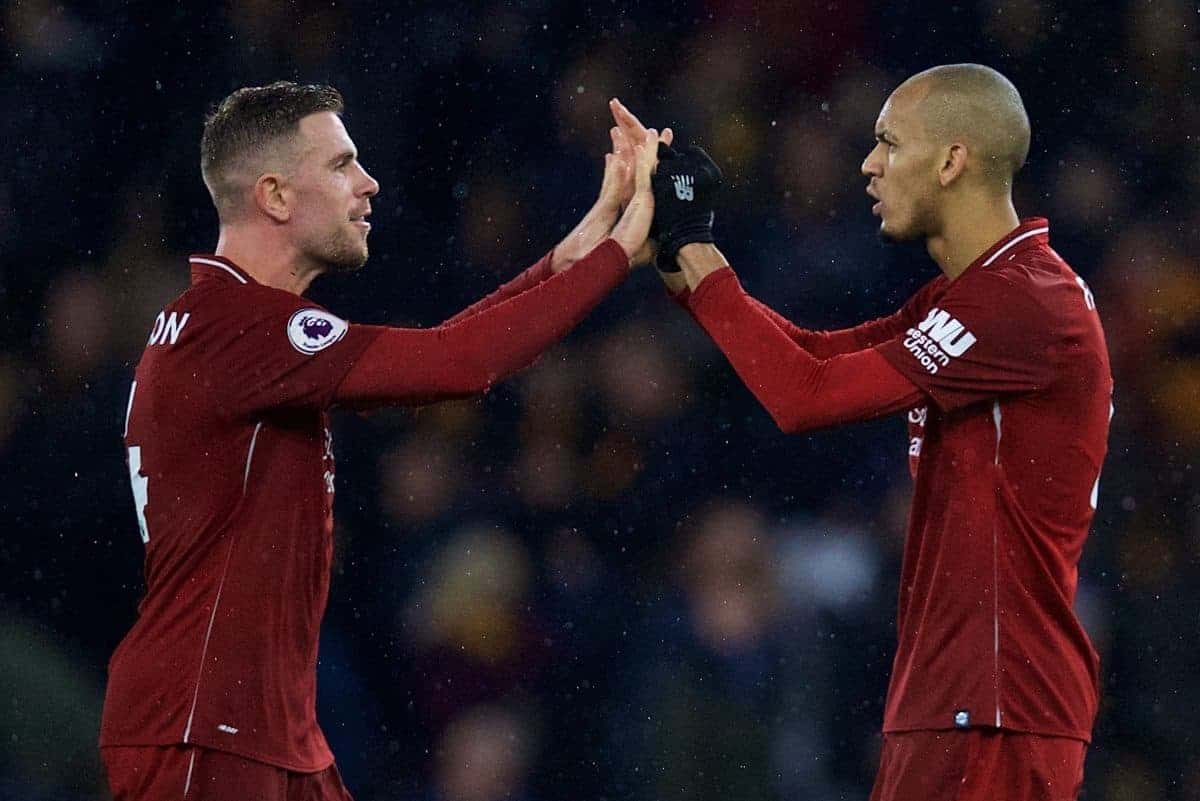 This was not an impressive match in the centre of the park for the Reds.
The opening period was fine, as Liverpool had an overload in numbers—the aforementioned full-backs pushing up meaning three central Reds often matched up against just two opponents, with the other tracking wide—but once Spurs changed, so too did the requirements.
Ball use all game long was largely poor from both James Milner and Jordan Henderson, but neither offered any kind of movement beyond Spurs' own midfield line either.
Gini Wijnaldum did early in the second half, a few times, and then later when stationed out on the right flank, but this was not a controlling performance borne of central dominance.
Two further gripes: Jurgen Klopp left it far too long to change anything, particularly in the centre.
And, for Spurs' equaliser, the captain and vice-captain being stood two metres away and allowing the free-kick to be quickly taken before the team had adjusted and the defence was set, was simply ridiculous.
At 0-0, first half, Lucas Moura showed the Reds exactly how to treat a free-kick: stand in front, stop it being taken until the team is ready.
On the plus side in midfield, the game changed radically and entirely after Fabinho's introduction.
Immediately he brought more aggression, more intent to regain possession and a far greater athleticism in closing, tackling and stopping Spurs' momentum.
There can be no reason remaining, other than injury, to leave him out of the lineup going forward.
Just six heart attacks remaining, then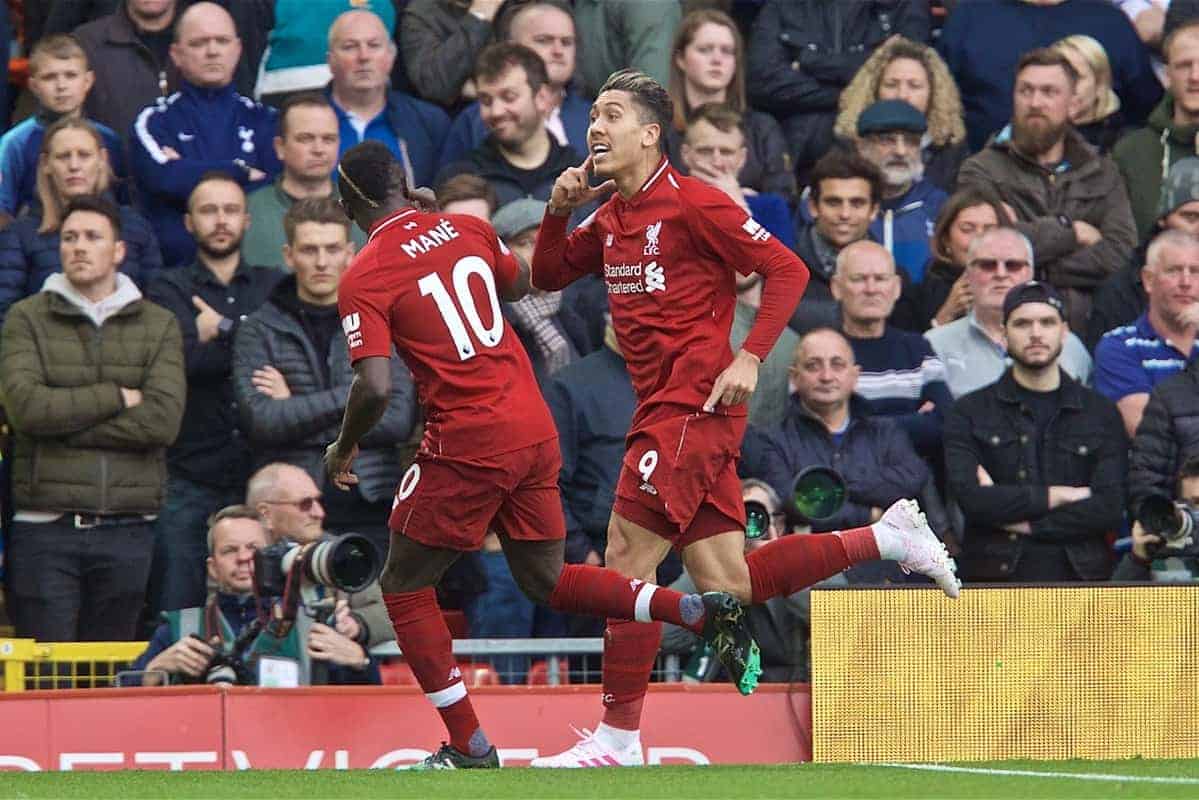 A late 2-1 against a team down in the bottom three; a late 2-1 against a team up in the top three.
So it has ever been: Liverpool will be providing their fans with one anxiety-ridden 90 minutes after another, for the remainder of the season, until glory and silverware are won in unbridled and glorious emotion…or lost in heartbreaking despair.
In fairness, we should expect nothing less.
From essentially his first few games in charge, late goals and dramatic turnarounds have been part of the scene under Klopp.
It's rare a cup is won without final-day emotion and it's not often a league title is won without stress, challenge or drama.
Man City might have steamrollered the Premier League last year, but they had also already sealed the deal in the most dramatic, late and incredible fashion of their own a few years previous.
Cries and memories of throat-tearing "Aguerooooooo"s still echo through the years now; if the Reds are to lift the trophy this year, at last, it's a safe bet there will yet be another nerve-wracking step or six to take first.
Back to the top, but don't underestimate Saints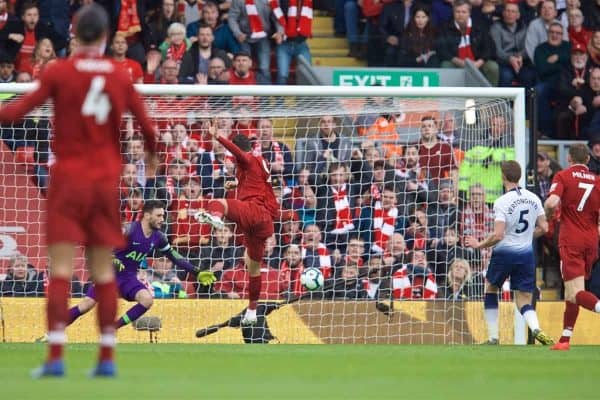 And so, in answer to Man City reclaiming top spot on Saturday, Liverpool have done precisely the same on Sunday.
Regardless of manner or moment, three points is three points—the Reds don't get more for emotion of beating Spurs than City did for a training ground win over Fulham.
Three more on the board, and the next game will be a massive test: away to Southampton.
Recent events will count both for and against the Reds: Saints are down near the bottom, 16th, but three wins in the last four mean they now have a five-point buffer down to the drop zone.
It also means they are in much better form than two or three months ago, with much greater belief and more organisation under the new management.
Another game to face, another challenge to take on, another step to move closer to the ultimate goal.