Andy Robertson and Trent Alexander-Arnold have emerged as Liverpool's key creative forces this season, with a remarkable 21 assists between the pair.
Robertson has 11 assists so far, while Trent has 10 assists and one goal, as the two full-backs have both weighed in heavily in attacking areas—while also forming a crucial part of the strongest defensive unit in the Premier League, conceding just 20 goals in 35 league games.
Both players have experienced a meteoric rise to prominence at Liverpool over the past couple of years, to the point where both can now be considered not only among the finest in their respective positions domestically, but also across Europe.
It was only six years ago that Robertson was plying his trade in the third tier of Scottish football at Queens Park. The £8 million fee Liverpool paid to secure his transfer from relegated Hull, covered by Kevin Stewart's move in the opposite direction, is scarcely believable when considering his market value now.
Trent's development through the academy at his boyhood club is, of course, an inspirational success story of its own.
Jurgen Klopp has overseen the development of both players into core components of the title-chasing side, which has already broken the club's record points tally in the Premier League era.
A fundamental element of Klopp's tactical system

In a Liverpool side increasingly lacking in obvious weaknesses, one of the most frequent talking points this season—and an area often suggested as needing improvement—has been the midfield.
In particular, its supposed lack of creativity and cutting edge in certain types of games.
In the absence of Alex Oxlade-Chamberlain, and with Naby Keita initially taking time to adapt to the physical and tactical demands of his role in the side, Klopp has relied on Jordan Henderson, James Milner and Georginio Wijnaldum as his trusted midfield lieutenants for much of the season.
More recently, Fabinho has been making a significant positive impact throughout the second half of the campaign.
What often gets overlooked in the conversation around Liverpool's workmanlike midfield is that Klopp sacrifices some guile and natural creative spark for players he can trust to cover ground and fill the spaces, to provide the solid foundation for the more gifted attacking players to flourish and play with freedom.
Robertson and Trent have been imperative to Liverpool's attack this season, not just in terms of their exceptional number of assists, but also in their general contribution to build-up play and the way their movement pins back opposition players to help Liverpool dominate high up the pitch.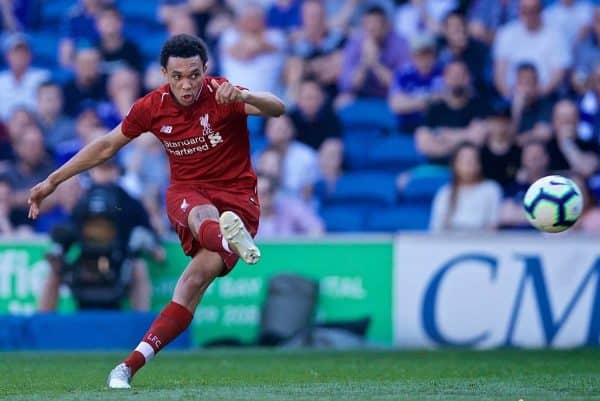 While Klopp has ostensibly shifted between 4-3-3 and 4-2-3-1 this season—largely settling on the former in recent months—in reality, the advanced positions of Robertson and Trent when Liverpool are in possession tends to see Liverpool morph into more of a 2-3-5 type shape.
Robertson and Trent stretch the pitch and will often be found in space by raking, crossfield passes from Virgil van Dijk.
Meanwhile, Sadio Mane and Mohamed Salah usually occupy inside forward spaces where they can frequently get into the box and take up prime goalscoring positions.
Roberto Firmino tends to drop slightly deeper, almost operating at the tip of a diamond midfield, such as was clearly evident in the 2-0 win against Cardiff. From there, he'll link play and feed the ball into Salah and Mane.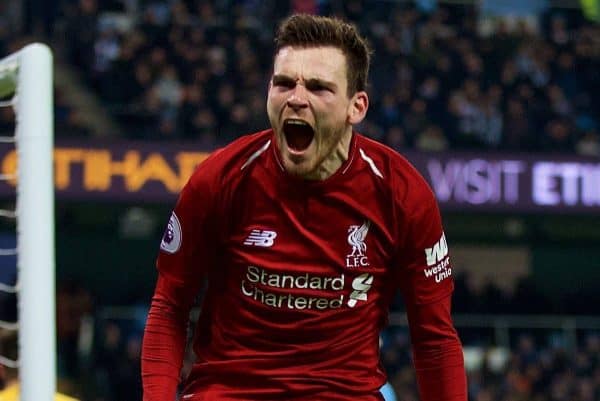 In the 2-1 defeat to Man City at the Etihad, Liverpool's equaliser on the night stemmed from Trent switching the ball to Robertson deep inside the opposition penalty area—perhaps the best evidence so far of the two full-backs operating in tandem to brilliant effect.
It's not dissimilar to the system Pep Guardiola deploys at City, with the major difference being that his wingers occupy much wider starting positions, while the inside forward spaces are occupied by the likes of David Silva and Kevin De Bruyne, pushing forward from midfield.
His full-backs, by contrast, often stay deeper and drift into central areas either side of Fernandinho or Ilkay Gundogan.
While both Robertson and Trent have shown themselves capable of consistently producing quality deliveries into the box, their short, quick passing and well-timed forward runs are a prominent feature of Liverpool's attacking patterns of play.
Trent, in particular, has an excellent understanding with Salah down the right and will often play lofted, arching passes into the channel for him to chase.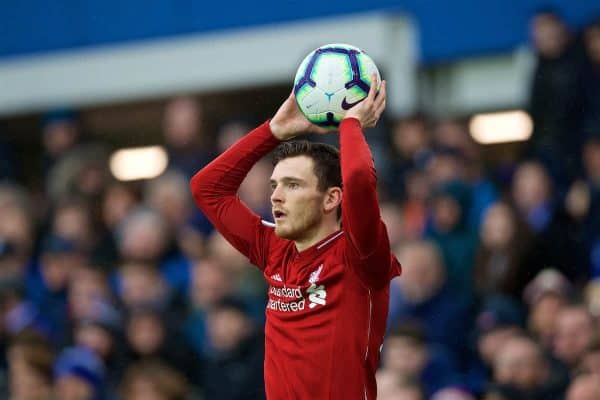 Robertson, meanwhile, has a similar relationship on the left with Mane, and more recently, Keita, forming passing triangles which occupy opposition defenders and create spaces for others to move into.
As the old Rafa Benitez 'blanket' analogy goes, teams can only cover so much of the pitch and, while usually teams will leave opposition full-backs free to have the ball, Robertson and Trent have taken advantage of this by frequently punishing sides when given the space in which to operate.
The system facilitates having the full-backs as such a potent attacking weapon, and perhaps that explains some of Klopp's seemingly conservative selections in midfield this season, as he knows his main source creativity comes from unorthodox areas with Robertson and Trent.
Crunching the numbers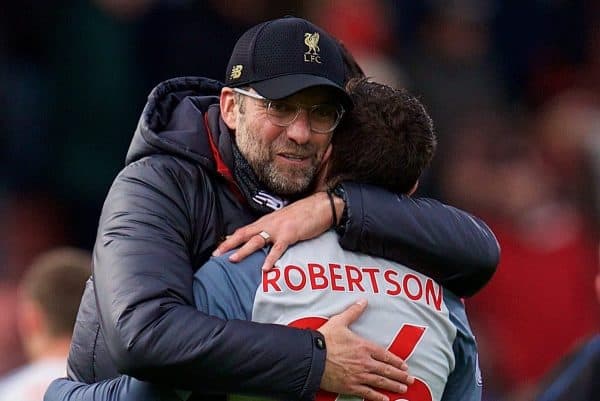 Robertson and Trent's assist numbers are impressive enough by themselves, but their productivity in comparison to the rest of the league illustrates just how phenomenal a season both players have had.
Only Eden Hazard (13), Christian Eriksen (12), Ryan Fraser (12) and Leroy Sane (10) have more assists in the league than Robertson's nine, which is level with Raheem Sterling and Paul Pogba.
Trent, meanwhile, is just one behind on eight assists, level with Sergio Aguero, Alexandre Lacazette, Callum Wilson and Joao Moutinho, while Robertson and Trent are first and second in Liverpool's own assists table, with Salah third place on nine.
Notably, then, both Robertson and Trent are in esteemed company alongside the Premier League's finest attacking players, and some distance ahead of any other defenders in this department.
Assists, of course, don't always tell the full story, as a great chance can be missed by a forward's poor finishing, while a simple pass can register as an assist if a player fires one in from 30-yards out.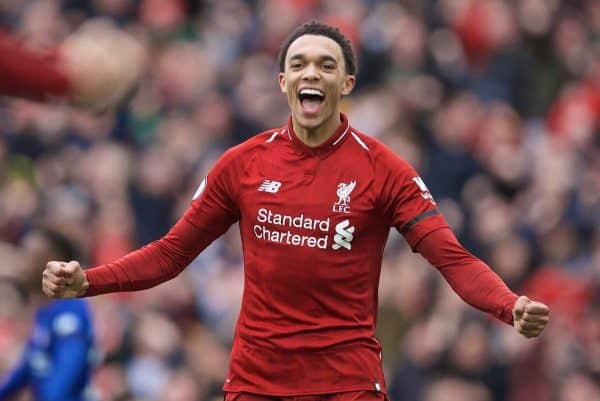 However, both Robertson and Trent still rank among the top 10 in the league for big chances created, with 11 and eight respectively, suggesting that their assists tallies are no fluke, but instead reflect the quality of their creative output by making chances which are very likely to be converted.
For context, no other full-back in the league has more than five assists and only Salah (14) has created more big chances for Liverpool than Robertson and Trent this season.
Stylistically, there are some notable differences between Robertson and Trent's playing styles, even if both perform similar functions for the team.


Notably, Trent attempts twice as many crosses as Robertson per 90, which suggests the Scotsman is more selective of his opportunities to cross the ball into the box, while Trent plays the percentages with a greater volume of attempts.
Robertson also tends to play more short passes, while Trent completes more accurate long balls, therefore illustrating how Robertson involves himself more in intricate pass-and-move build-up play, while Trent often looks for the more direct option in behind.
While Trent poses a greater goal threat than Robertson, especially from set pieces, Robertson is currently more adept at driving with the ball and taking players on.
Both players are extremely well-balanced in their skill sets, though both do have certain aspects of their game they can still improve on in an attacking sense, despite their superb output throughout this campaign.
A tantalising prospect for next season.
Risk of burnout and the need for future backup options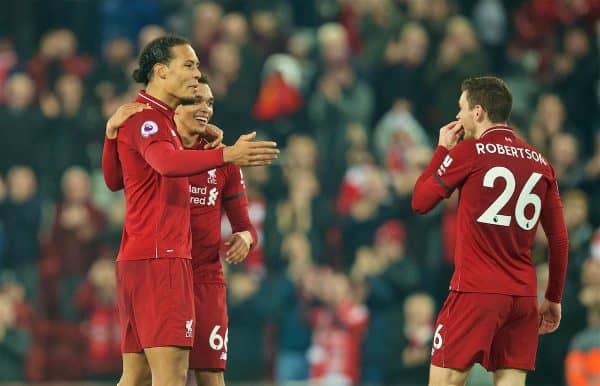 While Trent ranks sixth for average distance run per 90 minutes for Liverpool (9.47km), Robertson is way out in front ahead of the rest of the squad, covering an average of 10.47km per 90.
The extent of the physical demands on the full-backs in Klopp's system are clear, therefore, and an extraordinary degree of speed and endurance is required to sustain such a workload with very little rotation throughout an entire season, especially given the intensity Liverpool play with.
Only Alisson, Van Dijk and Salah have played more minutes than Robertson in the league this season, while Trent has also played the most intense season of his career so far—coming off the back of a World Cup campaign last summer.
The injury to Joe Gomez in December, along with Alberto Moreno falling well out of contention and Nathaniel Clyne joining Bournemouth on loan, has meant that Klopp has been light on options to rotate his fullbacks this season, which perhaps explains why Robertson and Trent have looked somewhat leggy at times recently.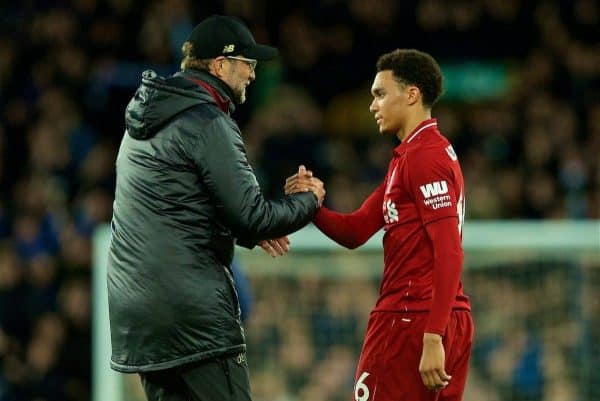 Both players have been run into the ground, and while Milner has proved an able deputy in either role when required, he is 33, and his contract expires this summer, with no news yet of a possible extension.
Backup options in the full-back positions are a clear area to address in the summer transfer window, as Liverpool cannot expect Robertson and Trent to sustain their best levels of performance again for an entire season without a serious risk of injury and fatigue setting in at some stage.
Given the quality of both players, and their importance to the side, it seems highly unlikely Klopp would spend big to bring in competition for either place.
Thus, promotion from within the academy—with the likes of Adam Lewis coming through—or another young prospect with potential from elsewhere would seem the more likely options.
In Robertson and Trent, Liverpool are blessed with two of the finest full-backs the club has seen, with the potential to be two of the best around for many years to come.
The next step is to ensure they have capable understudies to share the workload next season and beyond.