Liverpool countered Barcelona's first leg 4-4-2 with a display of intense pressing and energy which came from the stands as well as from the pitch.
Who wants to read about tactics after that? Maybe no one, possibly everyone.
Seeing as Jurgen Klopp's tactics are intertwined with everything else, rather than being a tactical analysis this is an article about football, and being drunk on football, as Liverpool supporters everywhere were on Tuesday night.
A depleted 4-3-3 formation took to the pitch minus three players you'd bank on to make a difference against Barcelona—Roberto Firmino, Mohamed Salah and Naby Keita.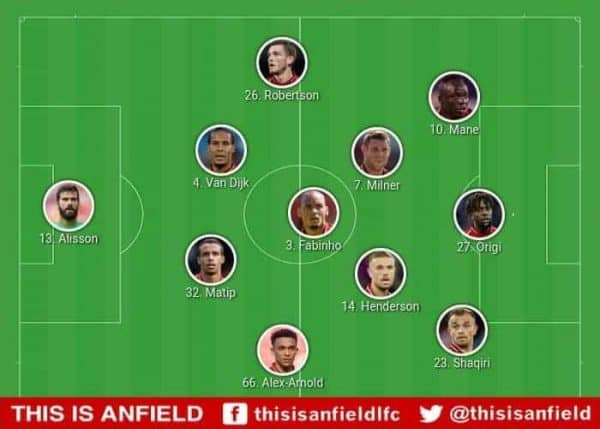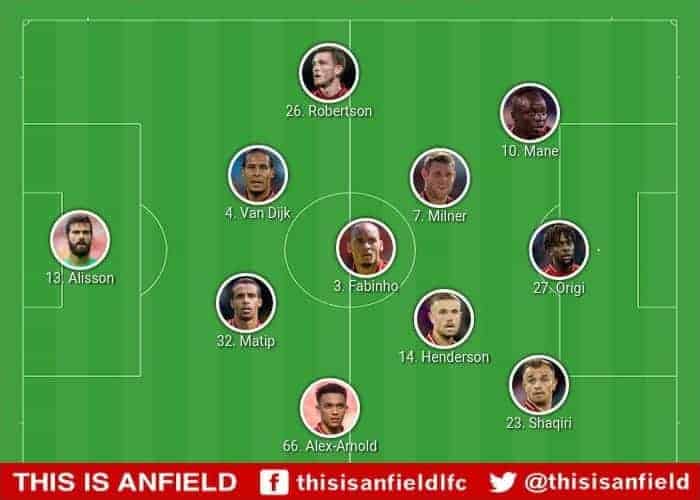 It was a rallying call to see which players were available to play and who had the required match fitness to do so.
Alex Oxlade-Chamberlain missed out due to the latter, Georginio Wijnaldum sat on the bench, while many others suffered during the game itself.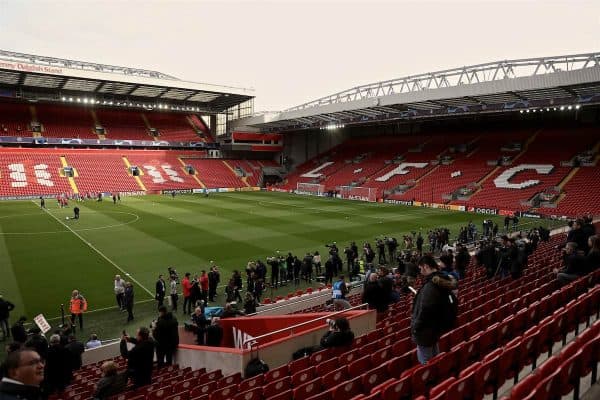 Fans were scattered around a mostly empty Anfield as Liverpool came out for their warmup, but the noise which greeted them was the first hint that something special was about to happen.
If these pockets of fans could make this amount of noise for players warming up, then imagine what a full stadium could do 45 minutes later once the real football starts.
"Where's your famous atmosphere?"
There.
Seek & Destroy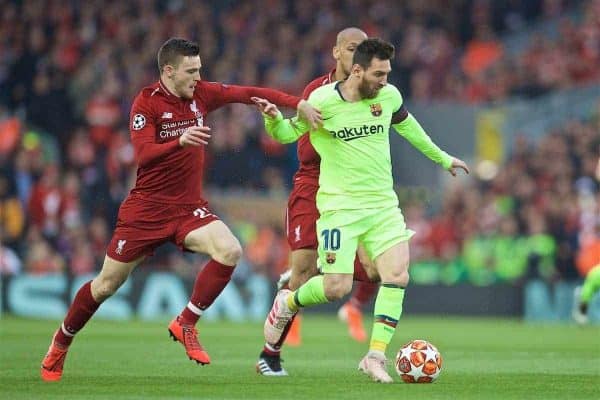 Liverpool pressed relentlessly from the off, led by Sadio Mane who played mainly from the left but regularly switched positions with centre-forward Divock Origi.
Mane put in a shift for himself, plus one for Firmino, one for Salah, one for Oxlade-Chamberlain and one for Keita. Only one player has run further in this season's Champions League (another former Southampton man, Ajax's Dusan Tadic).
Up front Origi can cover ground like the best of them if nothing else, but in this game he had everything else too. Holdup play, linkup play, and most importantly goals. Two goals.
Including the excellent, more-difficult-than-it-looked finish from Trent Alexander-Arnold's quick corner.
The play of Origi and Mane was important on both sides of the ball. They helped win it back in dangerous areas but they also helped keep it in dangerous areas.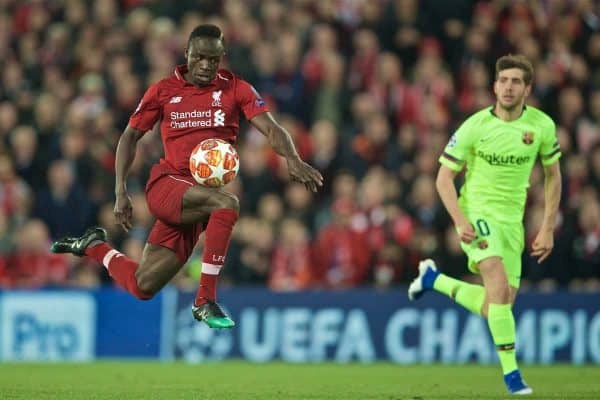 Mane was dispossessed a total of five times, but Mane dispossessed is arguably just as dangerous as Mane possessed.
The Senegalese completed as many dribbles as Lionel Messi, with four, and Origi wasn't far behind on three.
They were beating men in dangerous areas, in their own half and the opposition's, increasing the danger Liverpool posed.
Fabinho held fort in the middle as James Milner, Jordan Henderson, Trent Alexander-Arnold and Andy Robertson went out on their seek-and-destroy missions. There is no escape and that is for sure.
The Brazilian went from heavily involved to colossal: no shots, no key passes, no dribbles, but 90 percent pass completion, four tackles won and one Luis Suarez riled.
A position-defining performance in a midfield containing Sergio Busquets, one of the best ever in the role.
Fabinho ? Luis Suarez

A battle well worth keeping an eye on ? pic.twitter.com/p42k35UY6x

— Football on BT Sport (@btsportfootball) 7 May 2019
Fabinho recovered the ball 11 times, the same amount as Alexander-Arnold, and just a couple less than the leader in this particular stat, Milner, who made 13 recoveries.

Cranked Up Really High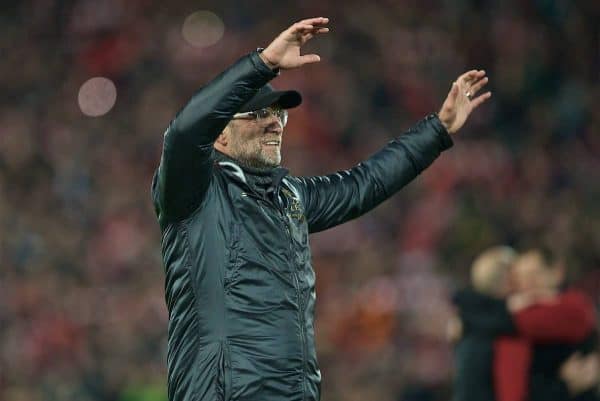 When asked if he could explain how Barcelona lost this game, their manager Ernesto Valverde may have surprised a few with his answer: "Yes."
"Liverpool pressed us really high, they took risks and we couldn't settle," he explained.
"Like any game if opposition put you under huge pressure and get the ball near your box, then this is what going to happen. We gave the ball away too close to our own area.
"They were really driven on by the support of their own fans. They pushed us hard. Morale-wise it was difficult to pick ourselves up."
Liverpool find spaces in transition, catching the opposition between two minds, closing down their space and creating spaces of their own.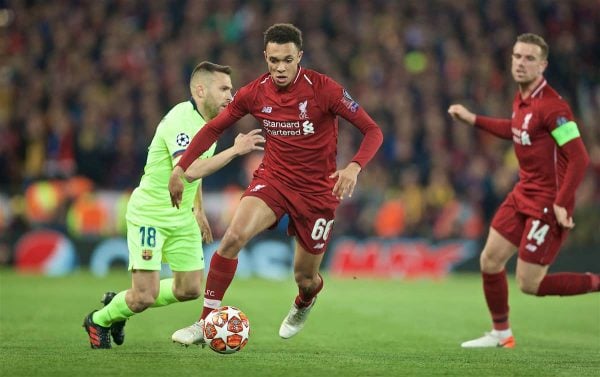 Counter-pressing sees the potential space rather than creating it through neat passing patterns or through taking opposition players out of the game through dribbling.
It takes multiple players out of the game as traps are set all over the pitch. Once a player is in this trap it takes a few moments for them to get out.
Lose the ball and Liverpool are gone, already mounting attack before the opposition have even had chance to think about defence.
The first goal comes from a Matip long pass which looks like it will be easily intercepted by Jordi Alba, but Mane has other ideas and reads Alba's header to win the ball in the most dangerous of areas: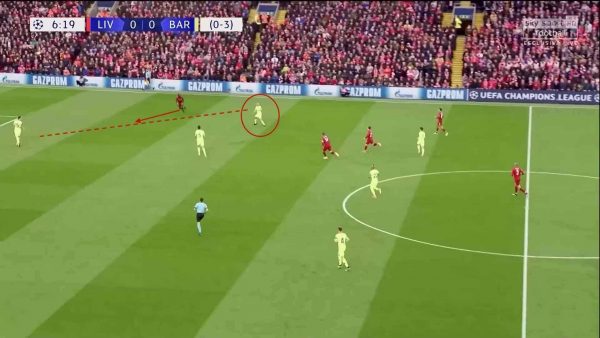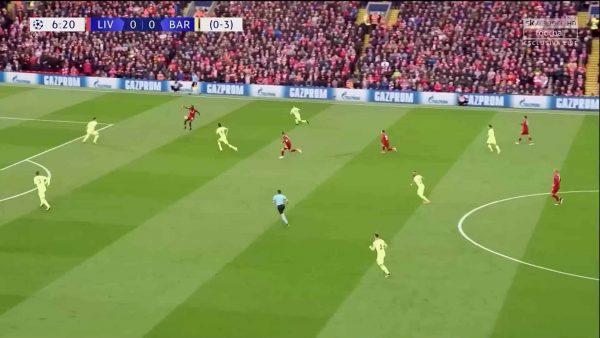 A stray Alexander-Arnold header means Barcelona are in possession shortly before the second goal is scored, but Liverpool are on their case straight away.
Trent, Henderson, and Origi all close the space immediately. The reaction is natural and immediate, as they have been trained for scenarios like this.
Ivan Rakitic feels the pressure and makes a loose pass to Alba who is then tackled by Alexander-Arnold: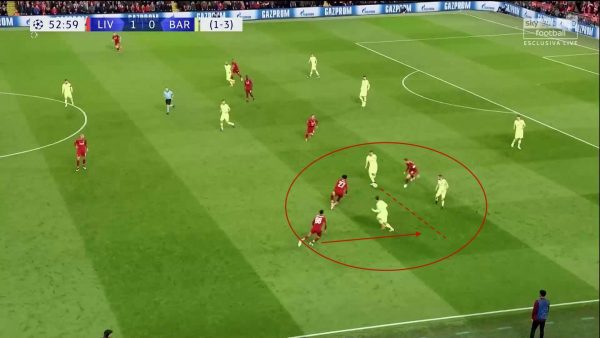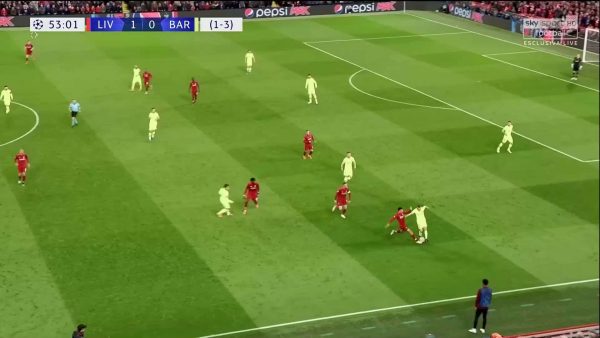 The first two goals came through moments where Barcelona, for a split-second, thought they had won the ball back.
Their minds shifted briefly from defence to attack, enough to catch them unawares and allow Liverpool players the time to do damage.
And the fourth goal, from Trent's "genius" corner kick, was an even bigger example of a team not being switched on enough to defend danger.
Liverpool's pressing is an organism, an individual animal. It wouldn't work otherwise. On nights like that the supporters in Anfield are part of it, as Valverde alluded to in his comments.
It's for this reason the intensity and the plan remain the same even if the personnel change. The gegenpressing was cranked up as high as it's ever been, and the intensity took its toll on Liverpool as well as Barcelona.
Henderson took a kick to the knee cap, Robertson was caught by a Suarez stray boot and both Mane and Virgil van Dijk looked to have picked up knocks at stages in the game.
"We will try to collect the bones and go again against Wolves," said Klopp following the carnage.
Robertson was withdrawn at half-time, but it just so happened that this change changed the game, or at least the player coming off the bench for the second half did.
The Mentality Giants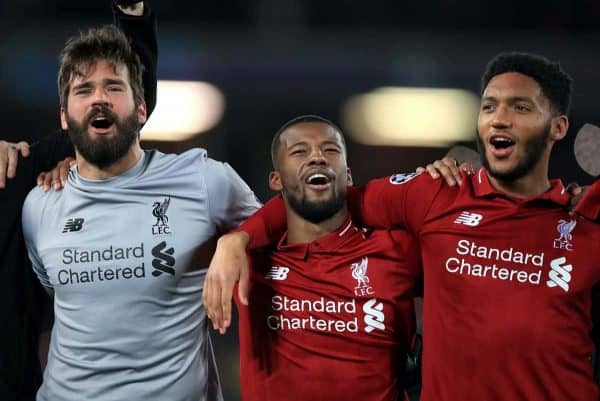 In the absence of Keita and Oxlade-Chamberlain, Georginio Wijnaldum is the best Liverpool have bursting forward from central midfield positions into attacking ones.
So much so that Klopp even tested him as a centre-forward in the away leg, a test which failed, but here the Dutchman was flying.
During his time at Dortmund, Klopp coined the phrase Mentalitätsmonster, which after this win he translated into English as "mentality giants," with added post-watershed flair for the BT Sport cameras.
You could go through every player in the team and apply the term, but there was an almost literal giant between the posts for Liverpool.
Alisson saved two 'big chances', according to Opta, from Jordi Alba and Luis Suarez, and made two further saves from Lionel Messi. And, let's face it, all Messi shots are big chances regardless of what Opta says.
Towards the end of the game, once Joe Gomez became the third player to play left-back for Liverpool during 98 unbelievable minutes, the shape shifted closer to a 4-2-3-1 with Wijnaldum as the No. 10.
But regardless of the formation it was all hands to the pump, everyone working for each other and everyone having a share of the rewards.
Two-legged xG map for Liverpool – Barcelona

Both legs were the same story — not complete dominance like the score suggested, but the home team was better and all the finishing went the same direction. Overall basically even, but that's not what made it a classic. pic.twitter.com/nDdg9BsPxi

— Caley Graphics (@Caley_graphics) May 7, 2019
Across the two legs the xG was even, but Anfield gave Liverpool the edge, and even the Barcelona fans applauded as the players made their way off the pitch and the fans finally headed for the exits, long after the final whistle had blown.