According to reports in Andy Robertson's native Scotland, scans on the Liverpool left-back's calf injury have provided positive news ahead of the final two games.
Robertson was brought off at half-time in Tuesday night's incredible 4-0 victory over Barcelona, with his replacement Gini Wijnaldum scoring twice in three minutes at Anfield.
Despite the impact of Wijnaldum, and the performance of James Milner after taking over at left-back, concerns over the Scot's fitness mounted as the euphoria settled slightly.
Speaking after the game, Robertson himself said he would be "saying his prayers" as he awaited a scan at Melwood on Wednesday morning to determine the extent of his injury, picked up after a kick from Luis Suarez.
"They're confident that it's just a nerve or whatever and it can be maybe a couple of days, but we'll wait and see," he explained.
Fortunately, claim the Daily Record, this appears to be the case, as they report that the results "confirmed that there was no ligament damage or break detected."
They add that further tests are required on Thursday, but "the player and Liverpool medical staff believe there is no serious damage."
Whether their information comes directly from Robertson remains to be seen, but given the nature of their exclusive it suggests that this is credible.
No outcome has been confirmed by the club, and is unlikely to be prior to Jurgen Klopp's pre-Wolves press conference later this week, but the hope will be that the 25-year-old is fit for the Champions League final.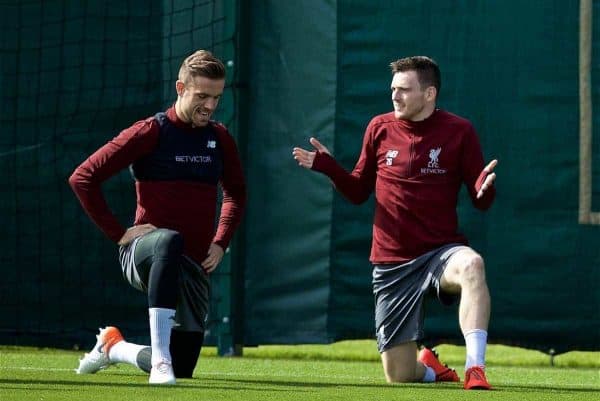 The Daily Record add that Robertson is "unlikely to be risked" against Nuno Espirito Santo's Wolves despite the importance of the final-day Premier League clash.
Milner is available as deputy, with the strength of Klopp's midfield ranks—hopefully boosted by Alex Oxlade-Chamberlain, who the manager claims was "rested" in midweek—able to cover for his role change.
There are just over three weeks until the final against Tottenham in Madrid which provides Robertson, and hopefully Roberto Firmino, welcome time to recover.