The league title eluded the record-breaking Reds on the final day, but there was still plenty of positives to discuss at Anfield.
Liverpool drew the curtains on their 2018/19 Premier League season with a 2-0 win over Wolves, a result which saw Jurgen Klopp's men finish as runners-up with an astonishing 97 points – the third highest points total in English football history.
A Sadio Mane goal on either side of the half-time interval ensured Liverpool ended what has been a remarkable season on a winning note, in front of the Anfield crowd who were bursting with pride at full-time.
While City's victory at Brighton saw the title head their way, the Reds remain in the hunt for silverware of their own as Tottenham await in the Champions League final in less than three weeks' time.
This Is Anfield's Joanna Durkan (@JoannaDurkan_) and Matt Ladson (@mattladson) were joined by Aaron Cutler (@aaron_cutler) to delve into the highs and lows from the win, and sum up Liverpool's incredible league campaign.
The good…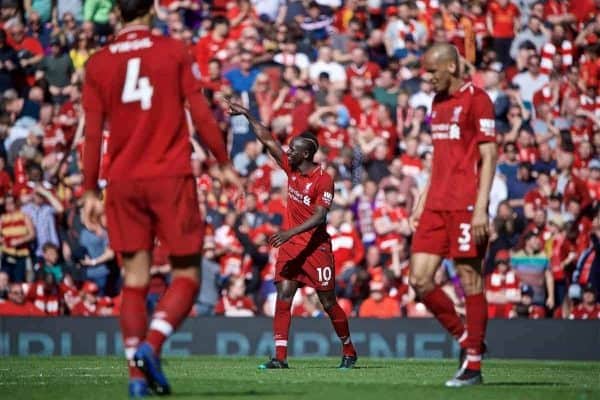 AARON: The significance of this victory shouldn't be lost on anyone, despite the circumstances surrounding the game.
Wolves are a top side who have made life difficult for the 'big six' all year.
Given the pressure of the occasion and the enormity of Tuesday, winning in the manner we did was commendable.
The enduring image of the day however will be the defiance of The Kop in those closing stages.
These boys have given everything to notch number 19 and despite falling agonisingly short, deserved that ovation.
JOANNA: First of all, we held up our end of the bargain and finished with 97 points – which is all you could have asked for once we lost the control of the title race.
It was never going to be an easy game against Wolves, yet we managed to notch our ninth straight league win without being at our best.
Individually speaking, Joel Matip was again a class above and Trent Alexander-Arnold continued to leave me amazed as his goalscoring contributions continued.
On the whole there were so many reasons to celebrate post-game and it was heart-warming to see the reception the players received from all corners of Anfield – who were as defiant as they were proud throughout the entire day.
And as much I don't want to mention it, that 83-second period in the first half was glorious.
Hopefully that feeling is one which we can hold onto for a lot longer come the end of May next year!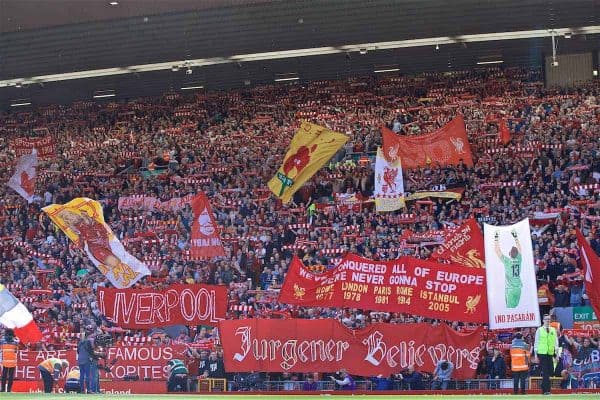 MATT: As Aaron rightly says, the Kop's defiant 'we shall not be moved' was the highlight of the day for me. Absolutely that is the mentality to take from this season.
Trent's two deliveries were exquisite again – as somebody who has long anticipated a move to midfield eventually for him, it's becoming trickier to tell if that will happen such is his excellence out wide.
I agree with Joanna on Matip, he's put up a good question as to whether we need to sign a centre-back this summer now.
A word also on Alisson who made two superb saves once again, ensuring he broke Pepe Reina's record and took home the golden glove on his debut season. Impressive.
The bad…?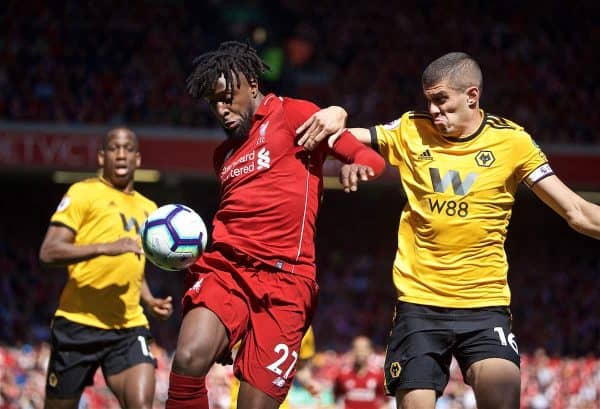 AARON: We had a ropey 20 minutes or so when (bad) news filtered through from the Amex Stadium but that was understandable.
Elsewhere, Robertson wasn't quite at his barnstorming best and didn't look completely fit.
In fact had the fixture not had so much riding on it I'm convinced he would have been rested ahead of Madrid…
Finally I was a little disappointed that Daniel Sturridge never got a run-out and the send-off he deserved from The Kop.
JOANNA: The negatives from the game itself were clear really.
With only two changes to the team from midweek it was always going to turn into a bit of slog when news filtered through of City's score, as Aaron mentioned.
It meant we were guilty of sloppy play, especially towards the end of the first half, which saw Robertson have a rare off day and invited Wolves to have a go.
But, after picking up the our 30th win of the season there isn't a lot to dwell on beyond the lack of silverware at the end of it all.
I do have to agree with Aaron that it was a shame that Sturridge didn't have a final bow at Anfield, I will always be grateful of his efforts in 2013/14.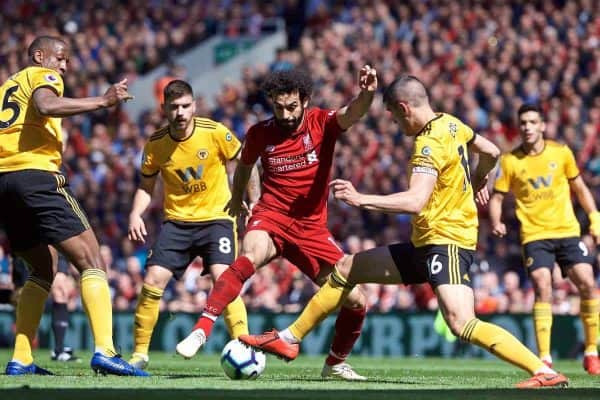 MATT: Yeah, we didn't play particularly well at all, but it was a strange occasion to play in, particularly after the exploits of Tuesday.
Everybody looked very leggy early on, which made the lack of early subs a bit surprising. I felt that Oxlade-Chamberlain coming on earlier would have made a lot of sense.
I'm not particularly bothered that Sturridge didn't get on, that shows Klopp's lack of room for sentimentality and that pleases me – we need to be ruthless now to continue this closing the gap on City; there's some in this squad who need moving on and we cannot afford to stand still in the transfer market.
…and although there was to be no title, how do you sum up Liverpool's season?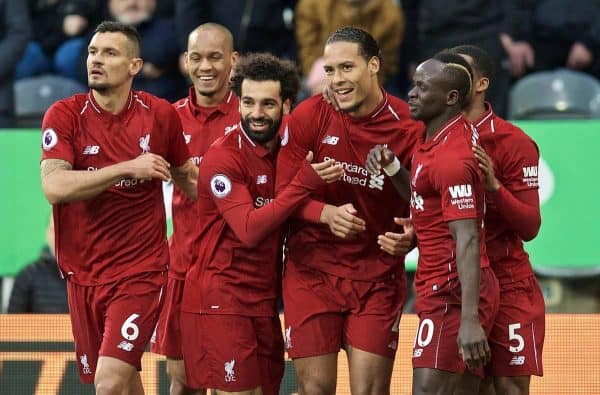 AARON: This has been an extraordinary season and one we may not see the likes of again.
It has taken a herculean effort to accrue 97 points and it's just heartbreaking to think that eye-watering figure still saw us fall short.
When the dust settles, however, nobody can dare criticise this squad or manager.
We have shown incredible consistency and produced memories that will live long in the memory. It hurts now and will do for some time but we cannot have asked anymore.
My only concern is the bigger picture and whether any side, Liverpool included, can push as close Manchester City as close in the coming years…
JOANNA: The word which comes to mind is bittersweet.
Unbeaten at Anfield. 97 points. Only one defeat. The best defensive record with 22 goals conceded, leading to Alisson's Golden Glove after finishing with 21 clean sheets. A shared Golden Boot. And a Red named the Premier League Player of the Season – yet no title.
With few blemishes on their record it's easy to pinpoint moments and games where it went wrong, but at the end of the day it was a historic season for Liverpool and nothing should detract from that.
As a supporter it has been one of the best I have ever experienced and I have no doubts that this team is capable of ending the drought sooner rather than later.
In the modern era it is rare for a Premier League team to go the distance domestically and in Europe, but Liverpool have done just that.
And it means there is still a shot at glory this season, and this team deserves to go out in style after giving us all some of the best days and nights of our lives.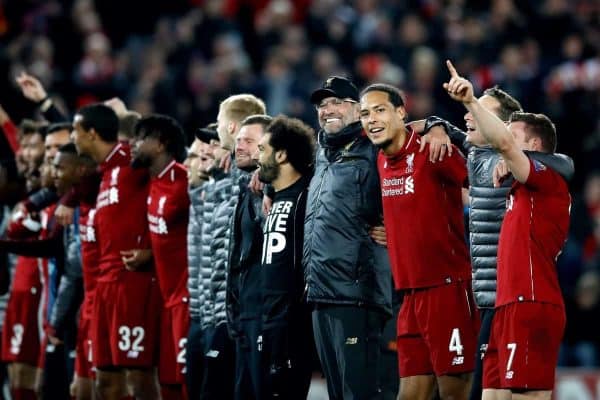 MATT: It's difficult to sum up the season just yet as the outcome will ultimately be determined by what happens in Madrid. However, nobody should overlook just how incredible this squad have performed in the league.
Klopp, the coaching staff, every single player, the fans, have given their absolute all. There is nothing more they could have done.
I honestly cannot describe how stupid somebody must be to say we "threw it away" or "fucked it up" – it's absolute nonsense. We won our last 10 games in a row. We lost once all season. We forced last-minute winners. We achieved the most points in the club's entire history. We set records left, right and centre.
Up the Reds, see you in Madrid.