Liverpool face Newcastle at St James' Park on Saturday night, but do Magpies supporters think they can end the Reds' title dream?
The Reds lost 3-0 at Barcelona in cruel fashion on Wednesday evening, but focus must swiftly return to Premier League duties.
Jurgen Klopp's side trail Man City by a point with two matches remaining and only a win at St James' Park will do.
The match sees Rafa Benitez come up against his former club and Liverpool supporters will no doubt be hoping his sentimental side takes over for one night only.
Ahead of the game, we spoke to Newcastle fan Dan Saunders (@_saunders_1997) to get his thoughts on both sides' seasons and where Saturday's meeting could be won and lost.
Newcastle have secured another season in the Premier League—how happy are you with the season as a whole?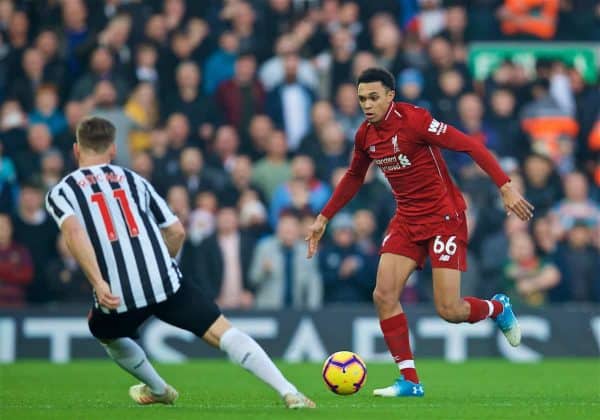 Having started the season so poorly I think the feeling around the city is mainly just relief.
Having not won a single game until Watford in November, its quite remarkable we've managed to amass 42 points with two games remaining.
In context, with the issues surrounding the owner and finances, I think we've exceeded expectations, but there's still the undertone of frustration running through the fanbase.
National media outlets often report on Newcastle fans' 'unrealistic expectations', and talk about the fanbase as if the majority of us feel we are 'entitled' to be challenging for the top four and winning trophies every season, which is simply unfounded.
Of course, there is a small percentage of the fanbase that demands heaven and earth, but the vast majority of us just want the money that is clearly available to be handed over to Rafa Benitez, who has a track record of securing bargains in the transfer market.
The season has been great considering what Benitez had at his disposal, but could have been so much more, if Mike Ashley kept his word or sold up.
How pleased are you with the job Benitez is doing? And are you concerned about his future?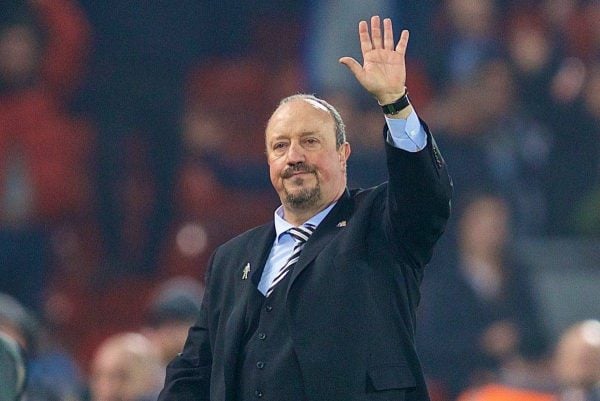 The job Rafa has done really cannot be underestimated.
Outsiders may see 2018/19 as an underwhelming season, where Benitez has just led the club to mid-table obscurity, but with the current climate of the club and everything going on in the background, to keep the club in the league, never mind reach mid-table, is an incredible achievement.
Benitez is already held in similar regard to Sir Bobby Robson and Kevin Keegan, which tells you everything about how well he has done.
Some football fans might put the relegation in the 2015/16 season down to Benitez, which would be extremely harsh as the damage had already been done by Steve McClaren.
In the three seasons since, Benitez has won the Championship, led the team to a 10th-place Premier League finish and guided us to another mid-table finish this season. All on a shoestring budget.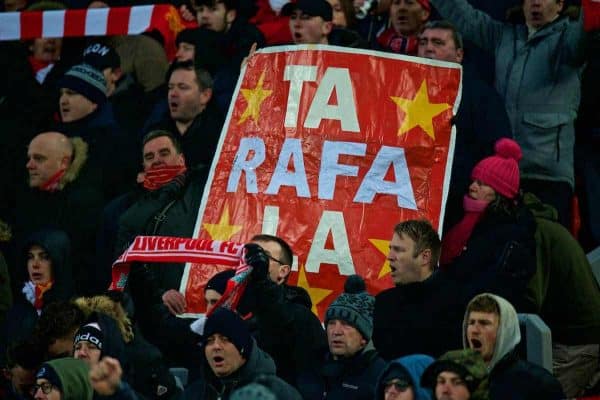 I think every single one of us is petrified at what is going to happen next. We have one of the most successful managers in world football, who is basically being allowed to leave the club because the board are so stubborn.
Noises coming out of the club lead us to believe Benitez wants us to stay, but needs assurances first, which he still hasn't received. His post-match interviews after the victory over Southampton were extremely telling.
He came out and said exactly what he wanted: to challenge teams between seventh and 10th, rather than 15th and 17th.
Is this really that much to ask for, for a club of this size?
If Benitez is forced to leave, not one Newcastle fan would blame him, but it would be the final straw for many fans until Ashley sells the club.
What is it that makes the Spaniard so popular? We obviously loved him at Liverpool, and still do.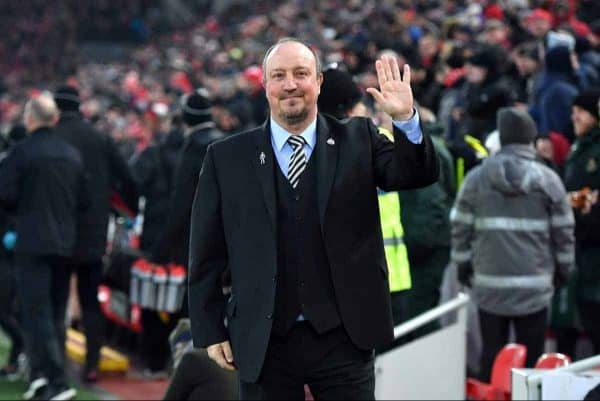 Over the past 10 years, our managers have been lucky to have Newcastle, but now we are lucky to have this manager.
This is the big difference with Benitez, compared to the likes of McClaren and Alan Pardew.
Rafa owes us nothing, and for the first time in a number of years our manager isn't just a 'yes man' and challenges the board to show the ambition the club is befitting of.
Not only have results on the pitch led to Benitez becoming a 'legend' at the club, but the speed at which he went about developing a relationship with the local area, community and charities have meant his stock has risen even further.
Even though Benitez is not from Newcastle, and has only been here a small number of years, there is a feeling he is completely on our side and is fighting the battles we have been fighting as a fanbase for the last 10 years.
The man has won trophies everywhere he has been, we just want him to be given the means to at least compete.
Which three players have stood out most for Newcastle this season, and why?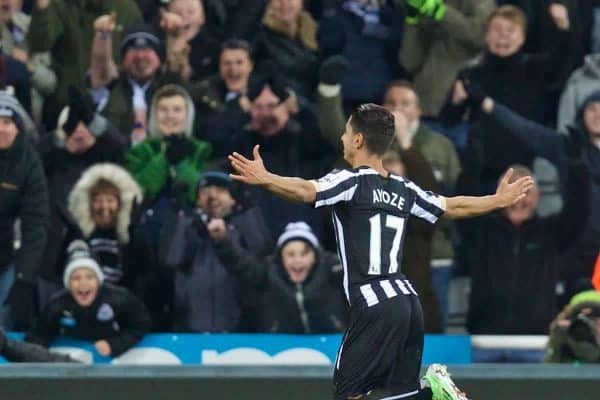 There have been a number of players that have played at their absolute maximum this season, and it hasn't gone unnoticed with the fans.
Most Newcastle fans don't demand a team that wins, but one that tries, and we definitely have this now.
Miguel Almiron has completely changed the way we have been able to play and has been one of the most important signings in the club's history, for numerous reasons, but as he joined in January, I'm going to rule him out here.
Next season, if Benitez stays, is going to be a big one for Almiron.
Fabian Schar has been nothing short of sensational. He has been one of the signings of the season at £3million, with numerous eye-catching displays.
He is so confident on the ball it's ridiculous—sometimes a little over-confident—but his technical ability has allowed us to play out from the back and assert more dominance on lower table teams who want to play on the counter-attack.
Changing to play three or five at the back, depending on how high the wing-backs are, has allowed Schar to stretch his legs on occasions and carry the ball 60 or 70 yards rather frequently, with the piece of mind that there are still two centre-backs covering for him.
With an eye for the spectacular, and having been defensively solid all season, Schar would be many Newcastle fans' vote for our Player of the Year.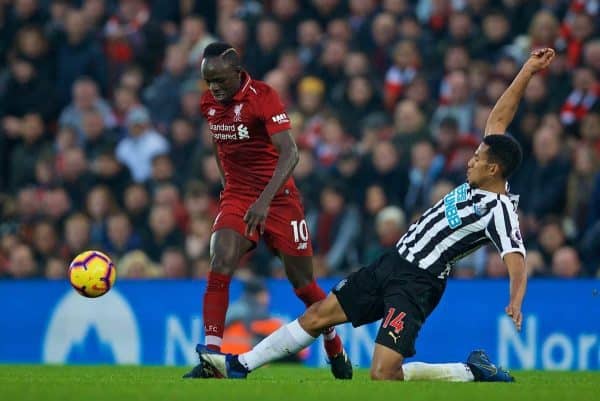 Isaac Hayden has also shone. When he first joined the club after our most recent relegation, there was not much fanfare surrounding the announcement.
Defensively he is solid, and has a knack of being able to make tackles even when the ball looks like it is well out of his reach.
Hayden has been a seven or eight out of 10 in almost every match he has played this season, he breaks up play extremely effectively and knowledgeably pops the ball off to the more technical players around him.
Making a choice between Salomon Rondon and Ayoze Perez was difficult, so I've been selfish and gone for both.
Perez has been stealing the headlines recently with a hat-trick against Southampton and some fantastic individual displays, and rightly so.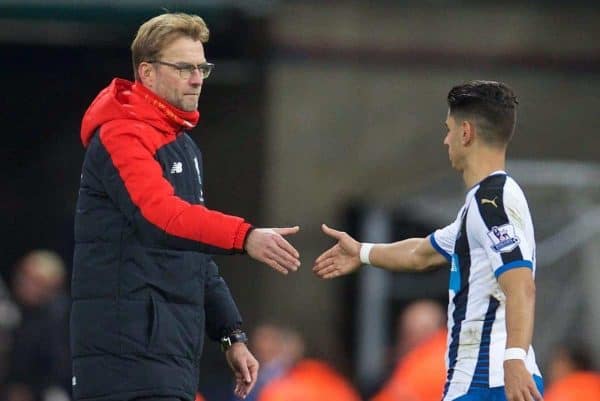 Throughout his time at the club Perez has received huge criticism from certain sections of the fans, hence his 'fingers in ears celebration', but his recent form has been simply incredible.
On the ball, Perez is probably the most talented in the whole squad and I wouldn't be surprised to see him move to a top team in the summer.
Rondon has been equally important; the whole team is built around the Venezuelan and he has been a huge upgrade on the strikers we had at the club last season.
It is clear that Benitez wants a target man-like striker and he definitely has this with Rondon.
An absolute physical beast with a great eye for goal, Virgil van Dijk's tussle with Rondon will be an interesting battle.
We simply have to make his deal permanent, he has been fantastic.
What has impressed you most about Liverpool's campaign?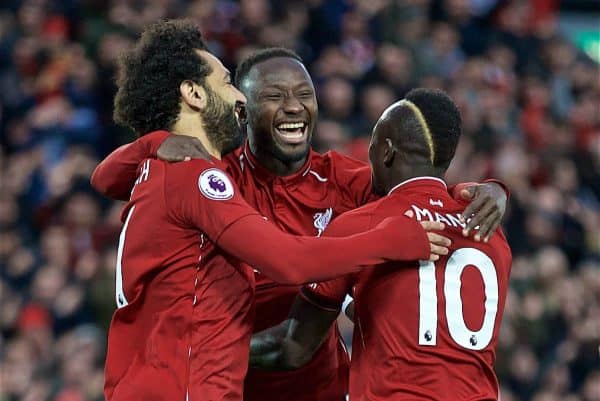 The sheer relentlessness and pace the team has played at.
To have only lost once across the whole season so far, whilst also progressing to the Champions League semi-finals with a relatively small squad compared to the likes of Man City, I am amazed at how in April and May you're still playing at the intensity you were back in August.
Every time it has looked like you might draw, for example away at Southampton, you have ground out results and shown every possible way of winning a game across the course of the season.
If Liverpool do end up just missing out on the title, they should be immensely proud of the season they've had.
How do you see the title race panning out in the final few weeks? And will the Reds go all the way in the Champions League?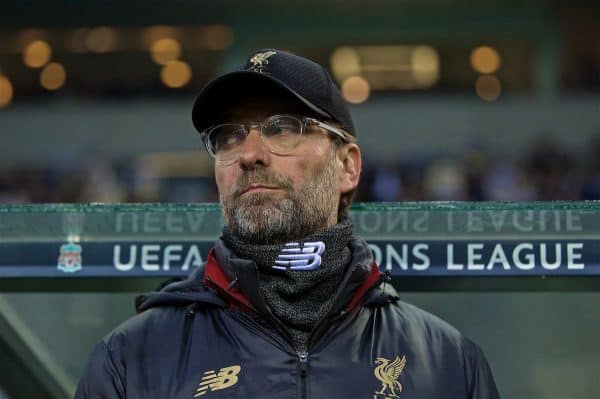 I think City have the slightly easier run-in, but if you come through the game on Saturday night with three points, the pressure on City to beat Leicester on Monday is going to be monumental.
I feel Liverpool may just edge it if they can handle the pressure of the Anfield crowd on the final day.
As a neutral, it has been a thrilling title race between two of the best Premier League teams of the modern era. Some of the football has been a joy to watch.
If Liverpool do end up winning it, Benitez will be expecting a bottle of champagne from Jurgen Klopp for the victory over City back in January.
Unfortunately for the Reds, I think Barcelona will now go through over the two legs in the Champions League, for obvious reasons.
Is there anyone you particularly fear ahead of Saturday's game?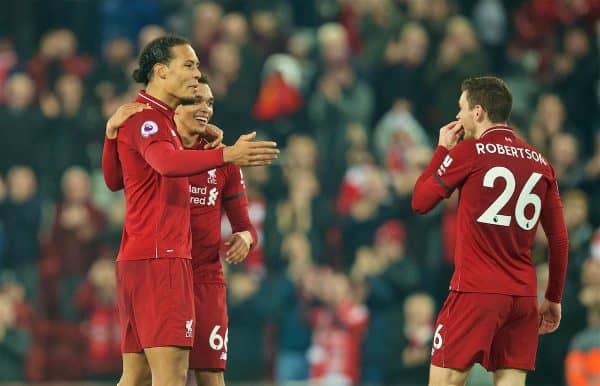 Liverpool have one of the best goalkeepers in the league and three of the back four have just made the PFA Team of the Year.
They also have a midfield which could feature any number of top class players and arguably the best front three in world football. Oh, and Mohamed Salah has just started ripping teams apart again.
There's plenty to worry about!
It's going to be a long 90 minutes. We will sit back and try to absorb pressure and stay in the game for as long as possible, before trying to nick a goal from a set-piece or a counter-attack.
The absence of Almiron and potentially Perez will mean the majority of pace we have on the break isn't present.
This may be attack vs. defence for 90 minutes.
Where do you see the key battles taking place?

Out wide.
Our wing-backs are not blessed with pace, and Salah and Sadio Mane could potentially have a field day if they're not 100 percent on it.
This is where the game will be won and lost, in my opinion.
Aerial crosses into the box should be dealt with relatively easily by Newcastle's big defenders, but the pace Liverpool have on the break will cause major problems.
As mentioned, Van Dijk vs. Rondon will also be an interesting battle—not many strikers have got any change out of the Dutchman this season and Saturday may be no different.
Rondon is exceptional in the air, however, as is Van Dijk, and taking the Newcastle striker out of the game will nullify most of our attacks.
Finally, hit us with a prediction…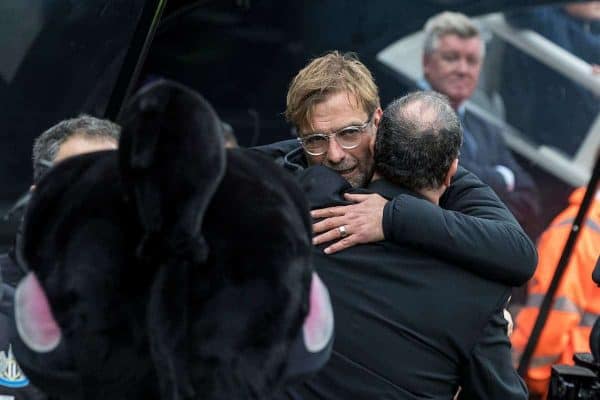 I think the game will be extremely cagey, down to what is on the line for Liverpool and the way Newcastle set themselves up.
I'm going for a 0-0 draw or a 1-0 win either way.
I think Saturday night is going to be a horrid, horrid 90 minutes for Liverpool. They will have to be patient and it might be another late goal that wins it for them.