Liverpool players have put the finishing touches on their preparations for their first outing on US soil and have voiced their excitement for the clash on social media.
The Reds arrived in the United States earlier in the week and were met with soaring temperatures in Indiana, leading to sunscreen and water bottles featuring prominently in Liverpool's training sessions.
And while the players will have been feeling the burn, in more ways than one, the benefits of hot weather training will no doubt prove beneficial as the Reds look to compete across several fronts in season 2019/20.
The tour of America has seen five senior figures return to contention for a place in the squad ahead of Liverpool's first of three fixtures against a familiar foe in Borussia Dortmund.
Jordan Henderson, Trent Alexander-Arnold, Andy Robertson, Gini Wijanldum and Virgil van Dijk were the latest members to join back up with the team last week, and the latter was ensuring he stayed hydrated as South Bend experienced excessive heat warnings:
And it may have been a different bottle, but Liverpool's No. 4 was on hand to ensure Fabinho was kept adequately cool in the latest of his grand gestures after previously helping his teammates apply sunscreen:
The Reds' presence across the Atlantic, while key to building the players' fitness levels, also presents an invaluable opportunity for fans to get a rare first-hand look at the team and even meet them, take pictures and secure an autograph.
And while it will create lasting memories for thousands of fans in America, it is also a moment to savour for the players themselves.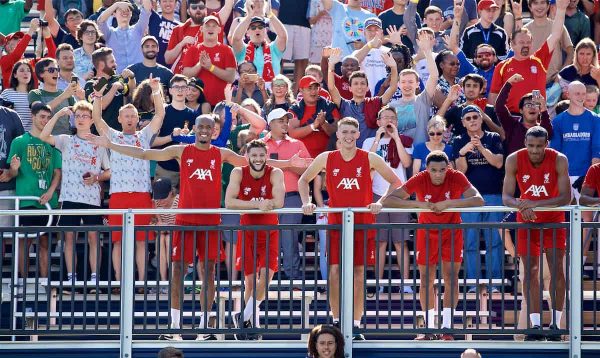 James Milner and Henderson both took to Instagram to share their joy over meeting the fans as they looked forward to running out "at the home of the fighting Irish":
Similarly, Simon Mignolet, who is to feature prominently in the US, is eager to play "in front of our American fans in the famous Notre Dame Stadium":
There were serious game faces for Alex Oxlade-Chamberlain and Adam Lallana as they both look to continue to impress this pre-season after each spending a prolonged period of time in the medical room last term:
And Wijnaldum was out dropping a teasing message to fans as he sat in front of a number of cameras for an interview:
After the game against Dortmund, Liverpool will travel to Boston where they will face Sevilla in the second of their three pre-season fixtures on US soil.