As he begins his senior coaching career, Xabi Alonso has reflected on the decisions he made in joining and then leaving Liverpool, with Rafa Benitez key.
Alonso remains one of the Reds' best signings of the Premier League; a midfielder of exquisite poise, who brought control to the engine room and produced big, match-winning displays.
Following his £10.7 million move from Real Sociedad in 2004, the Spaniard won the Champions League, FA Cup, UEFA Super Cup and Community Shield with the club, before joining Real Madrid in 2009.
Post-Liverpool, Alonso won league titles with both Real and Bayern Munich, before retiring in 2017 and subsequently moving into coaching.
This season, he takes his first major managerial role with Sociedad B, in the Segunda Division B, and has spoken to The Coaches' Voice to look back on his playing career.
He credits two factors as being "key" in persuading him to join Liverpool: the "determination and the seriousness of the club's board," and talks with Benitez, who told him it was "not a short-term project, but one for the long term."
"He told me exactly what he wanted from me," Alonso explains.
"It was very clear—he wanted me to play in the midfield alongside Stevie Gerrard and Didi Hamann, and to try to give more control, because we know how intense and frenetic the Premier League can be.
"Trying to adapt to that pace was going to be the biggest challenge for me—and for my game."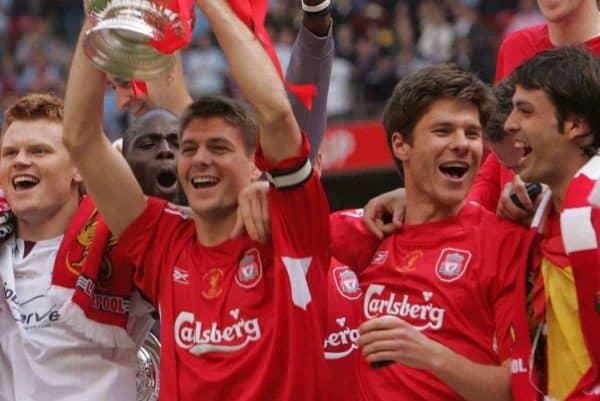 However, Alonso notes earlier how "learning fast was something I was used to," and upon moving to Anfield stressed he was "was ready for a challenge" both physically and mentally, as he resolved to maintain his "idea of football."
The midfielder credits Gerrard, Hamann, Jamie Carragher and Sami Hyypia for "accepting" him, which made his adjustment "smoother."
"I think that they saw something in me, and that made my welcome warmer and smoother," Alonso added.
"The fact that I was able to learn from them—to gain from their experience—meant that it didn't take that long for me to adapt."
Another key moment in his adaptation was the goal he scored in the 2-1 win over Arsenal in 2004—a game decided by Neil Mellor's last-minute half-volley.
"To have such a boost that early…for me, it was like wow. This is the game. This is what I like. This is what I love," he continued.
"I want to have an impact. I want to enjoy it."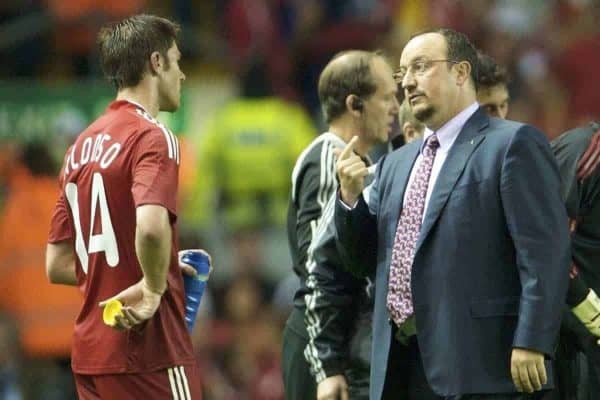 After five seasons with the club, however, the Premier League title slipped through Alonso's grasp in 2008/09, and he claims this was prompted him to push for a move to Madrid.
"Winning the league that year would have been the icing on the cake of my time in Liverpool," he said.
"But, in the end, we had the feeling that we missed a few points in the early days of the season that made the difference. We finished on 86, but United had 90.
"I felt then that it was the right time to look for another challenge. And there wasn't a bigger or more important challenge than to go to Real Madrid."
Interestingly, this glosses over Alonso' past comments on being surplus to requirements under Benitez, who had wanted to replace him with Gareth Barry the previous summer.
But perhaps that is a marker of his respect for the club he clearly still loves, and the fans which he describes as "unbelievable" for their "energy and passion."