Jurgen Klopp is heading into the new campaign with a more streamlined squad than the last, and the gamble of this approach was already highlighted on Sunday.
For better or worse, the plan this summer has been to maintained the core of the squad and supplement it with youth and inexpensive signings when required.
The performances of Yasser Larouci and Ki-Jana Hoever in particular throughout pre-season suggested Klopp would be able to call upon his academy ranks to bulk up the numbers for 2019/20.
But with the pair of defenders, along with Sepp van den Berg, Adam Lewis and Bobby Duncan, cut from the training group towards the end of the Reds' spell in Evian, it became clear these are not immediate options.
Instead, Liverpool headed into the Community Shield with a very similar setup to last season, with no new faces in the matchday squad despite Harvey Elliott, Harry Wilson and Rhian Brewster all travelling.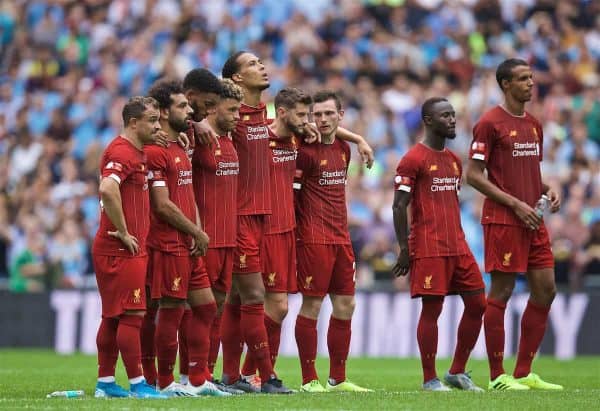 There were players the manager has described as "new signings," of course: Joe Gomez, Adam Lallana and Alex Oxlade-Chamberlain all featured, while Naby Keita and Xherdan Shaqiri have returned from injury.
A settled squad, with last year's new arrivals established within the group, could in theory be the key to Liverpool taking another step in their pursuit of the title.
But it is certainly a gamble, with Simon Mignolet, Alberto Moreno and Daniel Sturridge all departing this summer and, in the place of the latter two 'specialists' in particular, Klopp is favouring versatility and tactical flexibility.
The problems with this, however, were highlighted before kickoff at Wembley.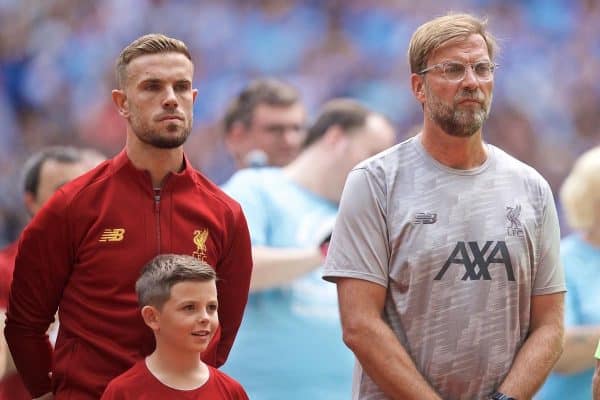 With James Milner absent as a precaution, due to a minor muscle injury, Klopp was unable to name a full-back on his substitutes' bench.
Instead, Dejan Lovren and Joel Matip took up the places typically reserved for defenders, and only five of the allotted six changes were made throughout the eventual penalty shootout loss to Man City.
When Matip was brought on after 67 minutes, it saw Gomez shift over to right-back; a position the 22-year-old is familiar with, of course, but far from his best and not his favoured role.
Keita entered the field at the same time, taking Fabinho's place in midfield, and this in turn saw Gini Wijnaldum drop back into the No. 6 role.
Later, when Oxlade-Chamberlain and Shaqiri were introduced at the expense of Divock Origi and Roberto Firmino, Mohamed Salah moved inside from the right to become Liverpool's centre-forward.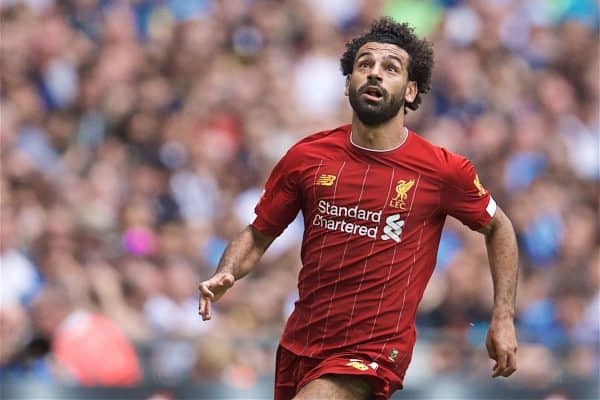 As with Gomez, neither Wijnaldum nor Salah are lacking in experience in these duties, but they are not where they are at their most potent.
The same can be said of Milner himself, as despite performing admirably at left-back throughout 2016/17, and being able to fill in at a pinch in the absence of Andy Robertson or Trent Alexander-Arnold, at nearly 34 he is not best suited to full-back.
Any issues with these injuries to squad players—Milner, Lallana, Oxlade-Chamberlain, Shaqiri, Origi and Brewster all fit into the bracket at this stage—would not be a nightmare situation on their own.
But when combined with any other withdrawals at any point in the campaign, and they could leave Liverpool desperately short.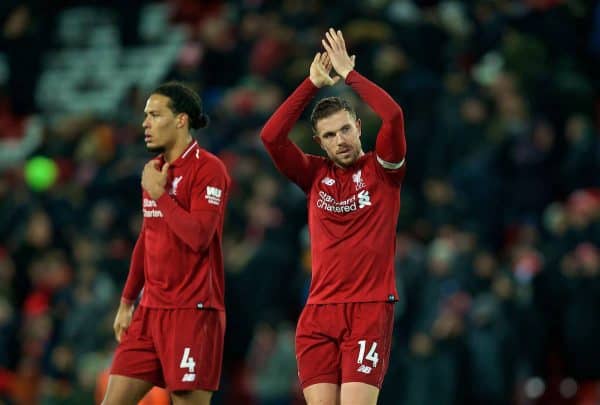 It is, of course, a hypothetical situation, but it should be one that became abundantly clear during fallow periods of last season.
For example, draws with West Ham and Leicester at the beginning of 2019 came with Milner and Jordan Henderson at right-back respectively.
While neither result can be pinned on Klopp's two leaders, a genuine replacement for Alexander-Arnold could have been the difference between two points and six—and, ultimately, second place and the title.
These are conundrums Liverpool's coaching staff will have considered, of course, and the mantra is that no player will be signed to solve a short-term problem.
But the Community Shield was the first of seven competitions the Reds are entering this season, which could see them play a total of 67 games if they progress in every one.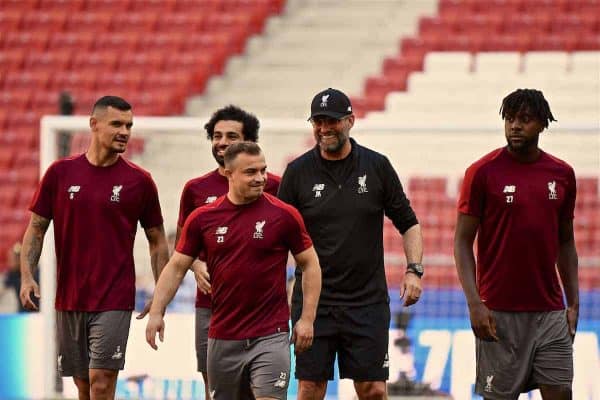 Last season, only 11 players clocked over 2,520 minutes (the equivalent of 28 full games) on the pitch for Klopp's side, with a sharp drop coming from the game time afforded to Matip in 12th (2,342) and Keita in 13th (1,817).
Only 16 played more than 1,000 minutes (just over 11 full games) and, despite his telling contributions, Origi only tallied 673—fewer than Sturridge (818).
It would be remiss to describe Gomez as a "new signing," as he already made 25 appearances last term, while it would be a stretch to expect Lallana to produce a consistent campaign after playing just 1,024 minutes in two seasons.
The burden would, therefore, fall on Oxlade-Chamberlain, Keita, Shaqiri and Brewster to increase their workload; three of whom spent much of 2018/19 on the treatment table, and one yet to make his senior debut.
There is the prospect of Elliott playing a part, but he is only just 16, while Wilson's omission from the matchday squad on Sunday hints at an imminent departure.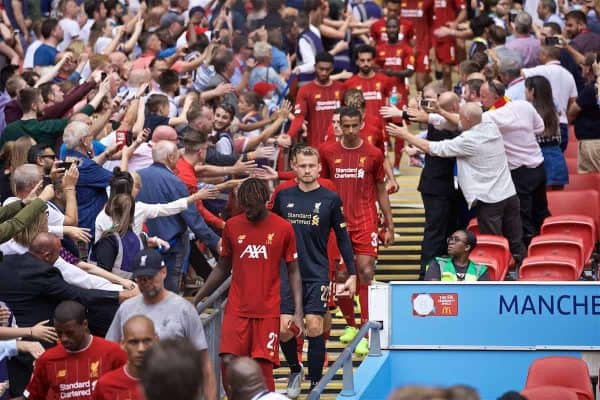 There were already signs of the reliance on Liverpool's heavy-hitters in the Community Shield, when Salah played 90 minutes and Firmino just under 80 in only their second game back.
The Egyptian may not have been tasked with lasting the full 90 were it not for concern over Origi, who had spent a long period down clutching his ankle, while Henderson also picked up a knock with Lallana replacing him.
Klopp is therefore presiding over a fine balance as he heads into Friday's Premier League opener against Norwich.
If it pays off, and all of his key cogs remain well-oiled throughout, it could prove spectacular, but any setback could prove costly, as those more effective in their natural roles are required to fill in elsewhere.